Best Koh Tao Snorkeling Trips
Koh Tao Snorkeling Experiences for Visitors to Koh Tao
Koh Tao is the perfect destination for scuba divers and very popular for snorkeling with many excellent snorkel locations to enjoy the amazing marine life in a warm, tropical sea.
There are several reputable half day and full day snorkel tour operators that have daily snorkel trips around Koh Tao, 365 days a year.
Koh Tao snorkel tour trips provide snorkeling equipment and a professional guide on their boat and they take you to 5 of the best snorkeling locations on Koh Tao.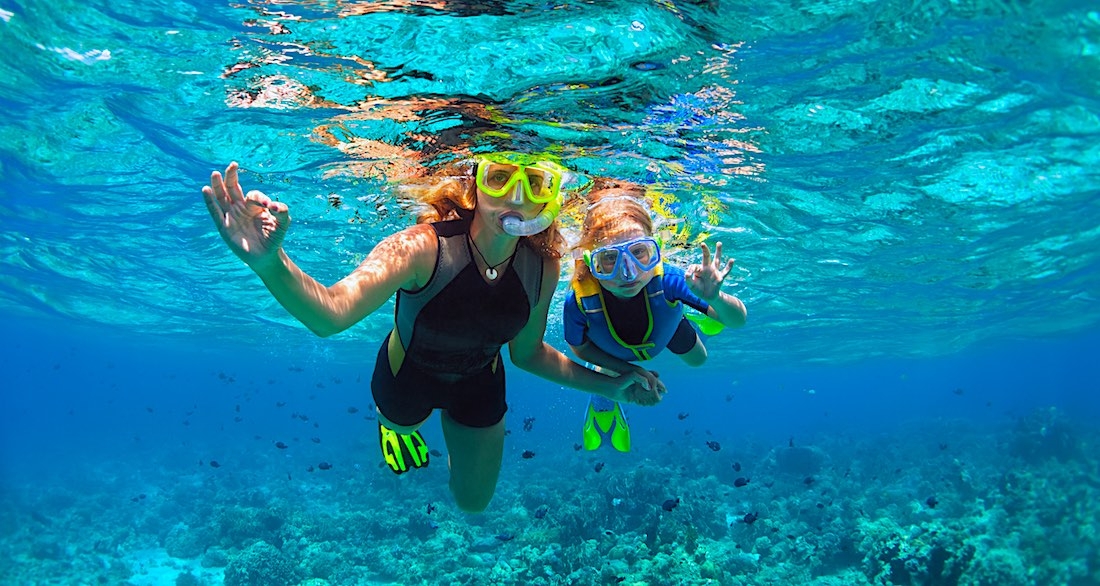 Koh Tao Snorkel Experiences
With refreshments and lunch onboard, snorkel trips provide great value for the novice snorkeler who wants to experience the marine world for the first time and enjoy a fun day.
You can organize your own snorkel trip and a longtail taxi boat will take you to any of the best snorkel locations, which is a popular choice for many visitors to get to Koh Nang Yuan, Mango Bay or Lighthouse Bay.
Best Snorkeling Destinations on Koh Tao
Excellent alternative snorkel locations are Tanote bay, Hin Wong bay and Aow Leuk, which are relatively easy to get to via a taxi or rental scooter.
Snorkel Koh Nang Yuan – Japanese Gardens
Japanese Gardens has a huge variety of corals growing in and around large granite boulders, a white sandy seabed and offers snorkelers a kaleidoscope of colors.
This location is reportedly one of the most biodiverse areas of its size, for coral species anywhere in Thailand and it certainly attracts lots of interesting marine organisms.
Snorkelers can enjoy the shallow zoned off area inside the buoy lines, which on a clear day feels like you are snorkeling in a tropical aquarium.
Koh Nang Yuan Snorkel Trips
You can see large shoals of Parrotfish chewing on the coral, feisty and territorial Damselfish guarding their food source and an abundance of many types of reef fish.
Look closely to find Sergeant Majors, Squirrel fish, Rabbit fish and much more that will keep you busy snorkeling and having fun for many hours.
As an added extra, Japanese Gardens is situated on the east side of Koh Nang Yuan, providing visitors with a stunning backdrop of the twin peaks of this famous paradise island.
If you choose to go snorkeling on an organized day trip, be sure to take advantage of the trip ashore and climb the viewpoint.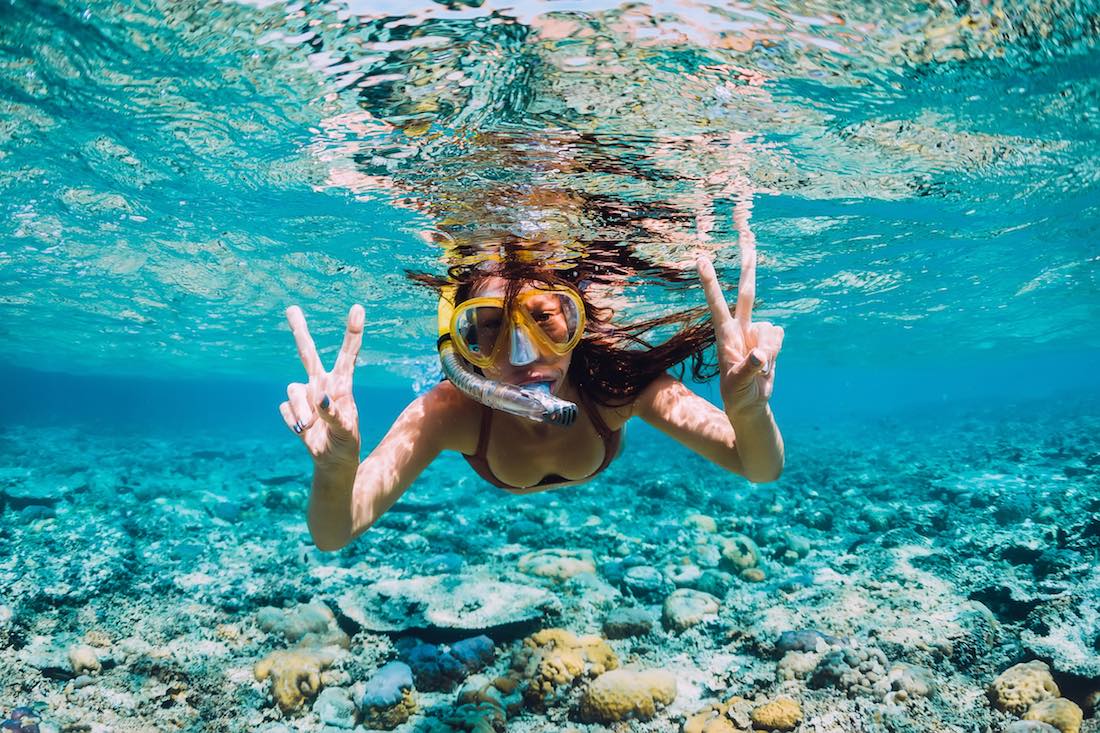 Mango Bay Snorkeling Koh Tao
Situated on the northern tip of Koh Tao, Mango bay is a large, palm tree lined bay, fringed with granite boulders and coral reef that are fused together.
Mango bay is an excellent location for snorkeling and you will find lots of living coral reef to explore on the west side and east side and the bay itself has a large patch of white sand in the middle.
You can expect to see lots of Wrasse including the Red Breasted Splendor, Thalassoma, Moon Wrasse and several species of Damsel fish, Parrotfish, species of Grouper and a large shoal of Yellow Tail Barracuda.
Snorkel Aow Leuk Koh Tao
On a clear day this stunning picturesque bay is second only to Koh Nang Yuan for its natural beauty.
Aow Leuk is a large concave shaped bay with a white sandy beach stretching across the two jungle lined rocky edges where large granite boulders meet the warm turquoise sea.
Looking out from the bay, you enjoy a backdrop of nearby shark island (1 km away) and in the distance the neighbouring island of Koh Phangan.
You can be forgiven for thinking it is a dream. Aow Leuk is paradise personified.
Aow Leuk Snorkeling Trip
If you enjoy the stunning scenery in the bay, underwater is even more amazing with both sides of the bay offering lots of great snorkeling opportunities.
You can expect to find many varieties of colorful reef fish swimming around the boulders and shallow areas of the coral reef, which create beautiful underwater gardens.
Snorkeling Aow Leuk you can even see Baby Black Tip Reef Sharks, if you are lucky and Aow Leuk is a common place to see Sea Turtles.
Snorkeling Shark Bay Koh Tao
Over the last 20 years Thian Og Bay or Shark Bay as it has become known, is one of the most popular snorkel locations around Koh Tao and is a regular stop on the half day and full day snorkeling trips.
This bay is a relatively shallow bay and the only snorkeling location on our list that is not used by scuba divers and the attraction to Shark Bay is in the name.
One of the best places in Thailand for a unique experience, on a good day you will see lots of Black Tip Reef Sharks swimming around the bay in shallow water from 1 metre to 4 metres.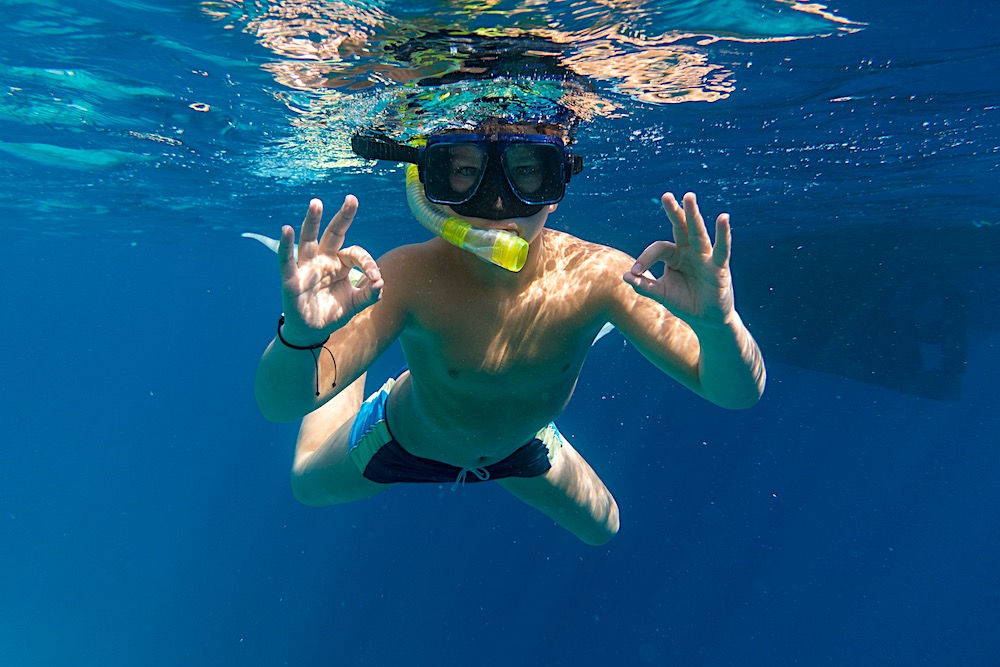 Shark Bay Koh Tao Snorkel Trip
You can find a variety of different sized sharks with larger ones measuring over 1.5 metres, however, the smaller baby sharks venture right into the shallow water close to the beach.
Another feature when snorkeling at Shark Bay is the Green Sea Turtles that are incredibly friendly and inquisitive.
Green Sea Turtles at Shark bay will often swim close to you, so be sure to take your Go Pro with you so you get pictures or video, but be aware not to touch any marine life.
If you are planning to visit Shark Bay on your own and not part of an organized snorkel tour, the best times to visit are either morning time from around 7am or after 4pm.
Snorkel Hin Wong Bay Koh Tao
Located on the east side of Koh Tao, further north than Tanote bay, Hin Wong Bay is one of the quietest bays on the island, it is a great place to relax and easy to reach on a rental scooter.
Hin Wong bay has a secluded and beautiful beach, a restaurant that serves tasty Thai food and lots of colourful marine life in a warm, tropical sea.
Hin Wong is a great place for visitors to spend the day and one of the best snorkeling locations on Koh Tao.
Hin Wong Bay Koh Tao Snorkel Trip
With lush green jungle that reaches down to the massive boulders lining the coast of the bay, Hin Wong is a popular place for locals to visit for swimming and snorkeling.
When you go snorkeling at Hin Wong, you will see shoals of Yellowback Fusiliers, lots of Rabbitfish, Parrotfish, Seargent Majors and Damsel fish.
The Corals at this location are all healthy and add to the vibrance and colour of the bay and if you are lucky you may also see a Black Tip Reef Shark.
Snorkeling Tanote Bay Koh Tao
Tanote bay is a sheltered, easily accessible and picturesque bay on the east side of Koh Tao, with an excellent large, sandy beach running the length of the west side of the bay.
As you look out from the beach, if you are adventurous, you will see a huge granite rock boulder rising out of the water that is popular with rock jumpers.
With a new concrete road, you can easily reach Tanote bay in 15 minutes by rental scooter from Mae Haad or 20 minutes from Sairee beach and it is well worth visiting for the day.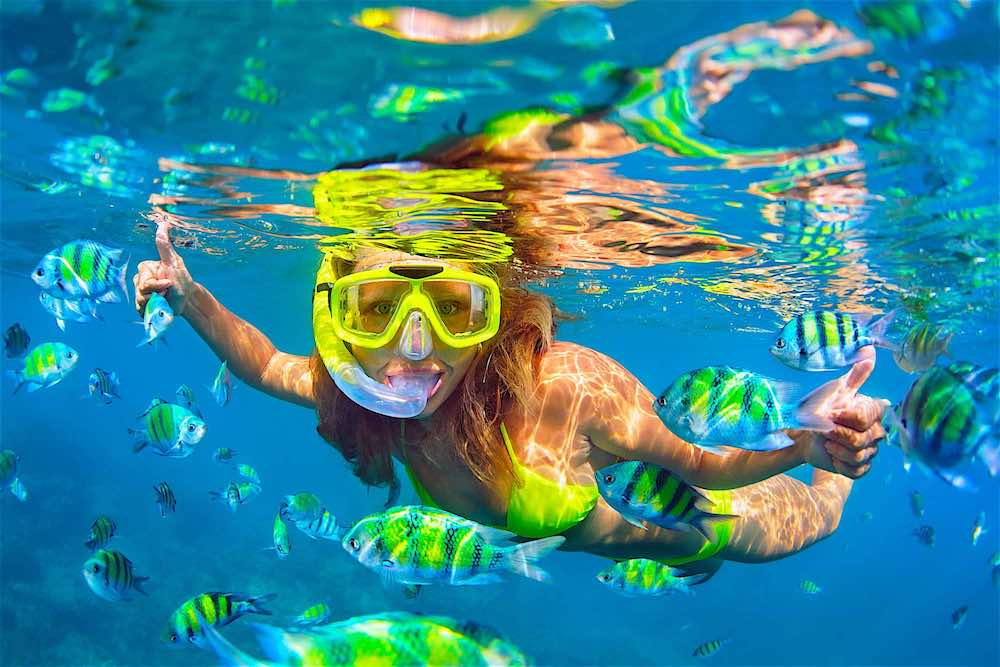 Tanote Bay Koh Tao Snorkel Trip
From the beach, the water starts shallow but drops off to 4 metres quickly, with the best snorkeling locations on either side and in the middle of the bay.
The Corals have grown over the boulders over time and there is a lot to see here with Sea Anemones living in the rocks along with Christmas Tree Worms living in massive coral heads.
When snorkeling, you can expect to see Rabbitfish, species of Wrasse, various members of the Butterfly fish family and Parrotfish, plus many reef fish species.
Further out in deeper water at around 4-6 metres, you may see a Black Tip Reef Shark that visits the bay from time to time.
Lighthouse Bay Koh Tao Snorkel Trip
Gluay Teun bay (Lighthouse Bay translated to English), is located on the north east side of Koh Tao, where there is a lighthouse that overlooks the bay.
Lighthouse bay is quite sheltered and visibility is normally good during South West monsoon but you need to check the weather if planning to visit in North East monsoon season as conditions can change quickly.
Lighthouse bay has great snorkeling and beautiful Table Corals with lots of Christmas Tree Worms living in the massive Corals that are a feature of this location.
Lighthouse Bay Koh Tao Snorkel Trip
Look out for many of the smaller reef fish that live amongst the Barrel Sponges and Staghorn Coral and the large shoals of Yellowtail Barracuda that are often here.
You can expect to see Longfin Bannerfish, Angel fish and Butterfly fish, often in pairs although occasionally you will see larger groups.
Koh Tao is a paradise for snorkeling with over 8 kilometres of pristine Coral Reef surrounding the island, an abundance of marine life species and a thriving Marine Ecosystem.
If you do not have time to enjoy one of our diving courses, we can introduce you to the underwater world with our half or one-day snorkel experience.
Frequently Asked Questions
Is it Safe to Snorkel in Koh Tao?
Snorkeling is a very popular and safe activity to do on Koh Tao. You can go by yourself to one of the many beautiful bays around Koh Tao and snorkel straight from the beach.
Alternatively, you can join an organized half day or full day snorkel tour that visits around 5 different snorkel locations, including the famous Koh Nang Yuan island.
Some dive schools will also allow snorkelers to join their trips if they have friends or family doing scuba diving activities on the same trip.
Is it possible to Rent Snorkel Equipment on Koh Tao?
Yes there are several places that rent out snorkel equipment on Koh Tao and often scooter rental places have snorkel equipment for rent as well.
When you travel to any of the beaches where snorkeling is possible, the business owners in that location will have snorkeling equipment available for rent.
If you are joining any of the organized tours or snorkel day trips or have booked snorkeling through a dive school, all equipment rental will be included.
Where are the Best Places to Snorkel around Koh Tao?
Popular snorkeling locations are on the South and East side of Koh Tao and around Koh Nang Yuan island.
Hin Wong Bay, Tanote Bay, Aow Leuk and Shark Bay have lots of coral and marine life to explore while snorkeling. You may even get to see a Sea Turtle or Baby Black Tip Reef Sharks.
At two locations around Koh Nang Yuan island they have created dedicated snorkeling areas where boats are not allowed to enter.
You can visit Koh Nang Yuan on an organized snorkeling tour or by arranging a private taxi boat from either Mae Haad or Sairee Beach.
Can I go Snorkeling by myself on Koh Tao?
You can snorkel independently from many of the beaches around Koh Tao and to reach some of the beaches we recommend having your own scooter or bicycle.
Please note that some of the beaches will charge an access fee to enter as they are on private land and provide amenities for you to use, including drinking water and rubbish bins.
When you do go snorkeling by yourself, make sure to let someone know where you are going and do not go too far from the coast.
In our experience, it is more fun to go as a group with friends or family. That way you can also watch out for each other and have a more enjoyable time.
What is the Cost of Snorkeling on Koh Tao?
Snorkeling with a dive company or joining an organized snorkel tour will cost around THB 850 per person. On the snorkeling tours, this does not include the 100 Baht entry fee to Koh Nang Yuan.
The Koh Nang Yuan entrance fee is payable by every visitor as the island is privately owned.
Even if you are planning to go snorkeling by yourself, you will have to pay an entry fee at some of the beaches from where you can snorkel from.
Other places will not charge an entry fee, but provide you with the opportunity to purchase a refreshment at their restaurant in lieu of an entrance fee.
If you do not have your own snorkel equipment, you may have to factor in the cost for this as well.
It is important to note that mostly entrance fees at some of the beaches around Koh Tao cover costs incurred by the owners, such as provision of rubbish bins, toilets and refreshments.
The entrance fee cost is well worth it as you can use all the facilities and have a thoroughly enjoyable day at the beach.