Best Viewpoints on Koh Tao
Spectacular Koh Tao Viewpoints to Visit
The diversity and tropical charm of Koh Tao extends beyond the amazing aquatic world to the Viewpoints that provide visitors with stunning views across the jungle landscape and the turquoise blue sea.
Evolved over millions of years the huge Granite rocks covered by dense green jungle ensure the most inquisitive adventurer can enjoy the hiking trails and panoramic views facing in all directions.
Our recommendations for visitors to our beautiful tropical island are to take the time to explore our favorite Viewpoints.

John Suwan Viewpoint Koh Tao
Possibly the most iconic image of Koh Tao and certainly the most stunning view of the entire length of the island awaits you after a relatively short and easy 20-minute hike to climb John Suwan Viewpoint.
However, on a hot day, even this relatively easy hike can tire you out quickly and in places there are ropes to help you scamble up parts of the trek as it can be a little slippery.
This viewpoint is incredible at any time of day but if you are an early riser, John Suwan Viewpoint can provide you with a spectacular and surreal experience at sunrise.
Viewpoints in the South of Koh Tao
Located on the south coast of Koh Tao, this viewpoint offers breathtaking views of the south east and south west coastline.
You will see Chalok Baan Kao on your left (west) and Thian Og Bay (Shark bay) on your right (east) below you and an incredible view of the entire middle of the island from south looking north.
There are several other high peaks in view as you stand in awe gazing out across the island with the highest, Mango Viewpoint in the far distance.
John Suwan Viewpoint is included in the 100 baht entrance fee at the car park, which includes nearby Freedom Beach and Taa Toh Beach down below you to the left as you look north from the Viewpoint.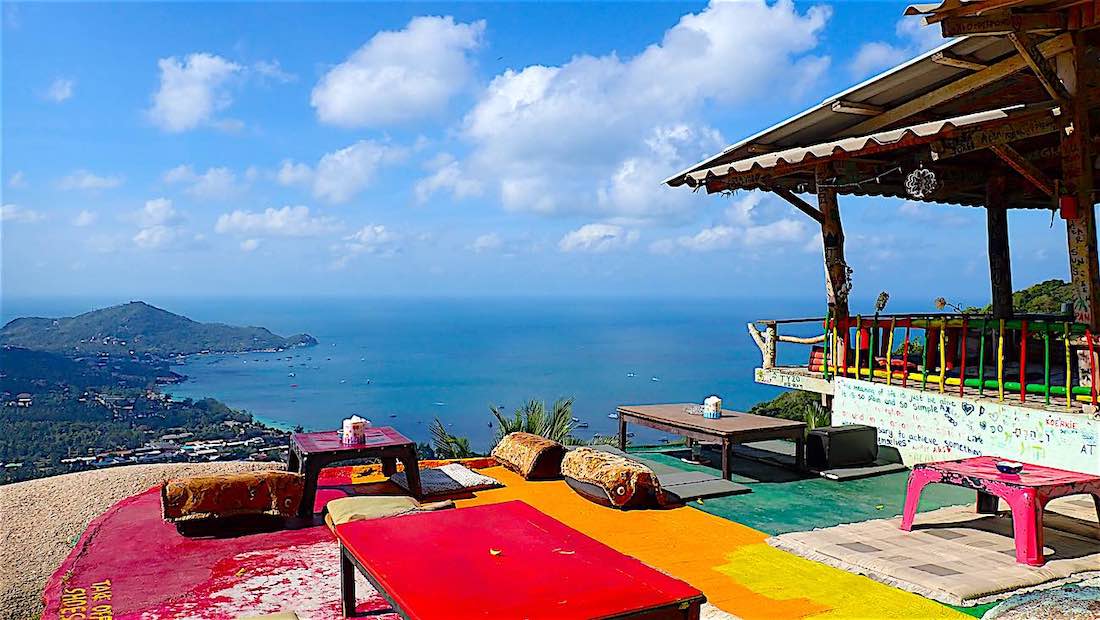 Mango Viewpoint Koh Tao
One of the best viewpoints on Koh Tao, high up in the northern hills, Mango Bay Viewpoint offers breathtaking and inspiring views of Sairee beach and the entire west coast of Koh Tao.
Located in the middle of Koh Tao, towards the northern coast, hiking to this viewpoint offers an adventurous and exciting day if you are feeling active.
Viewpoints in the North of Koh Tao
If you are competent riding a scooter it is a 20 minute ride from Sairee crossroads, although it is advisable to check the weather as parts of the trail are not concreted.
The best time to visit Mango Bay Viewpoint is late afternoon so you can experience an amazing sunset from one of the best vantage points on Koh Tao.
There is a small café and juice bar, hammocks and large cushions to relax on where you can read a book or just chill out and enjoy a freshly squeezed juice.
Love Koh Tao Viewpoint
Located right in the centre of the island facing east, the steep turn off for the Love Koh Tao Viewpoint is around 3 kilometres along the road to Tanote Bay on the left hand side.
The exit off the main road is clearly signposted and it is steep, so as long as you ride the scooter slowly you will see it, then carefully accelerate up the hill.
Viewpoints in the East of Koh Tao
This viewpoint provides a panoramic view of the eastern jungle covered coastline of Koh Tao and looks out across the deep blue sea towards Cambodia and Vietnam.
With a terrace cafe and netted beds to relax on, Love Koh Tao Viewpoint is a great place to visit, watch the sunrise early in the morning or enjoy a refreshing coconut juice and a delicious lunch.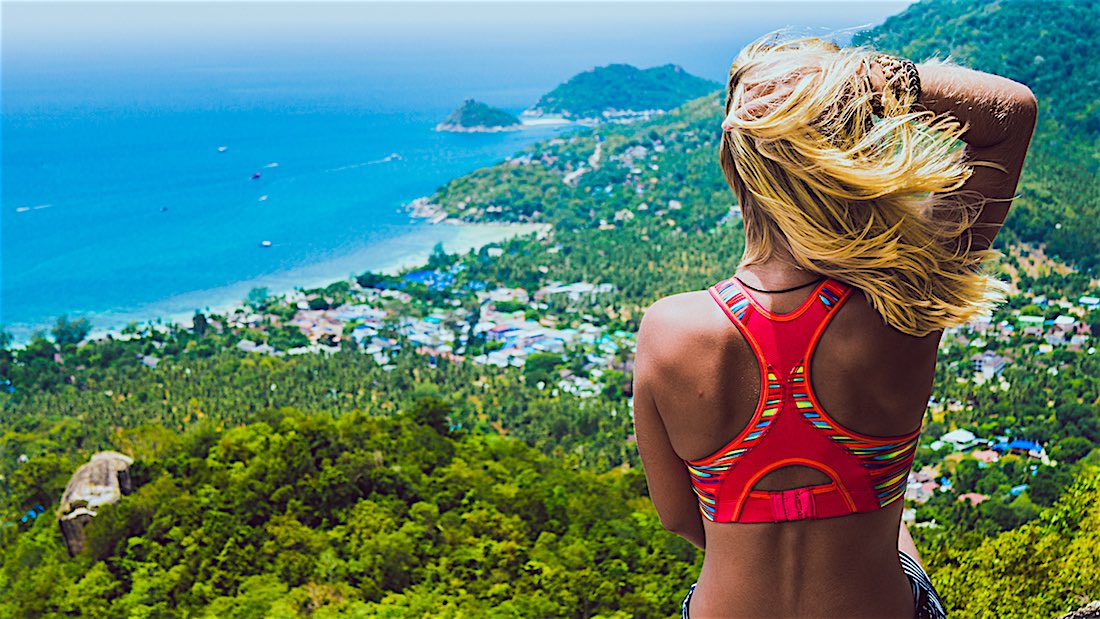 West Coast Viewpoint Koh Tao
West Coast Viewpoint as its name implies, provides you with a stunning view directly out to sea overlooking the west coast of Koh Tao.
This Viewpoint is very popular for sunset views and is easily accessible from Sairee beach with various routes to reach it, depending on what direction you are coming from.
West Coast Viewpoint is also very close to two other Viewpoints in that area: Two Views and Tanote Peak Viewpoints that provide west and east coast panoramic views.
To access West Coast Viewpoint once you reach the top, you climb through a small passage between two very large granite rock boulders.
Viewpoints in the West of Koh Tao
The view is breathtaking and it feels like you have walked through a magic door as you enter onto a flat rock that protrudes out above the jungle below.
Right below is the entire central west coast of Koh Tao with the island of Koh Nang Yuan to your right and the villages of Mae Haad and Sairee below you to your left and right.
The hike to get to West Coast Viewpoint is relatively easy by following a hiking trail through the jungle canopy, which makes for an enjoyable and adventurous trek in addition to the view once you reach the top.
Another popular Viewpoint for sunsets, West Coast Viewpoint should make it to your top 3 Viewpoints to visit on Koh Tao.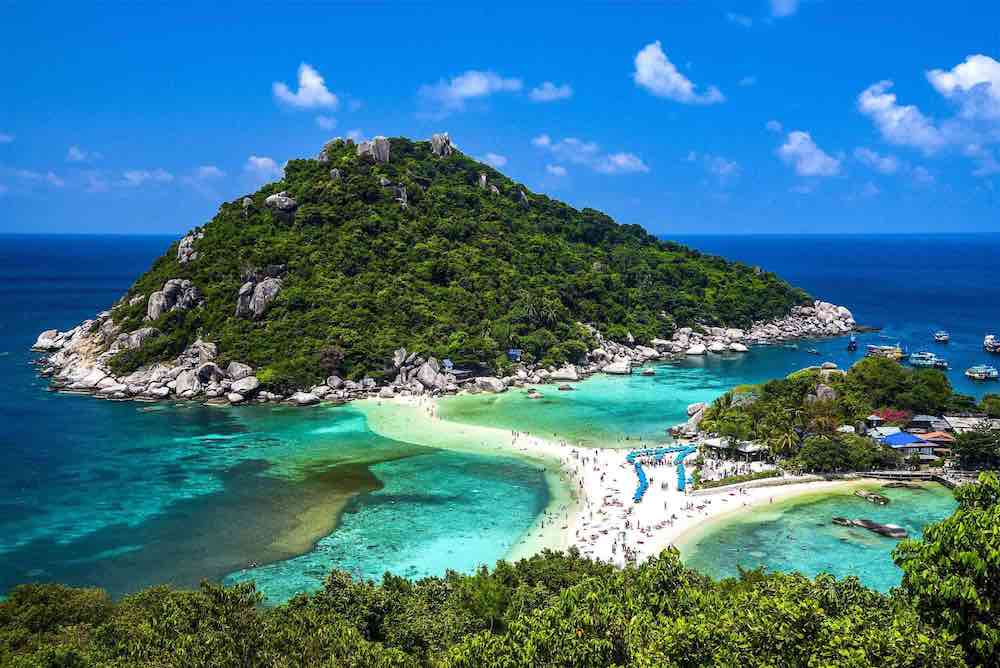 Koh Nang Yuan Viewpoint
The view from Koh Nang Yuan Viewpoint is the exact same one that graces tens of thousands of Instagram posts and is the featured photograph for the Thai travel industry.
The daily half day and full day snorkel trips that depart from Koh Tao, all stop at Koh Nang Yuan and it is the most popular way for visitors to reach this world famous tropical island.
An alternative way to get to Koh Nang Yuan island is to rent a longtail boat from either Mae Haad beach or Sairee beach.
Long tail taxi boats with a driver provide you with an excellent way to experience the traditional Thai method of transport that local people have used to travel between the islands with and fished with for decades.
How to get to Koh Nang Yuan Viewpoint
A long tail taxi boat also offers you a more flexible option, as you can visit the iconic Koh Nang Yuan island and its famous viewpoint in your own time.
If you plan your trip for the afternoon, your photograph from the viewpoint taken after 3pm will feature an empty beach as the daily tourists board their snorkel tour and ferry boats to leave.
The trip to Koh Nang Yuan takes approximately 15/20 minutes and make sure you take your mask and snorkel with you to snorkel Japanese Gardens.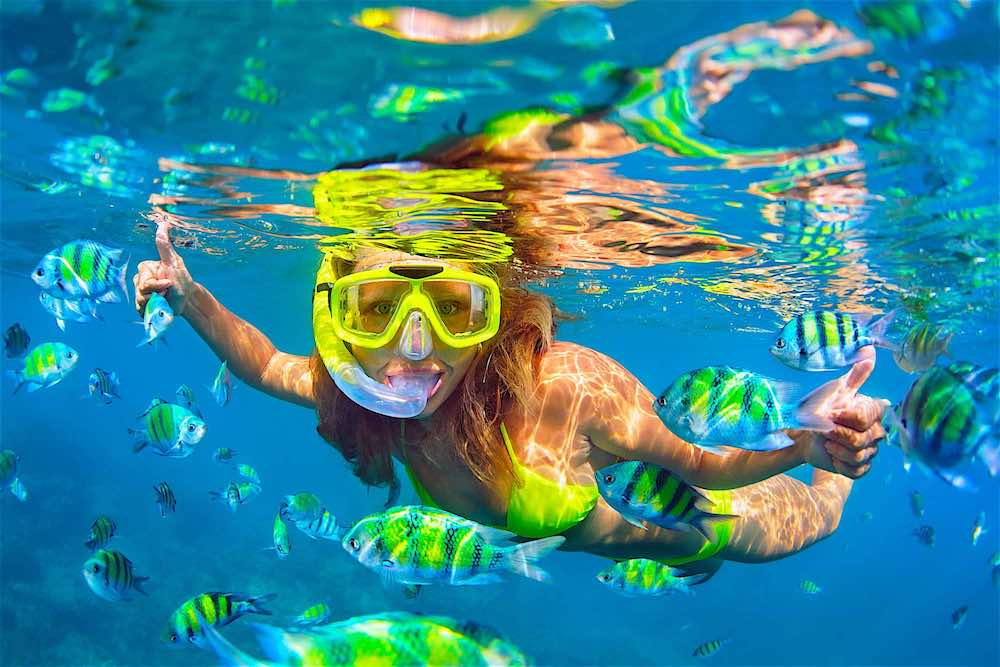 Snorkeling at Koh Nang Yuan
There is only one main restaurant on the island and a refreshment bar and the food is a little more expensive than average.
Plastic water bottles are banned from the island and will be confiscated on arrival upon a cursory search of your bag, so remember to bring a reusable water carrier with you, if you bring your own water.
There is also a ban on flying Drones, so please do not take it with you as you will not be allowed to fly it on Koh Nang Yuan island.
Amazing Views at Koh Nang Yuan Viewpoint
The signposted path and steps to reach the Viewpoint are clearly marked and the hike to the top is relatively steep and it will take 10minutes to reach the summit.
You can wear flip flops, however, there are a few boulders you need to climb over near the top and once there, you will be rewarded with an incredible view of the three islands connected by a unique sandbar.
As part of the 100 baht entrance fee that all visitors to Koh Nang Yuan have to pay (as it's a private island), you can swim and snorkel on any of the beaches that this amazing tropical island offers.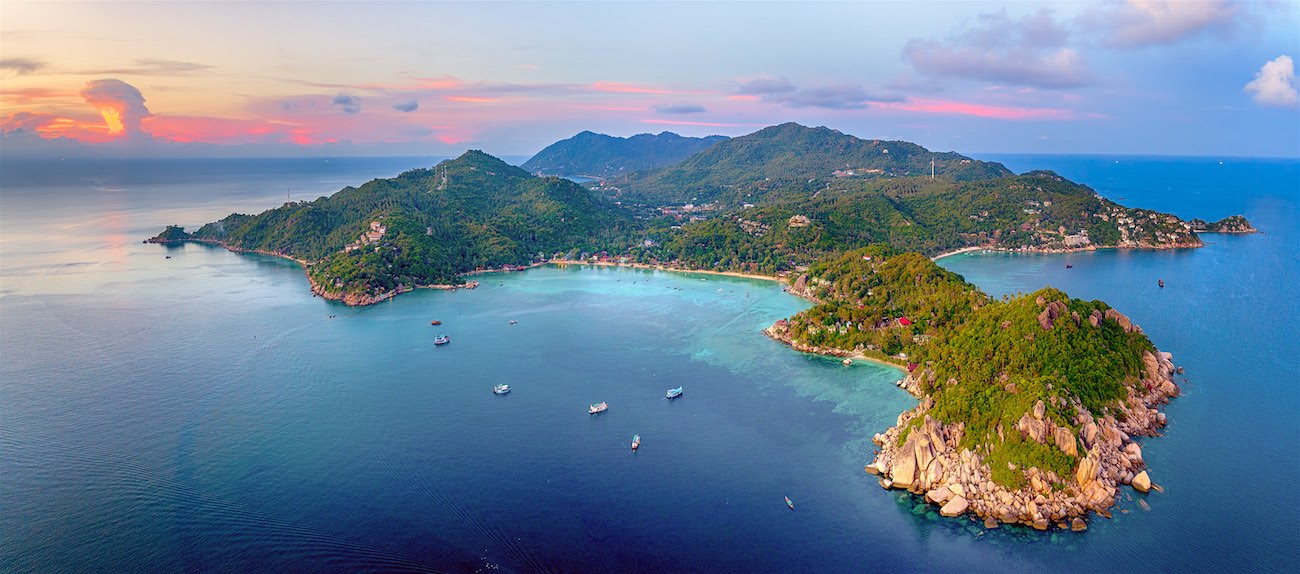 Spectacular Views Koh Tao
Koh Tao provides visitors with over a dozen different Viewpoints all around the island, offering spectacular panoramic views in all directions.
It is worth remembering that many of the Viewpoints are free to access but offer no facilities once you reach the top, so please let another person know your plans, wear strong footwear and take lots of drinking water.
The Viewpoints that provide refreshment bars, hammocks, toilets and clean away rubbish, can charge between 100-200 baht person for access and to use their facilities.