>
>

PADI Discover Scuba Diving
Discover Scuba Diving Koh Tao
Try a 1 Day PADI Dive Experience on Koh Tao
If you do not have the time, or money to complete our PADI Open Water diving course, you can try a Discover Scuba dive, which is a 1 day fully supervised scuba adventure packed with fun.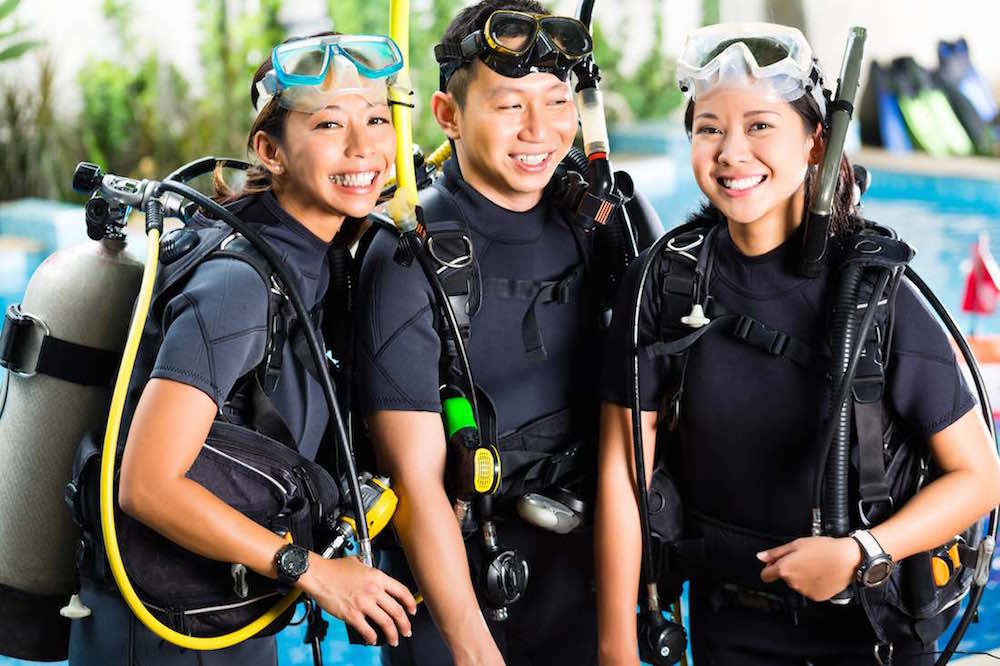 Included in Koh Tao PADI
Discover Scuba Dive
One-day introduction to scuba diving
Shallow (Confined Water) training dive followed by a deeper dive around the Coral reef
PADI Discover Scuba Diving Participant Guide
Option to make additional Open Water dives
Can be credited to PADI Open Water course (for up to 12 months after the experience)
Rental of all scuba equipment
FREE use of Dive Computer
Guaranteed small group – maximum 2 students per PADI Instructor
Black Turtle Dive customer (and environmental) promise
To book a PADI Discover Scuba Diving experience you must be:
10 years of age or older
Medically fit to dive
We conduct the Discover Scuba Experience over half a day.
The Experience program consists of three sections:
Knowledge Development

– your Instructor will take you through the Discover Scuba Diving participant guide that highlights key concepts to ensure your safety and allows you to enjoy the experience and have fun.
There is a very straight forward 9 question quiz to complete that we review with you so that you fully understand.
Confined Water training

– conducted in one of the many beautiful shallow bays around Koh Tao. We introduce you to breathing underwater for the first time and teach you some basic scuba skills.
Open Water dive – a fun packed underwater adventure as your instructor guides you around the bay showing you the beautiful Coral reef.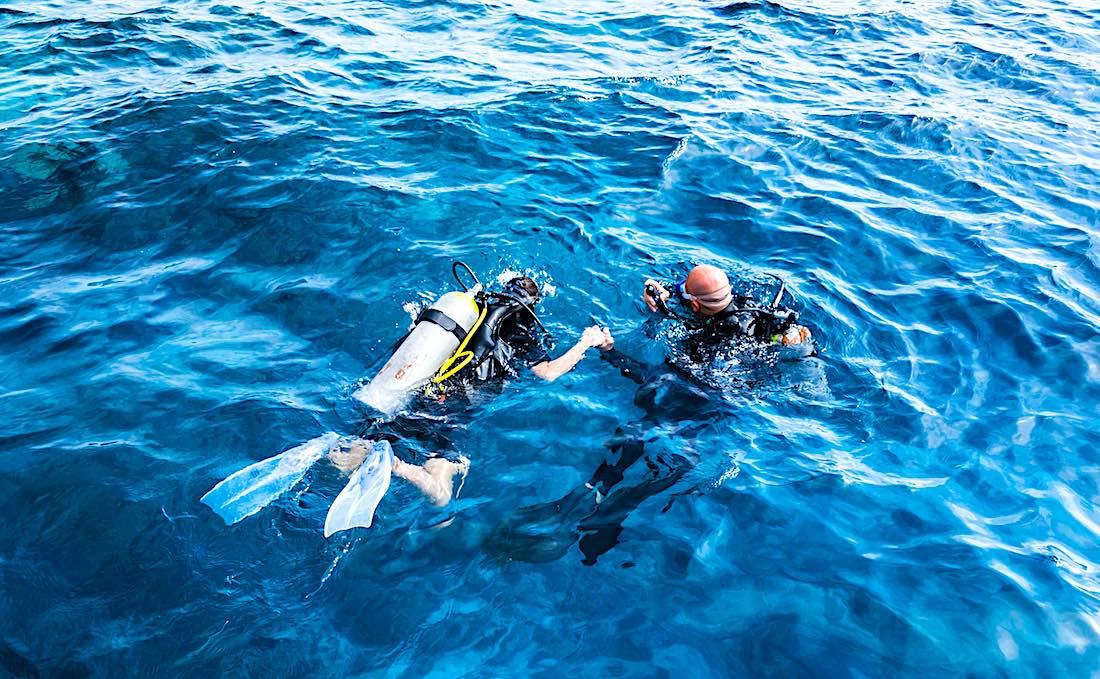 At Black Turtle Dive we take our customer promise very seriously. All Discover Scuba experiences are conducted with a maximum of 2 students per PADI Instructor.
Our Dive Instructors are highly trained and experienced to ensure you receive lots of attention and progress at your own pace in a relaxed environment.
During your training we will slowly build your confidence and ability as you develop the skills necessary to have an enjoyable and safe experience.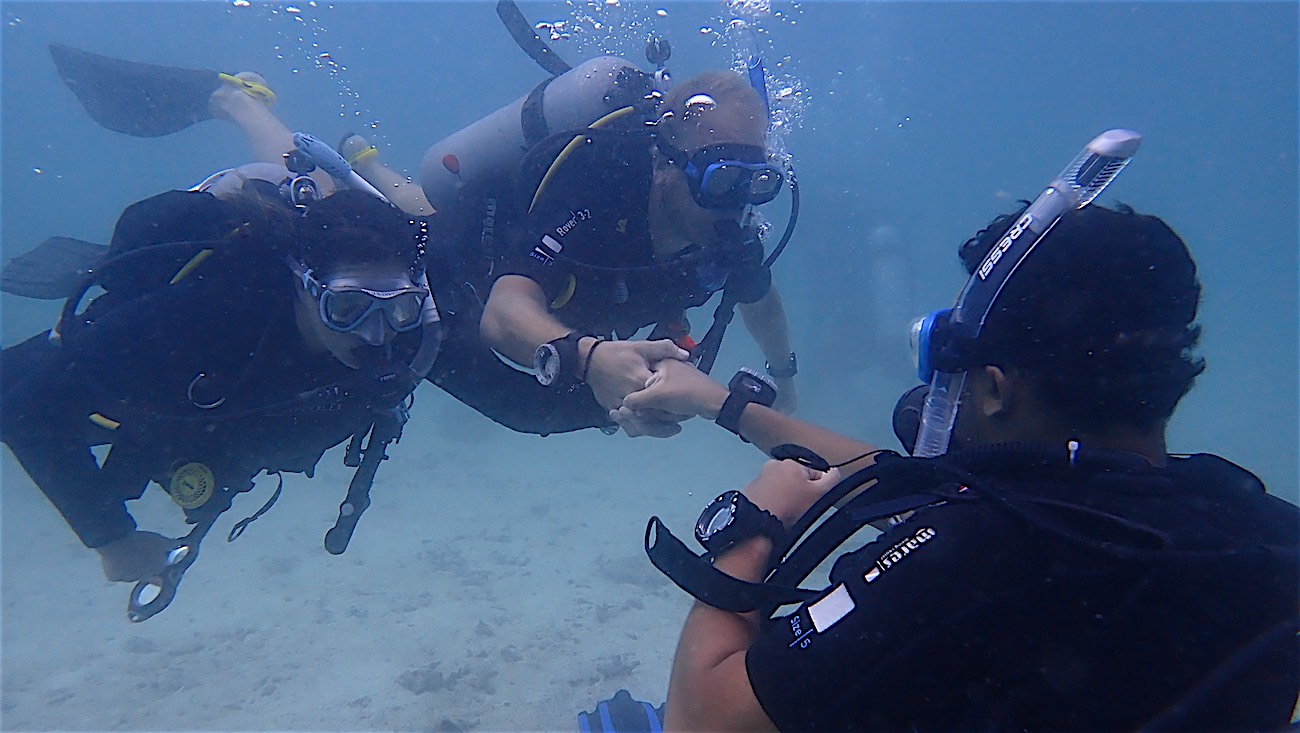 Koh Tao Discover Scuba Diving schedule
The Discover Scuba Diving schedule is flexible and we can work around your own personal needs and timeframe.
Please ask us if you have any any special requests either via email or on one of the messenger apps on this page.
Discover Scuba Diving Packages
Discover Scuba Dive: 2,500 baht
Additional dives: 1,000 baht
Schedule:
Day 1:
11.00 – 12.00: Orientation followed by completing the Discover Scuba participant guide
12.30 – 17.30: Shallow water training followed by dive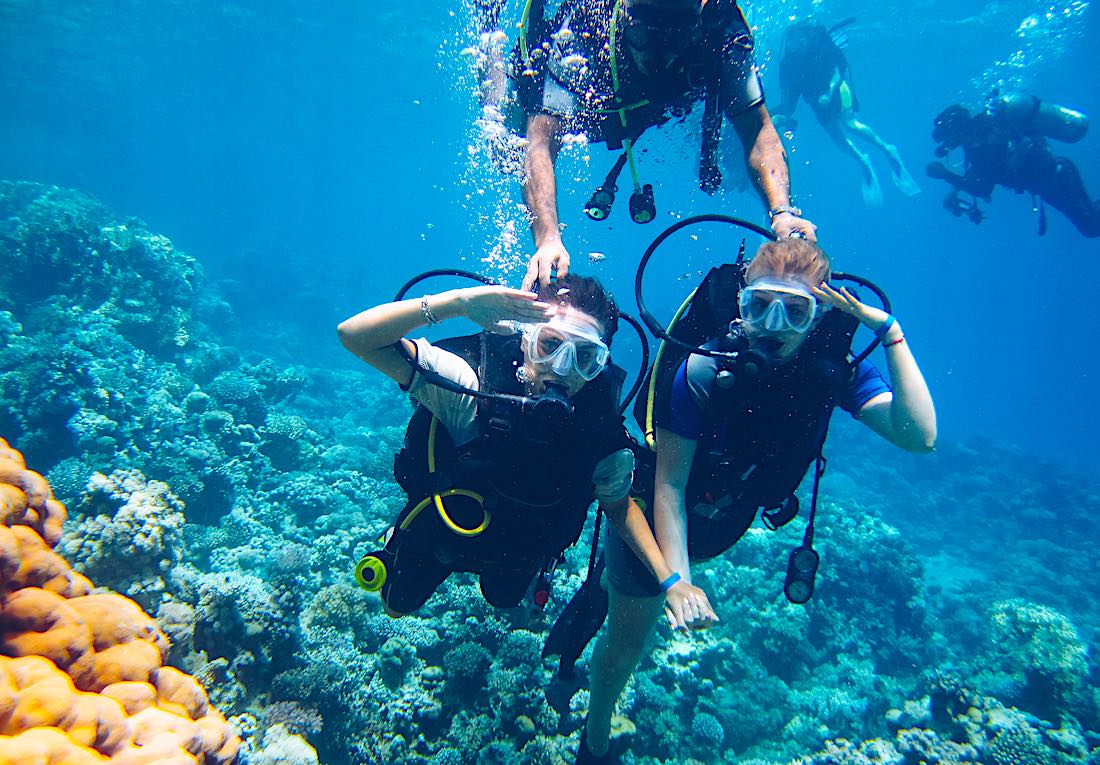 PADI Discover Scuba Dive Experience Information
Orientation & Knowledge Development
Your instructor will introduce you to the basic concepts including the effects of pressure and how to equalize your ears, the importance of correct breathing techniques and why you should never hold your breath.
We will also discuss hand signals and the importance of staying close to your Instructor.
The Instructor led knowledge development session along with the paperwork will take approximately 45mins to complete.
Shallow & Confined Water training
We will introduce you to scuba in water that is deep enough for you to stand in with your head out of the water.
To begin with, we will ask you to simply breathe through the regulator and when you are ready we will ask you to kneel down under the water. At this time, we can start to practice equalizing your ears.
Your Instructor will demonstrate each skill, then you will have time to try, practice and eventually perfect the skills.
Some of the other skills you will be mastering include:
Regulator clearing
Regulator recovery
Mask clearing
Inflate and deflate the BCD at the surface (Buoyancy Control Device)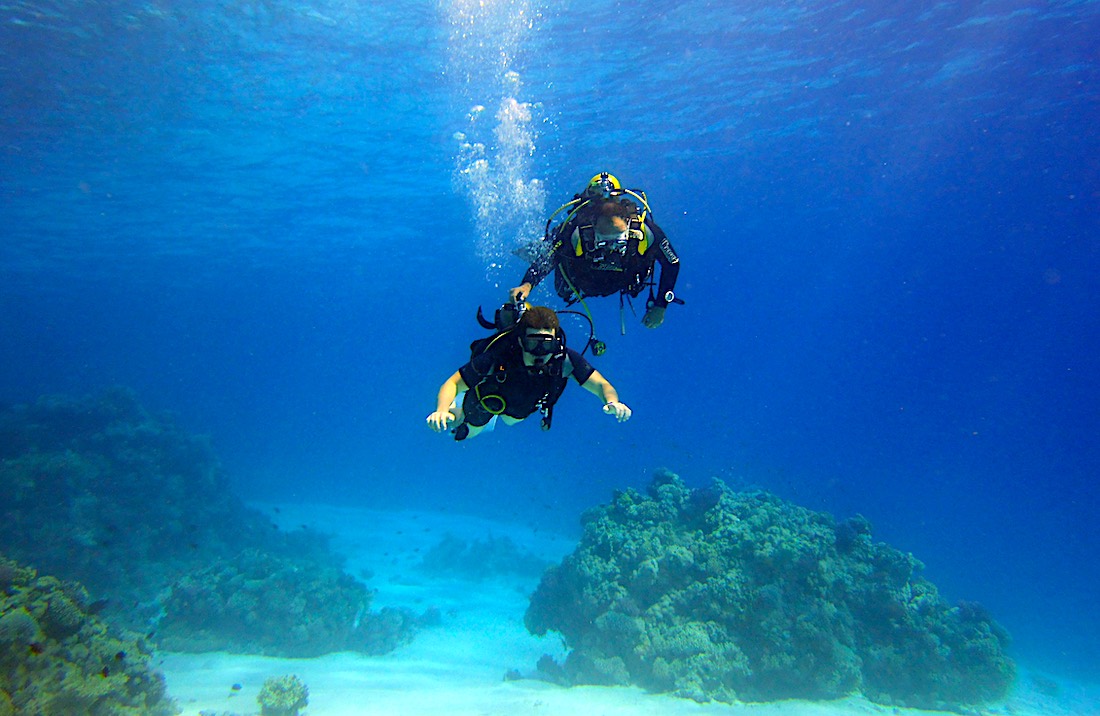 Open Water Dives – Explore the Ocean
Now you are feeling comfortable with your underwater skills, it is time for the real fun and excitement to begin. It is time to explore the ocean.
Starting from the shallow water we will slowly guide you around the Coral reef, allowing you to get comfortable with the swimming and pointing out some cool fish and marine animals you will see.
Once the Discover Scuba Dive is complete, we return to the boat and at this time, you can decide if you want to take another dive at a second dive site that the boat may be visiting.
The PADI Discover Scuba Diving Experience is a great opportunity to witness the diversity of marine life in the safe, warm ocean that surrounds Koh Tao.
Frequently Asked Questions
What is the price of PADI Discover Scuba Diving on Koh Tao?
Price is THB 2,500 per person for the Discover Scuba Diving experience. Together with your Instructor you will go through dive theory, practice a few skills in confined water and do a full ocean dive to a maximum depth of 12metres.
There is an option to do additional Open Water dives after your first one for THB 1,000 per dive. However, you can decide this after your first dive.
Can I do 1 day Discover Scuba Diving course on Koh Tao?
Yes, the Discover Scuba Diving experience is a 1-day program and perfect for those looking to take their first breaths under water.
You usually start at 9am and meet your instructor to go through the paperwork and theory. After this we will get you in equipment to start the confined water session.
After a lunch-break you go onto the boat to one of Koh Tao's beautiful dive sites to do your Open Water dive.
What is the Discover Scuba Diving Koh Tao program?
Discover Scuba Diving is an experience program that will allow you to make a dive in the ocean to a depth of 12metres under supervision of a PADI Dive Instructor.
It is perfect for those who are limited on time but want to discover the beauty of the underwater world, or those that want to try diving before committing to the PADI Open Water course.
During the program you will go through basic dive theory, you will do a confined water session either in a shallow bay or in a swimming pool and do a dive in the ocean to a maximum depth of 12metres.
What is the minimum age for PADI Discover Scuba Diving on Koh Tao?
The minimum age for Discover Scuba Diving participants, same as for PADI Open Water course, is 10 years old.
The program is perfect for children to discover the underwater world and learn about the marine environment.
It is the perfect 1-day family excursion to take during your holiday on Koh Tao. Our experienced dive instructors will take you for a dive at a ratio of 2:1.
Will I see a Whaleshark during the Discover Scuba Diving on Koh Tao?
Because of the depth of the experience (12metres) it is unlikely you will get to see a whaleshark, but not impossible.
Whalesharks are seen regularly around Koh Tao and they visit shallower depths frequently.
Even if you do not see a Whaleshark during your experience, we can guarantee you will see lots of colourful tropical marine life on your dive(s).
Can I do Discover Scuba Diving on Koh Tao if I cannot swim?
Yes, you can do the Discover Scuba Diving course if you don't know how to swim.
There are no swimming requirements for this program. During the dive your instructor will stay very close to you and hold on to you if necessary.
If you want to become a certified Open Water diver, there are 2 swim tests that need to be completed, a 200metres swim and a 10-minute float.
Will I see a Turtle on my Discover Scuba Diving experience Koh Tao?
Turtles can be seen on most dive sites around Koh Tao and are sighted regularly by scuba divers.
There is never a guarantee because you have to be in the right place at the right time, but it is definitely a magical experience when you see one.
Koh Tao has two types of sea turtles, the Green Turtle & Hawksbill Turtle. There is also a turtle breeding conservation program on the island.
How deep can you go on the Discover Scuba Diving Koh Tao?
The maximum depth you will dive too is 12 metres. During your dive you will be with your dive instructor the whole time at a ratio of 2:1.
The descent will be very gradual using a descent line so you have lots of time to get used to the new environment.
If you wish to go deeper you can continue with the PADI Open Water course that gives you a certification to dive to 18metres all around the world.
How long is the dive for on Discover Scuba Diving on Koh Tao?
Average dive time is between 30-40 minutes, depending on your air consumption.
The more relaxed you swim around the dive sites, the less air you will use and the longer your dive will be.
During the experience, you will have lots of time to look around and take in all the beautiful marine life Koh Tao has to offer.
If you have enjoyed your dive and want to do more, you have the option to do additional dives at a cost of THB 1,000 per dive.
Or you can opt to become a certified diver and take the PADI Open Water course.
Do I get a certification for Discover Scuba Diving course on Koh Tao?
Doing the PADI Discover Scuba Diving course does not give you a certification and for this there is more training required. The course is an experience program that gives you an intro into scuba diving.
If you enjoyed the dive and want to get a scuba certification you can do the PADI Open Water course.
Completing this course will give you a certification to dive independently with a buddy all around the world to a depth of 18metres.