>
>

PADI Open Water Course
PADI Open Water Diving Course Koh Tao
Koh Tao PADI Open Water Diver Beginner Course
Learn to scuba dive on Koh Tao and become a PADI Open Water diver gaining a license to dive anywhere in the world to a depth of 18 metres.
Koh Tao PADI Open Water Course includes:
PADI e-manual & all knowledge development
5 shallow (confined) water training dives
4 Open Water training dives at dive sites around Koh Tao
PADI Certification card
Rental of all scuba equipment
FREE use of Dive Computer
Log book
Maximum 4 students per PADI Instructor
Black Turtle Dive Customer (and environmental) promise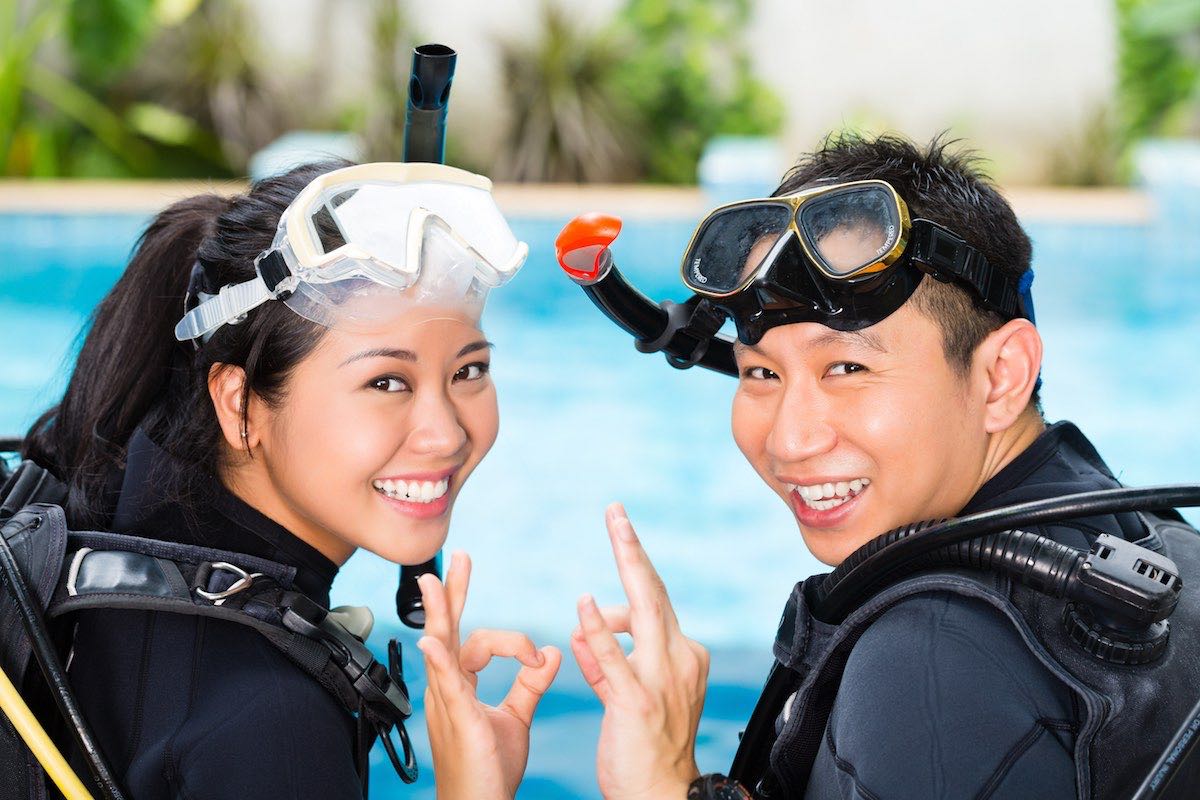 To enrol on a PADI Open Water diver course you must be:
Minimum 10 years of age
Medically fit to dive
Float for 10 minutes
Be able to swim, freestyle for 200 metres / or with a mask, snorkel and fins for 300 metres
We conduct the Open Water course over 2.5 – 3 days.
The course consists of three sections:
Knowledge Development – e-learning conducted prior to arrival
Confined water training – conducted in one of the many beautiful shallow bays around the island or a swimming pool.
Open Water training – 4 x Open Water training dives at some of Koh Tao's amazing dive sites
At Black Turtle Dive we take our customer promise very seriously. All our diving courses are conducted with a maximum of 4 students per PADI Instructor.
Our Instructors are highly trained and will ensure you receive lots of attention and progress at your own pace in a relaxed environment. During your training we will slowly build your confidence and ability as you develop the skills necessary to become a PADI Open Water diver.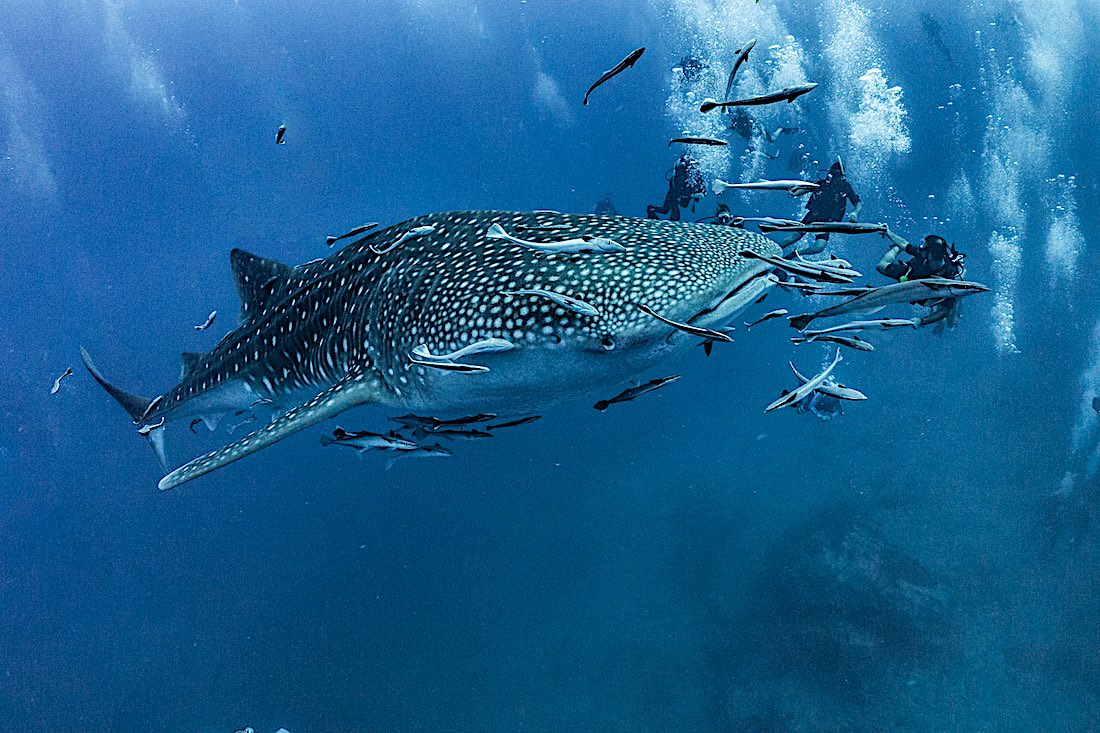 Koh Tao Open Water Diver course schedule
The Open Water diver course schedule at Black Turtle Dive is flexible and we can work around your own personal needs and timeframe.
Please feel free to ask us about any special requests you may have either via email or on one of the messenger apps on this page.
Our E-learning package:
E-learning Open Water course: 11,000 baht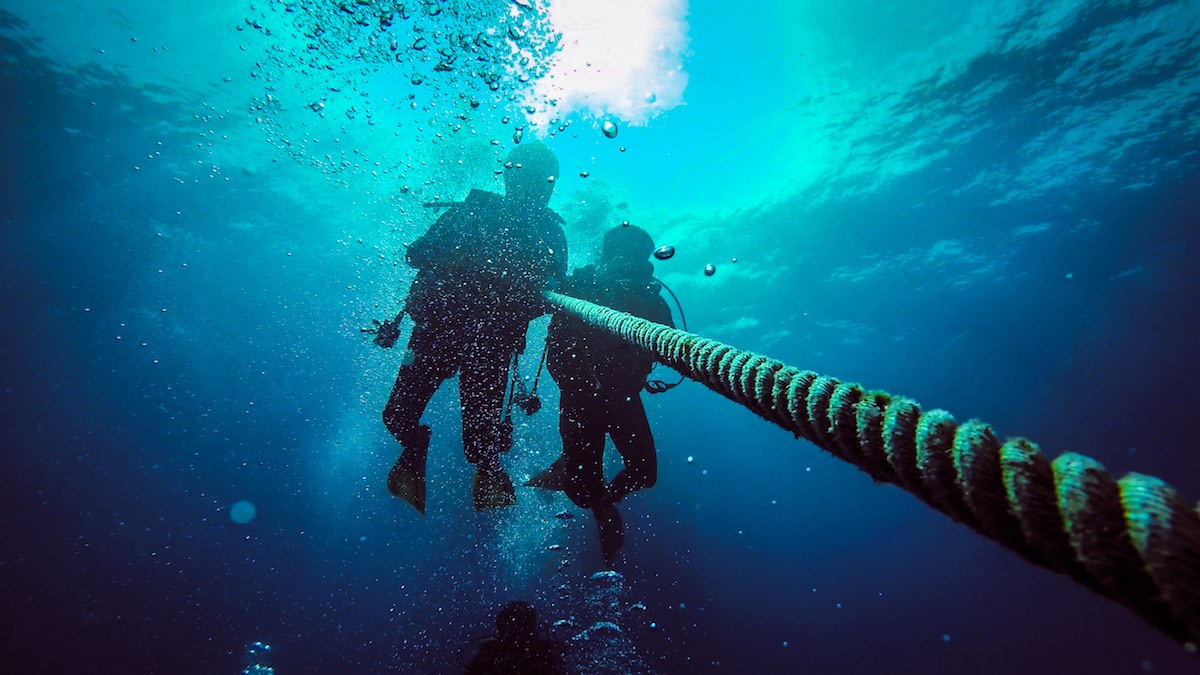 E-learning Open Water course schedule
Step 1 – Sign up, pay deposit, start your e-eLearning
Day 1:
07.15 – 07.45 : Meet at Black Turtle dive to complete paperwork
08:00 – 12:00 Confined water training dives 1 -3 *
12:00 – 13:00 Lunch
13:00 – 17:00 Confined water training dives 4 & 5 *
* These are approximate times. Like all PADI Courses the Open Water course is performance based and each person progresses at their own pace.
Day 2:
11:00 – 12.00 Complete Open Water diver Quick Review
12:30 – 17.00 Open Water training dives 1 & 2
Swim Test
Day 3:
12.30 – 17.00: Open Water Training dives 3 & 4
You are now a certified PADI Open Water diver, with a license to dive to a depth of 18 meters with a buddy around the world.
Please note, our training standards are set high and according to the PADI standards, we do not miss out skills, tick boxes or sign anyone off until they have met the performance requirements and we focus our inwater-skill training using neutral buoyancy where appropriate.
Completing all the diver skills properly is essential for the safety of yourself and your buddy and our experienced Diving Instructors work with you to ensure you accomplish this according to the training standards.
We can be confident that divers who are certified by us, will go on to dive safely in locations around the world and within the limits of their training.
Please remember, there are NO shortcuts to completing your Open Water course.

Diving Instructor – Koh Tao Confined Water trainingBOOK NOW
Book the PADI Open Water course
PADI Open Water Course Information
E-learning Open Water course
Orientation & Knowledge Development
Choose the e-learning Open Water course option and spend more time on holiday and NO time in a classroom.
Skip 1 full day of classroom time and spend that on the beach or better still, enjoy more diving.
We can arrange your Orientation & e-learning Open Water Diver Online Quick Review either the evening before we take you into confined water, or the day of your confined water, whatever is easier for you.
Just tell us what you prefer so we can make the necessary arrangements.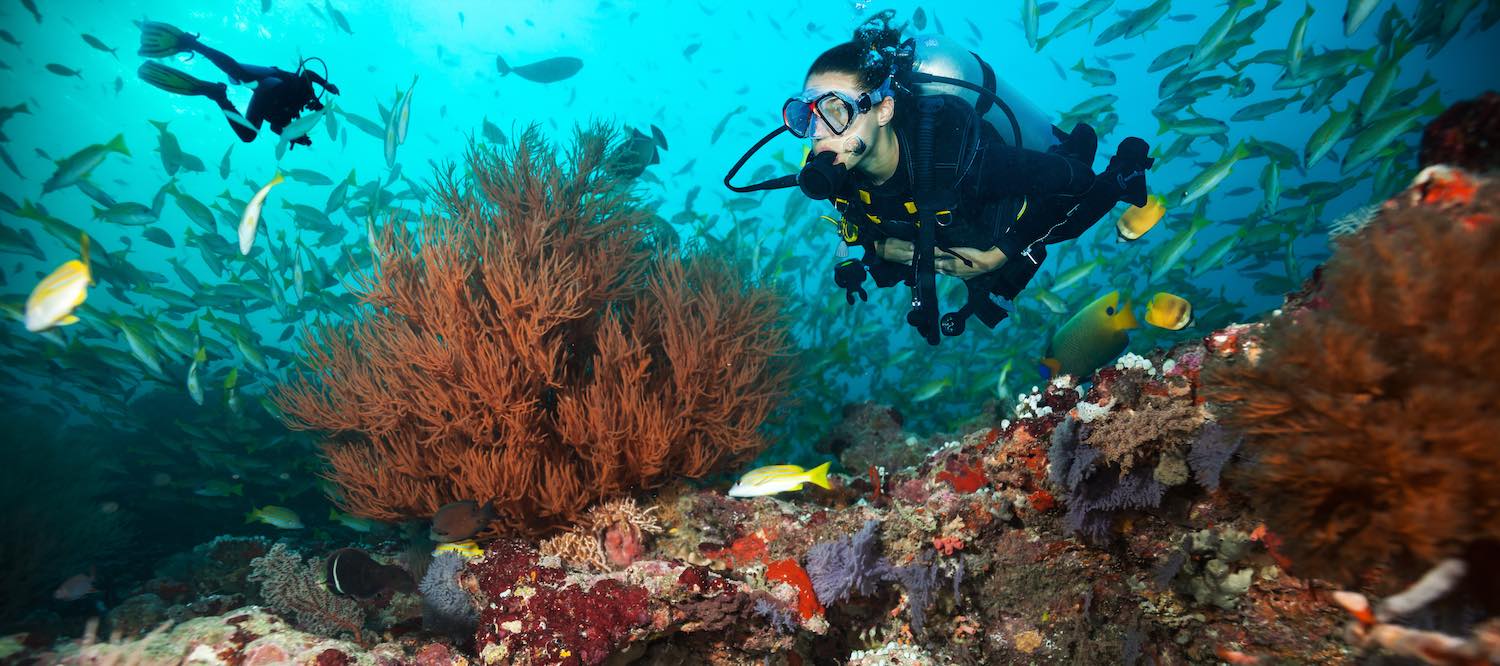 Shallow & Confined Water Diver training
This training is conducted in shallow water. To be precise its water that is deep enough for you to stand in and have your head out of the water.
We will start with some simple breathing through the regulator standing and then underwater where you can also practice equalizing.
You Instructor will demonstrate each skill, then you will have time to try, practice and eventually master the skill.
Some of the skills you will be mastering include:
Regulator clearing
Mask clearing
Alternative Air source use
Correct swimming techniques and body position
Descents and Ascents techniques
Hand signals and underwater communication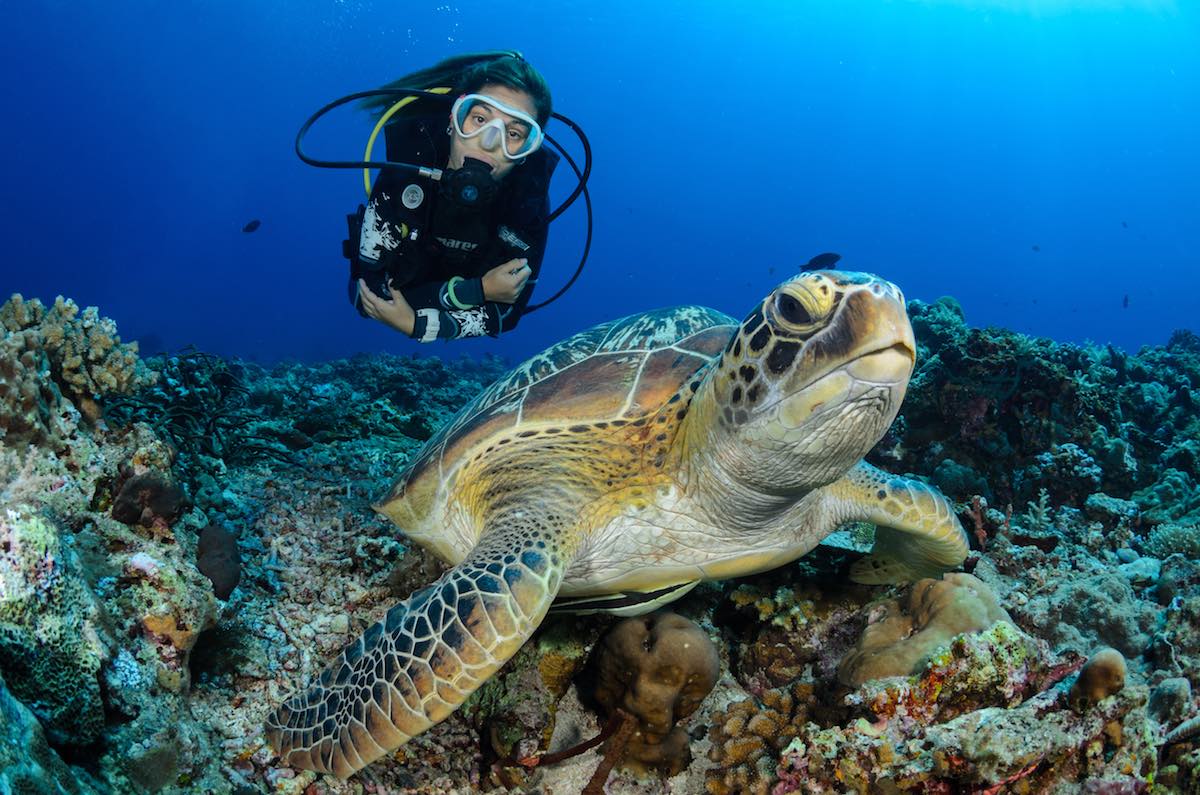 Open Water Dives – Explore the Ocean
Now you are feeling comfortable with your underwater skills it is time for the real fun and excitement to begin. It is time to explore the ocean.
You can now put into practice all the new knowledge and skills you have learned during completion of the 4 Open Water training dives from the Open Water diver course.
Shallow Sandy Bays
The dives are conducted at a variety of suitable dive sites around Koh Tao including Mango Bay, Japanese Gardens, Twins and Aow Leuk bay and your Instructor will guide you around the dive sites.
We will ask you to repeat some of the skills you have already mastered in confined water and as you become more comfortable with your buoyancy we will continue to work on your body position and swimming technique.
And of course there will be lots of time for you to explore the ocean. Expect to see lots of colourful corals and reef fish such as Angelfish, Bannerfish and Parrotfish.
It is also common when diving Koh Tao to see Stingrays, Anemone fish, a variety of Groupers and Sea Turtles.
The first two training dives have a maximum depth of 12 metres and the final two dives are to a maximum depth of 18 metres.
After dives 3 and 4, we return to land before lunch and certify you as a PADI Open Water diver with a lifetime license to explore the ocean around our beautiful planet. You can continue your diver education with our PADI Advanced Open Water course.
Customer Reviews
Open Water & Advanced Course
Completed and mastered my open and advanced open water course all within a week with black turtle all thanks to my fun and wonderful instructor Sue. It was a dream fulfilled due to Sue and the amazing team all at black turtle, they helped me achieve it with perfect ease and patience. Wouldn't recommend this place enough, just a sound bunch of people deeply passionate about the craft. Go dive with black turtle or don't dive at all!! Read more
Yannick Kelly
Open Water Course
I got my PADI Open Water with Black Turtle Dive and had a fantastic experience. While booking, they were very communicative and gave me all the information I needed in a lot of detail. All the staff were really friendly, particularly my instructor Sue who was a brilliant teacher and taught with so much patience, clarity and expertise, which made me so much more confident and at-ease while doing my first dives. The dives themselves were so much fun, with gorgeous underwater life, and the way they were organised gave me a real sense of ownership over what I was doing, while still allowing me to ask for help when needed. After my course, I wanted to book some recreational "fun dives" and they were super flexible with helping me plan the dives around my travel plans and making them great experiences. I really hope I can return soon to get my Advanced at Black Turtle!! Read more
Fran Miotto
PADI Open Water Course
Me and my dad had a great time doing our PADI Open Water courses at Black Turtle Dive. I'm 10 and my dad is 57 and we both felt really safe with our instructor, Sue. They had clean and new equipment that fitted perfectly – especially my small size. They answered all my questions with detail. We went diving at Mango Bay, Japanese Gardens and White Rock and saw all kinds of fish and coral. Black Turtle Dive is truly a great dive school and I can't wait for the next holiday to Ko Tao. Read more
Daren Carey
Open Water & Advanced Course
Amazing school! I started diving with Black Turtle for my open water and loved it so much that I did the advanced course right away, and kept going on fun dives with them after. They're my go-to school, the equipment is brand new and the team is really nice and friendly. Big shout out to Sue, my favorite instructor and the best you can dream of! She's incredibly patient and calm, I felt super safe with her from the very beginning and she's helped me feel more confident under water in no time. Can't wait to go back for more diving with her! Read more
Camille Pross
Open Water Course
Took my Open Water course with Youri, and Advanced with Gaston and Aidan. All of them were very knowledgeable and experienced instructors. Everyone working at Black Turtle were very helpful and super friendly, making my first time diving experience so much fun. Thank you guys!!! Read more
Gaziz Seidalinov
PADI Open Water certificate
I completed my PADI Open Water certificate at Black Turtle Dive and it was such a great experience! The Instructors were very professional, knowledgeable and best of all they were all lots of fun. Would definitely recommend these guys if you're going to Koh Tao for scuba diving. I'll be going back later this year to complete the Advanced course. Read more
Naomi
Open Water Course
I did my Open Water course with these guys and really enjoyed it. I'm based in the north of Thailand but will be back down to Koh Tao to continue with my courses in the New Year. Best of luck guys and thank you for a great experience.
Brian Familton
Frequently Asked Questions
What is the price of the PADI Open Water course on Koh Tao?
The price for the PADI Open Water course is THB 11,000 per person. Included in this price are all course materials, equipment rental (including dive computer), instructor fees, boat trips and dive insurance.
Food and accommodation are not included. However, you can contact us to find out about accommodation options. We have AC rooms available at discounted rates when taking a diving course with us.
It is possible you can find dive centres on Koh Tao that are offering the Open Water course at a cheaper price, so always ask what exactly is included to make sure there are no hidden costs or surprises.
How long is the PADI Open Water course on Koh Tao?
It is possible to complete the PADI Open Water course in as little as 2.5 days, however, the standard schedule takes 3.5 days.
This ensures you will have plenty of time to familiarize yourself with the dive theory, equipment and practical skills to become a confident certified diver.
The course schedule is very flexible and can always be adapted. You can contact us with any questions you may have regarding a course schedule to suit your travel itinerary.
Is the Cost of PADI Open Water course Koh Tao including Insurance?
When you sign up for the course with a reputable dive centre, insurance will be included in the course price.
When booking a course always double check with the dive centre about their policy regarding insurance.
Insurance is not required to start the PADI Open Water course, but knowing it is included and you are covered in the event of an emergency, will give you peace of mind during your training.
What is the Minimum Age of the PADI Open Water course Koh Tao?
To start the PADI Open Water course and become a certified diver you have to be minimum 10 years of age.
Children between the ages of 10 – 14 will get the Junior Open Water certification.
10 and 11 year old's will be limited to a depth of 12 metres and have to dive with a parent, guardian or PADI professional.
Certified Junior Open Water divers aged 12 – 14 are allowed to dive to 18m and must dive with an adult certified diver.
Can I do theory for the PADI Open Water course before I arrive at Koh Tao?
Yes it is possible to start the theory part for the PADI Open Water course at home before arrival.
You can watch the videos and take the knowledge reviews and quizzes from the comfort of your home using PADI eLearning.
By doing this you will have more time to work on and enjoy the in-water part of the diving course.
It will also reduce the time required to complete the course on Koh Tao. If you would like to find out more about how to get started with eLearning, send us a message.
Can I do Koh Tao PADI Open Water course if I cannot Swim?
In order to become a certified Open Water diver you will need to complete 2 swim tests.
The first one is a 10-minute float in deeper water. You can tread water, swim around or float on your back, thus showing us you are able to maintain yourself at the surface for 10 minutes.
The second swim test is a 200m swim without any equipment or 300m swim with snorkel equipment (mask, snorkel, fins). There is no time limit, it just has to be a continuous swim.
If you are not the most confident swimmer you can let us know and we can teach you how to swim.
How Deep can I go as a PADI Open Water Diver Koh Tao?
The maximum depth for PADI Open Water certification is 18 metres / 60 feet. With this certification, you can dive independently with a certified dive buddy all around the world up to the maximum depth.
You will learn how to plan and execute dives up to 18metres. If you want to go deeper you can continue your education and take the PADI Advanced Open Water course.
Is the PADI Open Water course on Koh Tao worth the cost?
Yes it is worth it. You will be amazed at what you get to see during your Open Water dives on Koh Tao.
Koh Tao is one of the cheapest places in the world to get your scuba certification, making it extremely good value.
Quality and training standards are among the highest in the world and the calm, clear, tropical warm ocean around Koh Tao makes it the perfect environment for scuba diver training.
Why is it best to choose PADI for my Open Water course Koh Tao?
PADI is the largest recreational scuba diving training agency in the world. You will find more PADI dive shops around the world than those of any other dive agency.
The quality of training and emphasis on safety are very important values within the PADI educational system.
The courses are focused on performance-based learning and offer flexibility to tailor the courses to the individual needs of students.
Is it possible to fail the PADI Open Water course on Koh Tao?
You have to meet all performance requirements to gain the PADI Open Water certification.
If a student is unable to master a specific skill they work with the instructor to practice until they can achieve mastery of the skill.
For the final exam there is a 75% pass rate, but in the unlikely event the student fails this, they can re-take a different exam at a later time.
If the course was not completed, the student has 12 months from the moment when the last segment was completed, to resume training from where they left off without having to start all over again.