>
>
>

Artificial Dive Sites
Artificial Dive Sites on Koh Tao
Visit one of Koh Tao's Artificial Dive Sites
Koh Tao has long been the most popular scuba diving destination in the world and with the number of scuba divers growing significantly during the past decade a number of artificial dive site have been built, helping to reduce the impacts on the fragile coral reefs.
These artificial dive sites have provided a number of significant benefits to the environment and the local community.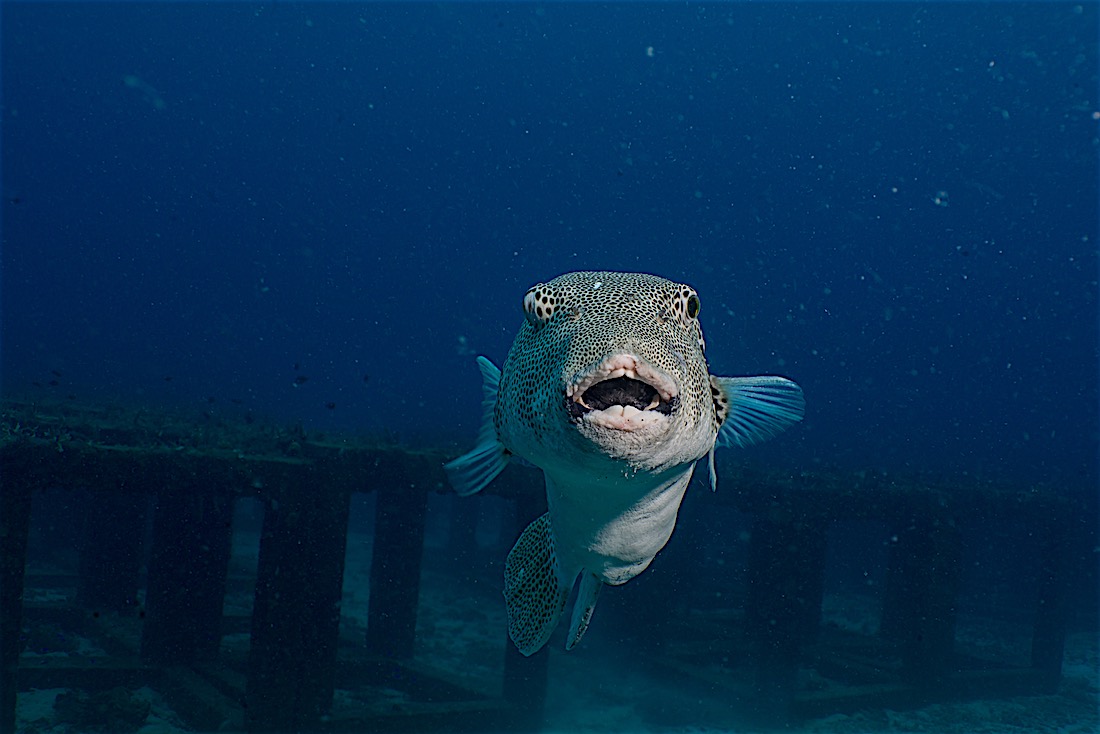 Some of these benefits include:
1) Taking pressure off some of the most popular dive sites around Koh Tao.
Having more alternatives dive sites available to choose from when scheduling dive trips means less divers on Koh Tao's popular natural dive sites.
2) Increased the number of suitable scuba training sites for novice divers.
With the exception of HTMS Sattakut & MV Trident all of Koh Tao's artificial dives sites are suitable for shallow training dives.
Discover Scuba Diving program and Open Water diver courses benefit with lots of sand for novice divers to swim across as they master buoyancy, avoiding damaging the coral reefs.
3) Provide habitat and act as nurseries for marine life, offering many species a sustainable home.
Artificial reefs have hard surfaces where algae and barnacles can attach to and where corals can grow. They also provide a structure with cracks and holes, offering marine life shelter and places to hide from predators.
4) Increased the amount of coral around the waters of Koh Tao through coral propagation programs.
Coral fragments are collected from the ones laying on the ocean floor (corals of opportunity) broken during storms or from vessels anchoring, or grounding.
We then subsequently transplant them onto the artificial structures that help to re-grow coral fragments.
Once they grow big enough, there are also examples of the coral fragments being taken off the artificial structure and transplanted back onto the natural reef to help it regenerate and thrive.
Most man-made Artificial reefs are planned on flat seabeds with lots of sand and little or no existing reef structure.
Here are some examples of popular Artificial dive sites on Koh Tao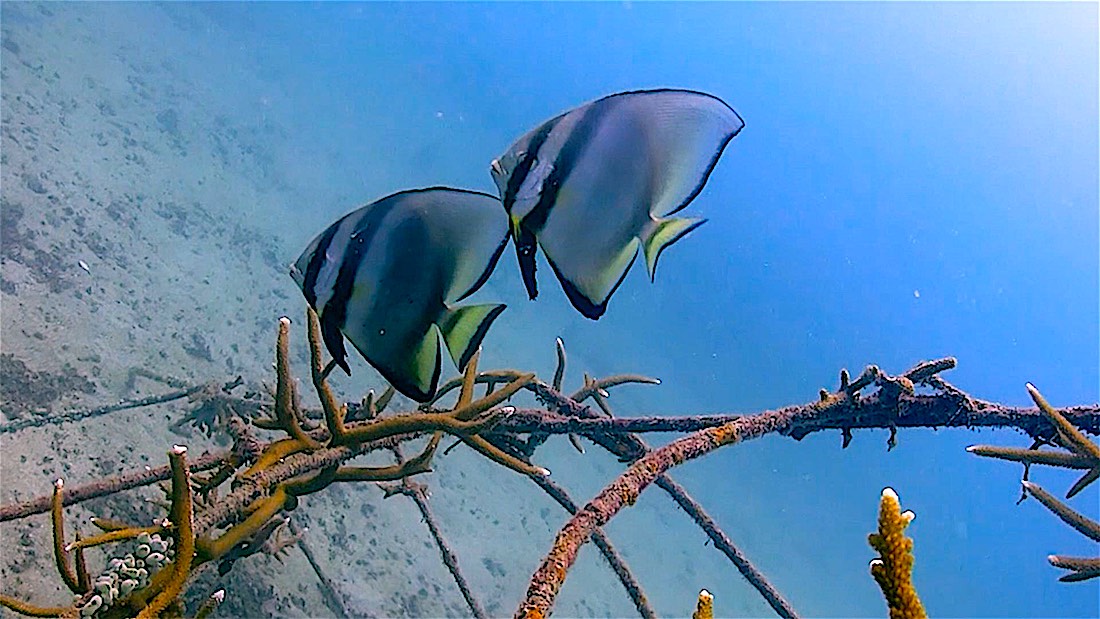 Junkyard Reef Dive Site Koh Tao
In 2006 when the metal frame for the shade cover of a speedboat was smashing into the reef just off Mae Haad, a group of conservation minded divers went to help.
But instead of collecting the frame and bringing it back to shore they had something else in mind. They swam out and dropped it down in the sand.
And that was the humble beginning of what is now one of the islands most popular training dive sites located 500 metres off the western coast of Koh Tao.
Starting in around 6 metres, just west of the shallow reef off Mae Haad bay and stretching out over the sand, the deepest point is around 11 metres.
Over time structures have been added, using a variety of different materials including old gym equipment such as dumbells and exercise bikes and old scuba equipment racks donated by local gyms and dive schools.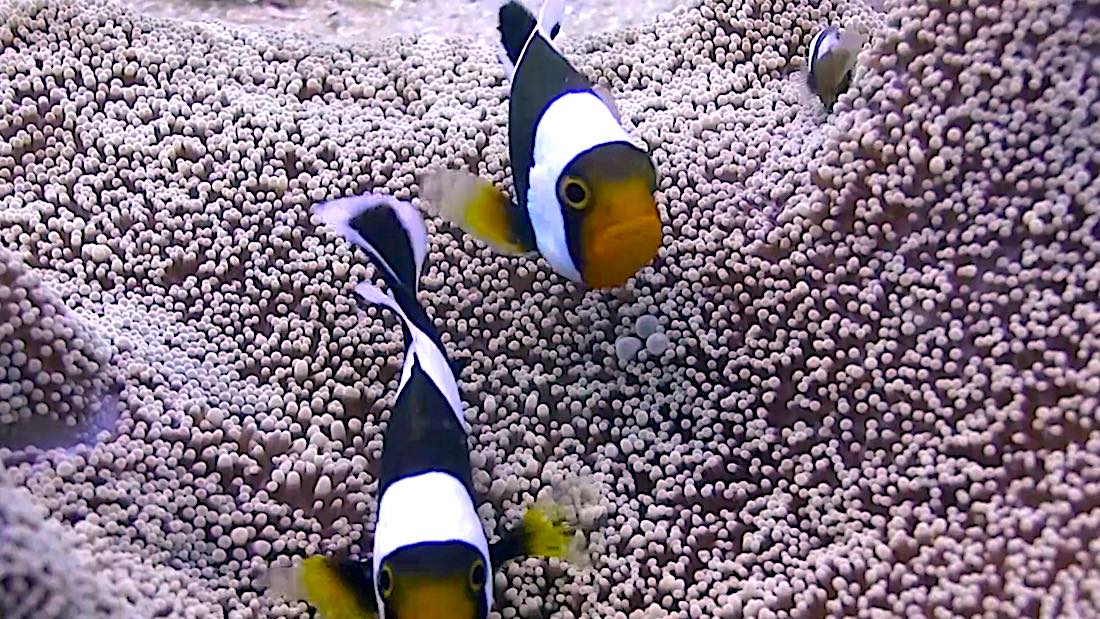 Diverse Marine Life
As Junkyard Reef developed and grew in size, it attracted more marine life.
Cement structures where designed specifically for planting corals and even an old truck with the engine removed and environmentally cleaned was then added to this ever-growing dive site.
In 2011 a coral nursery was established, which made things easier to grow smaller coral fragments before planting them onto structures.
Since then, steel rebar structures, often modular in design have been used. They are easy to attach coral fragments to and allow currents and waves to pass through with minimal resistance and should last a decade or so.
And when they do finally collapse under the weight of the healthy corals growing on them they will continue to grow.
In 2018 The Art Rising – a social art project designed, funded and constructed Mazu – an almost 2-ton concrete structure supported with a steel frame and a mesh covering before being cemented.
This is the heaviest structure at Junkyard and took over 100 x 20 litre plastic barrels to float it into position and sink.
Junkyard is now home to 100's of different species of marine life including Pufferfish, Saddleback Clownfish, Tailfin Batfish, Juvenile sweetlips and much more.
There are also over 1000 coral transplants at Junkyard Reef.
Still very much a work in progress, Junkyard Reef is a prime example of what can be achieved over time by the local community and lots of dedicated volunteers.
It is also an excellent example of how we can start building an artificial dive site on a small budget and allow it to grow over time.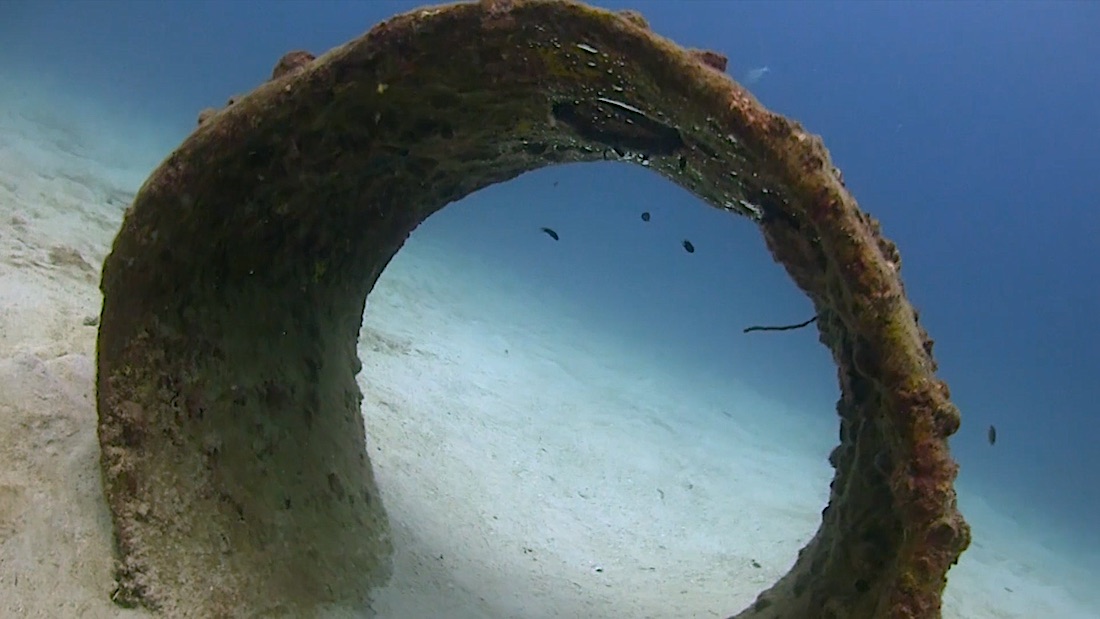 Buoyancy World Dive Site Koh Tao
The planning, preparation and deployment of Buoyancy World was an island wide initiative that brought together divers, local businesses and the wider local community during the period 2009-2011.
Laying in water 10 to 16 metres deep, Buoyancy World is a short swim north of Twins, Koh Tao's most popular dive site and the concept was simple.
The idea was to build a dive site that was specific to scuba diver training, allowing the scuba diving community to take pressure of the natural coral reef and the aim was to promote the growth of marine life and corals.
Many dive schools and businesses contributed, building their own structures. These include turtles, sharks and a giant octopus. There is a shipwreck that is also home to coral nurseries, although its more coral now than shipwreck.
Some pretty cool marine life resides at Buoyancy World including red breasted Wrasse, Titan Trigger fish, Batfish and Long fin Bannerfish to name a few.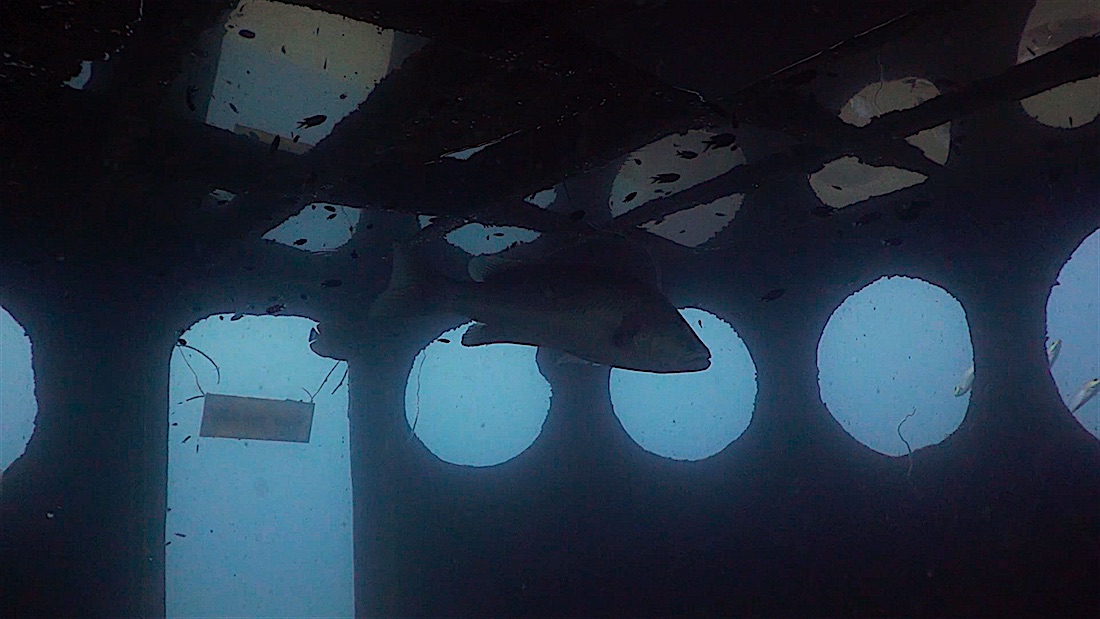 HTMS Sattakut Dive Site Koh Tao
Cleaned of all toxic materials, the Royal Thai Navy conducted a controlled sinking of the Sattakut on June 18th 2011 onto a sandy area south of Hin Pee Wee dive site providing the island with a first-class wreck dive.
With maximum depth of just below 30 metres, the shallowest part of the wreck lies around 18 metres and this is most certainly a dive to be enjoyed by Advanced divers as well as for Wreck & deep diver training.
Now almost 10 years since it was sunk, the wreck is home to a variety of marine life.
You will see schools of yellow tail fusiliers and one spot snapper swimming around the outside of the wreck.
Inside the wreck you will find brown sweetlips as well as orange spotted trevally, several species of grouper and thousands of small damselfish actually on the wreck.
When the visibility is good you can see Hin Pee Wee and this is something you can incorporate into your dive plan if you are diving on Nitrox and your buddy has good air consumption.
This close proximity was planned, again with the objective of lessening impacts on the natural reef at nearby White Rock, which after Twins would be the most popular site around Koh Tao.
The HTMS Sattakut project was a collaboration that included the Royal Thai Navy, the DMCR (Department of Marine & Coastal Resources) and the local Koh Tao government and is certainly Koh Tao's most successful deep artificial dive site and premier wreck dive.
There are also artificial dive sites and structures at several other locations around Koh Tao.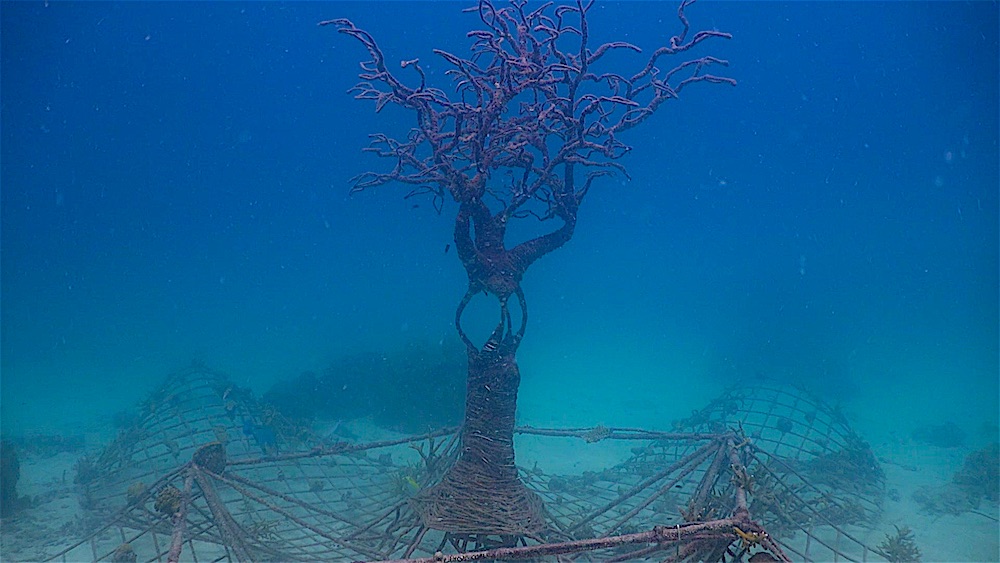 Aow Leuk Dive Site Koh Tao
Aow Leuk on the south side Koh Tao has a series of structures including a new structure receiving a low impressed electrical current from Coral Aid's NETV3 Duo.
Another project located in Aow Leuk is the DMCR sponsored concrete block structure in Hin Ngam. There are 5m square concrete block frames that weigh over a ton that have been stacked onto of each other to create a large concrete structure.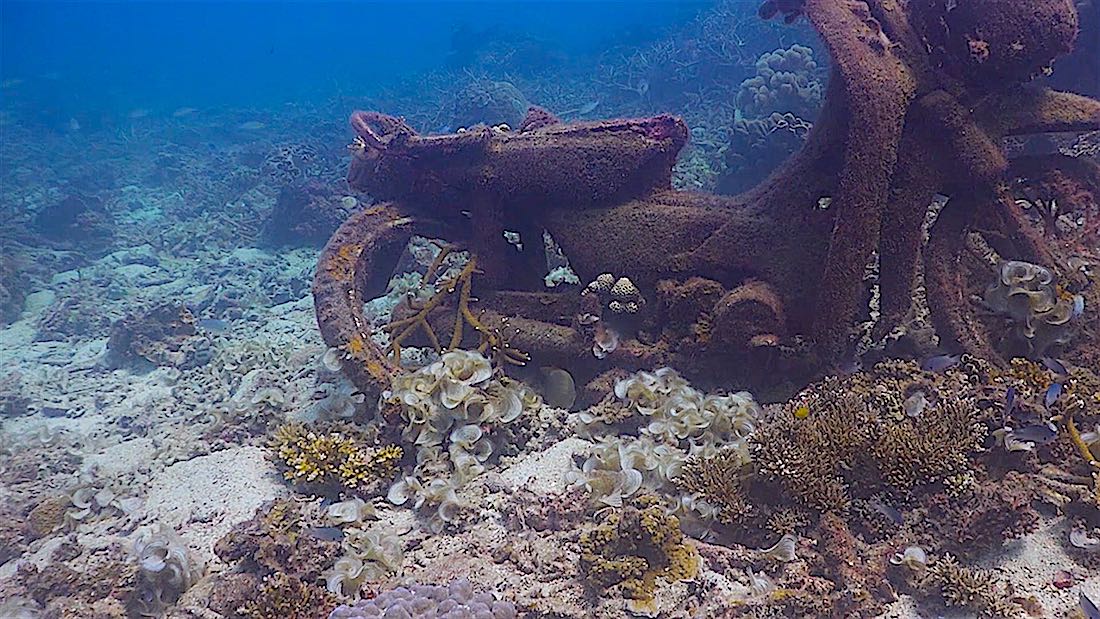 Tanote Bay Dive Site Koh Tao
Tanote Bay has a sunken Catamaran that is home to lots of life and the other side of the natural reef lies more artificial structures.
A successful reef ball project here has helped replace parts of the natural reef that where lost due to some soil erosion and landslides caused by prior construction techniques.