Koh Tao Accommodation
Scuba Diving with Accommodation Koh Tao
Koh Tao has adapted to the requirements of modern day travelers and offers a wide and varied range of excellent accommodation to suit all budgets and tastes.
If you are scuba diving with us, we have a choice of accommodation that is all within a short distance of the dive center.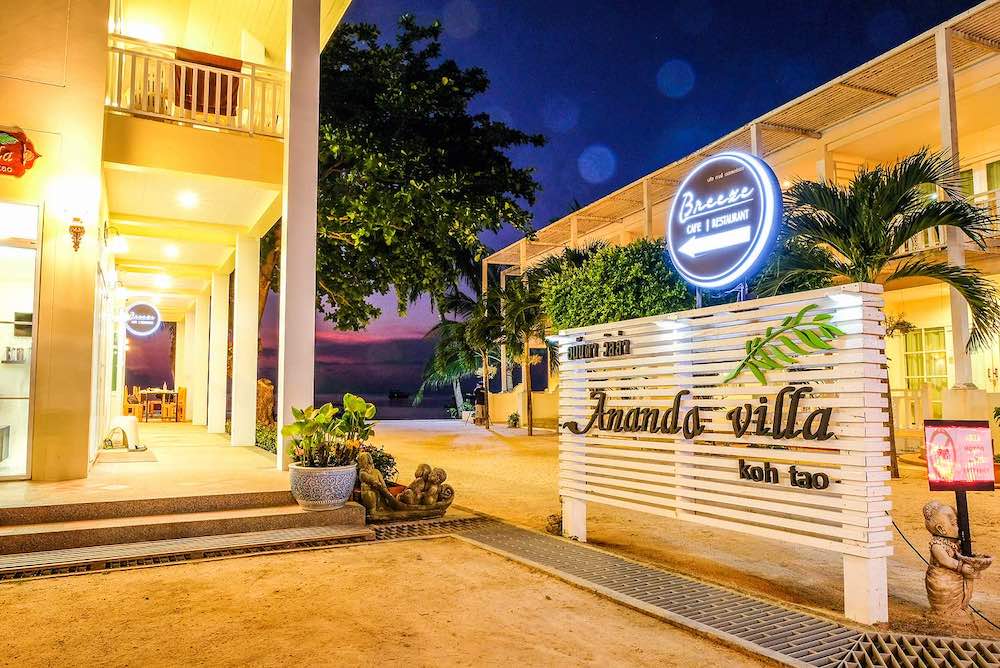 The Loft Hostel – Budget Dormitory rooms
A new, modern style hostel, The Loft is centrally located, just a 1-minute walk from the main pier.
The hostel offers air conditioned and fan dormitory options, with hot showers and is perfect for the budget conscious single traveler.
The Loft bar is a popular and social place to meet and is open from noon till midnight and serves great cocktails, cold beers and a range of food from its own kitchen.
Hostel Accommodation Koh Tao
Free Wifi is available throughout the hostel and there is an excellent seaview patio terrace on the roof.
The hostel provides a cozy common area downstairs where you can socialize with other travelers, relax and read a book or catch up with friends online.
With friendly staff, a tasty breakfast and a central location this place is great value at the budget end of the accommodation spectrum.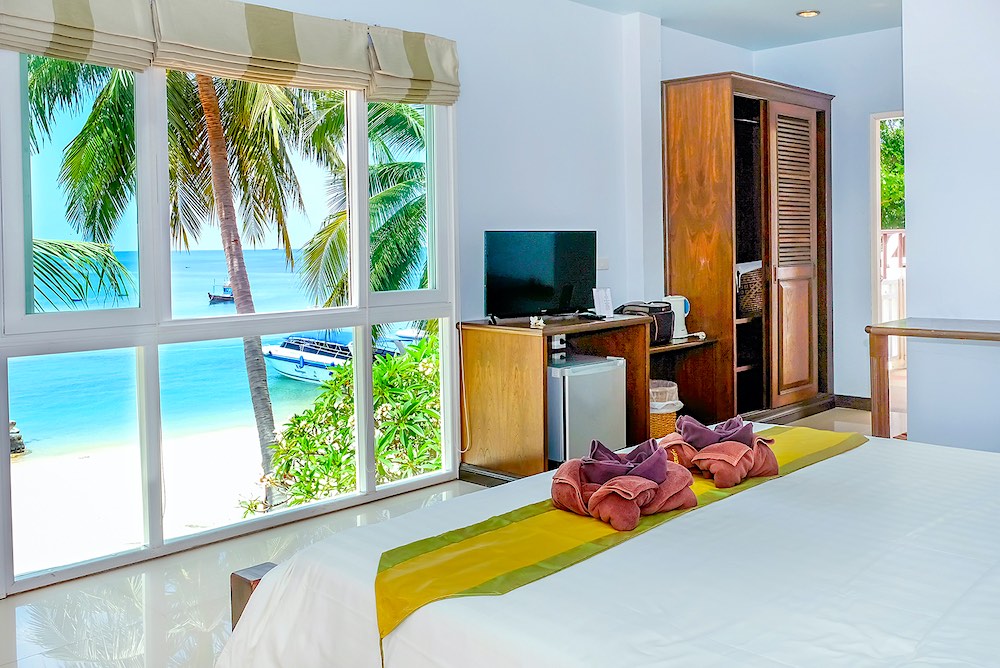 Ananda Villa Koh Tao – Beachfront Hotel – 16 rooms
This small French colonial style 16 room boutique style hotel sits at one end of the northern part of Mae Haad beach.
A family managed and owned hotel, this low to mid range AC accommodation provides an excellent level of customer service level, is friendly and very welcoming.
Koh Tao Hotel Accommodation
There is a safe swimming area in the ocean directly off the beach in front of the hotel and the beach is clean with soft, white sand and there are sun loungers available.
Ananda Villa boutique hotel has two restaurants on-site that cater to both the local community and international travelers with a varied and tasteful menu.
Breeze Koh Tao offers a beachfront terrace, with a good quality International menu, great cocktails and is a very popular restaurant for sunset at this end of the beach.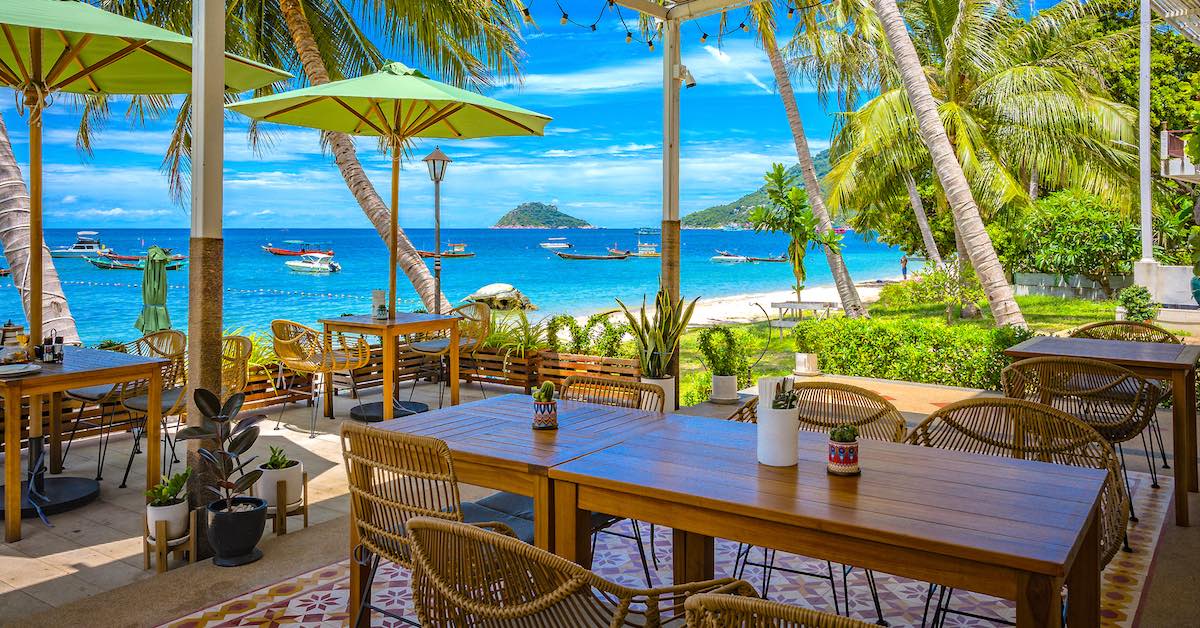 Restaurants on Koh Tao
Pranees Kitchen Thai restaurant is one of the oldest and most popular restaurants on Koh Tao, offering authentic Thai food with a focus on traditional southern Thai style of cooking.
Pranees Kitchen is well known for its Massaman Curries and Pad Thai both locally and internationally and is a must visit restaurant when visiting Koh Tao.
Ananda Villa offers a reliable and trustworthy daily and weekly scooter rental service, has a travel desk at reception for booking tickets, operates a taxi service, in-house laundry, international TV and fast WIFI.
There are also detached garden view bungalows available just 50 metres from the beach that provide a cheaper alternative to the AC superior beachfront rooms.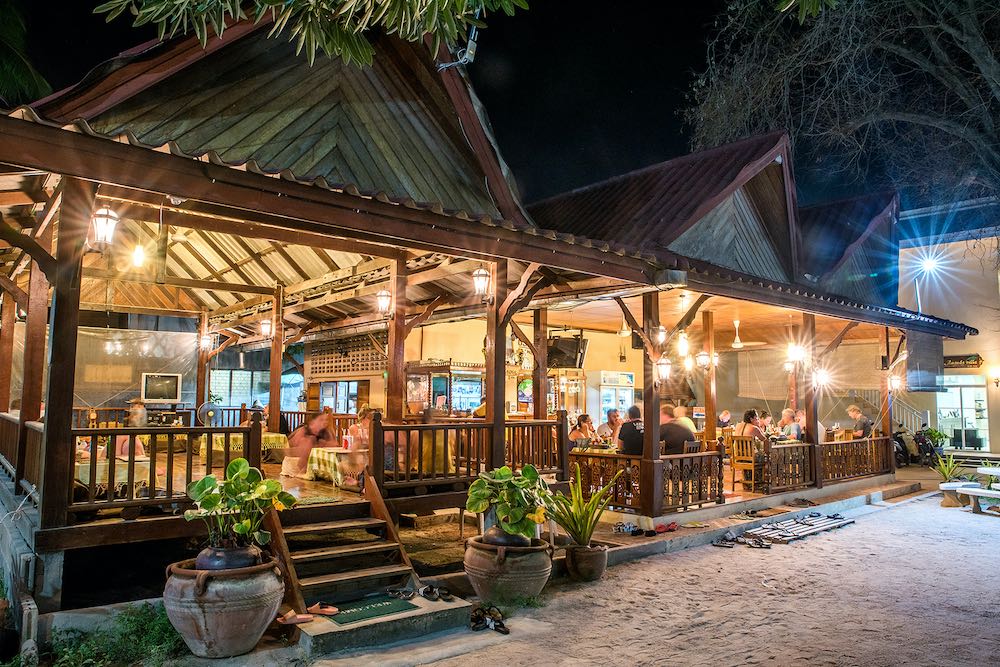 Montra Resort – 60 rooms
Another beach front hotel, Montra offers a combination of spacious higher end beachfront villas and family suites alongside standard (Deluxe & Superior) rooms within landscaped gardens.
The hotel is a mid range beachfront hotel boasting a large swimming pool as the center piece of the resort with a poolside restaurant and bar.
Located on a quiet, peaceful and clean stretch of beach with soft white sand and easy access to the ocean, the area is perfect for sunbathing, a swim or a snorkel.
Koh Tao Beach Club Resort- 36 rooms
Koh Tao Beach Club is nestled at the very end of the northern stretch of Mae Haad beach where the bay ends and the outcrop of rocks that separate Mae Haad and Sairee start from.
The resort accommodation is of high to mid-range pricing and it has an almost exclusive private beach, one of the best stretches of beach on the island.
All around this area is good for snorkeling with lots of marine life to see both out on the Coral reef and around the rocky headland.
North Mae Haad Beach Accommodation Koh Tao
As Beach Club Resort is positioned at the end of the bay there is very little boat traffic in the area, so it is both safe and good for snorkeling.
Beach Club Resort offers a number of detached beach front accommodation chalets, including several with plunge pools overlooking the beach.
The rest of the resort rooms are pool side rooms, two stories high and built around a swimming pool in the middle of the resort close to reception.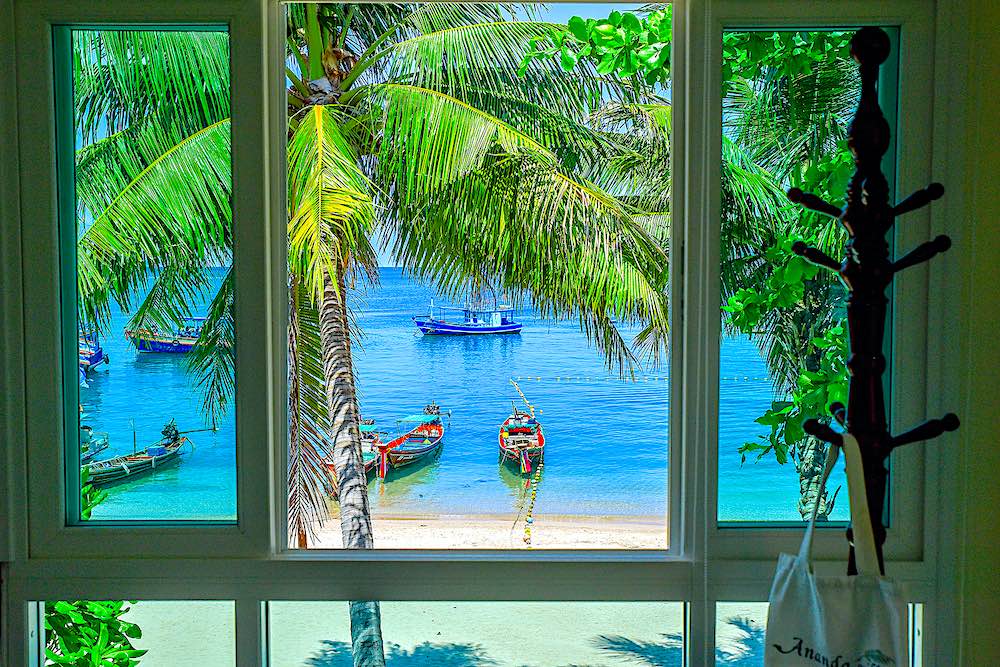 Sensi Paradise Resort – 100 rooms
Sensi Paradise Resort is a mid to high range priced beachfront resort that is quiet and it perfectly blends in with the natural beauty of the environment.
The resort features traditional Thai wooden style beach cabins that stretch back from the beach, hidden from view in a large landscaped garden full of trees and plants.
South Mae Haad Beach Accommodation Koh Tao
Located at the southern end of Mae Haad Bay with a quiet beach to themselves, their beachfront restaurant, looks out over the ocean and serves delicious Thai food with first class service.
There is a safe, roped off swimming zone to stop boats from entering, perfect for a morning swim or snorkel with a small shipwreck located several metres off the beach with own marine ecosystem.
If you prefer a swimming pool, Sensi Paradise Resort has a large pool, which is great for sunbathing, swimming and relaxing your day away.