Hin Wong Pinnacle Dive Site Koh Tao
Learn about Hin Wong Pinnacle Dive Site on Koh Tao
Hin Wong Pinnacle dive site on Koh Tao is a perfect location as an alternative deep site on the east coast with diverse and interesting marine life for scuba divers.
Location: 1.5km from Hin Wong on the east side of Koh Tao
Depth: Max 40m, Min 10m – Average 18m
Type of site: Shallow to Deep with small caves
Level: Advanced Open Water diver
Conditions: Can have a strong currents and unpredictable visibility
Average Visibility: 2-25meters
Hin Wong Pinnacles Dive Site Koh Tao
Hin Wong Pinnacle dive site is a great alternative site for a deep dive when conditions on the west side of the island are less than desirable.
The dive site runs on a north-south axis with a table top like feature at the south end, which is the shallowest point at 8 metres.
Hin Wong Pinnacle can often have an eerie feel about it with large rock pinnacles and in parts there can be a thermocline and varied visibility.
Inspiring Koh Tao Dive Site
However, when diving Hin Wong Pinnacles it can be inspiring, awesome and a very rewarding dive with an abundance of marine diversity available to witness.
You will see large numbers of Striped Squirrelfish and Black Damsel fish swimming around the Brain and Table corals, Sponges, Tube corals and Sea Anemones that are attached to the large granite rocks that make up Hin Wong Pinnacles.
Hin Wong Pinnacle dive site boasts an abundance of various hard and soft corals, more so than most other dive sites around Koh Tao.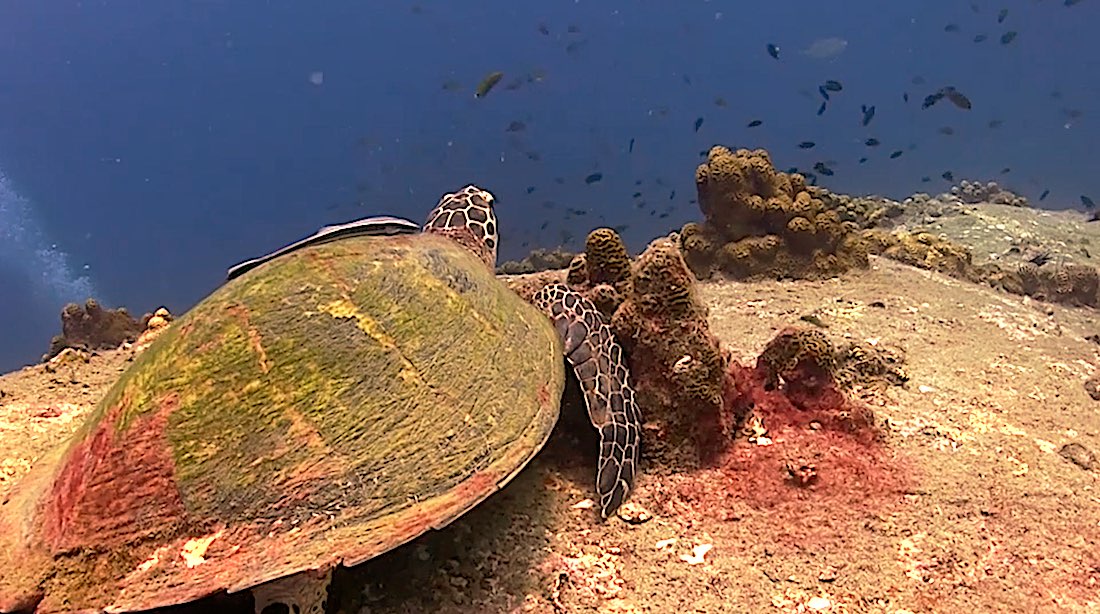 Hard & Soft Corals
If you navigate east after your descent you will discover stunning purple soft tree corals along with a variety of colorful and striking corals such as Sea Whip, Sea Fans and Toadstool Corals.
Hin Wong Pinnacles is home to a variety of marine animals including Scribbled Filefish, Harlequin Sweetlips, Titan Triggerfish and Blue Ringed Angelfish.
Keep exploring and you will see various Butterfly fish, Groupers and other common reef fish seen around Koh Tao with lots available for the macro photographers such as different Nudibranch.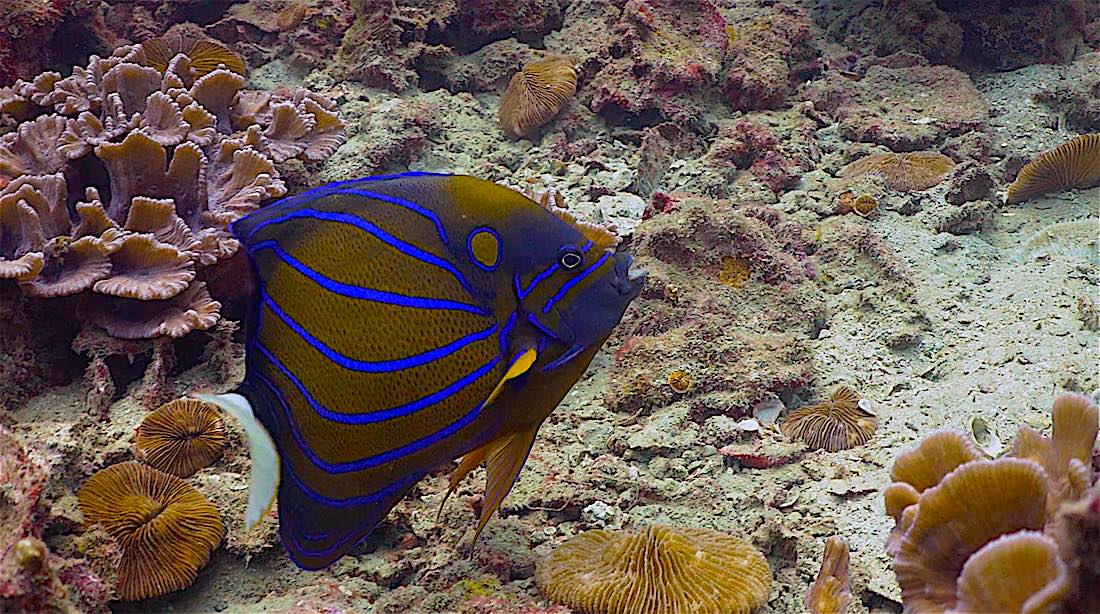 Abundance of Marine Life at Hin Wong Pinnacle
We often see Banded Sea Snakes, Sea Turtles and large Brown Marbled Groupers hiding in the shadows, maneuvering through various swim throughs that have formed from large granite rocks that make up most of this dive site.
Hin Wong Pinnacles can have a strong current, has access to depths deeper than 30 metres and inconsistent visibility.
However, this dive site is best suited for Advanced divers and perfect for Nitrox diving or for scuba divers who are in deep diver training.