Aow Leuk Dive Site Koh Tao
Learn about Aow Leuk Dive Site on Koh Tao
Aow Leuk dive site is located on the south-east coast of Koh Tao and is a very popular shallow scuba diving location for fun divers and diving courses.
Location: South-East Koh Tao
Depth: Max 15m, Min 0m – Average 8m
Type of site: Shallow reef dive
Level: Open Water diver
Conditions: Usually Good
Average Visibility: 5-10m
Aow Leuk is a large bay and is located on the south east side of Koh Tao and offers beautiful views of Shark Island, Koh Phangan, Koh Samui and Ang Thong National Marine Park from the surface.
Aow Leuk is one of Koh Tao's most beautiful bays and is a popular location for both snorkelers and divers.
Aow Leuk is the perfect dive site to learn to scuba dive and offers divers a variety of marine life, hard and soft corals mixed in with boulders.
Learn to Scuba Dive at Aow Leuk
The dive site has lots to see including a Sea Turtle and will keep even the most experienced diver busy for many hours underwater.
Aow Leuk can be split into two dives, one along the north side of the bay over to Aow Leuk point and the other on the south side called Hin Ngam.
The bay has a maximum depth of 15 metres with an average depth of around 8metres and there is a sandy bottom between the two dives, which is perfect for training dives.
Both of these dive sites are covered in hard and soft corals, which are attached to the large rocks and boulders that make up the shoreline.
Abundance of Marine Life
You will see large boulder corals, stony corals and lots of Christmas tree worms embedded in the heads of massive corals.
There is also a lot of Staghorn, Brain and table corals at Aow Leuk and beautiful Toadstool and mushroom soft corals.
These corals provide a great shelter for Juvenile Yellow Box fish, Juvenile sweetlips and Blue Spotted Ribbontail rays.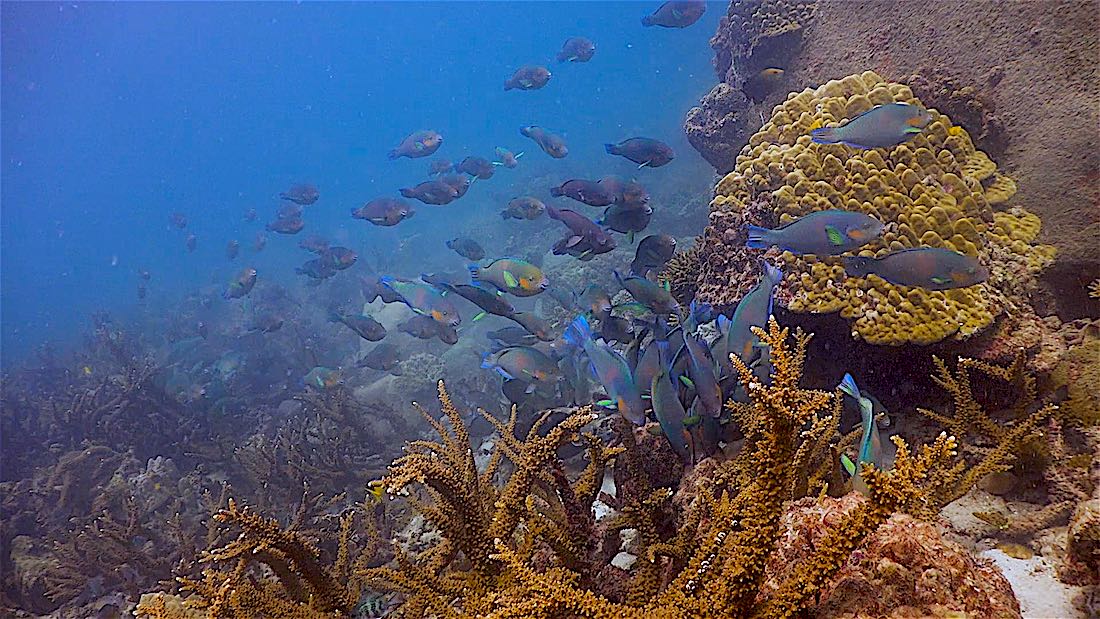 Blue Spotted Ribbontail Rays
If you have a sharp eye you may see a Bearded Scorpion fish, reddish brown in colour that blends in with the rocks and corals perfectly.
You will see Bar-Tailed Goatfish rummaging around and if you look carefully, especially in the shallows, and you will see Peacock Sole, camouflaged against the sandy bottom.
There are numerous Giant Clams and Indian cushion stars and you will also see crown of thorns.
If you are lucky or snorkeling Aow Leuk you can see Juvenile Black Tip Reef sharks swimming around looking for small Wrasse, Grunters and other small bony fish to eat.
Sea Turtles at Aow Leuk Dive Site
You will get to see a variety of marine life while scuba diving at Aow Leuk as the dive site offers diversity in a shallow bay.
Yellow Tail Barracuda can be seen around the edge of the corals at Hin Ngam and Pink Anemone fish poke their heads out of their protective carpet anemones that are anchored to the rocks and boulders.
The marine life at Aow Leuk is in abundance including sergeant majors, rabbitfish, squirrelfish and damsel fish, as they go about their daily business along with large numbers of parrotfish that snack on the corals.
A variety of different Shrimps and pipefish along with porcupine pufferfish and White eyed moray eels can be seen around Hin Ngam.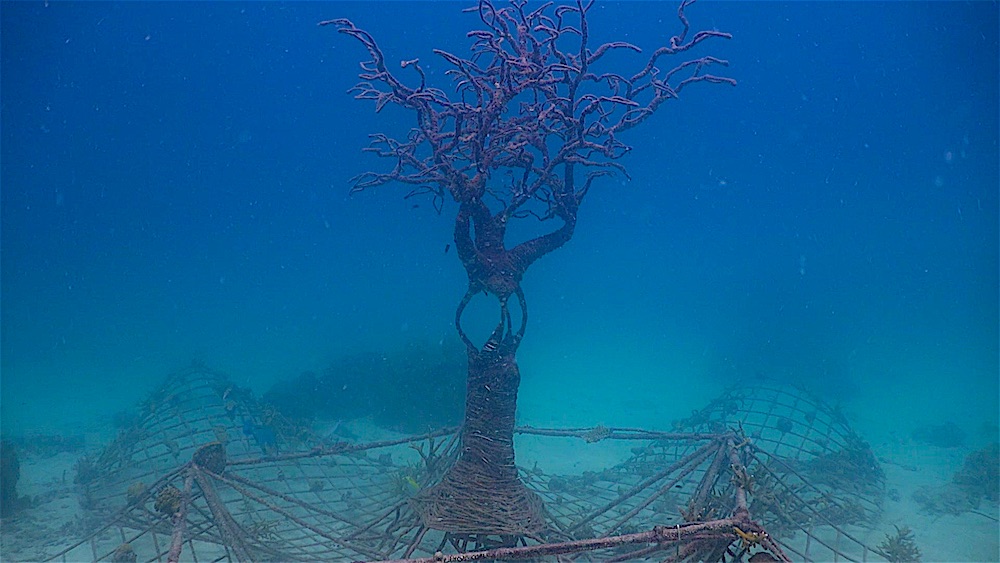 Artificial Dive Site at Aow Leuk
Following the coastline out south east, the dive site stretches out to around a maximum depth of 14 metres.
If you navigate east and out across the sand, at a depth of 14-16 meters lies Suan Olan (Olan's Garden), another one of Koh Tao's Artificial dive sites, which was started in 2010 in response to the coral bleaching episode.
It boasts a range of artificial structures including a Reef Pyramid, a Mini Cooper, various sized concrete tubes, a reef house and cement blocks.
The various structures have become home to a range of marine life and since it is in a depth of 10m – 18m, it provides ample bottom time to discover the marine life including the Starry-Eyed Puffer Fish.