PADI Seal Team Experience Koh Tao
Scuba Diving Adventure Missions for kids on Koh Tao
Are you planning a trip to Koh Tao and thinking about activities for the children? Are your children 8-9 years of age and comfortable in water?
Our PADI Seal Team experience provides your children with a memorable experience they can enjoy and will no doubt leave them wanting more.
The PADI Seal Team program is a safe, structured, supervised and educational experience program that is perfect for children whilst you relax by the pool or learn to scuba dive yourself.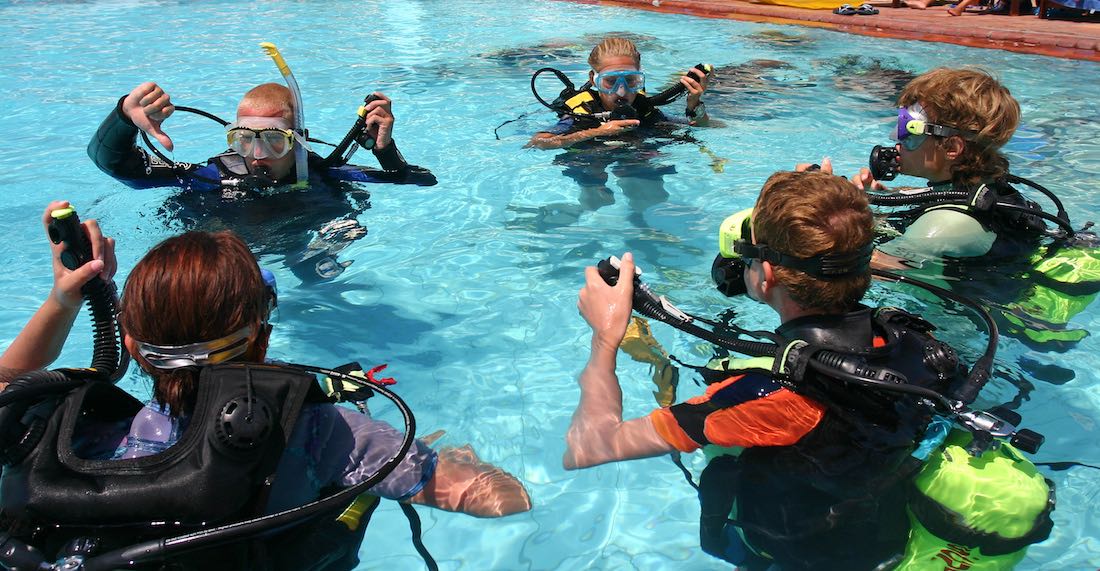 Adventure & Fun for Kids
We will initially introduce you children to breathing underwater and some basic scuba skills and enjoy a swim around in shallow water.
PADI Seal Team is a series of scuba adventures called AquaMissions that progress from basic scuba skills to underwater tasks.
Underwater Missions
Underwater AquaMissions include identifying fish by name, learning how to navigate underwater, helping with an underwater clean up and taking photos.
Our experience program teaches your children how to become more environmentally aware and will instill a sense of respect for the marine environment and the program is split into two parts.
PADI Seal Team AquaMissions 1-5
The first 5 AquaMissions cover safety, skills and the basics of scuba diving to ensure your child can dive safely.
Starting at a maximum depth of 2 metres children will be shown how to equalize pressure in their ears and masks, how to breathe correctly, how to control their depth, direction and monitor air supply while swimming.
We will introduce underwater hand signals and as we progress through the AquaMissions the tasks become a little more adventurous and challenging.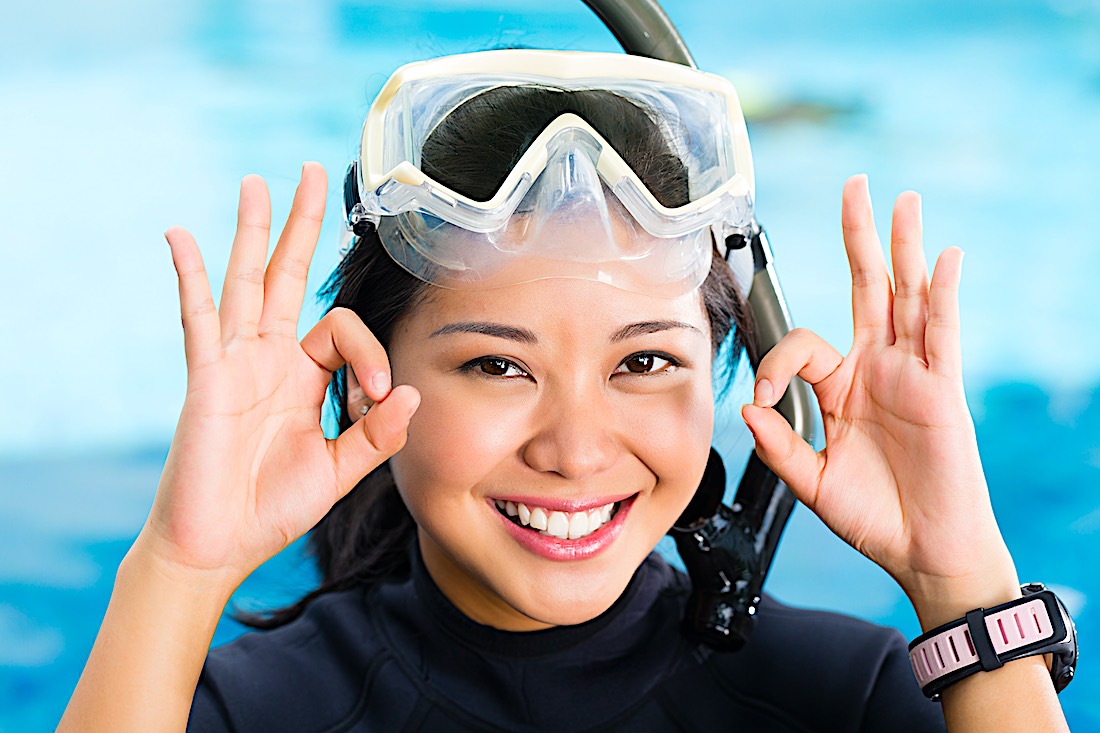 Learn Underwater Skills & Hand Signals
Additional skills include clearing a regulator and mask whilst underwater, recovering a regulator from behind the shoulder and breathing for at least 30 seconds from an alternate air source supplied by the PADI Diving Instructor.
We conduct the AquaMissions in sequence starting with 1, slowly venturing into deeper water with a maximum depth of 4 metres.
During AquaMission 5 we complete a full skill circuit.
Our Seal Team skill circuit includes teaching your child how to become neutrally buoyant and using breath control to fine tune their buoyancy, which will give them greater control underwater.
Once the performance requirements are complete, you child is a member of an elite PADI Seal Team.
PADI Seal Team Member Cost: 4,500 baht
Includes 5 AquaMissions to become a PADI Seal Team Member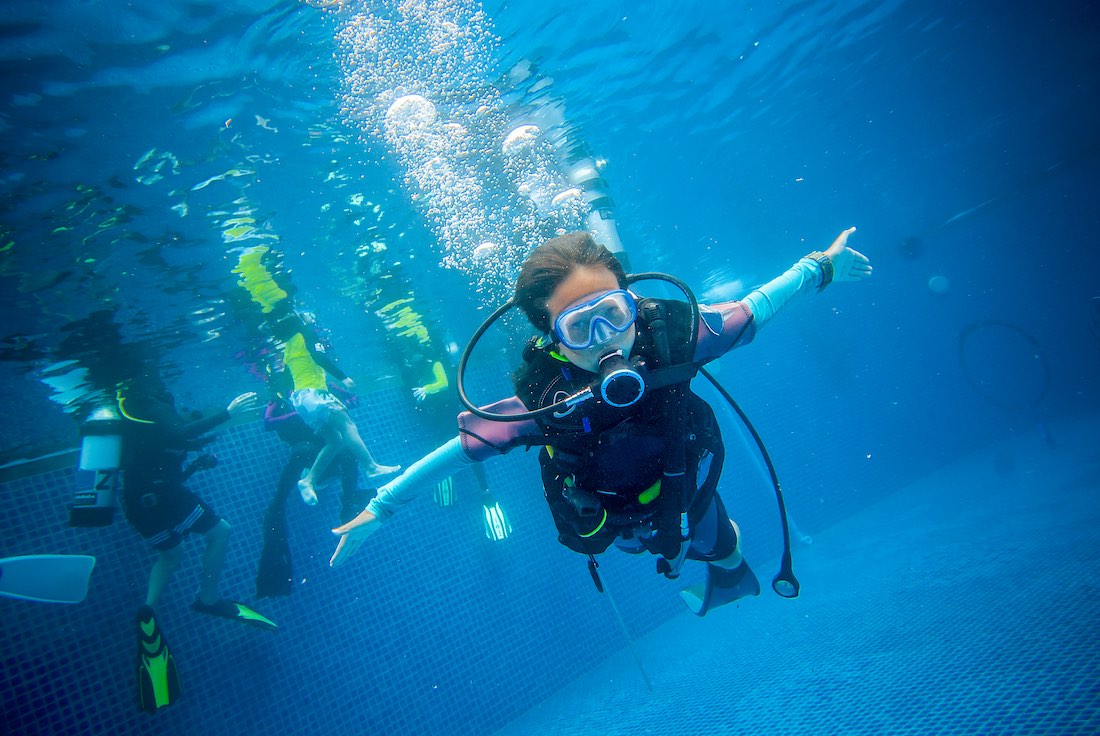 PADI Master Seal Team – Adventure & Exploration Specialties
Did your child enjoy the AquaMissions? Would they like to achieve more? We have some good news.
There are another 10 Specialist AquaMissions and when completed and your child can independently assemble and disassemble scuba equipment, they will become a PADI Master Seal Team member.
Your child can complete as many AquaMission Specialties as they want and in any order from the following list:
AquaMission Creature ID Specialist
Identify aquatic creatures by name underwater by using the correct hand signal.
AquaMission Environmental Specialist
This AquaMission teaches your child all about conservation, correct techniques when participating in underwater clean ups and basic underwater search patterns.
AquaMission Inner Space Specialist
This AquaMission Specialty is about Buoyancy. By the end of the Inner Space Specialist dive, your child will be hovering neutrally buoyant and using their breath control to gently rise and fall.
AquaMission Navigation Specialist
Is your child always getting lost? The Navigation Specialist AquaMission will teach them how to set a compass heading, correct positioning of the compass while diving and other useful underwater navigation skills such as distance estimation.
AquaMission Night Specialist
Diving at night can be a cool experience. The Night specialist AquaMission will introduce your child to the different techniques and how to use a dive light.
AquaMission Safety Specialist
The Safety Specialist is a great AquaMission to teach children about the buddy system and why it is so important in diving.
They will learn how to conduct a predive safety check with their buddy and how to release cramps and tow a buddy.
AquaMission Search and Recovery Specialist
Building on the skills learned during the Navigation Specialist you will learn how to use an underwater search pattern using a compass to find a lost object and you will learn how to use a lift bag to recover an underwater object.
AquaMission Skin Diver Specialist
The Skin Diver Specialist will teach your child correct airway control when using a snorkel, how to blast clear a snorkel and how to clear a partially flooded mask while snorkeling on the surface.
AquaMission Snapshot Specialist
The Snapshot Specialist is a firm favorite where your child will learn to use an underwater camera and take photos using basic composition techniques.
AquaMission Wreck Specialist
Another opportunity to demonstrate buoyancy control, we will introduce your child to a large submerged object underwater and how to record measurements on a slate.
Specialty AquaMissions Cost: 5,000 baht (for any 5 Specialty AquaMissions)
Full Cost for PADI Master Seal Team Member: 9,500 baht
Full cost includes all 10 Specialty AquaMissions and your child will become a PADI Master Seal Team Member.*
*Child must complete all 10 Specialty AquaMissions to gain the Master Seal Team status.
Choosing any 5 Specialty AquaMissions is a great way for your child to benefit from additional learning, skill development, confidence and lots more excitement, adventure and fun.
Included in the Koh Tao PADI Seal Team Experience
Insurance
Rental of all scuba equipment
FREE use of Dive Computer
Guaranteed small group – maximum 2 students per PADI Instructor
Black Turtle Dive Customer (and environmental) promise
LOTS of FUN!
To participate in an AquaMission or multiple AquaMissions as part of the PADI Seal Team experience program you must be:
8 years of age or older
Medically fit to dive
We conduct the AquaMissions in packages and the program consists of two sections:
The program consists of two sections:
Knowledge Development – We will brief participants for each AquaMission using the PADI Seal Team

AquaMission and Log Book

.
You must complete the appropriate challenge in their PADI Seal Team AquaMission and Log Book either before or after the pool dive.
Confined water training – PADI Seal Team AquaMission conducted in a swimming pool.
At Black Turtle Dive we take our customer promise very seriously and all PADI Seal Team member experiences are conducted with a maximum of 2 students per PADI Instructor*
Our Dive Instructors are highly trained and will ensure you receive lots of attention and progress at the pace of each child in a relaxed environment.
During program training we will slowly build the confidence and ability of the child and develop the skills necessary to have an enjoyable and safe experience.
Koh Tao PADI Seal Team Experience Schedule
The Seal Team schedule at Black Turtle Dive is flexible and we can work around the personal needs and timeframe of your child.
Please ask if you have any special requests either via email or on one of the messenger apps on this page.
PADI Seal Team Member: 4,500 baht
PADI Master Seal Team Member: 9,500 baht
PADI Seal Team Schedule: (5 AquaMissions)
09.00 – 10.30 Orientation, paperwork & knowledge development
11.00 – 14.00: 5 AquaMissions in the swimming Pool
Frequently Asked Questions
What is the Minimum Age for the PADI Seal Team program on Koh Tao?
Children have to be at least 8 years of age to participate in the Seal Team program.
This is the minimum age to participate in any scuba diving activities. The youngest age for children to get a scuba certification is 10 years of age.
The Seal Team program is ideal to familiarise your child in the use of full scuba equipment for the first time and for them to start practicing key scuba diving skills in the water.
Is the PADI Seal Team program on Koh Tao in the Ocean?
All Seal Team aquamissions are conducted in a swimming pool. This ensures a nice calm and controlled environment for your child to enjoy their first scuba diving experience.
With the instructor they will learn how to breathe from the regulator before moving on to do more advanced skills like clearing the mask and buoyancy exercises.
What is a PADI Seal Team Experience on Koh Tao?
PADI Seal Team is a scuba diving program for young divers from the age of 8 years.
Children will complete 5 action-packed and exciting Aquamissions in a swimming pool.
During the program, they will learn basic scuba diving skills like regulator clearing, mask clearing and equalization.
It is a perfect way to introduce your child to scuba diving in a nice calm, controlled environment.
Can a Child get a certification for PADI Seal Team course?
After completion participating children will get recognized and registered as PADI Seal Team members.
It is not a scuba certification, PADI Seal Team is an experience program. The minimum age for children to become certified scuba divers is 10 years old.
At the end of the program participants will receive a logbook and wall certificate. The program also creates life long memories of their first scuba diving experience.
How long is the PADI Seal Team course on Koh Tao?
The PADI Seal Team program takes 1 day to complete. After completing the paperwork together with the parents, the children will watch a short video before going to the swimming pool to try on the equipment.
In total, participants will complete five fun and exciting Aquamissions to a maximum depth of 4 metres.
Each Aquamission has different skills and exercises that your child will practice and there is also lots of time to enjoy swimming and practicing underwater.