Best Things to do on Koh Tao
What to do on Koh Tao when not Scuba Diving
If you are reading this then you may be a certified scuba diver or planning to become one with Black Turtle Dive.
After looking through our PADI Diving Courses, you may be thinking what else there is to do on Koh Tao, besides scuba diving.
To give you some tips on what else you can do when not diving, we have listed different types of activities or things you can do.
If you are planning to stay on Koh Tao for a while or only here for a short visit, you can be sure to find something interesting, relaxing or exciting.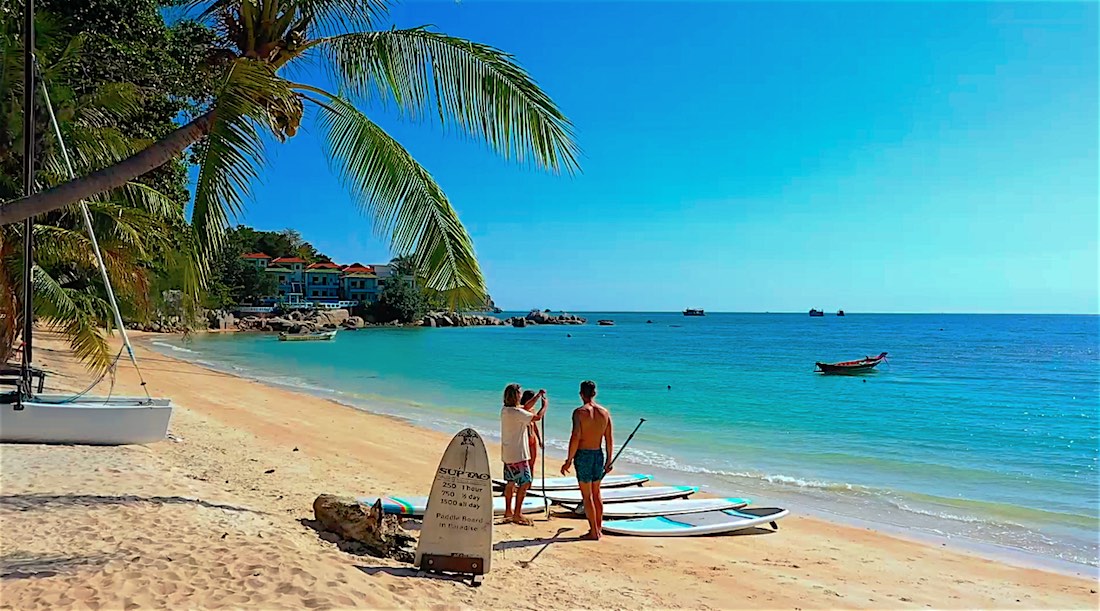 Explore Koh Tao Beaches
Koh Tao has over 21 kilometres of jagged, granite rock coastline and with it some beautiful beaches in expansive or secluded bays.
You may have heard of Sairee Beach, which is the largest and busiest beach on Koh Tao, however, there are dozens of others that are all easily accessible and each one offers you something different.
Sai Nuan Beach – South West Koh Tao
Located on the south west coast of Koh Tao, Sai Nuan is an idyllic beach to spend the day if you want a more secluded beach, a relaxed atmosphere and a place that is more like the island was back in the 1990's.
There are actually two beaches at Sai Nuan separated by a rocky outcrop and you can swim and snorkel at either of them.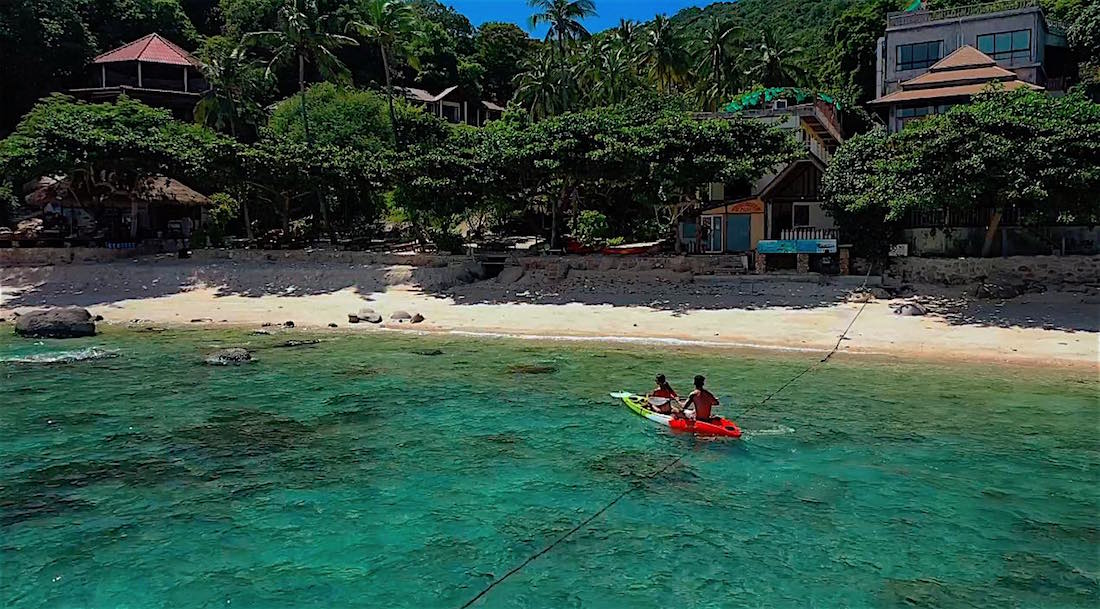 Beautiful South West Coast
The first beach is home to Sai Thong Resort and the second beach is home to Siam Cookies bungalows and restaurant and Banana Rock bar.
There are lots of options for lunch, light refreshments, snacks and you can also buy fresh fruit shakes, baby coconuts, cold beer and soft drinks.
The best way to get to the beaches at Sai Nuan is to walk the coastal path from Mae Haad, past Sensi Paradise, Charm Churee resort, Jansom bay and the panoramic walk is worth the 20 – 30 minutes it takes to get to the beaches.
Sai Deng Beach – South Koh Tao
Located on the south coast of Koh Tao, Sai Deng beach is a 15 minute ride on a scooter from Mae Haad and is a stunningly beautiful beach with a postcard picture perfect view of Shark Island.
The road to get to Sai Deng Beach is concrete, easy to ride on and takes you through old coconut plantations with beautiful scenery along the route.
When you reach the top of the hill, you have stunning views of Shark Island and in the distance Koh Phangan island.
The road leading down to the beach and Coral View resort is very steep and our advice is to take the right side when the road forks into two.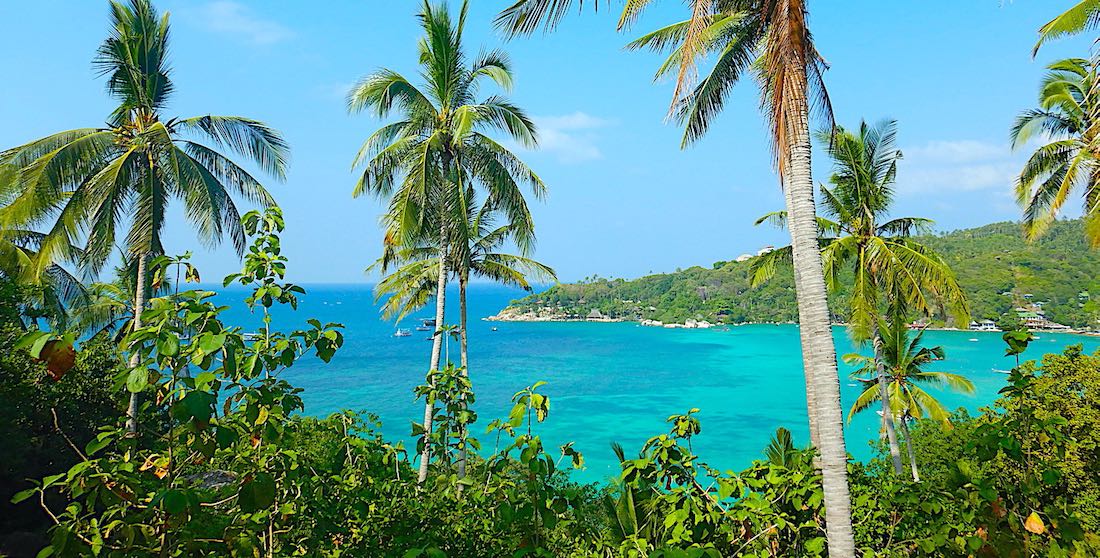 Panoramic Views Across the Sea
The road takes you directly to Coral View Resort that has a lovely strip of beach, a nice beach bar to buy drinks from and a restaurant to have lunch at.
Both resorts on this beach rent Kayaks and snorkelling equipment and there are excellent snorkelling opportunities on both sides of the beach.
Sai Deng is a small palm tree lined white sandy beach with clear, warm water and it is clean, quiet and peaceful with spectacular views of Shark Island.
If you want to get away from it all and relax for a few hours, this is a great location to spend the day.
Tanote Beach – East Koh Tao
On the east coast of Koh Tao, Tanote bay is a 15 minute scooter ride from Mae Haad pier and offers a large beach that is popular with sunbathers, swimmers and snorkelers.
The beach is large enough to play ball games without disturbing others and for the more adventurous, there is a large 10 metre rock boulder in the middle of the bay with a chain so that you can climb up and jump off.
Tanote bay also offers great snorkelling around many of the large boulders with a variety of Stingrays, Groupers and Reef fish that live in this location.

Marine Life Diversity
The bay is surrounded by lush green tropical jungle and is relatively unspoilt except for a couple of resorts where you can have lunch.
Several of the best viewpoints on Koh Tao are easily accessible from this area, so if you plan your day wisely you can spend the morning hiking and the afternoon relaxing and cooling off at the beach.
Mae Haad Beach – West Koh Tao
Often ignored as a beach to relax and swim at because of its proximity to the pier, Mae Haad offers perhaps two of the cleanest beaches on Koh Tao with two areas that are perfect for a beach day.
The north stretch of the beach runs from Breeze restaurant to the Koh Tao Beachclub resort and the south stretch from Coconut Monkey café to Sensi Paradise resort.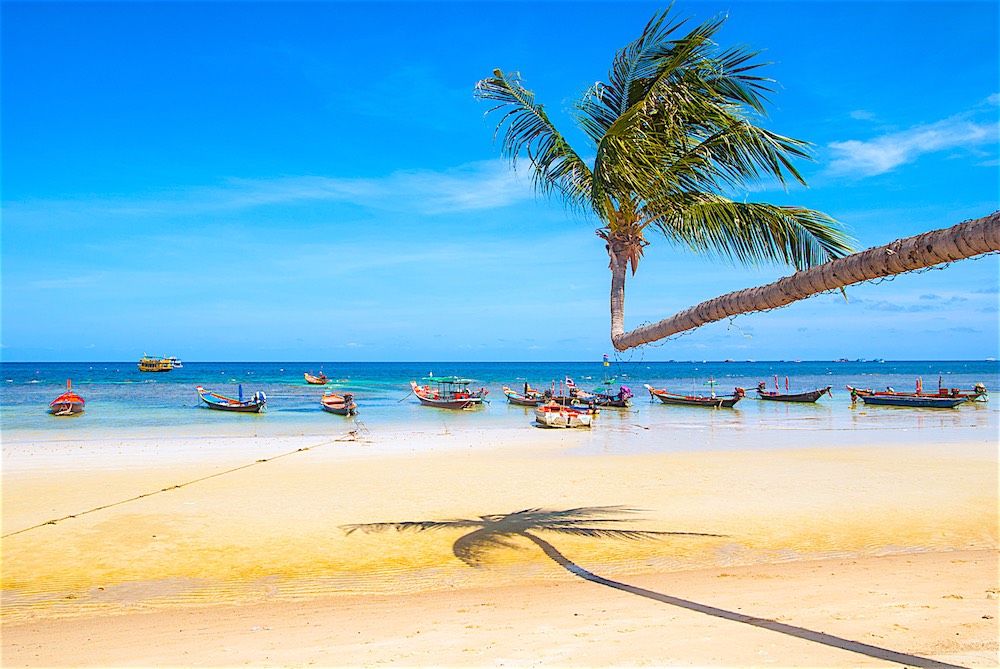 White Sandy Beaches
Both stretches offer soft white sandy beaches, that are clean and provide great snorkelling opportunities along with safe swimming in the ocean.
There is a roped-off safe swimming area right outside Breeze Koh Tao restaurant and lots of good snorkelling a little further down the beach.
Aside from the lovely beaches, the swimming and snorkelling opportunities, both Breeze Koh Tao & Coconut Monkey are two of the most popular cafés and restaurants on Koh Tao with an extensive menu choice for lunch.
Freedom Beach Koh Tao
Freedom Beach is a 10 minute drive from Mae Haad pier and to get there you go through Chalok Baan Kao and make your way towards John Suwan Viewpoint.
There is a car park for scooters and a charge of 100 baht per person to enter the land here, but it gives you a bottle of water and access to Freedom beach, Taa Toh Beach and John Suwan viewpoint.
Secluded & Quiet Beach
The entrance fee is great value and you can easily spend the whole day at this location exploring Viewpoints, beaches, snorkeling, swimming and Kayaking with lunch and refreshments in between.
Freedom beach is one of the most secluded, relaxing and charming beaches on Koh Tao with lots of trees that provide shade and hammocks that you can use.

Explore the Stunning Koh Tao Viewpoints
The scenery above the water on Koh Tao is equally as breathtaking as what you will seen below it, with green lush tropical jungle running down from the highest peaks to the beautiful bays and beaches.
The spectacular views from the peaks are stunning, easily accessible and they are well worth the hike you need to do to reach them.
Best Viewpoints Koh Tao
Our advice is kick the flip flops off and put your running shoes on, take a hat, lots of water and some environmentally friendly sunscreen.
Early mornings or late afternoons are the best time to go as the Viewpoints are cooler and if you are really enthusiastic and an early riser, you can watch the sunrise from the east facing viewpoints.
Likewise the famous west facing Viewpoints offer spectacular Koh Tao sunsets and should not be missed.
Popular Koh Tao Viewpoints to Visit
John Suwan Viewpoint
John Suwan Viewpoint is one of most iconic images of Koh Tao.
Situated at the south end of Koh Tao, you can park your bike in the car park that also gives you access to Freedom beach and Taa Toh beach.
There is a sign close to the car park that points to the start of the hike and it can take anything from 20-30 minutes to get to the summit.
At times the hike can be strenuous, especially with the added heat and humidity in the middle of the day, so our advice is to visit John Suwan Viewpoint in the morning.
The trail is rocky with ropes in places to help with the climb, however, it is well worth the effort and when you get to the top you are rewarded with a stunning, panoramic view of Koh Tao from South to north.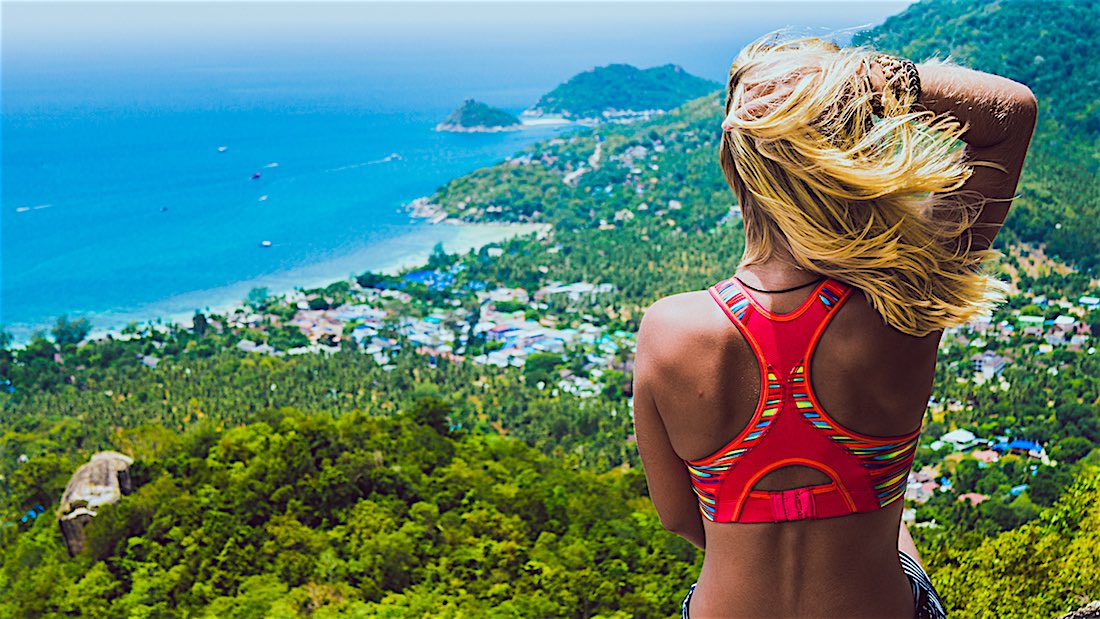 Mango Viewpoint
Mango viewpoint is located towards the north end of Koh Tao, facing west and offers great views of the entire west coast of the island across Sairee beach and Mae Haad.
If you turn off on the road to Hin Wong, follow the signs for Mango Bay and it takes approximately 15 minutes on a scooter to reach the turn at Jim's bar, which is a trail leading up to the viewpoint.
It is a well sign posted route and the path is easily passable unless it has been raining heavily, so make sure you check the weather before taking this journey.
Spectacular Views across the bay
If you are not confident riding a scooter, you can walk and hike the entire journey from Sairee beach, which is going to take you approximately an hour.
When you get to the top you will see two paths, each of them leading to a viewpoint with a small bar and some toilets.
Mango viewpoints are on private land and there is a 100 baht entrance charge but it is well a worth a visit for the amazing view.
From here you can see the entire west coast of Koh Tao from north Sairee beach to the south end of Mae Haad bay. It's a stunning view, and a great spot to enjoy the sunset with a cold beer or fruit shake in your hand!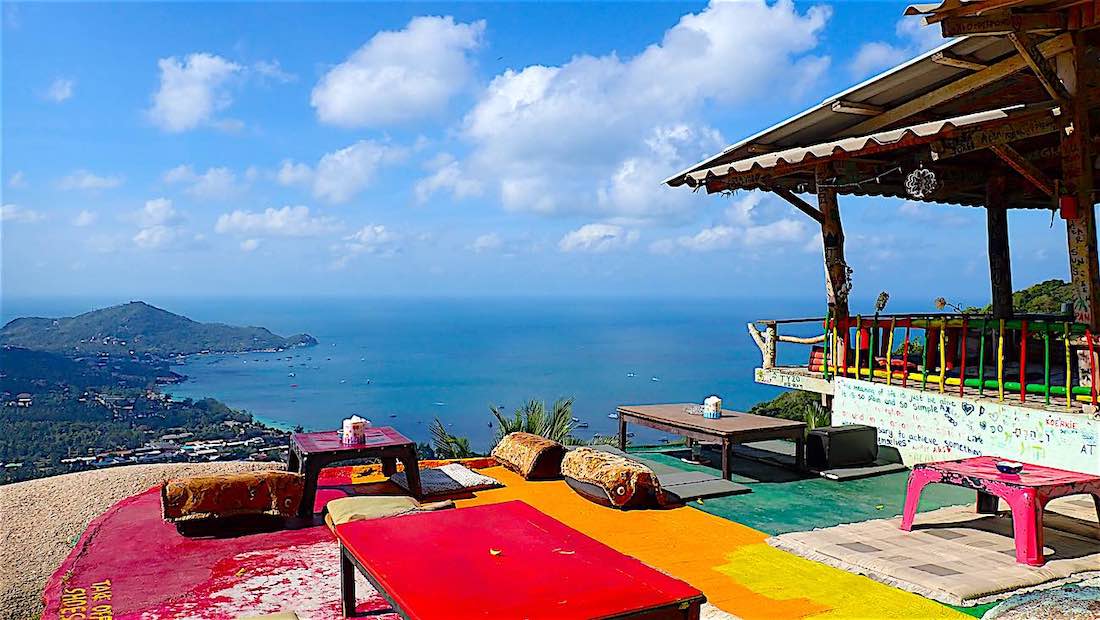 West Coast Viewpoint | Tanote Peak | Love Koh Tao Viewpoint
West Coast viewpoint is located in the middle of Koh Tao above Sairee beach and it is close to two viewpoints called Two Views rock and Tanote peak, which means you can experience great views of both the west and east coasts of Koh Tao.
To reach this viewpoint from Mae Haad, you can take the main road to Sairee and turn right at Monsoon gym onto the road that leads up to Moonlight bungalows.
You can reach this part easily on a scooter but after that the concrete road ends and it turns into a dirt track.
Park your scooter and hike up the last part of the path on foot, which leads up to twin rock junction and from here you will discover great views of both the west and east coast of Koh Tao.
West Coast Views
From Twin Rock junction you have three options and turning left brings you to the West Coast viewpoint.
The viewpoint itself is a large rock that you access by walking between two boulders that are a 5 minute walk from the left turn.
The view from here is sensational, especially in the early mornings and during sunset and it is a popular place for locals to visit.
You get an amazing panoramic view that begins at Koh Nang Yuan and pans south across Sairee beach, Mae Haad bay and Jansom bay.
East Coast Views
While you are visiting West Coast viewpoint, you can also visit Tanote Peak and the Love Koh Tao viewpoint during this hike.
Instead of turning left at Twin Rock junction, turn right and Tanote Peak is close from the turning.
Tanote Peak gives you excellent views from high up facing east right down to the south side of Koh Tao, Shark Island and across the gulf to Koh Phangan.
Love Koh Tao Viewpoint
And if you are still feeling energetic continue down the path and Love Koh Tao viewpoint is a 15 minute walk away.
Love Koh Tao viewpoint overlooks Tanote Bay on the east side of the island and offers another Instagram moment that can be posted in your Koh Tao highlights.
There is a small café that sells cold drinks and food and you can sit back, relax and enjoy the peace and tranquility and stunning views across the Gulf of Thailand.
Deisha Viewpoint Koh Tao
Deisha Viewpoint is on our recommendation list if you have the time as it offers a beautiful panoramic view of Chalok Baan Kao.
You can ride here in 15 minutes from Mae Haad heading south towards Chalok Baan Kao and turn right approximately 500 metres after the big 7/11 but before the fork in the road that leads to Chalok village.
Follow the signs for Sai Nuan beach and ride up the steep concrete road approximately 600 metres until you come to a left turn, where you can park your scooter.
Views over Chalok Baan Kao Bay
Follow the signs for Deisha bar, which is a climb of 125 steps and the viewpoint is another 50 meters or so on the other side of the bar.
On a good day you can see Koh Phangan and Koh Samui and Deisha viewpoint offers a great view across Chalok Ban Kao bay and is a perfect location to watch the sunset.
The bar is relaxed with a nice vibe, sells food and drink and the staff are welcoming and it is a perfect place for lunch or an afternoon snack.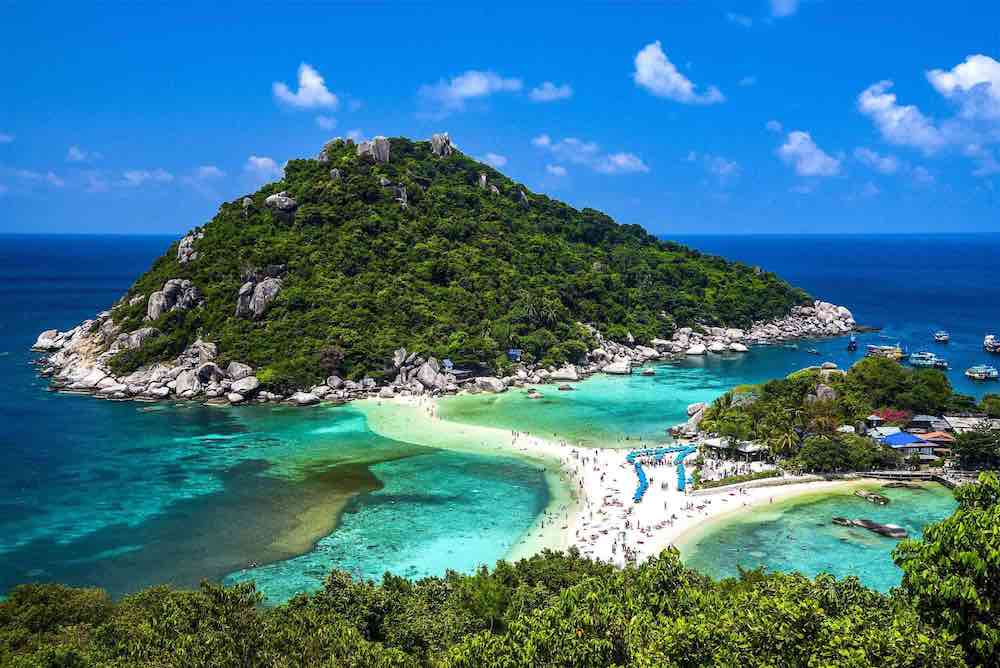 Visit Koh Nang Yuan Island
If you have a spare half or a full day, we highly recommend taking a longtail taxi boat over to the amazing Koh Nang Yuan island.
You can organise this at various places along the beaches at Mae Haad or Sairee and it is the best way to get to the island from Koh Tao.
You can negotiate a price per person with the longtail taxi boat driver or if there are enough people, you can rent the boat for a half or full day depending on how much time you have.
Long Tail Taxi Boats
Koh Nang Yuan is a private island and they charge a 100 baht entrance fee to all visitors and they have a strict no plastic bottle policy, so do not take a plastic water bottle with you.
The island closes at 17:00 and we recommend you reach there in the morning after opening at 09:30 or late morning, depending on your schedule.
You will need to climb the Viewpoint steps to get that iconic Instagram picture and we recommend you visit the viewpoint in the morning once you arrive, so you can then relax, snorkel and swim from the beaches.
Koh Nang Yuan viewpoint is a relatively easy 10-15 minute steep hike up the purpose built steps and it will get very hot if you do this in the middle of the day, so take water with you.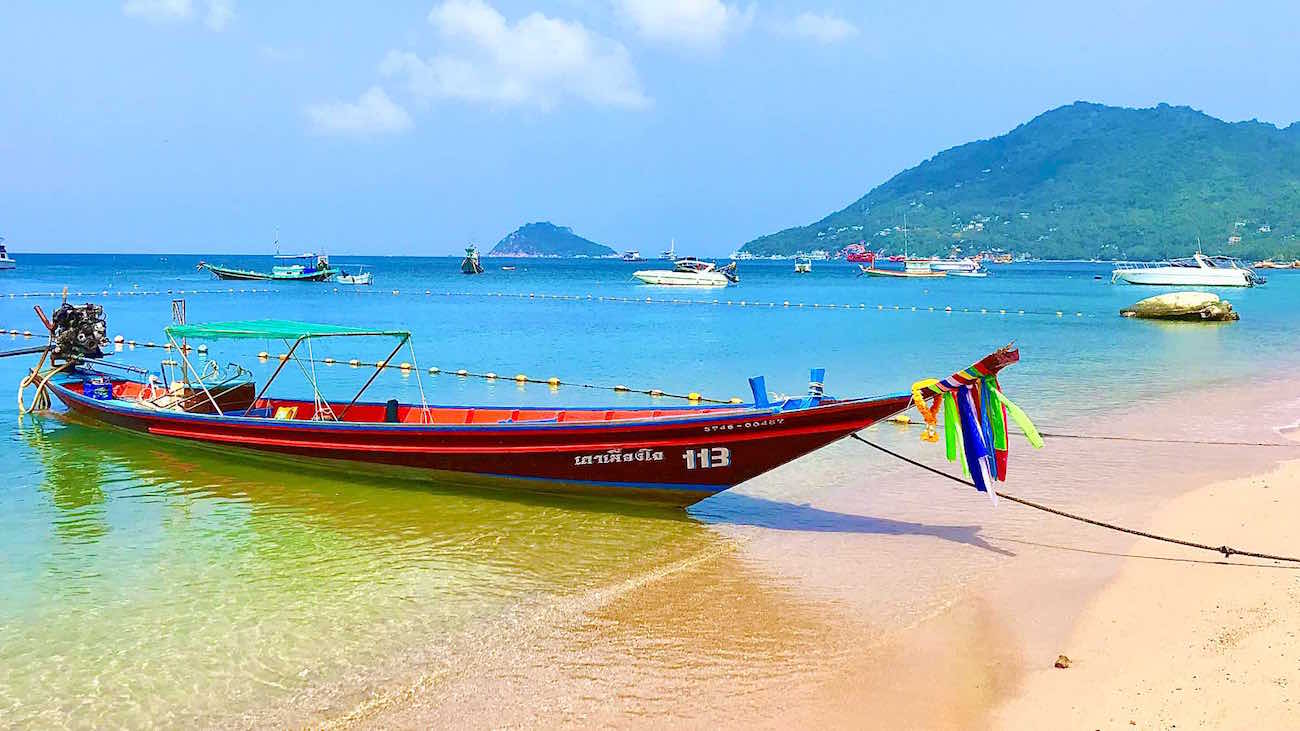 Koh Nang Yuan Viewpoint
Koh Nang Yuan is the only place in the world where a sandbar connects three land masses and at low tide you can walk across and the beach is the perfect place to sit and relax.
No beach towels are allowed but you can rent a sun lounger with an umbrella that provides shade should you want it.
The island is surrounded by scuba diving and snorkelling opportunities so bring your mask and snorkel with you.
The most popular and easiest place to snorkel is Japanese Gardens, located on the east side of Koh Nang Yuan.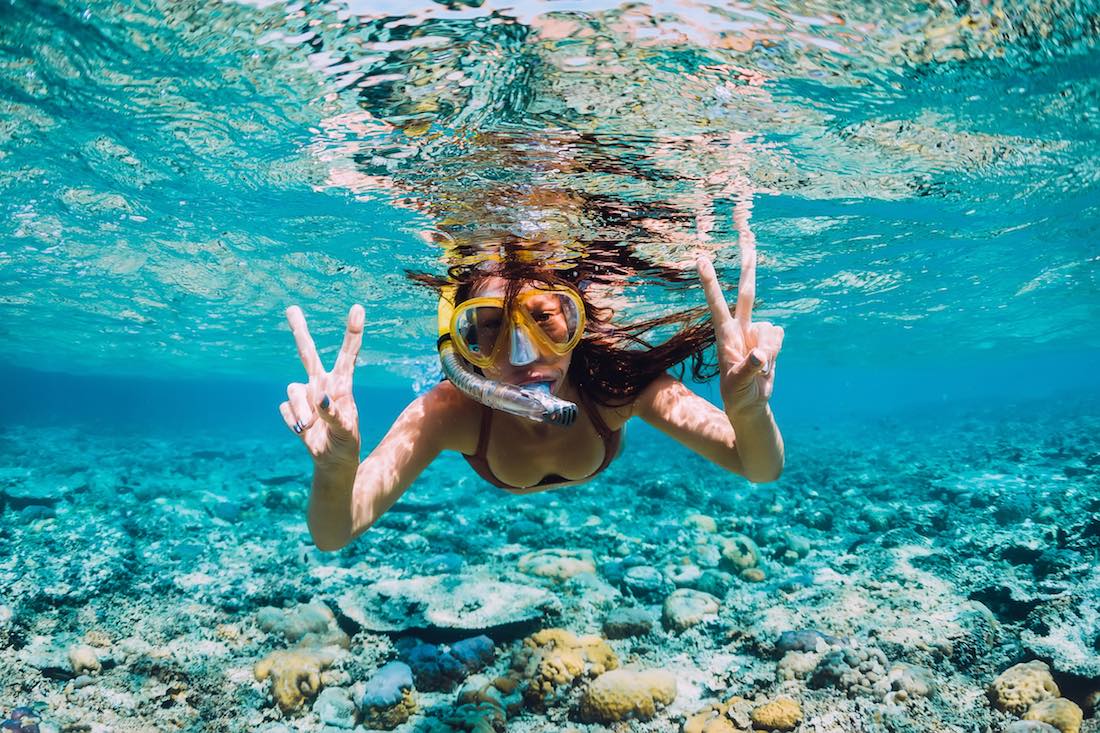 Snorkel Japanese Gardens
You can swim from the beach and all the shallow area is protected from boat traffic so the area is very safe.
On a clear day the snorkelling is fantastic with lots of colourful corals, Parrot fish, Bannerfish and Butterfly fish swimming around the Coral reef.
There is a small restaurant on the island that is great for a light lunch, although a little more expensive than Koh Tao and if you do not have a mask and snorkel you can rent one from the dive centre on the island.
The iconic longtail taxi boat trip, visiting the viewpoint, snorkelling and the photographic memories, ensure a trip to Koh Nang Yuan is well worth it when you want to try something different and explore.
Explore Koh Tao on a Kayak
If you want to explore Koh Tao on the surface rather than underwater you can rent a Kayak when you have a day off from scuba diving.
Kayaking is a great way to explore the less accessible bays around Koh Tao, especially those located around the southern and eastern coastline of Koh Tao.
Explore the Bays on a Kayak
You can take your snorkelling equipment with you and stop off to discover the marine life in the more secluded bays.
There are lots of places along Sairee beach and in Mae Haad that offer half or full day Kayak rental and prices range from 400-800 baht depending on how many hours you want to rent the Kayak for.
Our recommendation is to start in south Mae Haad bay and check the small shipwreck out, then Kayak across to Jansom bay and around the headland close to the shore and follow the south-west coast.
All the way around the south west coast of Koh Tao are small idyllic bays with quiet tranquil beaches for you to explore.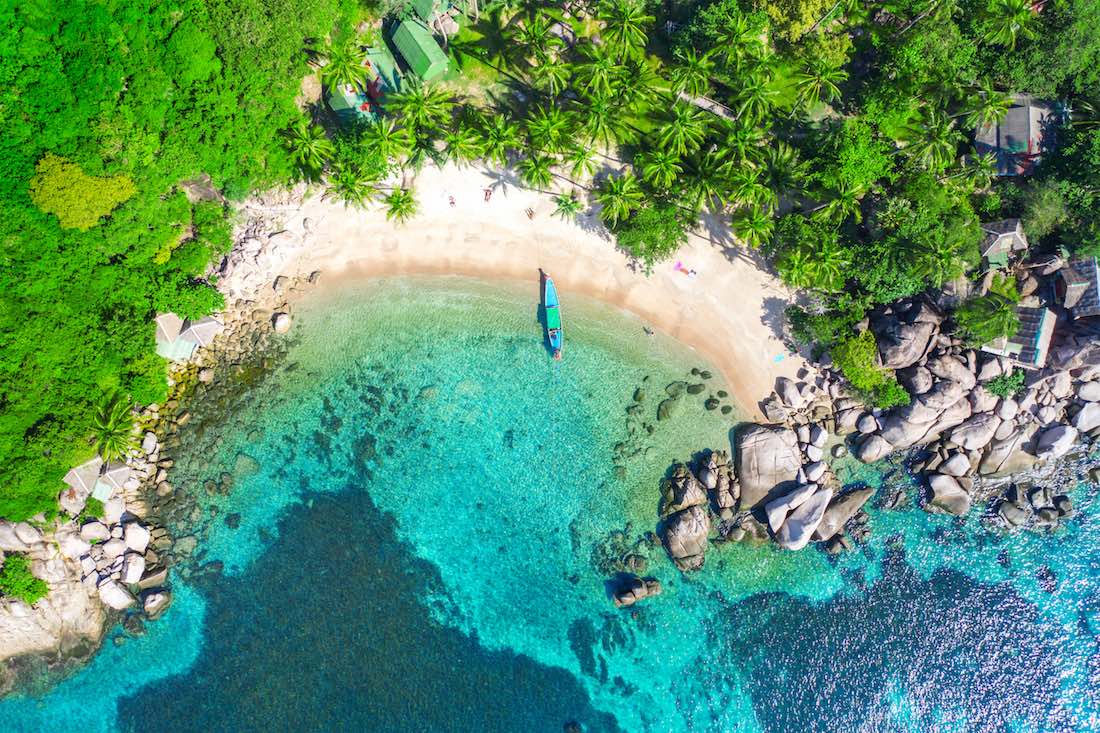 Sau Nuan Peninsula Koh Tao
Sai Nuan Beaches are incredibly beautiful with their old Thai style wooden bungalows dotted along the coastline and further around Cape Je Ta Kang.
There are many small family operated restaurants to stop off at for refreshments before continuing south and exploring June Juea beach and around the south western headland into Chalok Baan Kao bay.
Kayaking further east can be a little more challenging, although there are perfect snorkelling locations including Shark Bay where you can see Black Tip Reef sharks.
Sai Deng beach and Aow Leuk are also excellent places to visit but beware of wind, waves and currents especially around Buddha Rock and on a calm day you can Kayak out to Shark Island.
Relax on a Paddleboard Koh Tao
Stand up Paddleboarding is a fast growing and popular sport that is great for keeping you toned, whilst working on your tan and exploring the coastline on the west side of Koh Tao.
If you want to enjoy a leisurely activity whilst exploring parts of the coastline, you can rent a Paddleboard for an hour or a half day.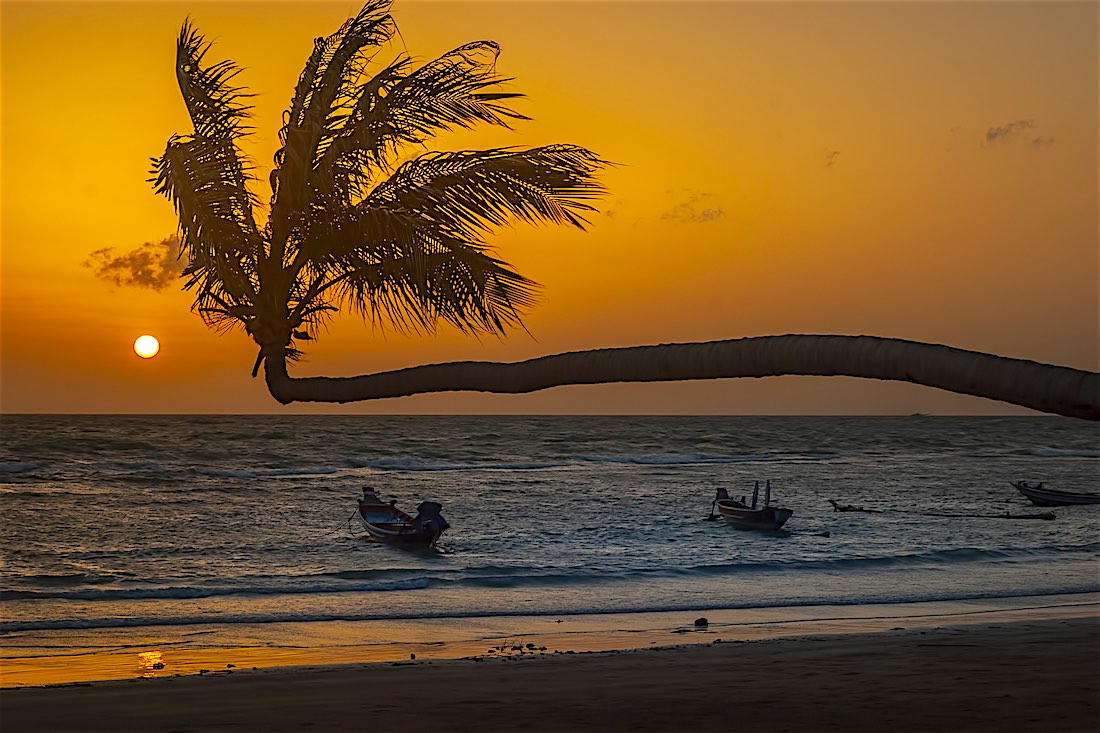 Paddleboard at Sunset
You can rent a Paddleboard for 250 baht an hour or 750 baht for half day from SUP on Sairee beach, which is located at Maya Beach Club.
Maya Beach Club is the go to place for sunset drinks for locals and visitors who want to enjoy a drink, listen to DJ's and is an ideal place to relax and try Paddleboarding.
If you are a beginner or have experience on a Paddleboard, the staff at SUP are very knowledgeable, friendly and will ensure you get the most out of your Koh Tao SUP experience.
Try Muay Thai on Koh Tao
Muay Thai is the national sport in Thailand and it is a great way to get in shape or maintain your existing level of fitness.
Koh Tao has two gyms that offer Muay Thai and several other martial arts and fighting disciplines to keep even the most ardent contact sport fan busy.
Both gyms are well equipped and have experienced qualified trainers with lots of fighting experience between them and the knowledge and skills to teach you the correct techniques.
Keeping Fit & Healthy
You can book a single session to see if you like it, or sign up for weekly or monthly packages depending on how long you plan to stay on Koh Tao.
Muay Thai is a popular pastime amongst many of our professional level divers who are staying on Koh Tao for longer periods of time.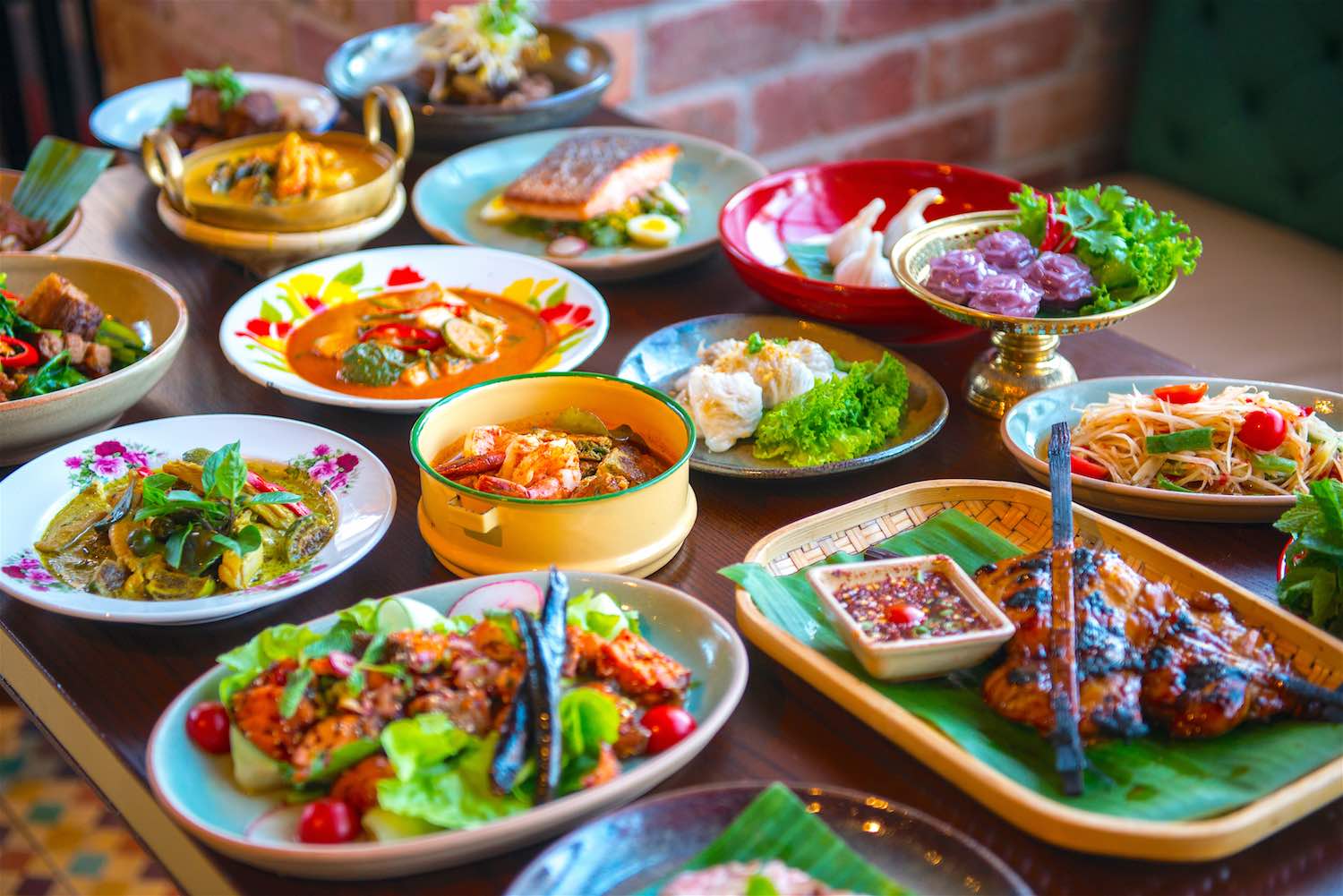 Learn How to Cook Tasty Thai Food
Thai food tastes delicious and in western countries it is quite expensive to buy.
While you are here, you can learn how to cook authentic Thai food and impress all your family and friends by inviting them around for Tasty Thai food.
There are several reputable Thai cooking teachers on Koh Tao that offer cooking class packages that you can choose from.
Thai Cooking Lessons for all Ages
The standard option is usually at least a 3 hour class that focuses on a fixed menu of 3- 4 dishes that you can eat on the premises.
There are also personalised cooking classes so you can choose exactly what dishes you want to cook and they last for approximately 4 hours.
Thai cooking lessons are real fun with maximum class sizes of usually 6 people and after you cook your feast you get to eat the assorted dishes that are cooked.
Rock Climbing & Bouldering Koh Tao
Koh Tao has lots of large granite rock formations that make it an ideal location for rock climbing and bouldering.
For a fun day or for something different on Koh Tao, you can try one-off experiences in rock climbing, bouldering and even training courses from absolute beginner through to professional level.
On your day off from scuba diving, you can enjoy stunning panoramic views of Koh Tao whilst climbing any of the huge granite rocks located in the peaks.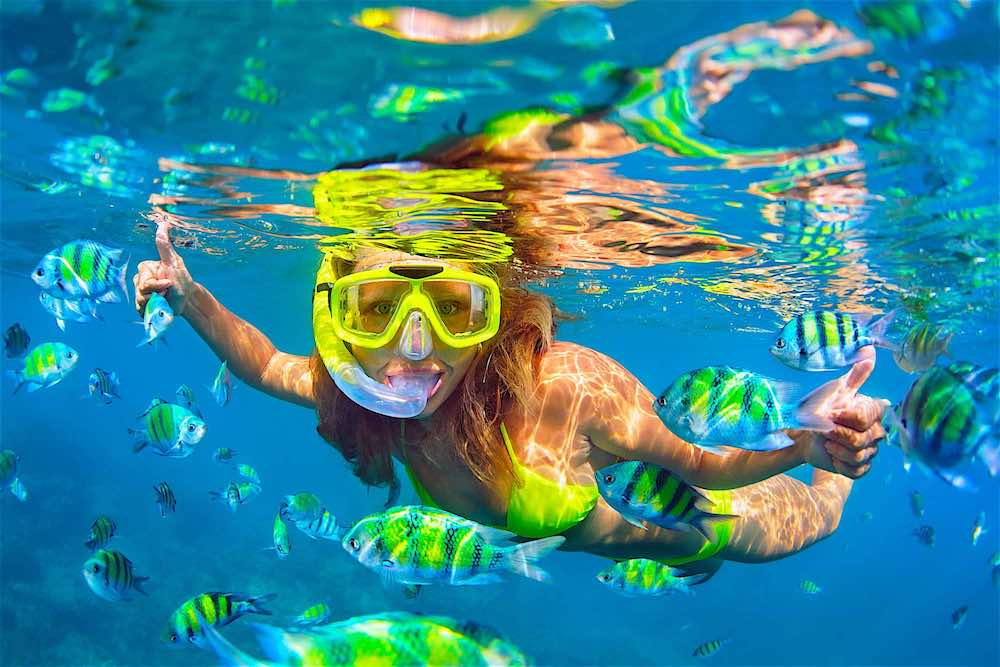 Snorkel Koh Tao with Sharks & Sea Turtles
A great way to spend a few spare hours on Koh Tao is to visit Thian Og (Shark Bay), to snorkel with Black Tip Reef Sharks.
The best times to snorkel Shark Bay to see the Black Tips is between 7am-9am or later on in the afternoon at approximately 4pm.
There is an entrance fee to access the beach area as you need to cross private land to gain access to the water.
Combine Snorkel & Kayak to Explore
As an alternative, you can combine a snorkel at this location with a Kayak, or access the beach via Chalok Baan Kao that connects via Shark Bays western shoreline.
Shark Bay is a shark nursery so at certain times of the year there are lots of Baby Black Tip Reef Sharks in shallow water.
There are also larger sharks up to 1.5 metres in size, but you will need to swim further out to see them and they are more likely to be found closer to Sai Deng.
If you arrive via the beach, you can swim out into the middle and work your way across to the northern part of the bay.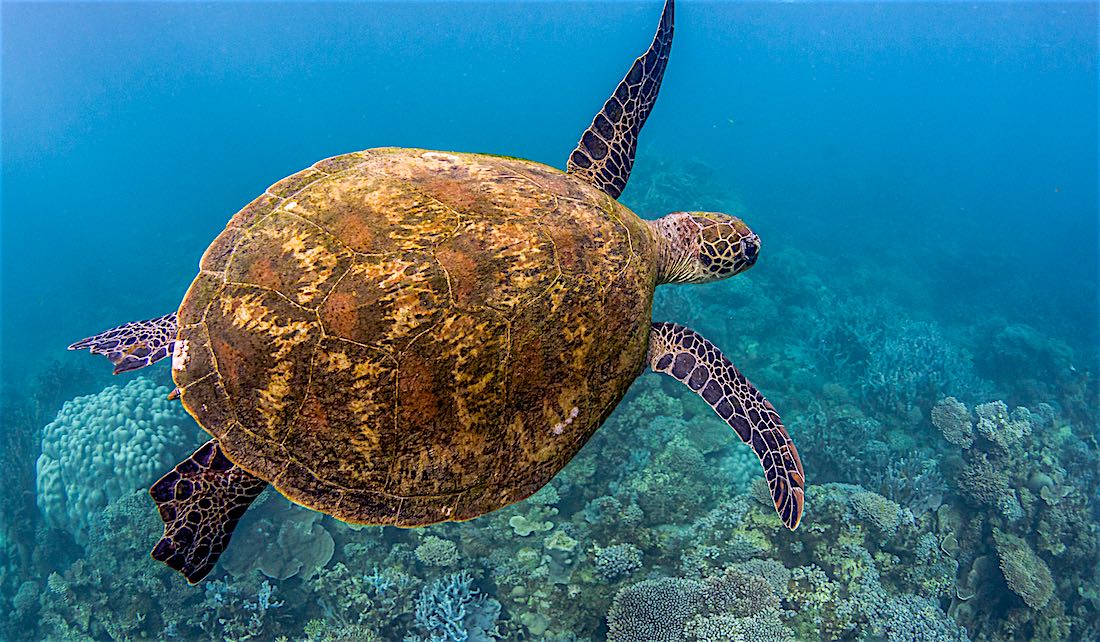 Baby Black Tip Reef Sharks
You will see some of the smaller specimens in as little as 1-2 metres of water and if you swim out further towards the deeper area of the bay, you will find larger specimens in 3-4 metres.
They are very placid and often inquisitive and will come close to you, so you must adhere to the correct interactions when swimming with marine life guidelines and do not touch.
Try and avoid the times of the day when the organised snorkel tours arrive at the bay, as it can get busy and there may be less opportunity to see sharks.
Best Time to Visit Shark Bay
The main central area of Shark bay itself is not the most colourful snorkeling location you will visit due to the severe Coral Bleaching event that happened here during the El Nino event of the late 1990's.
The bay is a very popular attraction for Black Tip Reef Sharks and it is also a well-known location for Green Sea Turtles.
You will also see lots of Reef fish species such as Butterflyfish, Sergeant Majors, Needlefish, Parrotfish and Pink Anemone fish living in their sea anemones.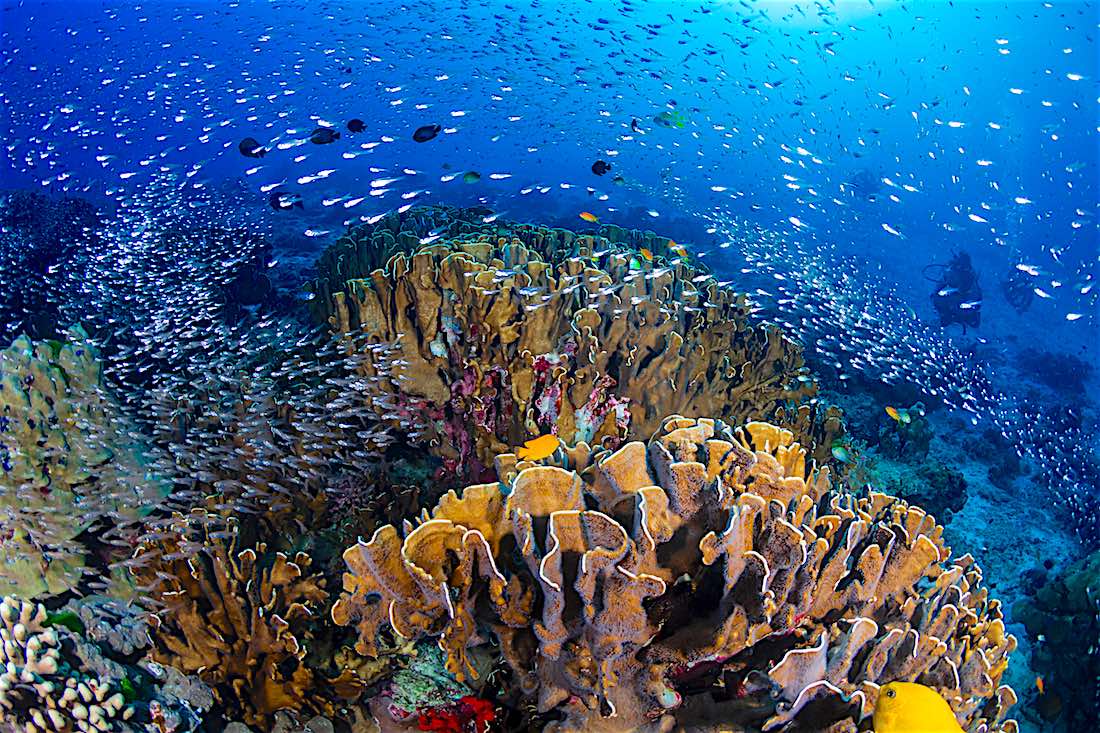 Dive for Debris or a Beach Clean Up
Even though it may be your day off from scuba diving or if you are an intern on a Scuba Diving Internship, you can still have lots of fun by getting involved in any number of environmental activities that regularly happen on Koh Tao.
One of our favourite activities is taking part in an organised Dive Against Debris day, which means you get to dive and make a difference by collecting marine debris.
Dive Against Debris & Collect Data
We conduct a Project AWARE specialty course that covers some of the technical aspects of safely removing debris from our oceans, seas and waterways, in a way that is least likely to damage or disturb the marine life.
You can learn how to plan a Dive Against Debris survey and learn what criteria is used to decide whether to remove objects .
You will also learn about what types of marine debris data we should report and how to record and report your survey data.
Community Beach Clean Ups
And if you are only interested in a dry day, we still conduct Beach Clean ups at our stretch of the beach in the Mae Haad area.
We also participate in organized clean ups and work alongside other dive centres cleaning the beach areas at locations like Hin Wong and Lighthouse bay.
For more information on our dive site and beach clean ups, please send us a chat message, an e-mail or ask your Diving Instructor.