Red Rock Pinnacle Dive Site Koh Tao
Learn about Red Rock Pinnacle Dive Site Koh Tao
Red Rock Pinnacle dive site on Koh Tao is located off the east coast of Koh Nang Yuan and is an excellent drop off point for scuba divers to explore the eastern coastline and then complete the dive in Japanese gardens.
Location: East side of Koh Nang Yuan
Depth: Max 22m, Min 3-4 m – Average 10m
Type of site: Rock Pinnacle located 50 metres from the Nang Yuan shoreline
Level: Open Water diver
Conditions: Usually fine
Average Visibility: 5-10 metres
Red Rock and Nang Yuan Pinnacle and Cave
Red Rock is a small pinnacle lying in approximately 20 metres of water on the deepest side and reaches up to a few metres from the surface close to the eastern coastline of Koh Nang Yuan.
A short swim west, once you have explored Red Rock will take you to a beautiful swim through and from there, you are enveloped in an abundance of color and diversity along the coastline.
Red Rock drop off offers scuba divers an excellent dive plan that finishes in Japanese Gardens and is for certified divers that want a bit more depth and essentially a longer fun dive.
Red Rock Drop off Fun Dive
The Pinnacle itself has a large crack around it that offers a home to lots of interesting marine life on the deeper Eastern and northern sides of the rock.
We recommend you take a torch on this dive to accentuate the experience as you light up Wart Slugs, Durban Dancing Shrimp, Pufferfish, Yellow Boxfish and the intriguing Moray Eel.
You may be lucky and see Jenkins Whipray hiding out and you will often see Harlequin Sweetlips on this part of the dive too.
As you circle and complete a lap of Red Rock, you should set a compass heading west and navigate a short swim to the shoreline, where you will find the entrance to Nang Yuan cave.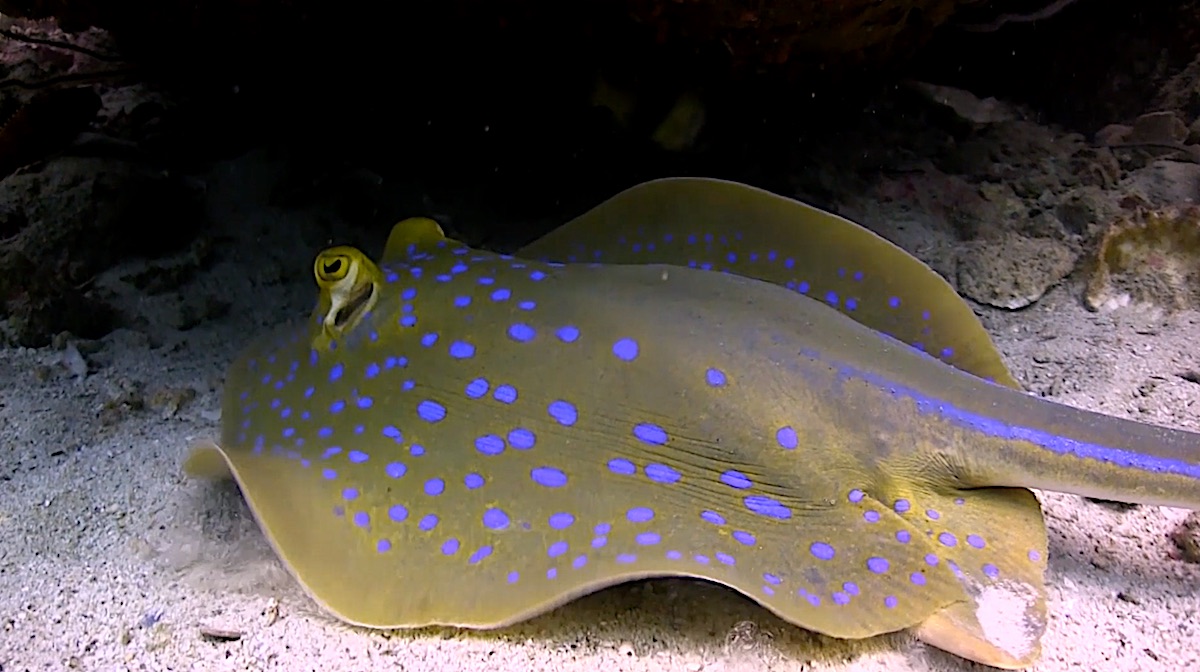 Nang Yuan Cave – Red Rock Pinnacle
Technically, Nang Yuan cave is a cavern due to its length and this is one of the best swim throughs on Koh Tao, with large archways in between huge boulders that form an underwater chamber-like room with light penetrating from above.
The sunlight breaking through provides a stunning visual and if you look up you will see the silhouettes of many of the small fish that reside in the cave.
Keep a look out on the bottom of the cave for Blue Spotted Ribbon Tail stingrays and the Jenkins Whipray who are frequent visitors.
Stingrays at Koh Nang Yuan
If you pay close attention you will see Glass Cleaner Shrimps on the rock to your side and above you will discover Pipe Fish.
The eastern Nang Yuan coastline heading north and south offers scuba divers a huge plethora of color and a varied topography with large boulders covered in hard and soft corals.
You can expect to see abundant Koh Tao marine life including Bannerfish, Angel fish, Beaked Coral fish, Red Breasted Wrasse and Parrot fish.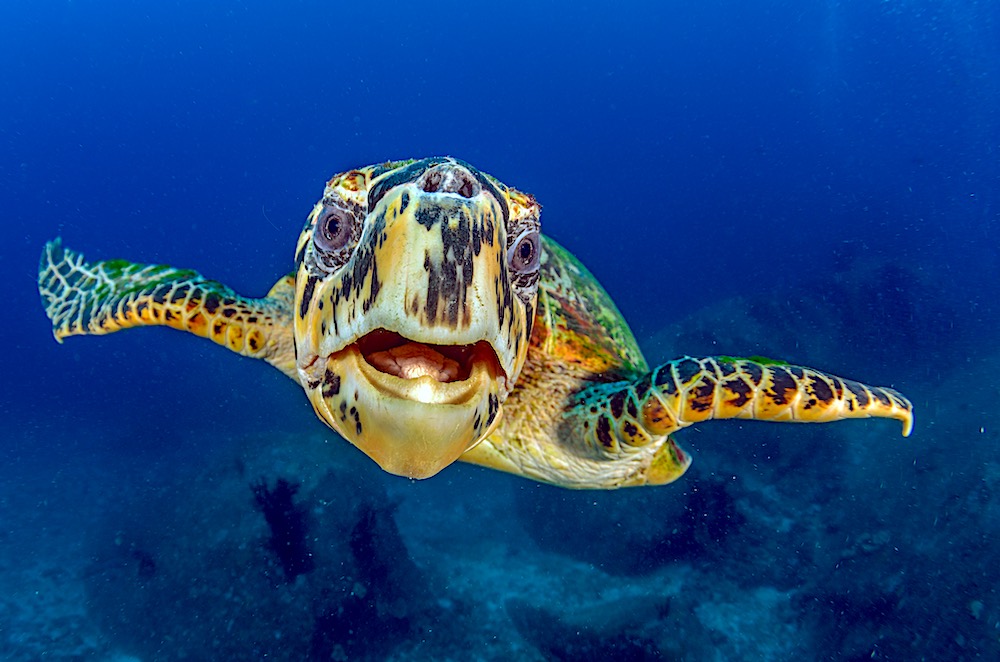 Abundant Marine Life
There are always Titan Triggerfish along this coastline and we also see curious Yellow Margin Triggerfish, who are both well behaved most of the time.
If you swim north along the coastline and at around 8-10 metres depth you will find an extremely rare sight in the sea around Koh Tao, the Pink Tailed Triggerfish.
Pink Tailed Triggerfish are the more placid members of the triggerfish family and they seem to gather at one small rock in this area and there can be up to 3 or 4 of them here.
As a scuba diver, you can spend hours, days and weeks exploring this beautiful stretch of coastline that runs north from Japanese Gardens at depths of 12-15 metres.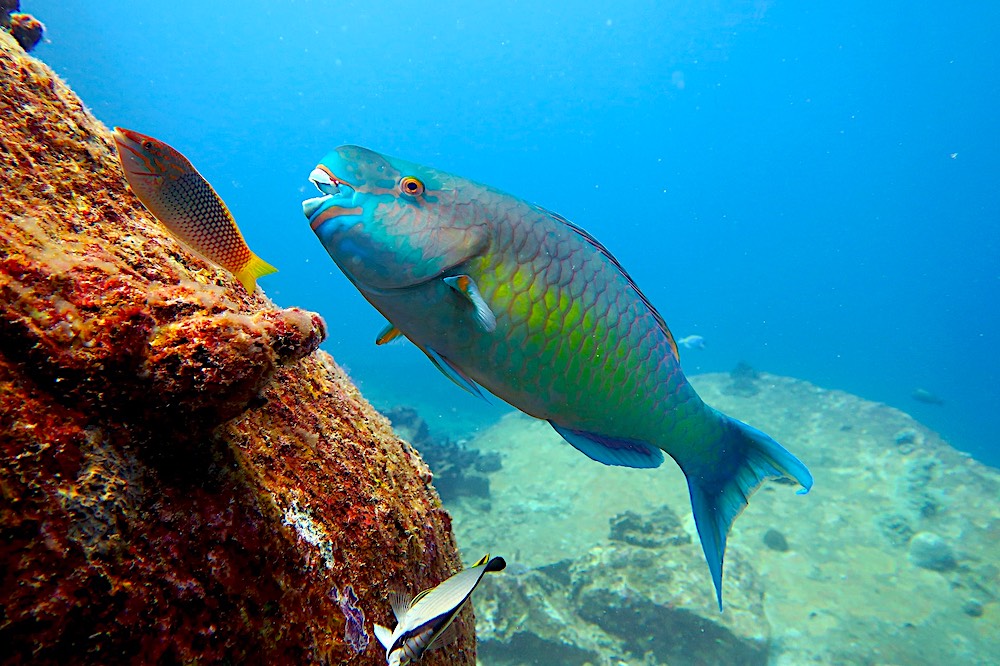 Great Fun Diving Experience
If you know your fish and know where to look, you may see a Scorpion fish and both the Green and Hawksbill Sea Turtles feeding in this area.
Common visitors to this area include Banded Sea Snakes, schools of Trevally, Snapper and Yellow Tailed Barracuda.
There are basically two ways you can approach and plan this dive, either you can dive Red Rock Pinnacle, then swim north after the cave or head south and finish the dive in Japanese Gardens.
Either dive will offer you a great fun diving experience, especially for scuba divers who enjoy a leisurely and slightly longer dive time.