>
>

Persian Carpet Flatworm
Persian Carpet Flatworm Koh Tao
Learn about the Persian Carpet Flatworm on Koh Tao
Persian Carpet Flatworm on Koh Tao (Pseudobiceros Bedordi) get their name from the richly coloured ripples along the body, which resembles a fine Persian carpet.
Persian Carpet Flatworm also go by the name Bedfords Flatworm, which was named after a Mr Bedford who is a friend of the discoverer Laidlaw in 1903.
Where to find the Persian Carpet Flatworm on Koh Tao
Persian Carpet Flatworm can be found by scuba divers at many of the dive sites around Koh Tao including Hin Wong Pinnacle, Hin Pee Wee, Twin Peaks, Aow Leuk and Green Rock.
How to identify the Persian Carpet Flatworm
Persian Carpet Flatworm are marine life that can grow as large as 10cm and have an oval shaped body with a plethora of rippled shaped lines tattooed all over their body.
Quite often, their body is predominantly brown with streaks of pink and orange with a black margin around their side and extremely small white dots.
However, each particular Persian Carpet Flatworm will vary individually in terms of the shades of their coloration.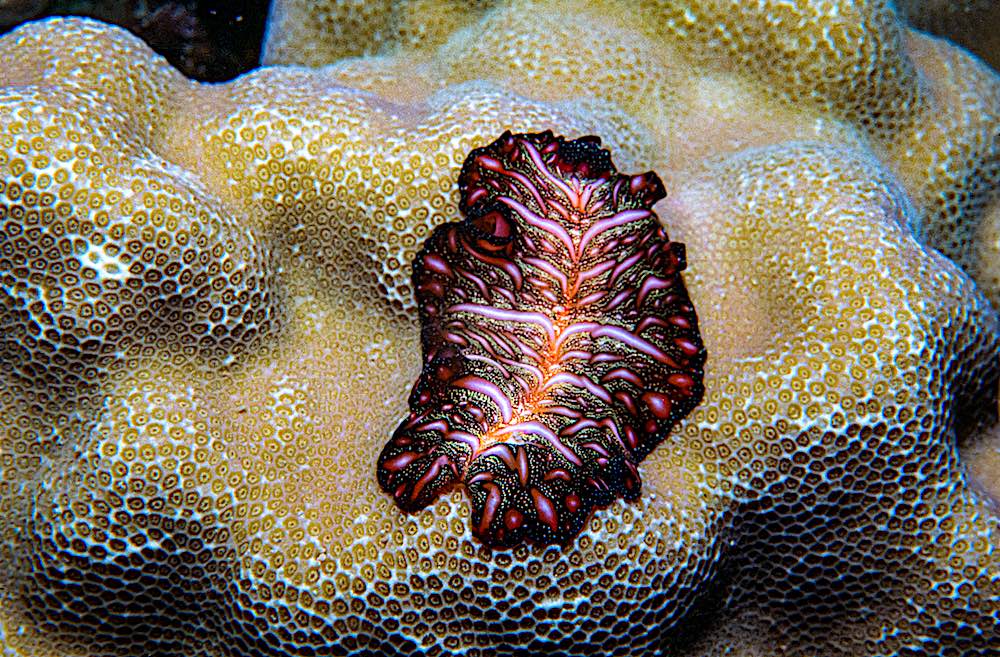 Distinctive Pattern of Persian Carpet Flatworm
Persian Carpet Flatworm main distinctive pattern is always the same with curled ripples starting from the centre of the body and curtailing out to their sides.
The underside of the Persian Carpet Flatworm is a rose-pink colour with a constant dark black margin all the way around.
They also have a pair of ear-type shaped Pseudotentacles that are formed by folding edges of their body, which can be seen on the base of their bodies.
Persian Carpet Flatworm Characteristics & Behaviour
Persian Carpet Flatworms are quite often found alone however, sometimes we will see them in pairs.
They move around the reef by using tiny hairs on their bodies that they move in a rapid beating motion.
These hairs act like millions of feet and it helps to propel them along the ocean floor in an almost undulating manner.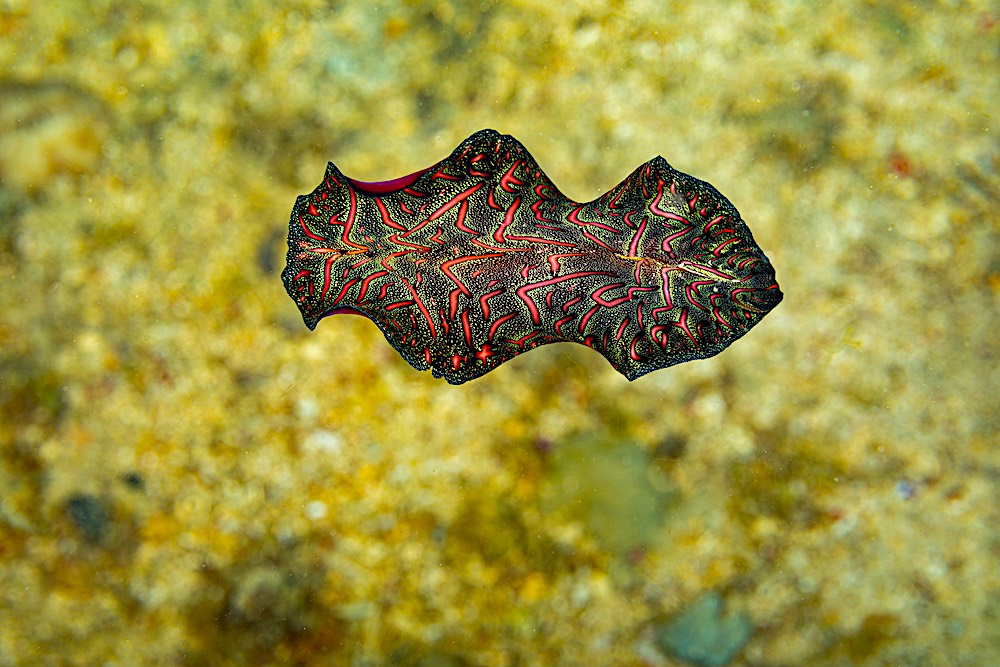 Persian Carpet Flatworm Feeding Habits
Persian Carpet Flatworm feed on extremely minute crustaceans and ascidians by carefully positioning themselves on top of their prey.
They clamp down their skirt and suck up their prey using their tube-like mouth that extends out and acts as a type of blender.
Average lifespan of a Persian Carpet Flatworm is all dependent on its size and the larger the individual grows the longer it can survive with variable recordings of a few months to as long as 30 years.
Interesting Facts about the Persian Carpet Flatworm
What they lack in size they make up for in eyesight and this particular individual has two extended clusters of cerebral eyes found next to each other acting as one central system of around 100 individual eyespots.
Like many flatworms the Persian Carpet Flatworm has evolved and uses what is known as Batesian mimicry.
Batesian mimicry is when a harmless species mimics the coloration of a similar toxic species to deter predators when necessary and it is thought that the Persian Carpet Flatworm can mimic a species of Nudibranch with its striking color formation.