White Rock Dive Site Koh Tao
Learn about White Rock Dive Site on Koh Tao
White Rock dive site on Koh Tao is the perfect location for scuba divers who want to explore the diversity of local marine life and is popular for night dives.
Location: 2km off West coast of Koh Tao
Depth: Max 22m, Min 1m – Average 12m
Type of site: Granite rock pinnacles and boulders with a shallow coral garden, assorted hard and soft corals and patch of sand in between, surrounded by sand and shale
Level: Open Water Diver
Conditions: Flat most of year with mild to no current
Average Visibility: 10-20 meters
White Rock – Best Night Diving on Koh Tao
White Rock is quite possibly the largest dive site on Koh Tao and White Rock offers endless possibilities and surprises for even the most experienced resident Koh Tao diver.
Translated from the Thai Hin Kao the dive site gets its name due to the top of the shallow northern pinnacle, which lies less than 2 metres from the surface and looks like a white rock.
The shallowest part of the dive site is the northern end with the rocks starting between 16-12 metres.
White Rock Shallow Coral Garden
This dive site is easy to navigate, running on a south to north axis, with a beautiful small coral garden and a sandy patch sandwiched in between at around 9 meters in depth.
The southern pinnacle drops down to approximately 22metres and is often the best place to start your dive.
As you explore the smaller of the two main rock formations that make up this dive site, look closely into the shadows.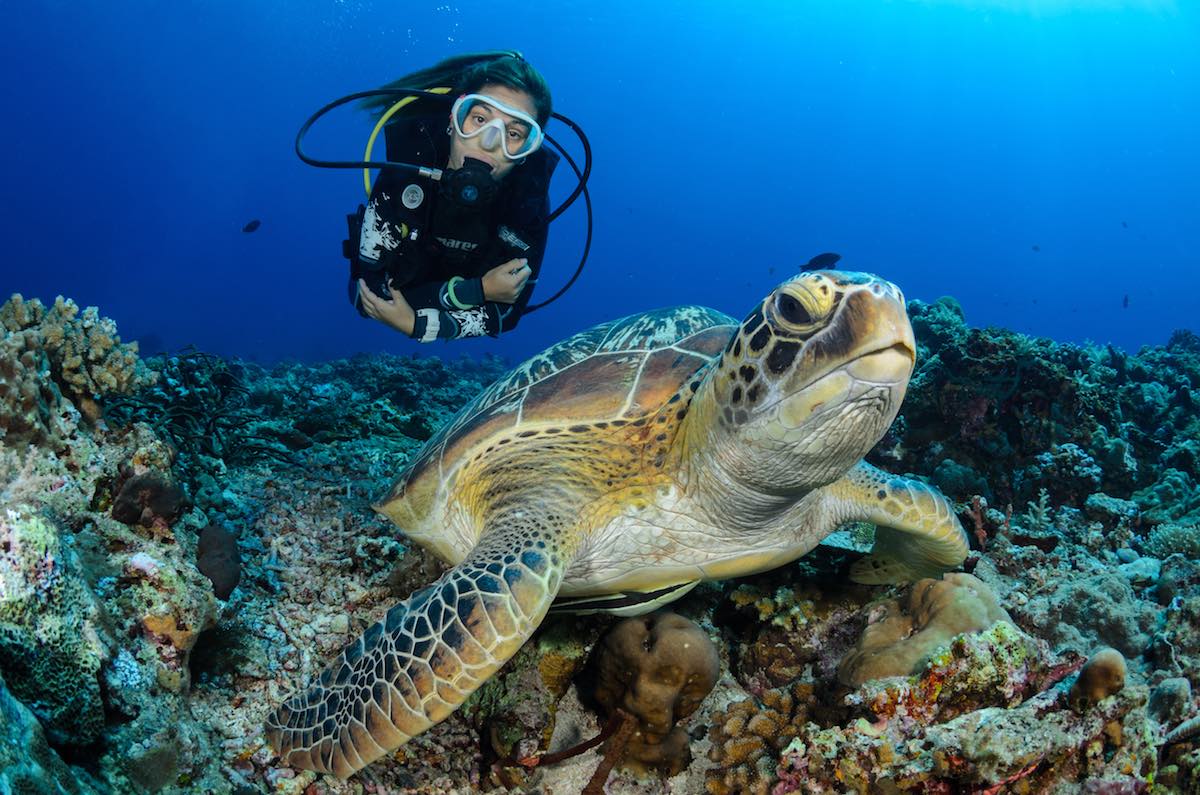 Stingrays, Sea Turtles & Moray Eels
You will discover Blue Spotted Ribbon Tail Rays hidden under ledges, White Eyed Moral Eels snuggled in small holes in the rock, or they may venture out a little to take an inquisitive look at you.
Around the southern buoyline is a large shoal of Yellow Tail Barracuda and you will see Blue Ringed and Six Banded Angel fish, Bannerfish, Beaked Coral fish and Butterfly fish.
White Rock is also home to a number of Titan Triggerfish that can get a little excitable during breeding season, Banded Sea Kraits hunting for eels to feed on and Sea Turtles are often seen eating the soft corals.
Due to its proximity to Koh Tao, White Rock is a popular night dive site and when the conditions are good, a night dive here is nothing short of spectacular.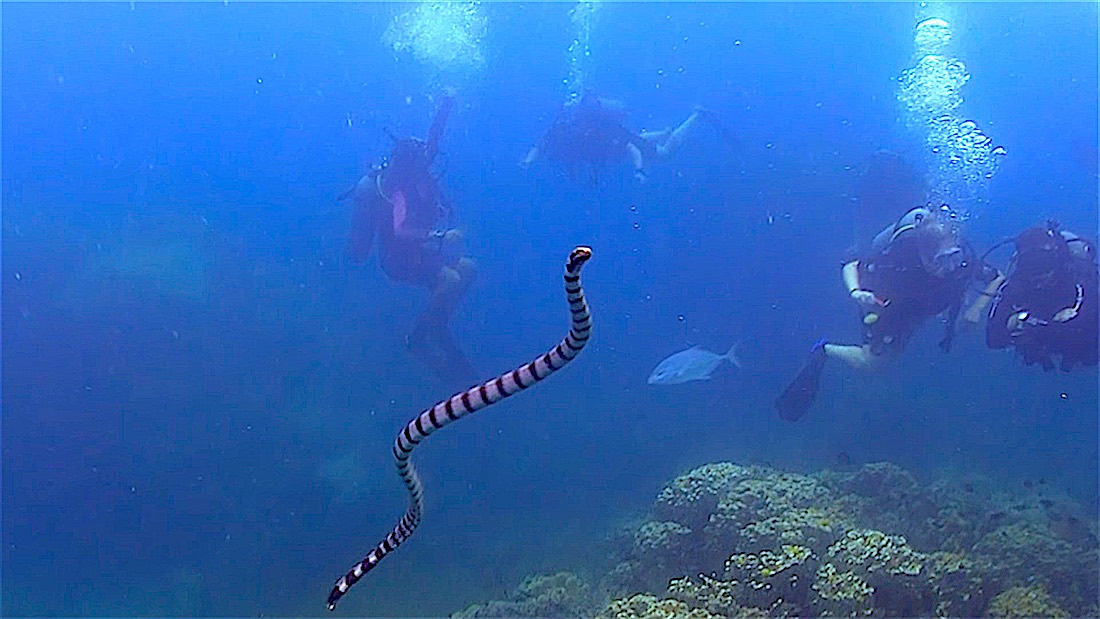 Popular Night Diving Location
Watch Giant Barracuda prowl the edges of the dive site on the lookout for unsuspecting prey to pounce on and Cuttlefish and Pufferfish will dance in your torch light.
Look into the cracks of the rocks and see Triggerfish sleeping and even the occasional sleeping Sea turtle wedged inside.
Despite the relatively short distance to Koh Tao, White Rock gets its fair share of Whalesharks passing through when they are in the area.
White Rock dive site is ideal for Open Water divers, Adventure and Specialty divers and it is understandable why this location is so popular.