Koh Tao Food & Drink
Excellent Food & Drink Choices on Koh Tao
Koh Tao provides visitors with a great choice of food and drink from cheap street food to high end champagne brunches.
The island offers many modern restaurants, café's, snack bars, street food stalls, food markets and traditional Thai venues for every food palate.
Best Places to Eat Koh Tao
If you are a food connoisseur, you will discover an abundance of Thai and international restaurants offering authentic Thai cuisine and western food.
With decades of experience living on Koh Tao, we have selected a several popular, local and tourist venues for you.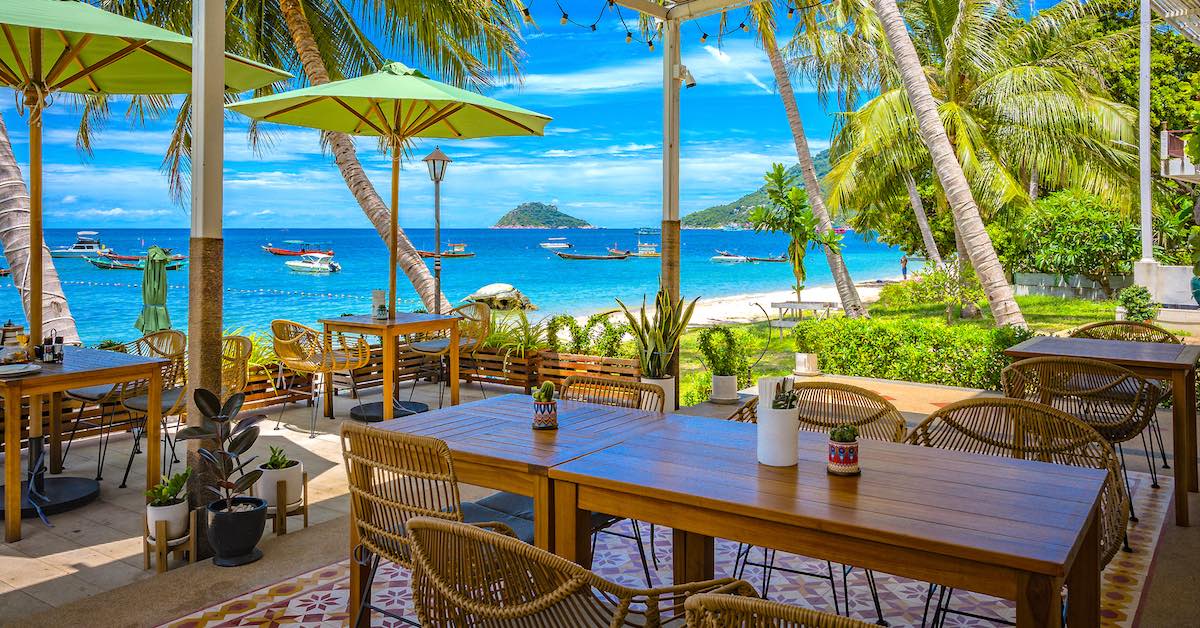 Breeze Koh Tao – Beachside Restaurant
Breeze beachside restaurant offers modern global cuisine packed with fresh ingredients and lots of flavorsome food.
Enjoy a beachside dining experience that provides excellent customer service and value for money, with a large and tasty menu offering food choices for everyone at any time of the day.
A popular location for breakfast, the menu offers lots of variety including smashed Avocado on toast, Vegan shakshuka, healthy smoothie bowls and great coffee.
The Mezze and Charcuterie sharing boards are popular for group brunches and the main menu features all your favorite comfort foods.
Koh Tao Restaurant with Ocean View
Choices include Battered Fish & Chips, Chicken Alfredo alongside more contemporary cuisine style dishes like their White Snapper on a bed of Mango Salsa and fresh Avocado.
With a full Vegan menu, tasty Salads including the islands best Superfood Salad and a full dessert menu Breeze Koh Tao should be on your list of restaurants to visit during your Koh Tao stay.
Located on the north side of Mae Haad beach, close to the main pier it is the perfect restaurant for your final lunch before leaving the island, or your first meal when you arrive.
A popular all day restaurant and great place to watch the sunset on the beach.
*Offers Delivery
*Vegan & Gluten free options available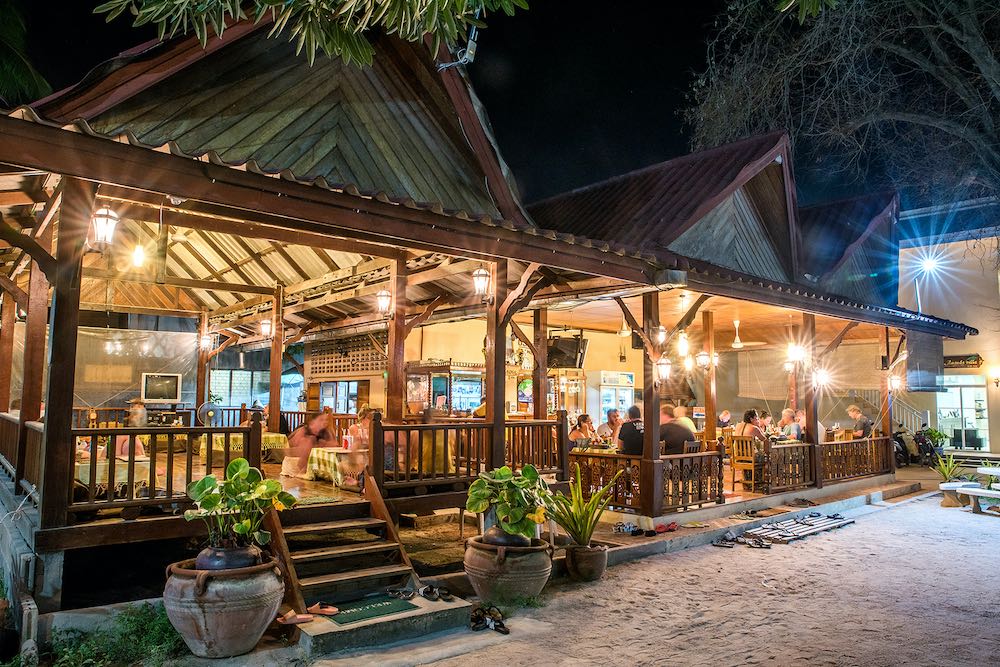 Pranees Kitchen Thai Restaurant – Authentic Thai Food
One of the most established restaurants on Koh Tao, Pranees Kitchen offers authentic Thai food at great value.
Pranees Kitchen is a traditional Thai style sala restaurant offering visitors a real taste of traditional southern Thai dishes.
Recommendations include Keang Kua Pla – a southern style coconut milk red curry with fish and the southern classic Khanom Jeen Nam Ya Poo, which is a delicious spicy crab curry served with rice noodles.
For those that want a real taste of the south their Keang Som – a southern sour fish curry is a very popular favorite with Thai guests.
Authentic Thai Restaurant Koh Tao
Pranees Kitchen is well known to international travelers for their Pad Thai and the fresh fruit shakes, both popular favourites.
The menu also has a Vegan section that features special dishes of Massaman Chick Pea with Lentil and Potatoes or the Pumpkin & Chickpea Red curry.
After your curry, try their spicy fruit salad as it will cleanse your palate and tantalise your taste buds at the same time.
Pranees Kitchen is a very popular locally owned and operated authentic Thai restaurant, next to Ananda Villa Hotel and just a few metres from the beach in Mae Haad.
*Offers Delivery
*Vegan & Gluten free options available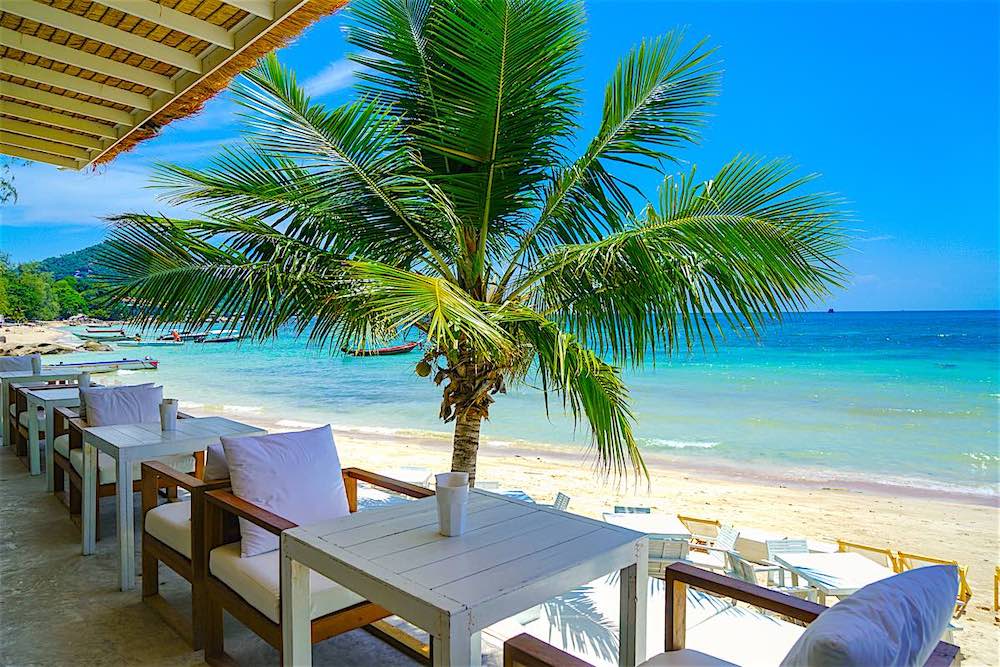 Whitening Restaurant – Beachside Lounge in Sairee
Whitening is a modern, stylish restaurant and lounge bar located in the middle of the hustle and bustle of Sairee beach.
Whitening serves delicious Thai and International cuisine, excellent cocktails and provides customers with stunning sunset views to a background of great music.
This popular evening dinner venue offers a range of modern contemporary dishes that compliment timeless classics and traditional Thai food.
Thai & International Cuisine
Our recommendations include Pan Seared Duck Breast Cauliflower Beetroot Puree and a Mango sauce or Koh Tao's most famous Roti and signature Homemade Roti with Beef or Chicken.
Whitening also offers delicious fish and seafood dishes and a choice of traditional Thai dishes such as their tasty Koi Soi Chicken.
Boasting arguably the best wine selection on Koh Tao, lots of prosecco and fresh oysters served daily, Whitening is a great place to relax with a sunset drink and enjoy an unforgettable dining experience.
Whitening is popular for sunset drinks, great food and wine.
*Vegan Options available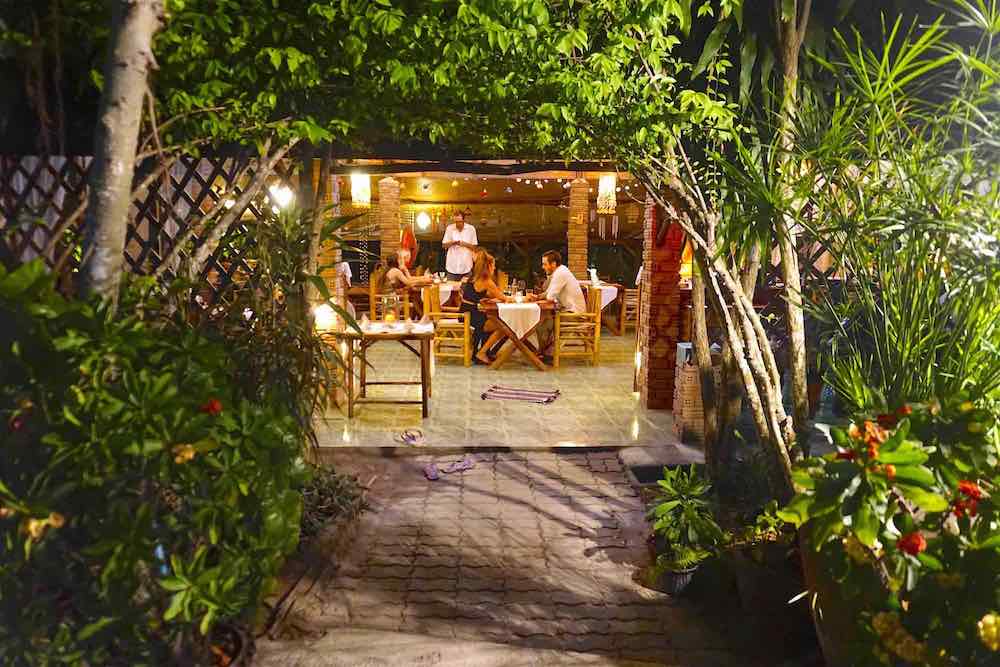 Thaita Restaurant – Italian Food at its best
This is a truly Italian experience not just a meal. Authentic and delicious home cooked Italian food at its best with a super friendly Italian welcome.
This gem of a restaurant is hidden away on the road to Hin Wong on the right hand side, set in its own garden just a couple of metres from the road.
Thiata restaurant offers a cosy, warm atmosphere and with the dimmed lights and pleasant background music, it is a perfect venue for a romantic evening or a friendly family dinner.
The food here is made with love and lots of passion by the kind and welcoming Italian couple who own and operate Koh Tao's most popular Italian restaurant.
Italian Restaurant Koh Tao
One is the maître de. He guides you through the menu with an enthusiasm and passion you will rarely experience.
All the pasta is freshly made in the kitchen, mixing imported ingredients with only the freshest of local produce, the chef cooks up a delightful Italian culinary experience.
The signature dish is the Spinach Ravioli. Beautifully thin handmade pasta stuffed with spinach and cooked in a creamy sage butter sauce with Ricotta Cheese.
The menu is more than just pasta. Sicilian Ceviche and Shrimp & Avocado Tartare are among the popular starters on their menu.
There is often a fish option on the special menu and their desserts are delicious especially their Tiramisu, which is soft and creamy.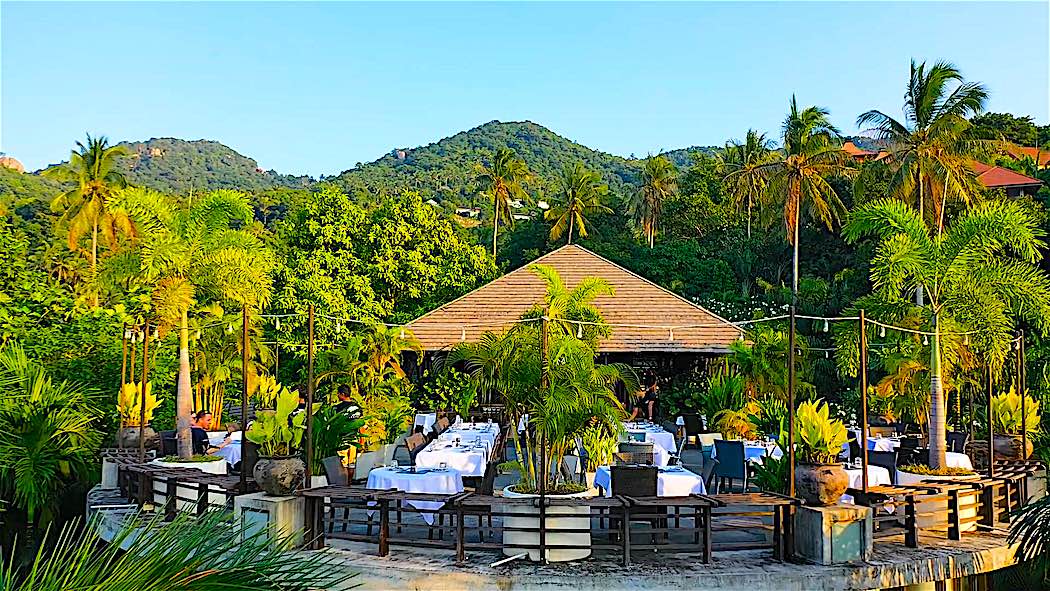 Barracuda Restaurant Darawan – Rooftop Ocean View
Barracuda Rooftop restaurant at Darawan combines a fantastic venue with one of Koh Tao's most popular Seafood restaurants.
Nestled at the foot of the lush green hills of Sairee, Barracuda Darawan restaurant offers a stunning panoramic view of Sairee beach, the ocean and Koh Nang Yuan.
This beautiful and classy establishment boasts an outdoor rooftop terrace and an amazing sea view, the perfect place for a romantic meal whilst watching the sunset.
Seafood Restaurant Koh Tao
The Barracuda brand is well-known and it has been a popular restaurant on Koh Tao for over 10 years, offering customers a range of specialty dishes.
Recommendations include a huge Seafood Platter, which is one of the most popular dishes on the menu. Their varied menu has a large selection of fish dishes, tasty Tapas and several Vegan dishes.
Fresh Oysters are a regular item on the daily special list and if you get there for happy hour, Barracuda offer great value cocktails.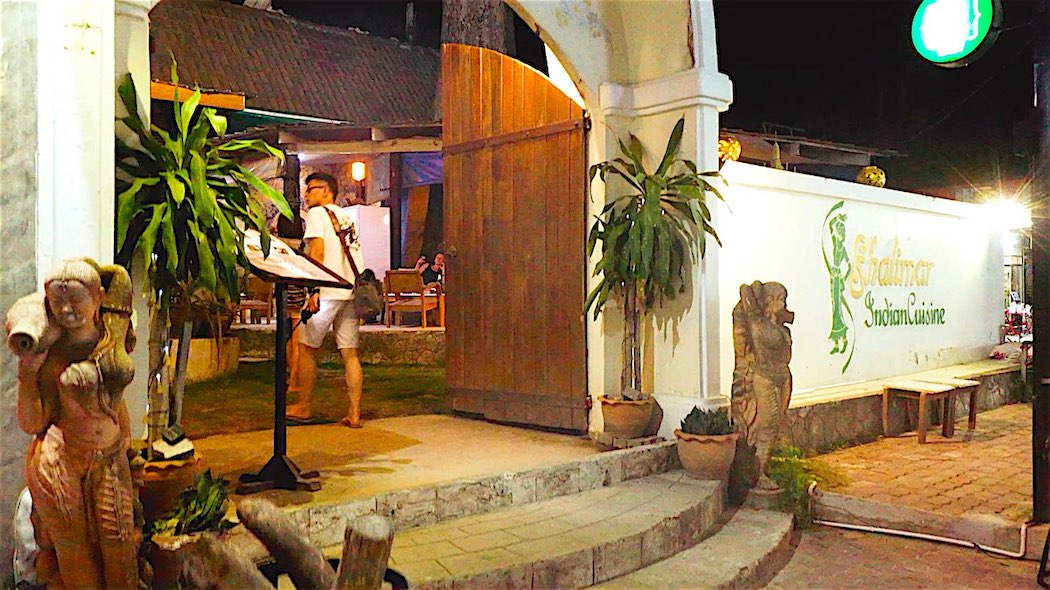 Shalimar Indian Restaurant – Authentic Indian Food
The only Indian restaurant on Koh Tao, Shalimar offers authentic and flavoursome Indian food in a rustic courtyard area close to Sairee crossroads.
Shalimar menu is packed with curries from across India, including a large number of Vegetarian and Vegan dishes.
Indian Restaurant Koh Tao
At Shalimar, you can be sure that the beer is cold and the curries are hot, with friendly staff and generous portions served with a smile in a relaxed atmosphere.
If you visit with a friend, family or a partner, try the set meal for two, which is great value and includes Popodoms, Samosas, two Curries, two Rice and a Garlic Naan.
Shalimar also offers a great value Veggie Thali. Featuring Samosa, Roti, Steamed Rice, Rajma (a kidney bean curry) and a veggie Korma, which is perfect if you are eating alone. The meat Thali features Chicken Jalfrezi and an Alo Gobi.
*Vegan Options available
The Gallery Restaurant Koh Tao – Gourmet Thai
Located in the foothills of Koh Tao, this chic upmarket restaurant offers amazing gourmet Thai dishes using only the finest ingredients.
You are made to feel special the minute you arrive by the owners Chris and Pu who are both great hosts.
Chris will talk you through the menu with knowledge and a genuine desire for you to have the very best meal you can.
The Trust the Chef option is highly recommended and they have lots of Vegetarian options too.
Koh Tao Restaurant with Panoramic Sunset view
The location and atmosphere of the restaurant in the hills above Sairee is serene, peaceful and close to nature.
Gallery Restaurant provides its customers with stunning west coast views overlooking the Ocean towards the Thai mainland.
The Gallery gets its name from the excellent photography that adorns the walls of the restaurant, which are images taken from around Koh Tao on the land and underwater.
If you love Thai food and are willing to pay a little more for something special, you should arrive before the sunset and enjoy a pre drink evening meal in the Gold Bar as the sun sets on the western horizon.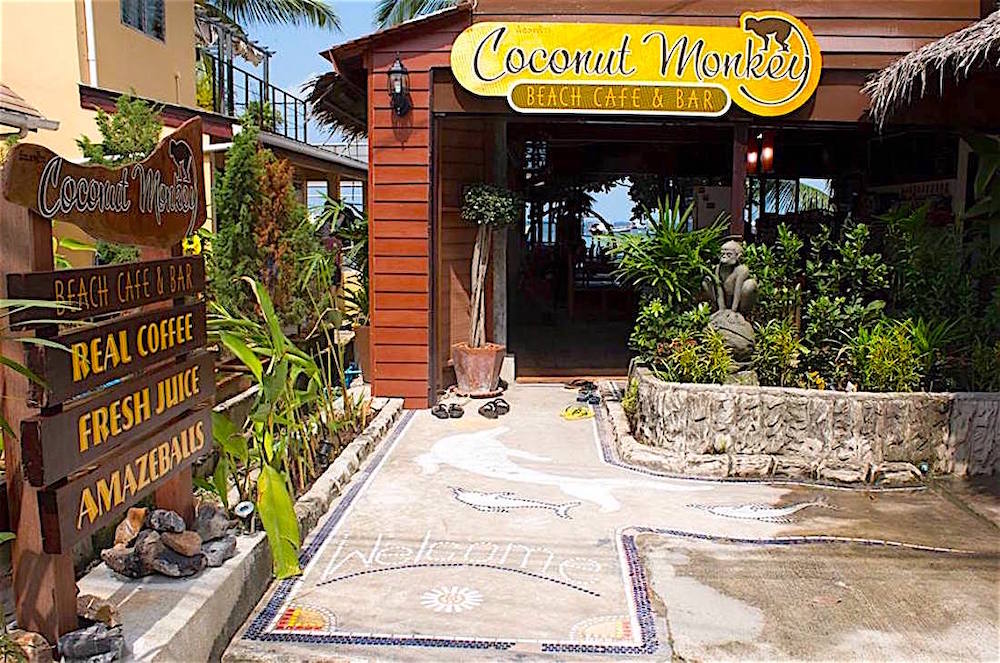 Coconut Monkey Café
A popular morning venue for breakfast, this beachside café offers a laid back vibe and a tasty selection of home-cooked Vegetarian and Vegan food.
Their popular all day breakfast menu offers choice, including your favourite overnight Oats and a delicious Scrambled Tofu.
The coffee is also excellent at Coconut Monkey and if you are craving something sweet they offer a selection of delicious Vegan desserts.
*Popular for Breakfast & Brunch
*Vegan options available