Jenkins Whip Ray Koh Tao
Learn about the Jenkins Whip Ray Koh Tao
Jenkins Whiprays are one of the largest Sting Rays that can be seen on Koh Tao and are breathtaking to look at when scuba diving.
A Jenkins Whipray generally prefers a location that is close to the shoreline, so you do not need to travel far to see them.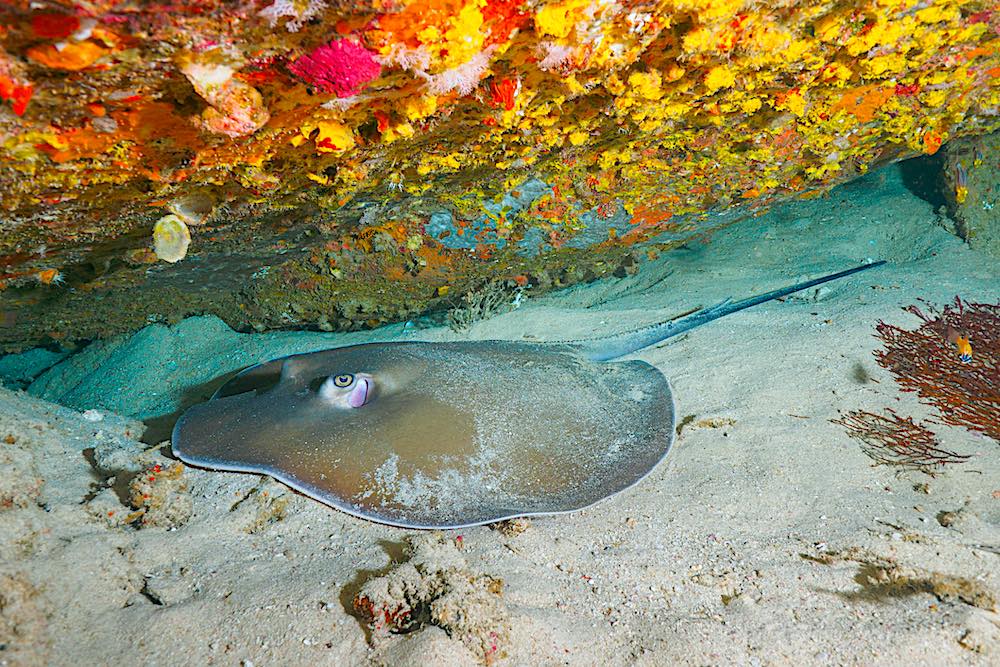 Where to find the Jenkins Whip Ray on Koh Tao
The Jenkins Whipray can be found at many of the shallow dive sites around Koh Tao, which makes it perfect for scuba diving beginners or snorkelers.
Popular sighting locations include Aow Leuk, Tanote Bay (under the catamaran), Hin Wong Bay and Laem Thian dive sites.
If you are on a deep dive at the HTMS Sattakut shipwreck, you should check both sides of the ship close on the seabed as Jenkins Whip Rays often rest there.
How to identify the Jenkins Whip Ray
These types of stingrays have a rhomboid shaped body with rounded edges that are known as a disc and the disc can reach up to two (2) metres wide and the rays can be a brown-tan colour with a white underbelly.
As the name suggests, a Jenkins Whip Ray has a very long whip-like tail that has large spear-shaped thorns that run up to its muscular body.
The rest of their disc is perfectly smooth with the only opening being for their big eyes and gills and very close to their gills are two spiracles that take in water and blow it over the gills for oxygen.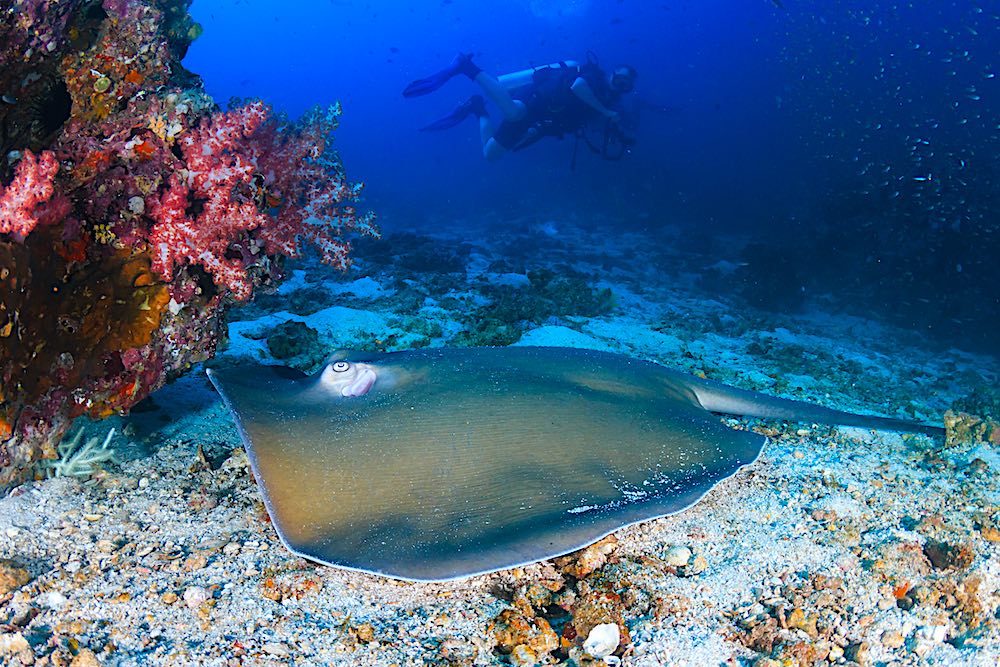 Jenkins Whip Ray Characteristics & Behaviour
The Jenkins Whip Ray is a perfect worker of the reef and can be found foraging around the sand looking to trap their prey, which is mainly shrimp, crab, small fish and other sand-dwelling animals.
A Jenkins Whip Ray like most sting rays uses its two tooth plates in the mouth to crush their food rather than them having teeth to chew it.
During the day time it is very common to find Jenkins Whip Rays hiding underneath rocky outcrops or burrowing themselves into the sand.
Interesting facts about the Jenkins Whip Ray
The (IUCN) has listed the Jenkins Whip Ray as Vulnerable and intense fishing in Southeast Asia has resulted in a declining population.
Even though a Jenkins Whip Ray has eyes on top of its body, they actually use electro-sensors to locate their prey and they will often be very still, so they can detect any movement nearby.
Not much is known about their breeding behaviour compared to other species of stingray however, researchers suggest they can give birth up to six (6) times per year and live as long as 25 years.