Samran Pinnacles Dive Site Koh Tao
Learn about Samran Pinnacles Dive Site Koh Tao
Samran Pinnacles dive site Koh Tao is a perfect site for experienced scuba divers to stop off at on the way back from Sail Rock and offers amazing marine diversity.
Location: between Sail Rock & Koh Tao
Depth: 9-28 metres
Type of site: Pinnacle
Level: Advanced Open Water diver
Conditions: Visibility can be excellent, current possible
Average Visibility: 2-30m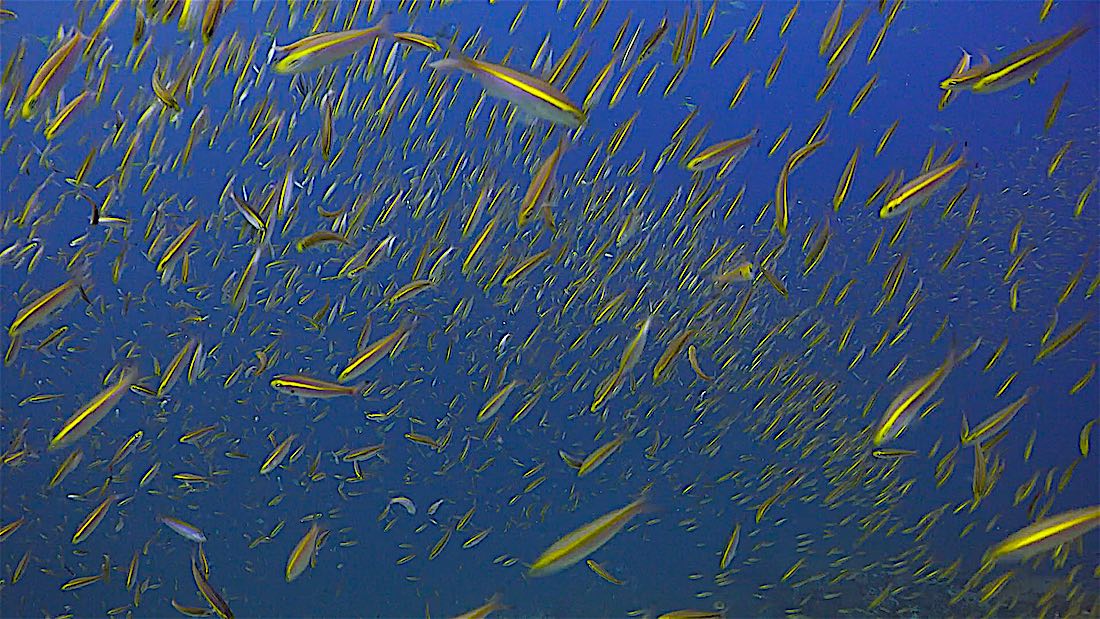 Koh Tao – Samran Pinnacles
Samran Pinnacles is a series of underwater granite rock pinnacles completely submerged in the middle of the ocean between Sail Rock and Koh Tao.
Rising to a submerged depth of 9 metres, the rock plummets down and meets sand at approximately 28 metres and the dive site is relatively small when compared to the other deeper Pinnacles in the area.
Samran Pinnacles is in open ocean so the currents are sometimes a little stronger than you get at other dive sites and as it is deeper than average therefore, Samran Pinnacles is a site suitable for Advanced divers.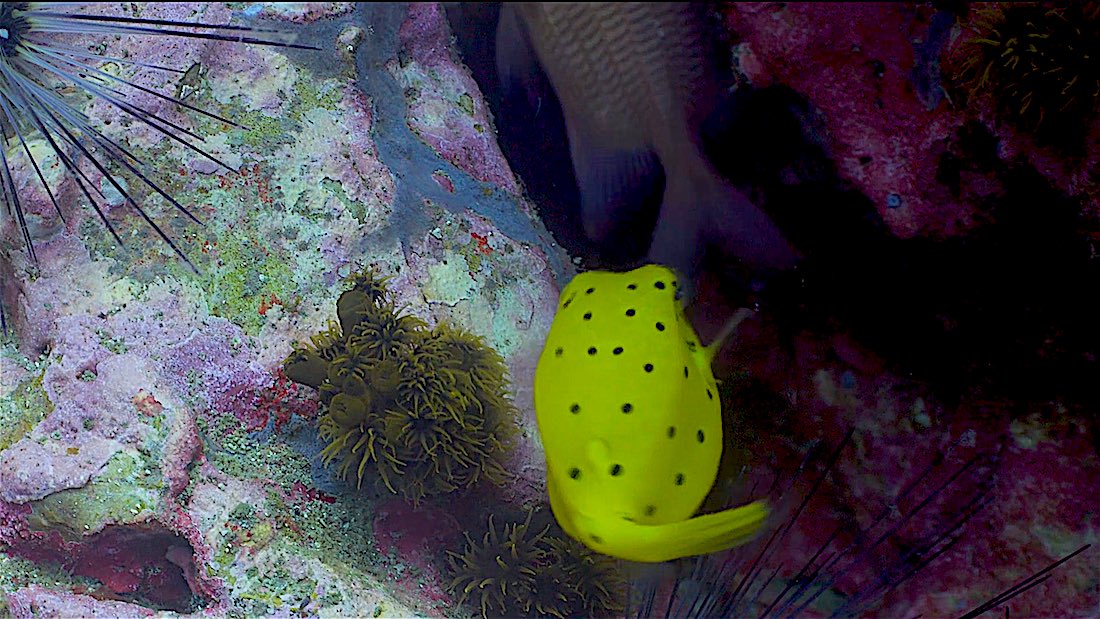 Ocean Dive Site – Samran Pinnacles
If the conditions are good, Samran Pinnacles is an absolutely stunning dive with all the marine life you would expect at these types of dive sites.
Thousands of Yellowback Fusiliers will be swirling around you like a silver and yellow spinning tornado that envelopes the pinnacle and you will discover large schools of Jacks, Trevally and One Spotted Snapper.
In fact, when huge schools of Chevron Barracuda cruise by in their hundreds, you take notice when scuba diving at Samran Pinnacles.
The sheer number of fish you can see here is astonishing and it is easy to reluctantly understand why this dive site sometimes has fishing net entangled.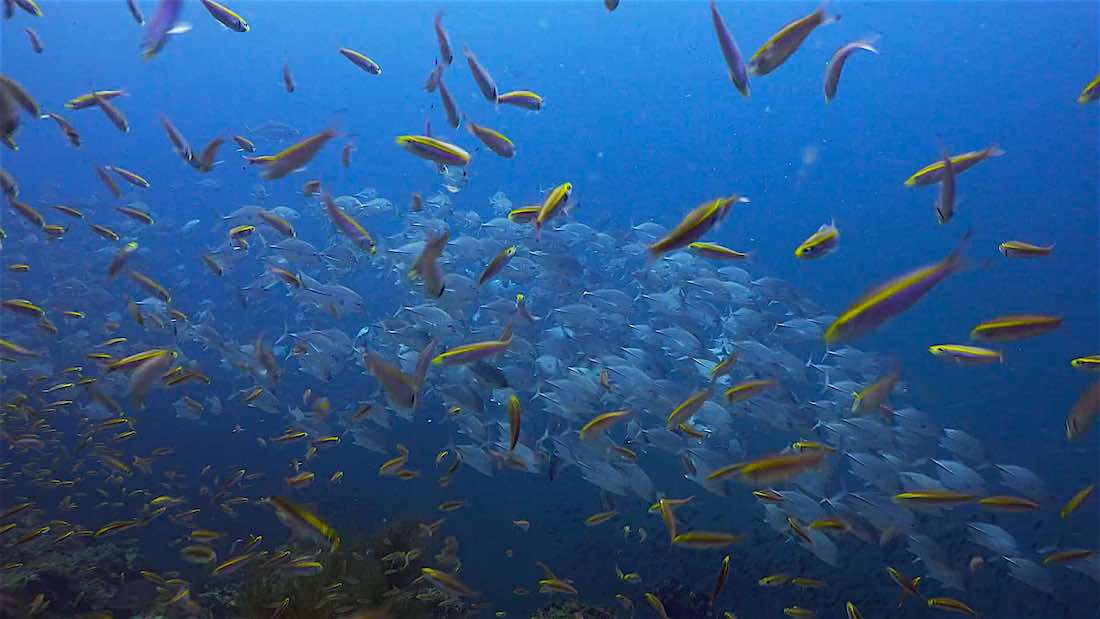 Lots of Interesting Marine Life
Samran Pinnacles also offers lots of small and interesting marine life in addition to the mesmerizing shoals of fish you will find schooling.
The main rock is not completely covered by coral however, on display is a selection of various hard and soft corals.
You can find large patches of Massive coral along with lots of Sea Fans, Whip corals and Barrel Sponges with Lambert's Worm Sea Cucumbers.
Look closely in the cracks and crevices and you will see a variety of crustaceans as well as the interesting Tiger Cowries.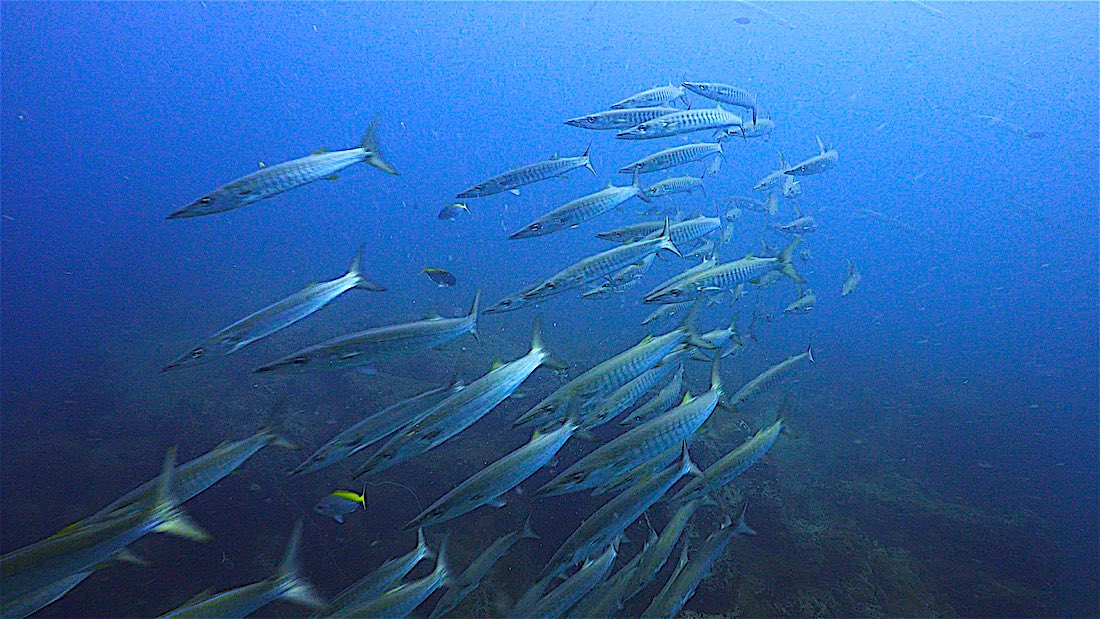 Great for Macro Photography
Continue with the dive to find Sea Anemones with Anemone fish, cute little Yellow Box fish trying to hide and Brown Barred Groupers sitting on the rock watching the world go by.
On the larger side, there are large Brown Marbled Grouper hiding out under ledges and cracks in the rocks at the deeper depths.
Samran Pinnacles is a perfect dive to make on the way back from a Sail Rock trip when you have a small number of experienced divers.
Our advice when visiting Koh Tao to dive, is to find a dive shop that offer a 3-dive trip that includes Sail Rock, Samran Pinnacles and Shark Island and make a day of it, you will not regret it.