>

PADI Freediving Courses
PADI Freediving Course Koh Tao
Explore Koh Tao as a PADI Freediver
Freediving is an exciting and popular sport throughout the world and is enjoyed by enthusiastic and aspiring freedivers at every level.
The feeling of weightlessness, sense of freedom and exploration of the ocean on a single breath has caught the interest of everyone.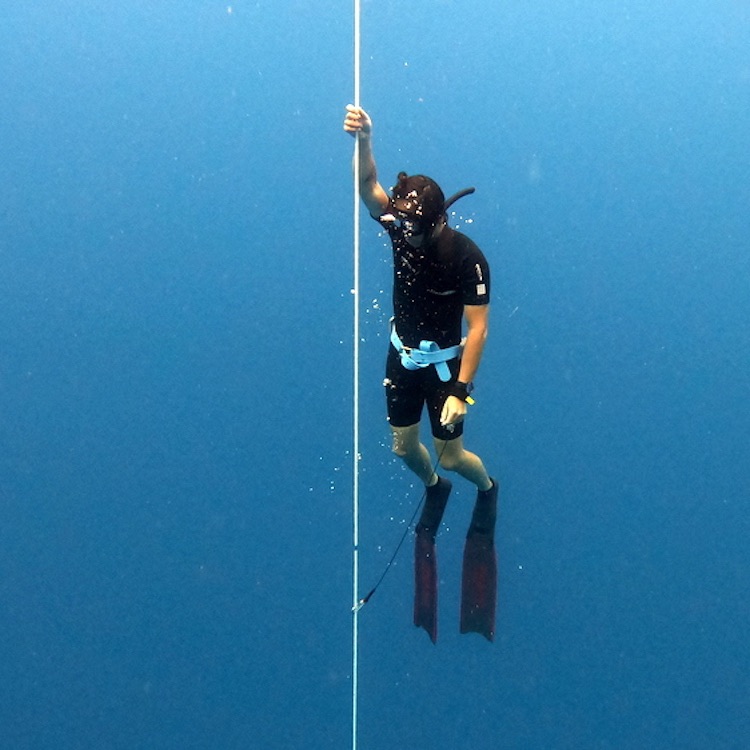 Best PADI Freediving Courses in Koh Tao
Discover Freediving Course
Our Discover freediving course is an excellent choice for people who want to explore their interest in freediving in a one-day session.
PADI Freediver Course
Our PADI Freediver course is the next step after your introduction to freediving with our basic freediving course and is the first real step into the world of freediving.
PADI Advanced Freediver Course
Our PADI Advanced Freediver course is for freedivers who want to explore their growing interest in freediving and extend their personal best depths and freediving skills in a safe and comfortable way.
PADI Master Freediver Course
After completion of your Advanced Freediver course, to achieve further progression and improve personal bests, your next challenge is to take our PADI Master Freediver course.
PADI Freediving Instructor Course
Our PADI Freediving Instructor course is for freedivers who want to learn how to teach freediving to other aspiring freedivers.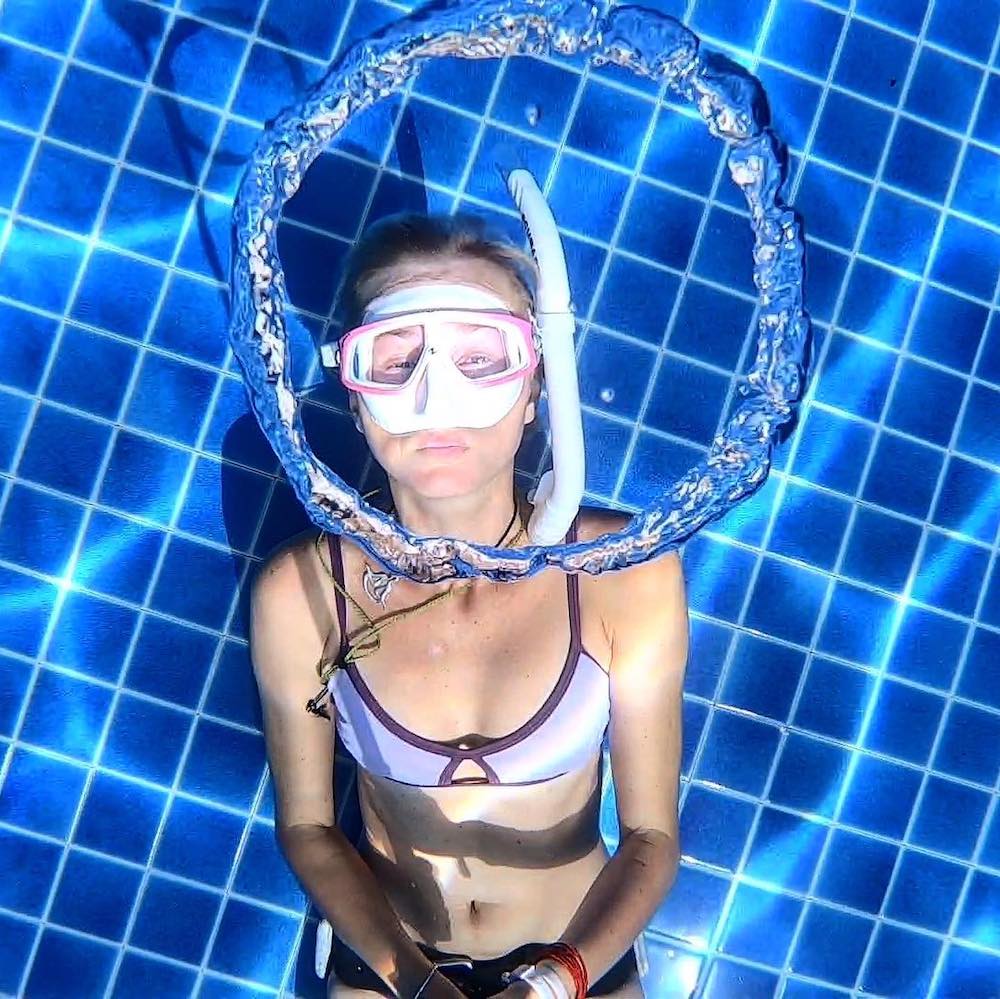 Beginner Freediver Courses
Freediving is an accessible sport that is available to all levels from beginner freediving courses to freediving instructor and world class competitive freediving athletes.
Koh Tao has seen a huge increase of interest in freediving training and continues to be a very popular destination for learning to freedive at every level.
Many current freediving instructor trainers and world class competitive freediving athletes located around the world all started their freediving training on Koh Tao.
Our PADI freediving courses offer you world class tuition, safety, excitement and a learning process to suit your individual needs.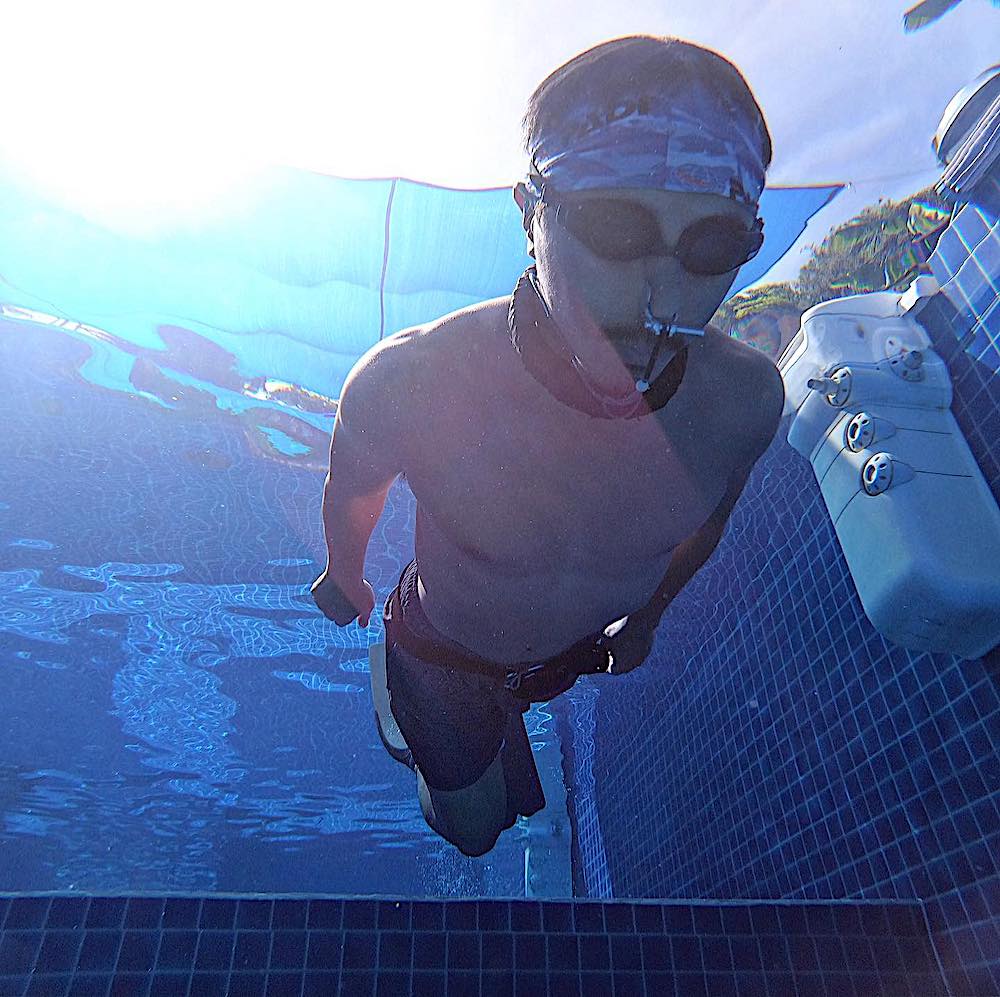 Learn to Freedive on Koh Tao
If you are taking a freediving course for the first time, Koh Tao offers you an excellent training environment with a combination of pool training and completion of your courses in the ocean.
The sheltered, warm, tropical environment and sea conditions ensure Koh Tao is a perfect location to learn how to freedive and continue with your training through the more advanced courses.
Koh Tao offers variable ocean depths from 5 metres to 40 metres, which means freediving students can benefit from the full range of PADI training courses available.
For many people who are considering taking up freediving, it is difficult to know where to start however, our basic freediving introductory course is a perfect way to experience freediving for the first time.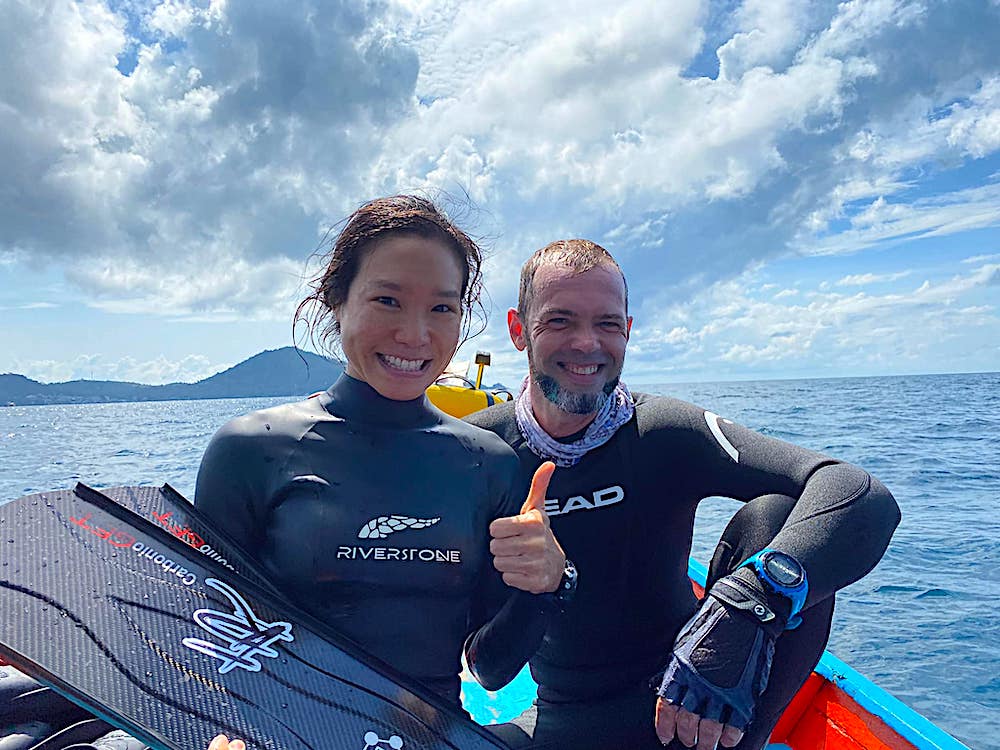 Complete an Entry level Freediving course in 2 days
You can start your freediving adventure in as little as 2 days and as you progressively become more confident in your ability, you can develop your skills at your own pace.
Each freediving course starts with theory that helps you to understand the concepts and principles of physiology, safety and the practical requirements of each course so you can successfully become certified at each level.
Koh Tao is ideal for beginner freedivers who want to learn how to freedive and the entry level courses can easily be completed while visiting our island on a short trip.
After completing the Discover freediving course and as your interest and confidence increases, the PADI freediver course can be continued the next day.
To complete the Freediver course, you will continue with more theory, a pool session and two Open Water freedives, before receiving your freediver certification.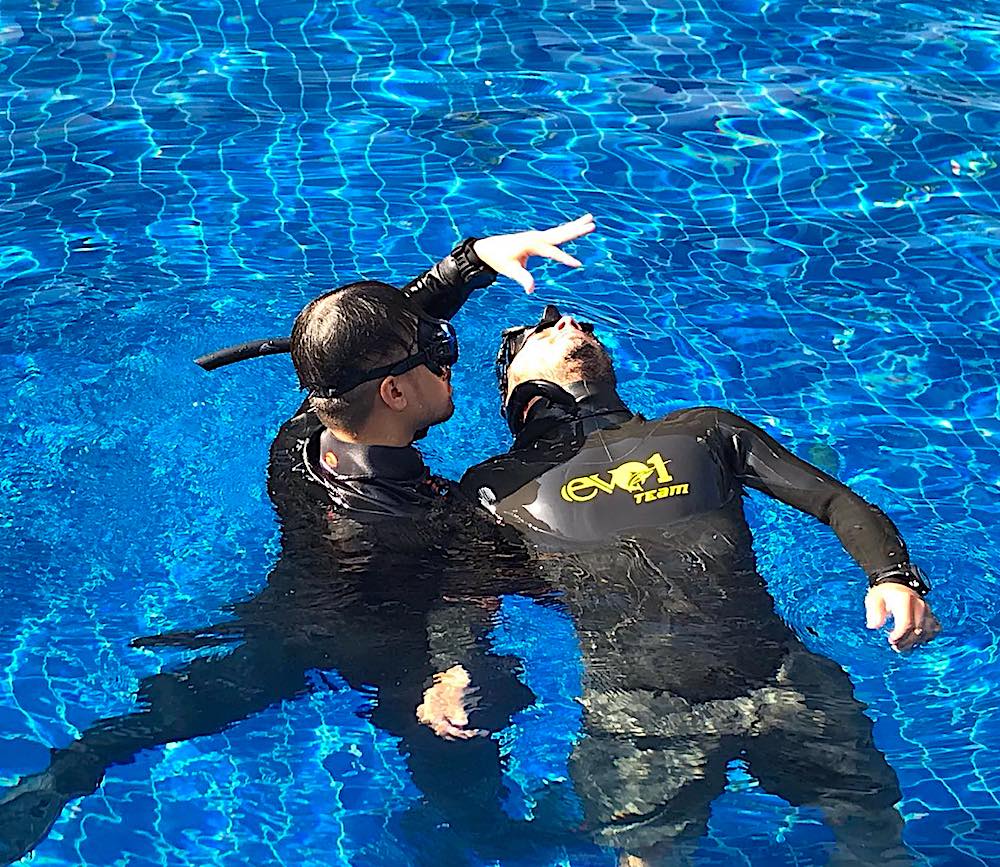 Freediving Equipment included in the course
Learning how to freedive allows you to travel and visit different locations with minimal equipment other than fins, freediving mask and a computer.
Freediving schools can provide all the equipment you need to learn how to freedive and the course fees will include the materials you need to complete the course.
If you love the ocean and marine environment, freediving provides you with a unique underwater perspective and a world of tranquility with no noisy bubbles from scuba tanks.
Freediving training courses help you to become more focused on yourself through flexibility, discipline and self control.
Explore the Marine Life of Koh Tao
You can move through the water in silence and see the marine life without disturbing it and enjoy a sense of freedom.
Koh Tao offers a wide choice of locations around the island that you can safely freedive at whilst improving technique and developing your personal best times.
Under the close supervision and training with your Freediving Instructor, you will slowly improve your personal times underwater on a single breath.
Our Freediving training courses include breathing techniques, flexibility, theory, video, exams and either pool or confined water sessions to develop your skills and confidence.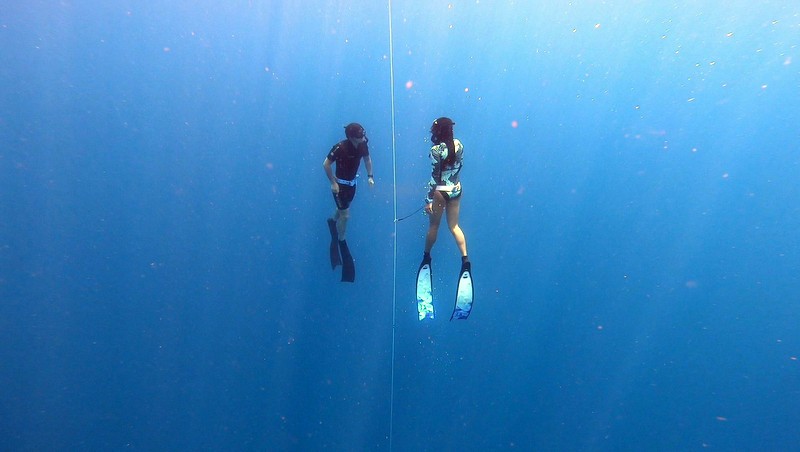 Freediving Skills in Confined Water
Confined water or pool sessions are used to practice and develop your static breath-hold alongside your instructor, before progressing into Open Water conditions.
In confined water sessions you will practice and develop your finning technique using dynamic apnea in fins.
Open Water sessions in the ocean are conducted under the full supervision of an instructor trainer and you can progress at your own pace.
PADI Freediving courses on Koh Tao provide you with an excellent opportunity to learn how to freedive whilst on a holiday and have lots of fun.
If you are visiting Koh Tao for a week or two, you can explore the underwater world and witness the amazing diversity of marine life and gain a PADI freediver certification.
Contact us for more information on all our Freediving courses.
Frequently Asked Questions
Where is the best Freediving course on Koh Tao?
Black Turtle Dive offer freediving courses from beginner freediving to Freediving Instructor and are located in Mae Haad close to the ferry pier.
With a pro level team, the centre offers a full range of scuba diving courses and Freediving courses that cater to the needs of our customers.
Why is Koh Tao a good place to learn Freediving?
Koh Tao has a diverse topography on land and underwater with a wide range of locations to practice the sport of freediving.
The island is a centre of excellence for freediving instructor trainers and many world class freediving athletes started their freediving training on Koh Tao.
What is the cost of a Freediving course on Koh Tao?
Basic freediving courses start at approximately 2,500 baht for a 2-day introductory basic course that is conducted in the classroom and confined water.
For certification and the manual, the basic freediving course costs 3,500 baht.
Freediving course prices progressively increase as the course curriculum becomes more complex and Freediving Instructor packages from beginner to Instructor can cost approximately 70,000 baht and take 2-3 months to complete.
Do the Freediving courses on Koh Tao include equipment?
Yes, Koh Tao freediving courses include all the equipment necessary to complete the course in full.
When booking the freediving course, you should ensure you are paying the cost that includes the learning materials and the cost of certification upon successful completion of the course.
What is the minimum age for a Freediving course on Koh Tao?
Minimum age for the basic freediving introductory course and the Freediver course is 12 years of age.
Minimum age for the Advanced Freediver course is 15 years of age and for Master Freediver and Freediving Instructor, the minimum age requirement is 18 years of age.
Additionally, all freediving courses require you to be in good health and have adequate swimming skills.