Mango Bay Dive Site Koh Tao
Learn about Mango Bay Dive Site on Koh Tao
Mango Bay dive site on Koh Tao is located on the north coast in a sheltered bay and is perfect for beginners who want to learn how to scuba dive and snorkel.
Location: North coast of Koh Tao
Depth: 1m – 20 metres
Type of site: Coral Gardens on west side, shoreline full of coral encrusted boulders on east.
Level: Open Water diver
Conditions: Generally good if weather is ok
Average Visibility: 10 -20m
Discover Mango Bay Dive Site Koh Tao
Located on the north coast of Koh Tao, Mango Bay has a small, sandy beach and it is a large, open bay with a sandy seabed in the middle and both sides are lined with an abundance of coral reefs.
Mango Bay offers scuba divers two dives and the first is a drop off that follows the west coastline in towards the shallows of the bay and the beach.
The dive is more suited to an experienced diver as the boat drops you off in around 16 metres of water in a more open part of the bay.
Explore the Rocky Coastline
The dive offers a leisurely and relaxed dive, exploring the rocky coastline that is made up of large boulders, many of which are encrusted with corals.
You can expect to see large schools of Scad, a swim through and keep your eyes open as Jenkins Whiprays often rest on the sandy bottom under the shallows of these huge boulders.
Continuing with the dive over the sand in between the two sides of the bay, you should look out for Peacock Sole and also Crocodile Snake eels and the occasional seahorse.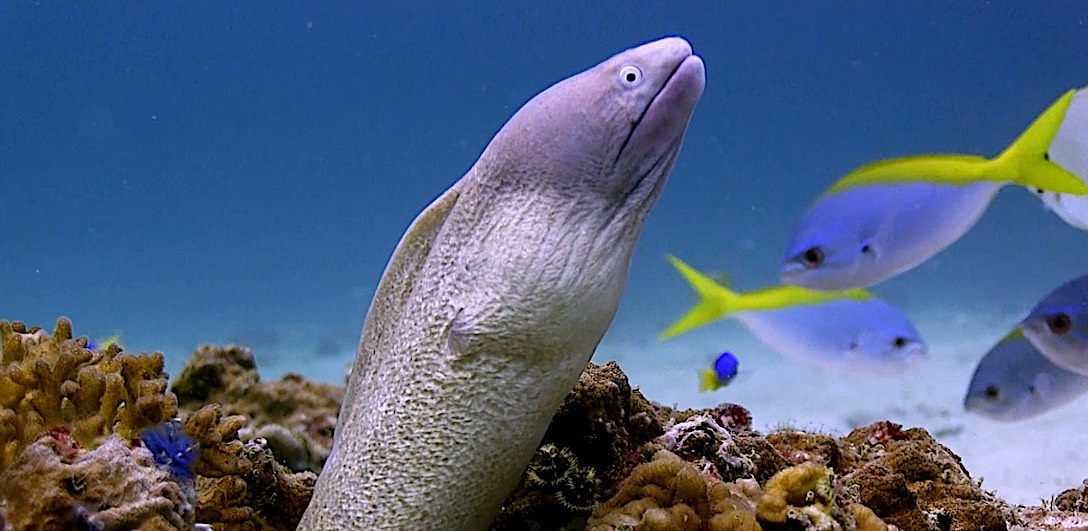 Sheltered and Picturesque Bay
The east side of Mango Bay offers a large coral garden full of large Mushroom and table corals with lots of Staghorn mixed in and barrel sponges that are home to an abundance of varied reef life.
You will see several species of Damsel fish and Wrasse including the Red Breasted Splendour Wrasse, pairs of Weibels Butterfly fish and many Yellow-Spot Goatfish.
Exploring further on and you will find Harlequin Sweetlips, large schools of Yellow Tail Barracuda, several species of Groupers, Giant Clams and this location is perfect for snorkelers and scuba divers.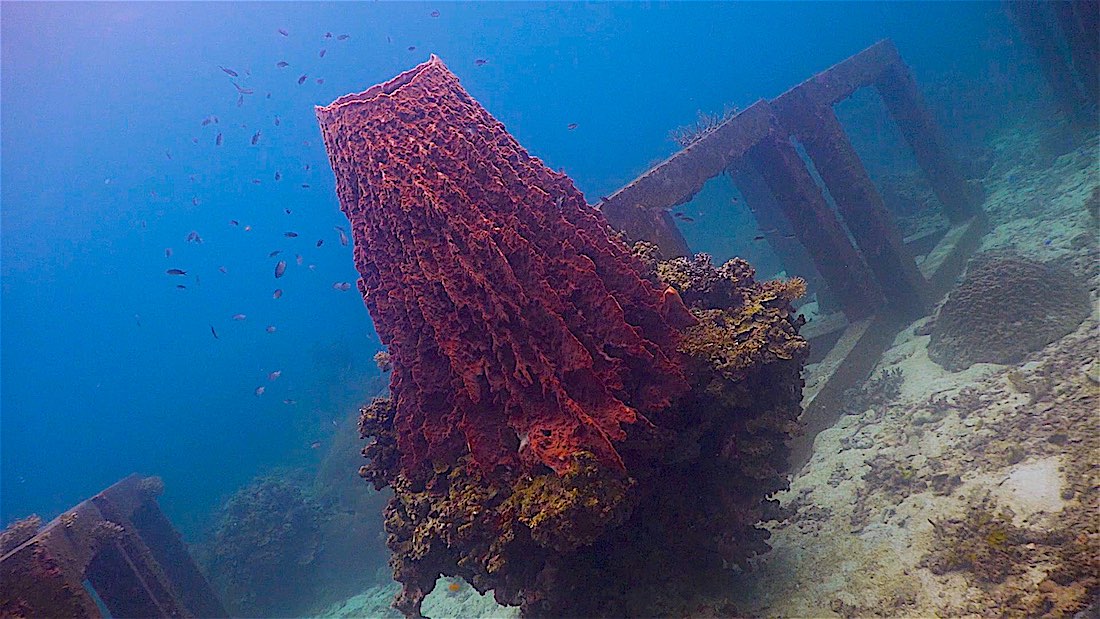 Mango Bay is Perfect for Scuba Diving Beginners
If you look very closely you may see the White Eyed Moray Eel and Sea Turtles are often seen on the east side including Titan Triggerfish the occasional Eagle Ray.
Mango bay is perfect for beginner scuba divers, snorkelers and adventure divers to practice advanced skills including buoyancy, navigation and Fish ID.
There is an abundance of soft, white sand in the middle of the bay, which is perfect for training dives and Mango bay offers visitors an amazing and picturesque setting.