Sail Rock Dive Trip Schedule
Amazing Sail Rock dive site in the Gulf of Thailand
Located in between Koh Tao and Koh Phan Ngan, the dive site is approximately 20km from Koh Tao, and the boat journey takes approximately 90mins in good weather.
Due to the dive site being located in the middle of the ocean, far away from land, Sail Rock boasts a rich diversity of marine life.
Marine Life at Sail Rock
For scuba divers interested in diving with larger pelagic marine animals, Whalesharks are frequent visitors to Sail Rock, and on occasions divers will see Eagle Rays, Sail Fish and even the occasional Manta ray.
Dolphins, Pilot Whales and even False Killer Whales are also occasionally seen on the journey to the dive site and around Sail Rock itself.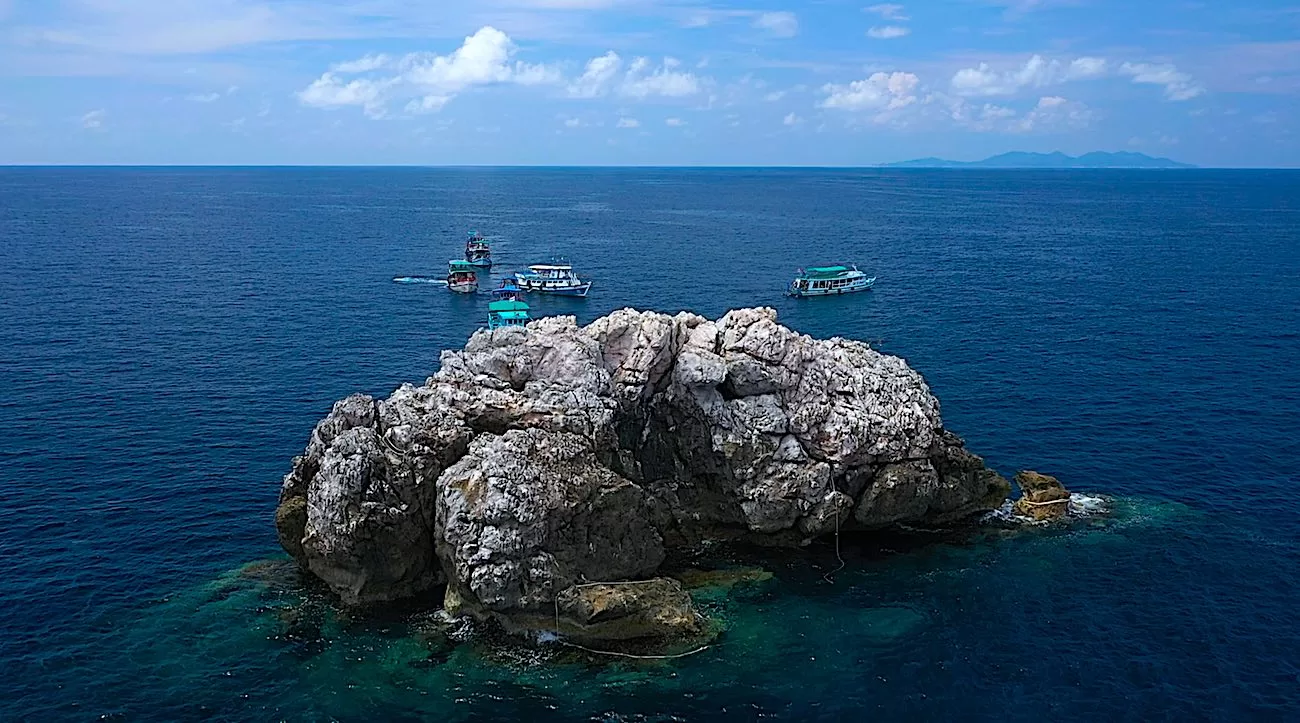 Best Time to go to Sail Rock Dive Site
On a good day Sail Rock is literally mesmerizing with large schools of Queenfish, Snapper, Trevally, Great Barracuda and Batfish, which create large moving silver walls that glisten in the sunlight.
Predators such as Giant Barracuda and King Mackerel hang off the rock waiting for opportunistic moments to catch their prey, whilst the Brown Marbled and Malabar Groupers patrol closer to the rock.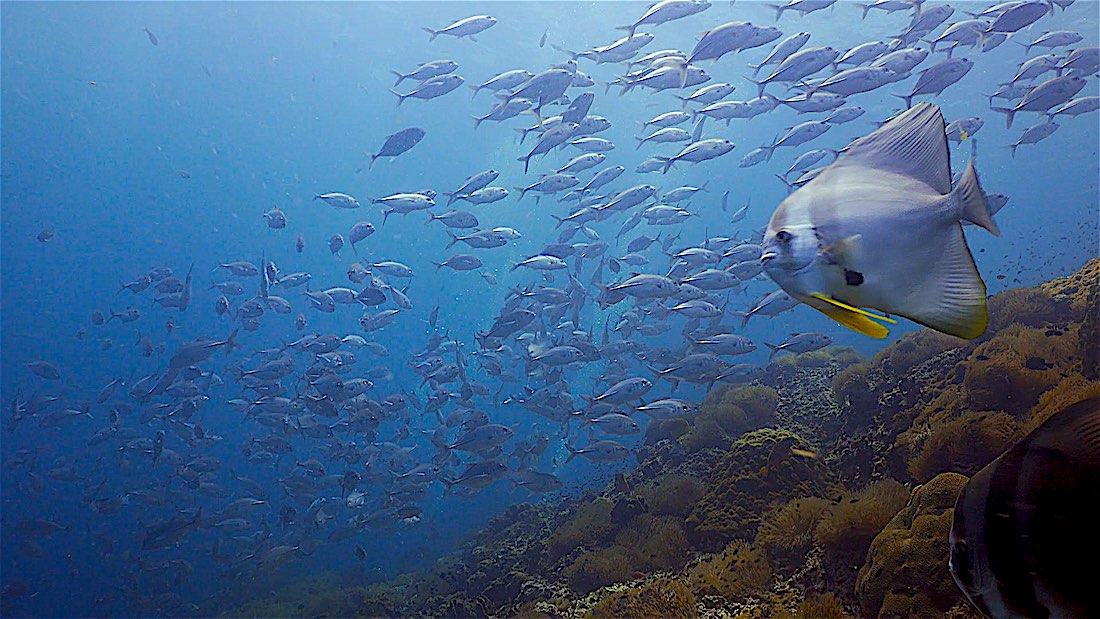 Underwater Photography at Sail Rock
The rock itself is covered in various hard and soft corals, and is home to hundreds of different marine life species and is great for macro lovers.
Pink Anemone fish inhabit pink sea anemones scattered across huge swathes of the rock and you will see many species of Nudibranch & Sea slugs.
Several species of shrimp are commonly seen at Sail Rock and if you look closely, you may see a scorpion fish camouflaged against the rocks.
Bannerfish, Angelfish and various species of Butterfly fish can be seen swimming around in pairs and grazing on the coral boulder walls.
Sail Rock provides underwater photography and videography enthusiasts with a wide selection of interesting marine life to photograph, including a much anticipated appearance of Whalesharks.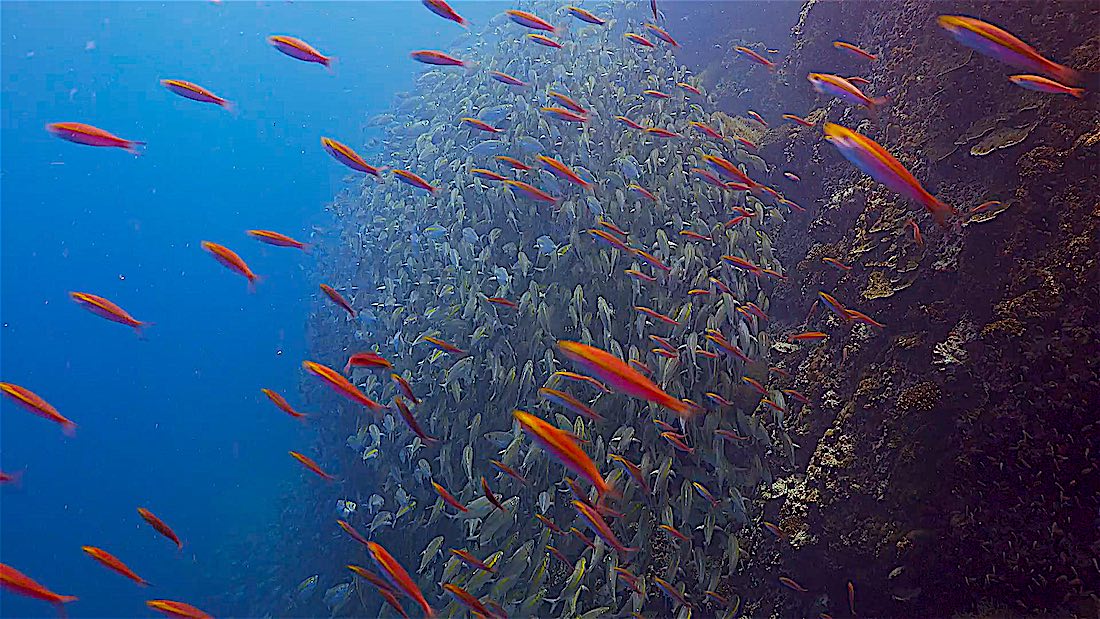 What is the Depth at Sail Rock Dive Site
Sail Rock sits around 20metres from the bottom, where the rock meets sand that gradually slopes down to outer laying rock formations. These rock formations sit in around 30 metres of water, north east off the rock, with some a little deeper in a north west direction. There are also smaller rock formations off Barracuda rock on the south west side of Sail Rock.
The maximum depth off the rock is below 40 metres and one of the highlights of diving Sail Rock is the Chimney feature.
For the more adventurous diver, you can descend vertically down the Chimney starting at 5 metres with the exit at around 18 metres. This should only be attempted by divers with excellent buoyancy control.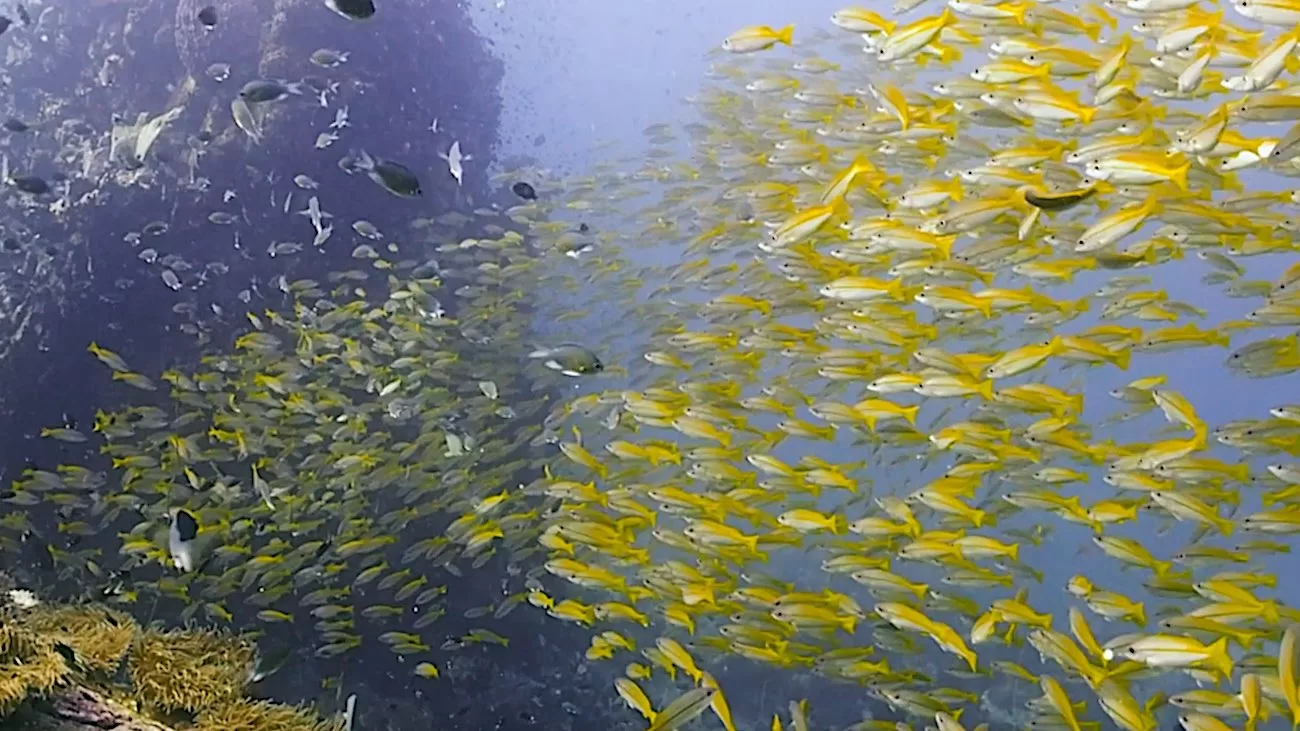 When do we dive at Sail Rock?
Black Turtle Dive visits Sail Rock dive site twice a week, on a Wednesday and Saturday and on Monday occasionally, based on customer demand.
Sail Rock Boat Schedule 2023
| Month | Days |
| --- | --- |
| September | 6th, 9th, 13th, 16th, 20th, 23rd, 27th, 30th ** |
| October | 4th, 7th, 11th, 14th, 18th, 21st, 25th, 28th ** |
| November | 1st, 4th, 8th, 11th, 15th, 18th, 22nd, 25th, 29th ** |
| December | 6th, 9th, 13th, 16th, 20th, 23rd, 27th, 30th ** |
** Weather dependent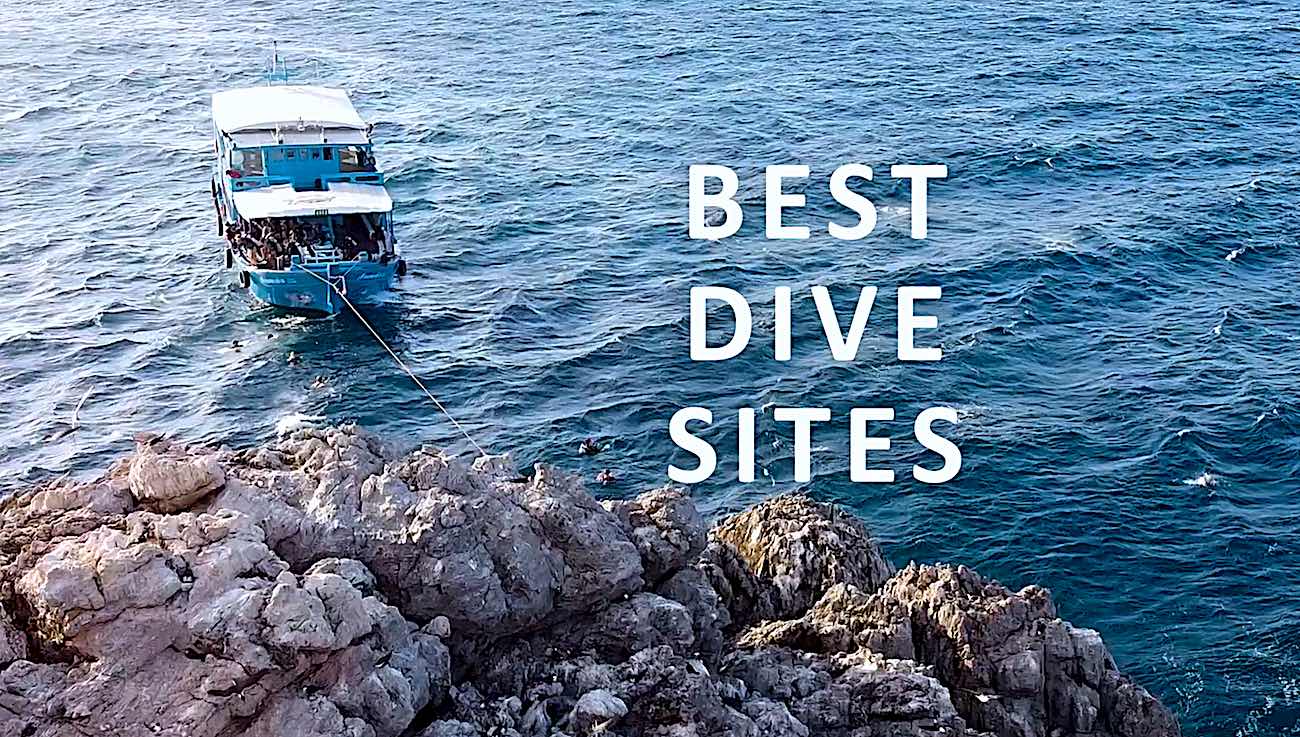 Why Dive Sail Rock with Black Turtle Dive?
Our Dive Boats
We own two large, spacious and comfortable dive boats with fresh water showers, female friendly toilets and spacious refreshments areas. In accordance with Thai law our boats are Non-smoking.
Our Scuba Diving Equipment
We only provide our divers with a Premium set of rental dive equipment.
You will use a premium set of Aqualung scuba equipment. The regulator you will use is an Aqualung Helix regulator, which is a balanced regulator and will deliver a much better flow of air to you, which means your dive will be more relaxed and enjoyable.
The Buoyancy Control Device (BCD) is an Aqualung Pro HD BCD, which is a comfortable BCD with integrated weights and trim pockets making it much easier for you to achieve a trim position and move more efficiently through the water.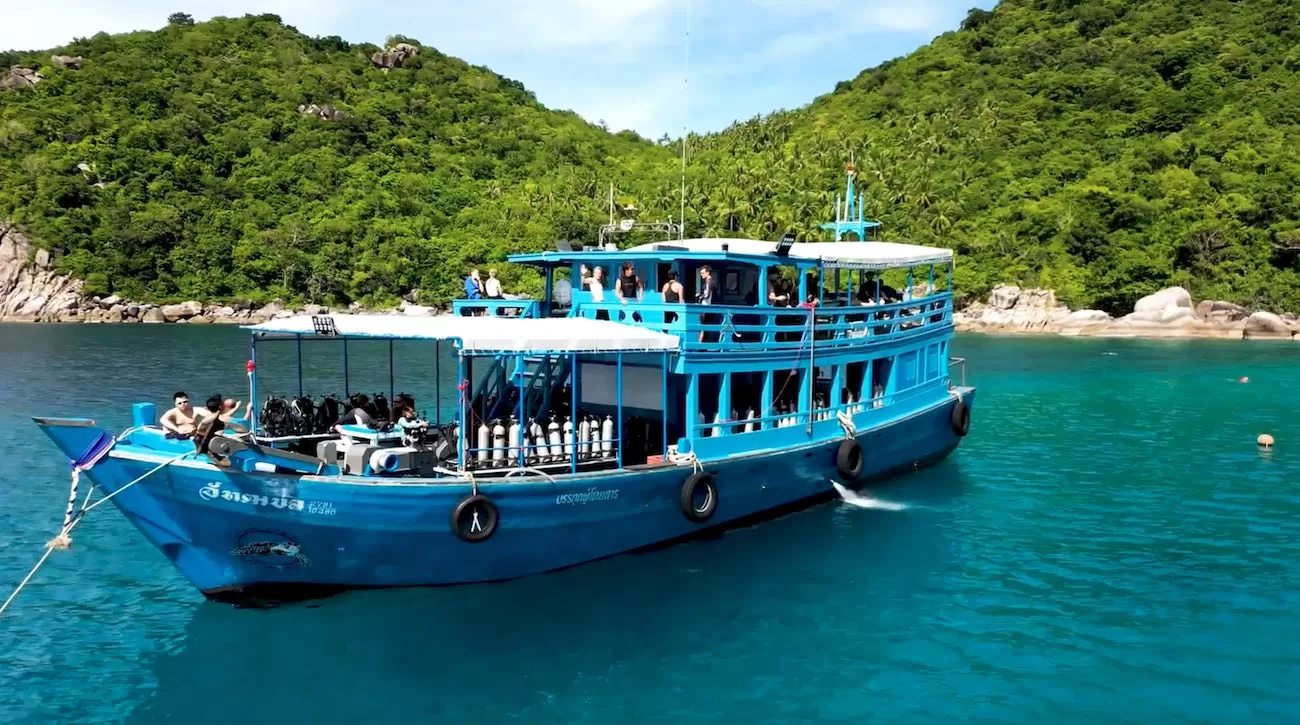 Highly trained Dive Guides and small group sizes
All our Dive guides are highly trained having completed their training through our award winning PADI Divemaster program, and we only employ Dive guides (dive leaders), if the Divemaster or Diving Instructor has been trained in-house.
All of our PADI Divemaster's have extensive knowledge and experience of the local marine environment and marine life.
You will be in a group of no more than 4 scuba divers of a similar level and experience.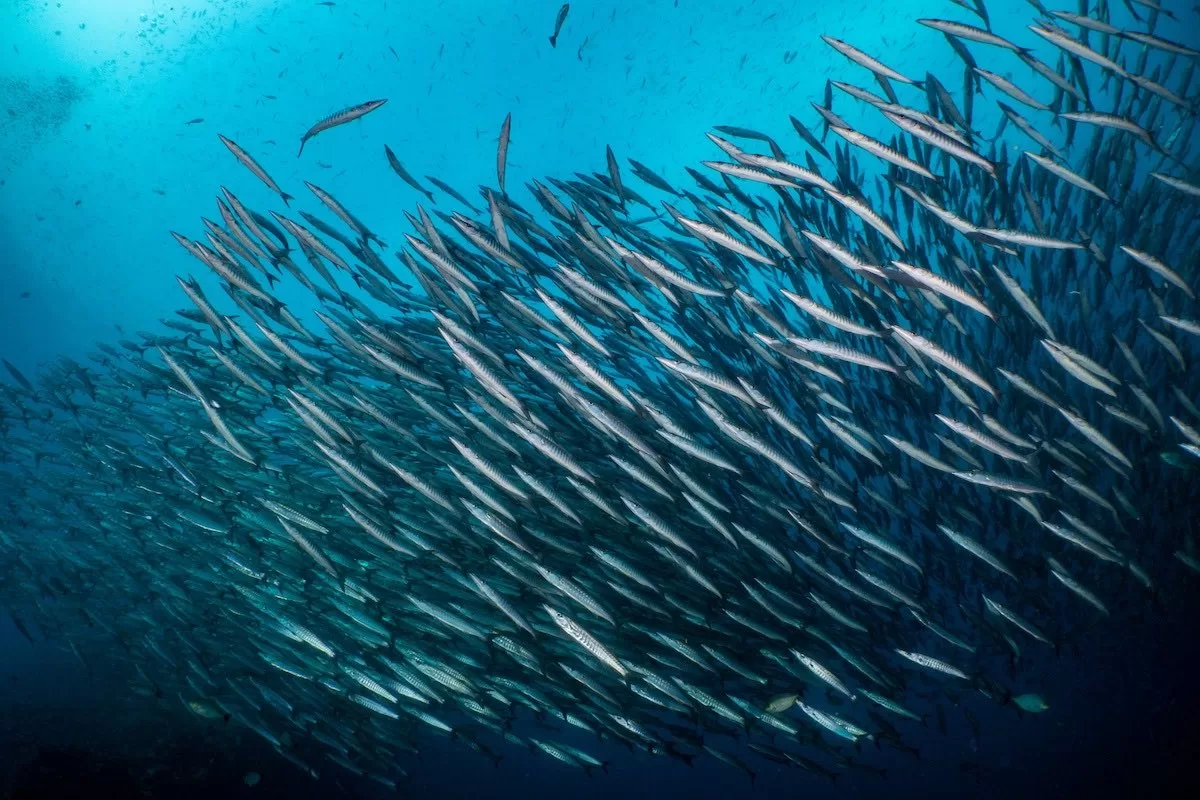 PRICE: 2900 THB
What is Included in the Cost?
Full Set of Premium Aqualung Equipment
Suunto Zoop or Oceanic VEO 4 Dive Computer
Dive Guide
Small Group Max 4:1
Breakfast Wrap for outbound journey *
Thai Buffet Lunch for return journey *
* Please inform us during the booking process whether you have any food preferences or allergies. We cater for Vegan & Vegetarian meals.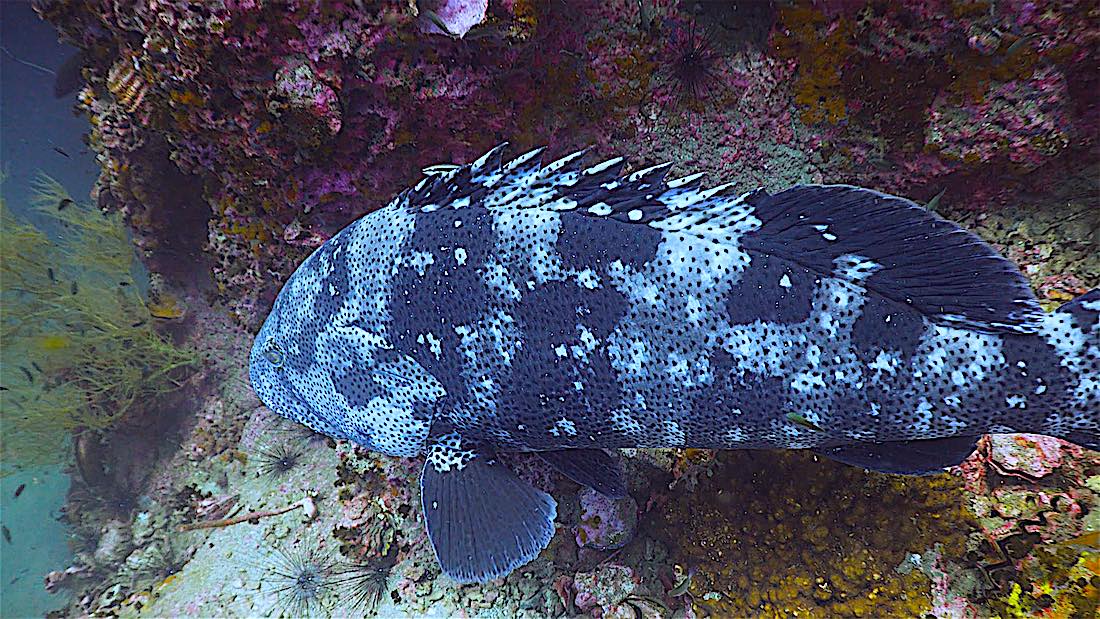 Important Notice for Certified Divers
When was your last dive?
Can you confirm when you last dived? If it has been longer than 12 months, we strongly advise you complete a Scuba Review, to refresh your diving knowledge and scuba skills. This is especially recommended if you plan to dive at Sail Rock dive site.
If you have dived within the last 12 months, there is no need for a Review. Please note that we will ask for proof of last dive (logbook and dive computer etc.).
Although you can dive at Sail Rock as an Open Water diver, your depth limits will be restricted to 18meters, so we highly recommend a minimum certification of Advanced Open Water diver or at least have a Deep Adventure dive certification.
Dive Medical Form – Are you fit to dive?
Below is a link to the PADI Medical Questionnaire, which all divers must complete prior to diving with Black Turtle Dive.
Please read through the 'Divers Medical Questionnaire' on page 1. If you answer 'NO' to all the questions then you are OK to start diving with us.
However, if you answer 'YES' to any questions, please turn to page 2 and answer the additional questions. A medical check-up may be required before diving.
* Please make sure you read the Medical Form to confirm there are no health issues before booking your dives with us.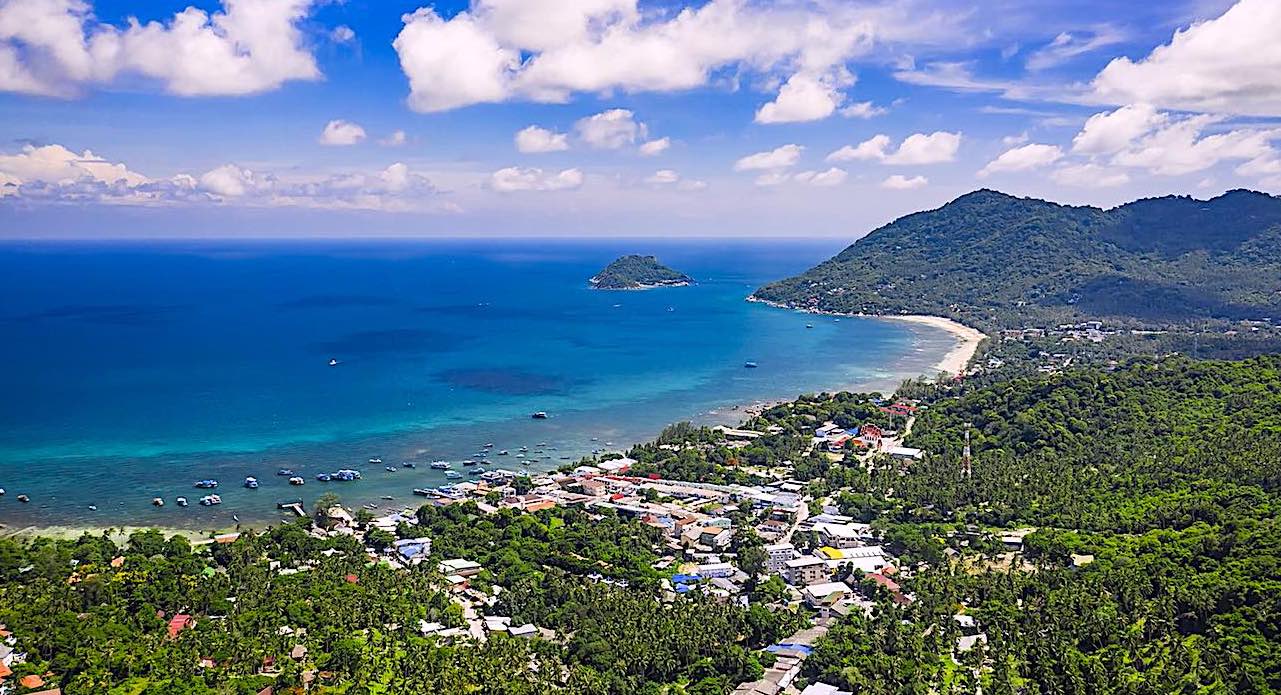 Important – Weather conditions
Your health and safety are our number 1 priority. Due to weather conditions, we may need to postpone or reschedule a trip on short notice.
Important – Flying after diving
DAN – Divers Alert Network Flying after diving' guidelines state.
For a single no-decompression dive, the recommendation is a minimum pre-flight surface interval of 12 hours.
For multiple dives per day or multiple days of diving, the recommendation is a minimum pre-flight surface interval of 18 hours. For dives requiring decompression stops, wait at least 24 hours before flying.
Please ensure these guidelines are fully considered when planning any air travel after your dive trips. It is advisable to be as conservative as possible whenever possible and avoid flying for 24 hours after scuba diving.
Black Turtle Dive issues ALL our divers with a modern dive computer which calculates the optimal surface interval prior to flying based on your diving history with us.
Frequently Asked Questions
How deep is Sail Rock dive site?
The maximum depth at Sail Rock is 40 meters. Towering 8 – 10 meters above the ocean, Sail Rock drops down to around 20 metres below the surface. Here the rock meets the sand and the sandy bottom gently slopes downwards to a maximum depth of 40 metres.
There are three clusters of outer laying pinnacles located to the west, south west and east side of the main rock.
The famous chimney, located on the westside of the rock starts at around 5 meters. Divers with good buoyancy control can descend down, swimming out of the rock at 18 meters.
Is Sail Rock worth visiting?
Sail Rock is the best dive site in the Gulf of Thailand and when the conditions are great, one of the best dive sites in the world.
Located in the middle of the Gulf, between Koh Tao and Koh Phan Ngan Sail Rock protrudes approximately 8 meters from the surface and descends down to below 20 meters underwater where it meets the sandy bottom. The sand then slopes out further to around 40 meters.
As you swim off the rock, in a west, south west or easterly direction you will find smaller granite rock formations.
For divers with exemplary buoyancy skills, 'The Chimney' is well worth exploring. This vertical or pit cave starts at around 5 meters. You can swim out at 18 meters.
Why is Sail Rock a good dive site?
Sail Rock is regarded as the best dive site in the Gulf of Thailand. Located in the middle of the ocean means Sail Rock regularly attracts some of the larger Pelagic animals such as Whalesharks, and Eagle Rays. Dolphins, False Killer whales and Pilot Whales are also often spotted at Sail Rock.
On a good day Sail Rock will literally mesmerize you. Large schools of Snapper, Trevally, Barracuda and Bat fish form silver walls that shine bright in the sun.
Giant Barracuda sit off the rock, waiting patiently before pouncing on unsuspecting prey and large Brown Marbled and Malabar groupers patrol around the rock.
The famous Chimney offers an interesting descent for advanced divers with exemplary buoyancy, and the rock itself is home to hundreds of different species of marine life including sea anemones, Pink anemone fish, stonefish, various species of shrimps and crabs.
Angelfish, Butterflyfish and Triggerfish are all spotted at this great dive site as well as several species of Nudibranch & Sea slugs.
Sail Rock offers a kaleidoscope of colour, and abundance of marine life and a suitable site for divers of all levels.
How much does a Sail Rock dive trip cost?
A Sail Rock trip costs 2900 THB per person.
This price includes two dives at Sail Rock, your Dive Guide with a maximum of 4 divers, a full set of Aqualung Premium scuba equipment including a dive computer and dive insurance.
Our Sail Rock trip also includes a 'Breakfast Wrap' for the journey out to Sail Rock and a Thai buffet lunch on the return journey to Koh Tao. Let us know when you book if you have any food requirements.