Chumphon Pinnacle Dive Site Koh Tao
Learn about Chumphon Pinnacle Dive Site on Koh Tao
Chumphon Pinnacle dive site on Koh Tao is a deep site approximately 45 mins boat journey from the mainland and offers scuba divers an abundance of marine life.
Location: 12km north west of Koh Tao
Depth: Max 40m, Min 14m – Average 22m
Type of site: Large Granite main pinnacle with smaller clusters off the south west and north side.
Level: Advanced Open Water diver
Conditions: Off shore so when windy can be wavy with some current.
Average Visibility: 10-40 meters
Chumphon Pinnacle – Every Divers Favourite
Perhaps the best dive site on Koh Tao and the most popular one that all divers want to dive is Chumphon Pinnacle and it is also the deepest and largest of the dive sites around the island.
Chumphon Pinnacle is one long, large granite pinnacle, the top of which sits at around 14 metres below the surface.
The tops of the rock pinnacle are completely carpeted with sea anemones full of Pink Anemone fish hiding from predators within the protective reach of the sea anemones stinging cells.
Chumphon Pinnacle dive site lies in a north- south direction and as you descend if you look across to the bottom of the buoy line you will see schools of Batfish just above the top of the pinnacle.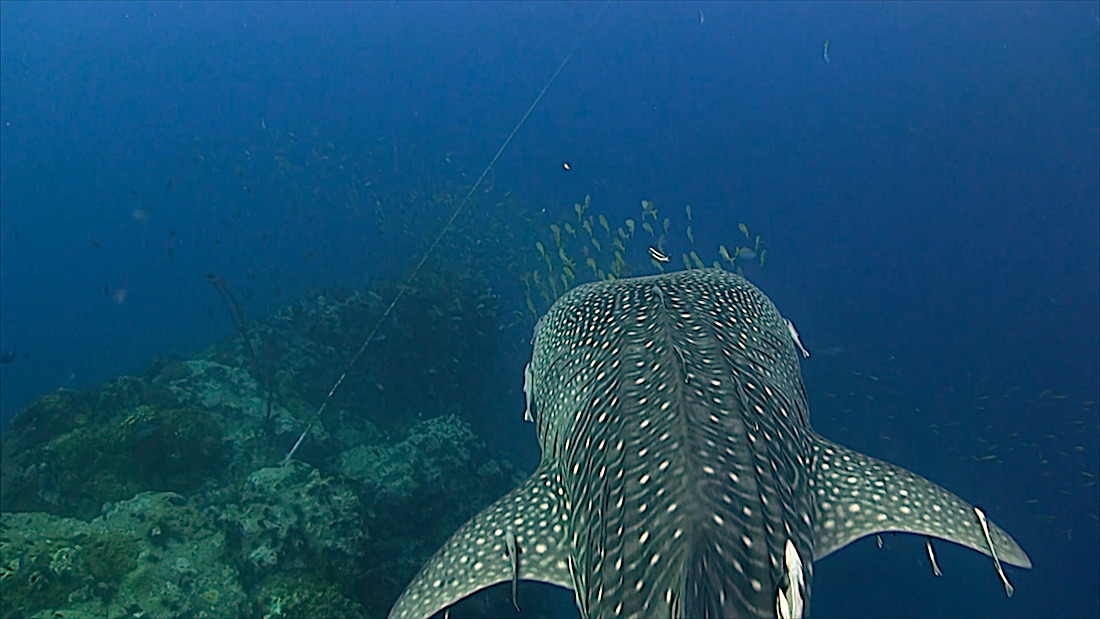 Huge Schools of Fish
As you swim over the top of the pinnacle on a descent, there is a lot of interesting marine life hidden in the crevices and holes including White Eyed Moral eels, small shrimps, crabs and if you look closely you can see Scorpion fish too.
At its best with clear visibility, Chumphon Pinnacle is a spectacular sight with huge schools of Trevally and Snapper swirling around like a silver tornado
You will also see large numbers of Juvenile Yellow-Tailed Barracuda, Fusiliers, Rabbit fish and Big-Eyed Jacks that are all hunting.
Barracuda Rock
If you swim south-west off the main Pinnacle to Barracuda rock, you will see Marbled Groupers lurking in the shadows at deeper depths and huge schools of Chevron Barracuda swimming between the pinnacles.
Look closely and you will see lots of Macro life including Banded Boxing Shrimp hiding in the small crevices and look even deeper into the cracks to discover Banded and Janns Pipefish.
Chumphon Pinnacle is the dive site where we get the most Whaleshark sightings and if you are lucky you may get to see more than one on the same dive.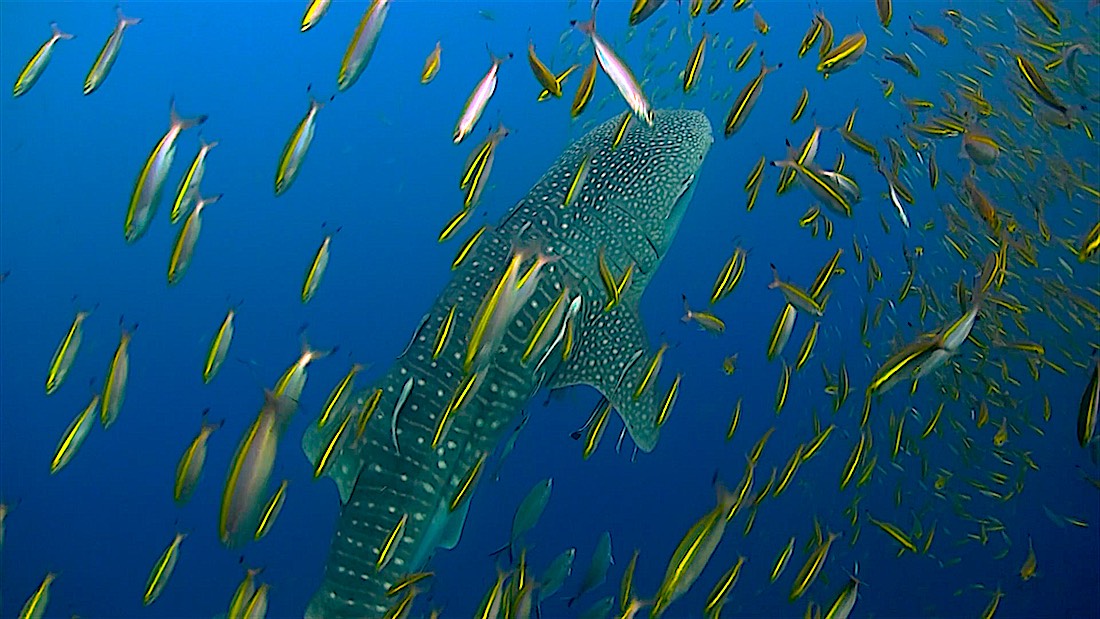 Whalesharks at Chumphon Pinnacle
You will also see Giant Barracuda, King Mackerel and the occasional Sail Fish swimming off the Pinnacles, watching and waiting patiently for an opportunity to strike and ambush their unsuspecting prey and catch themselves a meal.
There is a lot going on at Chumphon Pinnacle and this exciting open ocean dive site is well worth the 40-minute boat trip it takes to get there.
Like with many dive sites around Koh Tao, one dive is never enough at Chumphon Pinnacle and adding Nitrox to your dive plan here is a great choice or if you are offered a double Chumphon dive, take it.