Best Beaches on Koh Tao
Amazing Koh Tao Beaches – Relax & Enjoy
Koh Tao is blessed with stunning natural beauty, a lush green jungle covering most of the island, palm tree lined bays and tropical turquoise waters lapping up to white sandy beaches.
The island has lots of spectacular bays and beaches to keep even long-term visitors more than occupied with enough days at the beach to last a lifetime.
If you are not scuba diving or snorkeling and are looking for a day at one of the beaches on Koh Tao, you can follow along as we describe our favourite beaches.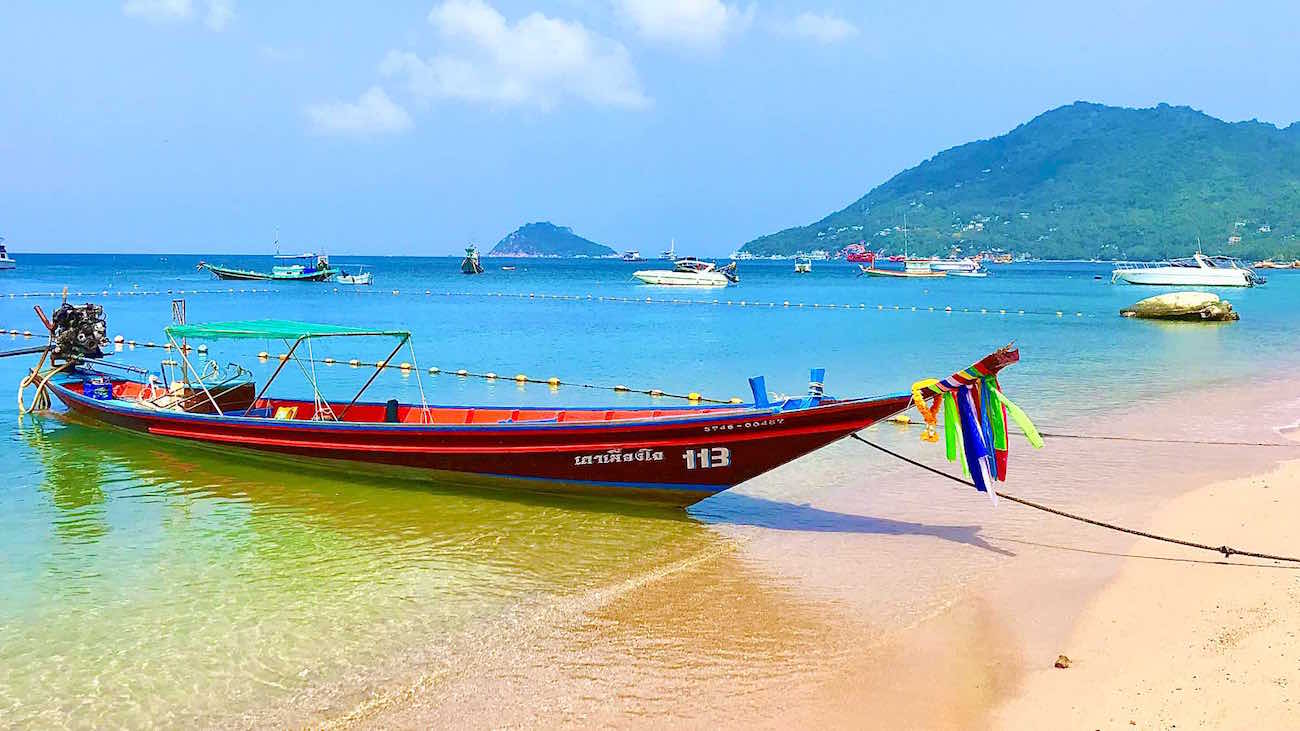 Mae Haad Beach Koh Tao (north and south)
Often overlooked due to their proximity to the pier, both north and south sections of Mae Haad beach (the pier splits the beach into two) offer a great place to spend a day at a beach.
The south section of Mae Haad beach starts to get interesting and very inviting from Coconut Monkey, a popular coffee shop on the beach.
The beach is clean, white and sandy, stretching all the way to Sensi Paradise resort at the far southern end.
Popular Beaches Koh Tao
Near Sensi Paradise resort there is a 60-year old shipwreck that provides a home to a variety of reef fish and is a great snorkeling location with its own marine Ecosystem.
On the other side of the main pier is the northern end of Mae Haad Bay and beach with a safe swimming area that is cordoned off so boats cannot enter and you can swim safely without any problems.
This beach is kept in pristine condition and is cleaned daily from any washed up debris.
Mae Haad beach (north side) starts at Breeze Koh Tao restaurant, which is a popular venue to eat lunch, enjoy afternoon cocktails whilst taking advantage of the sun loungers on the beach.
Beach Restaurants & Sunsets Koh Tao
This area of the beach is a very popular location to watch the stunning sunsets Koh Tao is famous for and people will gather here as the sun sets.
Walk further north along the beach, past the three beachside hotels and the beach ends at the rocky headland, which separates Sairee beach from Mae Haad bay.
This area is very quiet and peaceful, great for reading a book, sunbathing and cooling down in the shallow water when you get too hot.
It is also a great location for a safe swim and if you enjoy snorkeling there is a lot of marine life you can see around the rocks.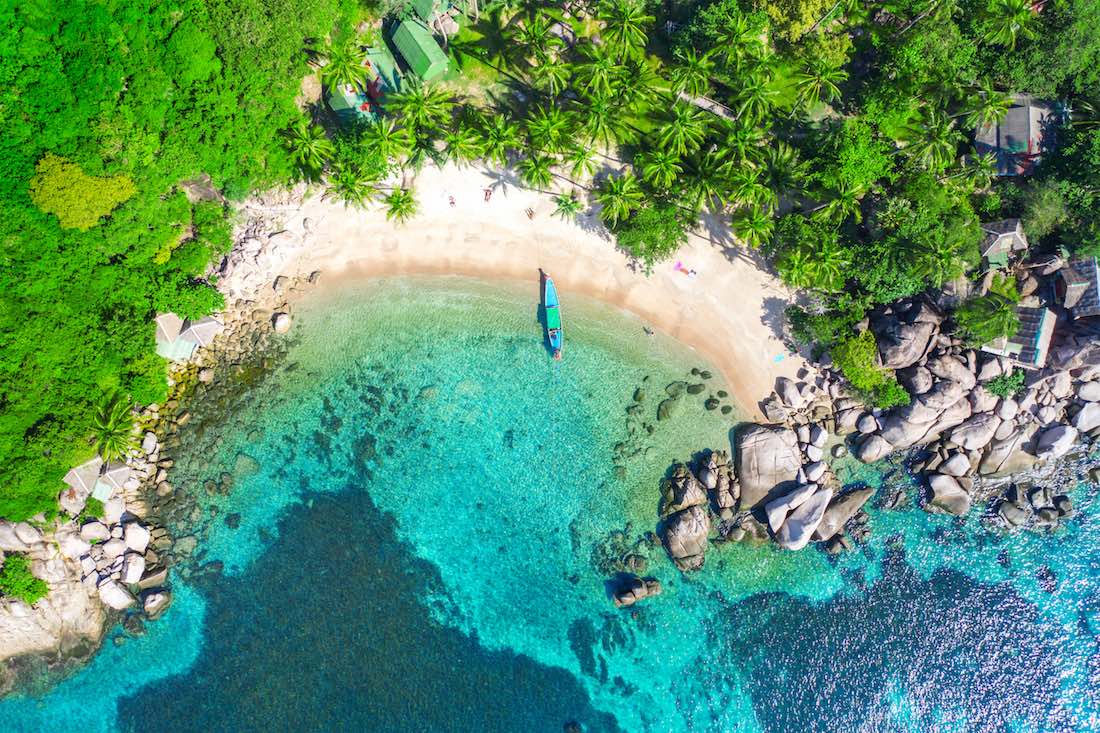 Sai Nuan Beach Koh Tao
This hidden gem of a beach is a throwback to the days when the first backpackers arrived on Koh Tao, long before the increase in development and it is a perfect beach to spend a lazy day on Koh Tao.
To reach Sai Nuan beach you can walk from Mae Haad behind the Sensi Paradise resort, Jansom Bay and Charm Churee Villa resort.
The beach is signposted along the route and the walk takes around 25 minutes, although you may want to stop and take photos along the way.
South West Koh Tao Beaches
Sai Nuan beach is actually made up of two scenic beaches, separated by a rocky outcrop.
The first beach has a lovely and safe grass area where kids can play, there is a tree swing and hammocks hang between the palm trees.
There is a small resort called Sai Thong with approximately 20 wooden Thai style bungalows that would have been built in the 1990's.
This adds value to the relaxed and peaceful atmosphere and it is quite secluded as Sai Nuan beach is one of the least crowded beaches on Koh Tao.
On a clear day at Sai Nuan beach, you can expect white sand, coconut palms and a clear, warm, turquoise sea gently lapping up to your toes, making Sai Nuan a great place to spend a day at the beach.
Banana Rock Beach Koh Tao
There is also excellent shallow snorkeling off the rocks on the south side of the bay, where you can see a variety of reef fish commonly seen in the waters around Koh Tao.
Take a fish guide slate with you to help identify a wide variety of species including wrasse, rabbit fish and parrot fish.
Venture out deeper and you may see a Black Tip Reef Shark or a Sea Turtle, but if venturing further out, be aware of passing boat traffic.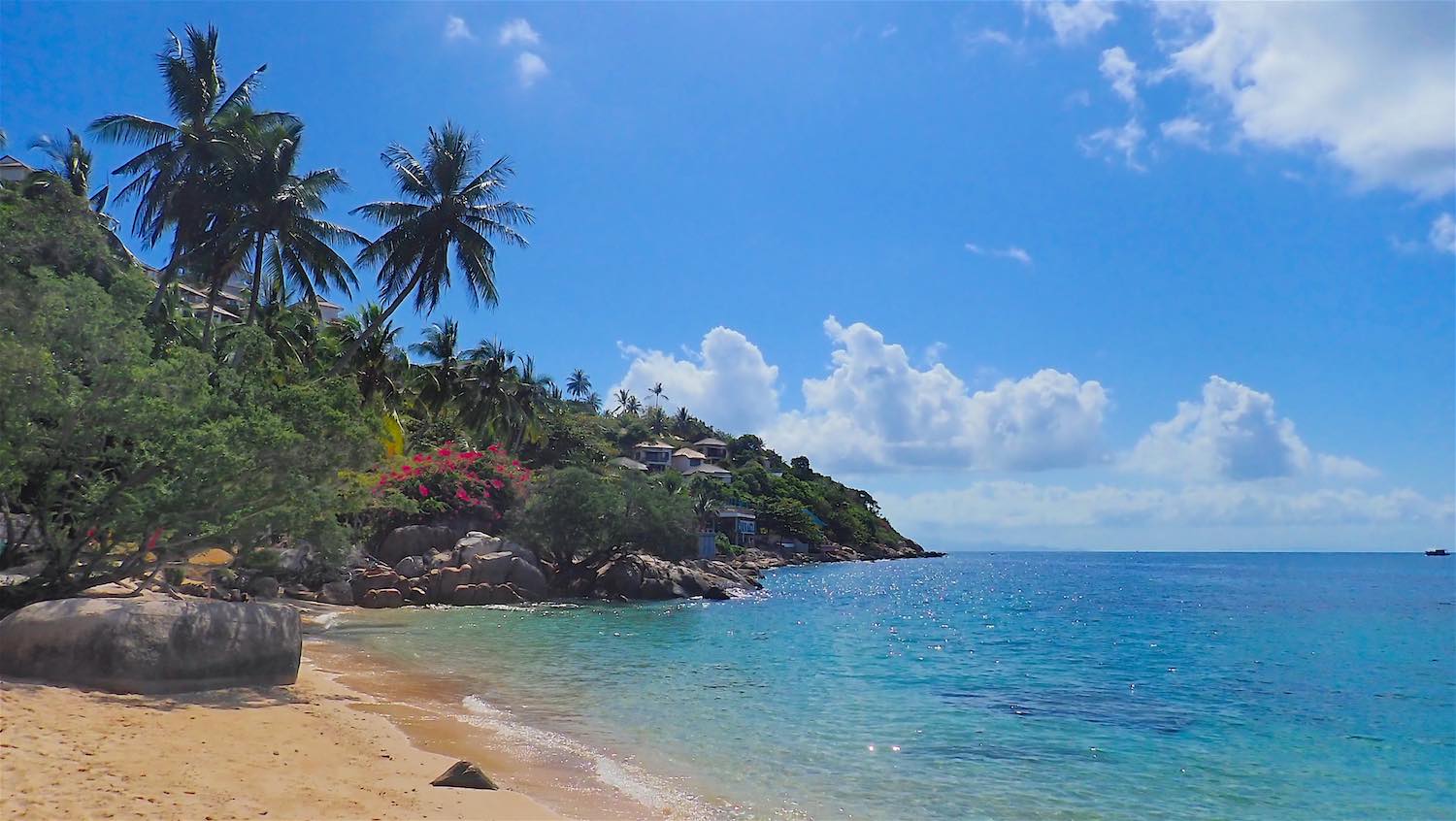 June Juea Beach Koh Tao
Possibly the most remote beach on Koh Tao and certainly one of the smallest, June Juea beach is one of the most picturesque and secluded places to go and watch the sunset on Koh Tao.
Located on the south west side of the island you can get here by continuing the costal walk from Sai Nuan or walk from the south side from Chalok Baan Kao.
Secluded Koh Tao Beaches
June Juea beach is idyllic and secluded and if you just want to get away from it all for the day then June Juea beach is the perfect beach location to visit.
The bay itself is basically made up of small areas of sands in between large rocks and trees that also provide shade for you to cool down.
The sea at June Juea beach is ideal for a swim or snorkel but be careful as this bay is not as sheltered as some of the others in our favourites list.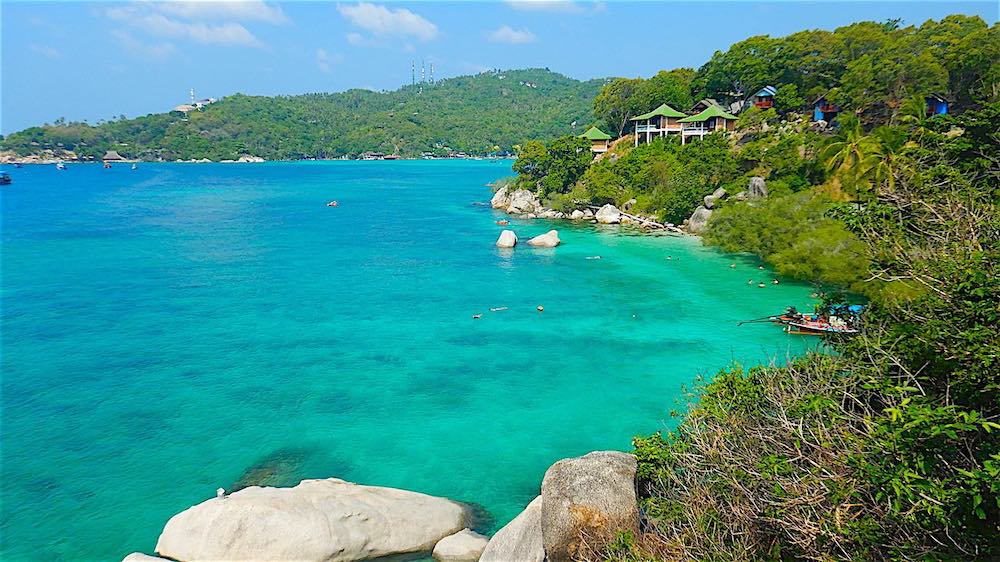 Freedom Beach Koh Tao
Another small secluded beach, the difference between Freedom beach and June Juea beach is that Freedom beach is probably the most popular small beach on Koh Tao.
Located on the south side of Koh Tao the best way to get to Freedom beach is on a rental scooter and it takes approximately 10 minutes to reach.
The beach is very close to John Suwan Viewpoint and you park in the same carpark and have to pay a 100 baht entrance fee for the day, which gives you access to the Viewpoint, Taa Toh beach and Freedom Beach.
South Coast Beaches Koh Tao
We recommend making the trek to the viewpoint first, then cool down with a swim or a snorkel at Freedom beach afterwards.
There is also a restaurant that you can buy refreshments at located on the east side of the beach, overlooking Chalok Baan Kao bay.
Freedom beach has a beautiful white sandy beach, with lots of shade provided by the many beautiful Pemphis Acidula trees with hammocks between them.
Tropical Beaches Koh Tao
The sea at Freedom beach is warm, clear and turquoise blue with a shallow reef just off the beach where you can snorkel.
There are actually two beaches you have access to for your 100 baht daily entrance fee, with Taa Toh beach located just on the other side of the rocks set in a small secluded cove.

Tanote Beach Koh Tao (Tanote Bay)
Situated on the east side of Koh Tao, Tanote bay is easily accessible via the concrete road on a scooter and for early risers, it is a perfect place to watch the sunrise facing east.
Surrounded by steep hills, covered with tropical jungle, Tanote beach stretches across the bay and offers a large beach area to enjoy beach activities, swim, snorkel or relax and sunbathe.
East Coast Beaches Koh Tao
A large granite rock protruding out from the sea just offshore, provides active and adventurous visitors, with the best rock jumping location on Koh Tao.
Tanote Bay has an abundance of marine life, which makes it an excellent location for snorkeling and scuba diving and it occasionally features on our diving itinerary.
Tanote beach is perfect for sunbathing and there are two beachside resorts with restaurants to buy food and drink, so you can enjoy a full day at the beach.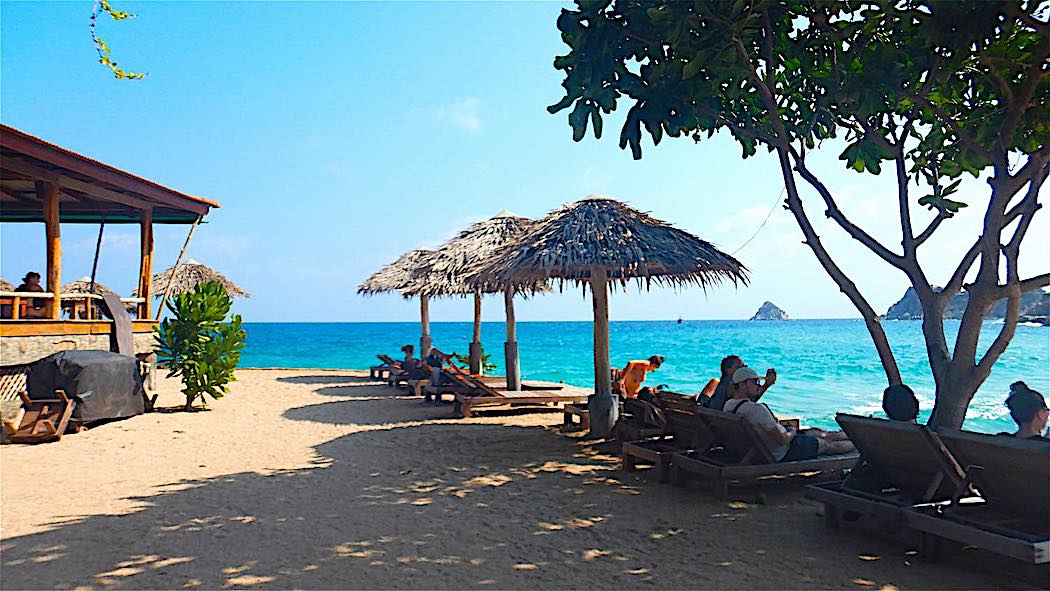 Aow Leuk Beach Koh Tao
This beautiful beach is situated in a stunning bay and is located on the south east side of Koh Tao offering visitors an amazing beach paradise.
Aow Leuk is one of the most picturesque bays in the whole of the Samui Archipelago.
Amazing View Beaches Koh Tao
On a clear day you have a stunning backdrop of neighbouring Koh Phangan with the iconic Shark Island in the foreground, less than a 1km Kayak from the beach – this is your Instagram dream picture.
A 100 baht entrance fee gets you fresh water and a sun lounger with an umbrella and it is great value and well worth it for the day.
You can rent a mask and a snorkel or bring your own to witness an abundance of marine life in the shallows just a few steps from the edge of the water.
South East Koh Tao Beaches
From the beach on both sides of the bay itself, you will find colourful coral reef and soft sand in the middle of the bay where you can safely swim.
There are also two restaurants at Aow Leuk beach that serve tasty Thai food and flavoursome international favourites, which means you can comfortably stay for the day.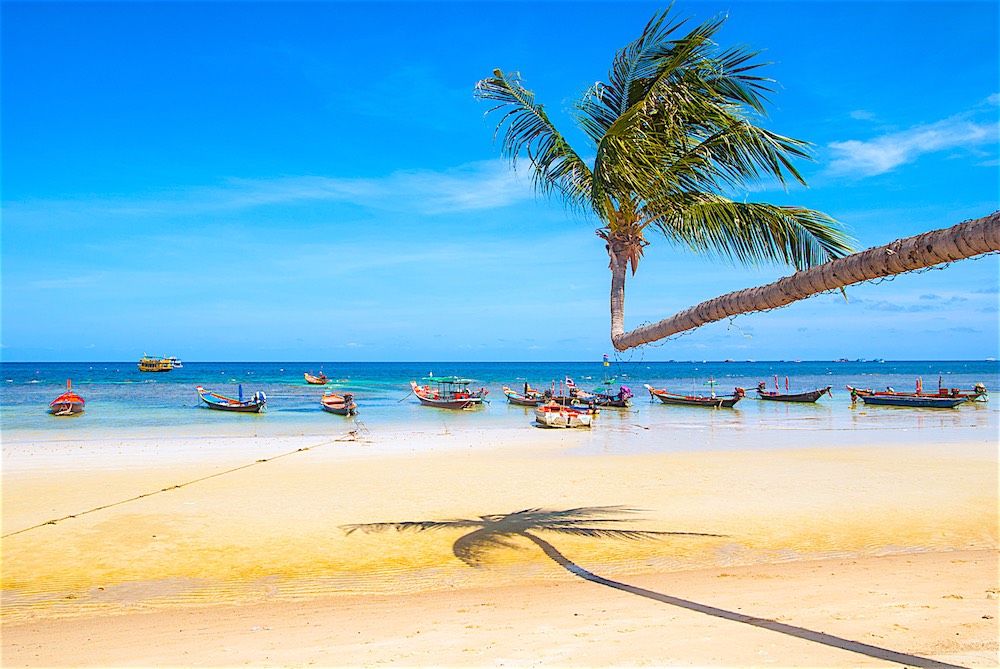 Sairee Beach Koh Tao
World famous Sairee beach on Koh Tao is the busiest and the longest beach on Koh Tao at almost 2 kilometres in length.
The main tourist hub on Koh Tao, Sairee beach has it all. Bars, restaurants and resorts with soft white sand at the right tide and lots of areas to cool off from the hot afternoon sun.
Beach Activities Koh Tao
Sairee Beach has activities galore with tree swings, Paddleboarding, Kayaking, Beach Volley Ball, Swimming and Snorkeling, although in high season there can also be lots of longtail boat traffic.
Sairee beach on the west side of Koh Tao has many restaurants, so it is a great place to enjoy the sunset with popular bars playing music and serving your favourite sunset drinks.
You can easily walk from one end of Sairee beach to the other along the path behind the beachfront properties, which has many shops and entrance access to the resorts.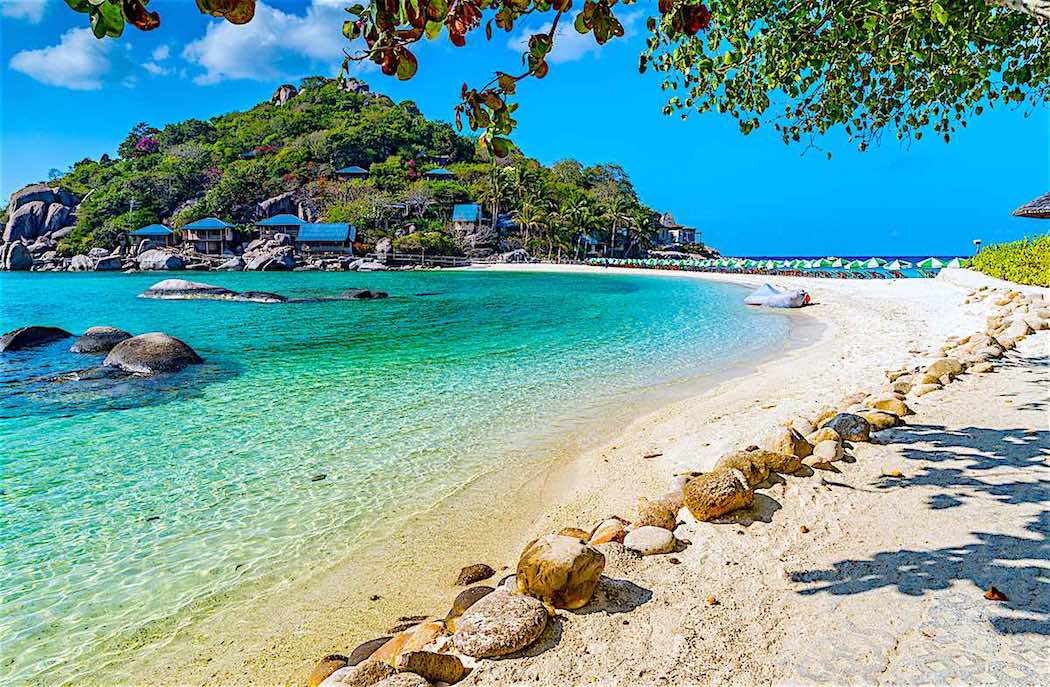 Koh Nang Yuan Beach Koh Tao
Koh Nang Yuan beach is actually on a separate island located approximately 800 metres off the north west coast of Koh Tao and accessible by long tail boat.
Koh Nang Yuan island with its stunning Viewpoint and unique three (3) beaches is probably the most photographed beach in Thailand.
Koh Nang Yuan beach is an inter-connected sandbar that connects three land masses that make up this unique, small and popular island.
Unique Beaches Koh Tao
There is one private resort and restaurant on Koh Nang Yuan that is very popular with visitors to the island.
You can reach Koh Nang Yuan on an organised half day or full day snorkel trip, or hire a local longtail boat to take you the short journey from the west side of Koh Tao.
With a stunning and iconic Viewpoint to climb and snorkeling one of Thailand's most amazing and diverse coral reefs, Koh Nang Yuan is usually on every visitors bucket list.
Koh Nang Yuan beach at low tide, connects one land mass to the next with soft white sand, sunloungers for shade and there is a refreshment bar and restaurant available to stay hydrated.