>
>

Brown Marbled Grouper
Brown Marbled Grouper Koh Tao
Learn about the Brown Marbled Grouper Koh Tao
The Brown Marbled Grouper (Epinephelus fuscoguttatus) sometimes called a Tiger Grouper, is a medium sized fish that lives around Coral reefs and rocky pinnacles.
As the Brown Marbled Grouper lives close to the bottom, it is known as a benthic marine animal.
The Brown Marbled Grouper is a relatively common sight seen by scuba divers in the warm sea around Koh Tao and during Night dives has been known to use the light from divers torches to help it hunt.
Where to find the Brown Marbled Grouper on Koh Tao
Brown Marbled Groupers are seen at several popular dive sites around Koh Tao including at the deeper rock pinnacles including Chumphon, South West and also shallow dive sites with coral reefs such as White Rock.
How to Identify a Brown Marbled Grouper
The Brown Marbled Grouper is a stocky medium size fish with a large mouth with lots of small teeth at the front and also canine teeth.
The body is a pale light brown with large irregular sized dark brown blotches together with lots of small dark brown spots.
The fins are round and the dorsal has many small serrated spines running its length.
Brown Marble Groupers grow to around 120cm but on average are around 50 cm in length.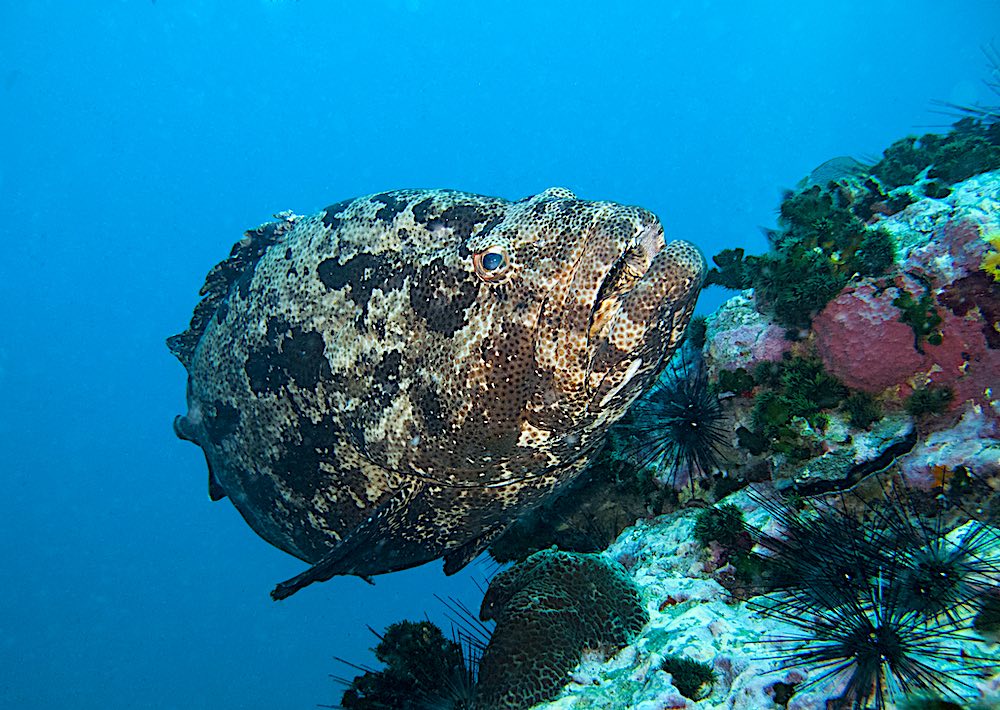 Brown Marbled Grouper Characteristic Behaviour
A brown Marbled Grouper is an ambush predator and eats mainly fish, crustaceans and cephalopods.
Brown Marbled Groupers are found around coral or rocky reefs at depths from 60m right up to the surface.
The Brown Marbled Grouper is a solitary animal and lives a relatively sedentary life and will defend its well defined benthic territory very aggressively and it is a night hunter.
The brown Marbled Grouper is protogynous hermaphrodite where juveniles mature as females and when older and larger they evolve into male. Some females may never undergo the sex change.
This species forms

transient spawning aggregations

that can consist of several thousand fish during the months of the year they reproduce.
This species can live 40 years, which is a long lifespan for a fish.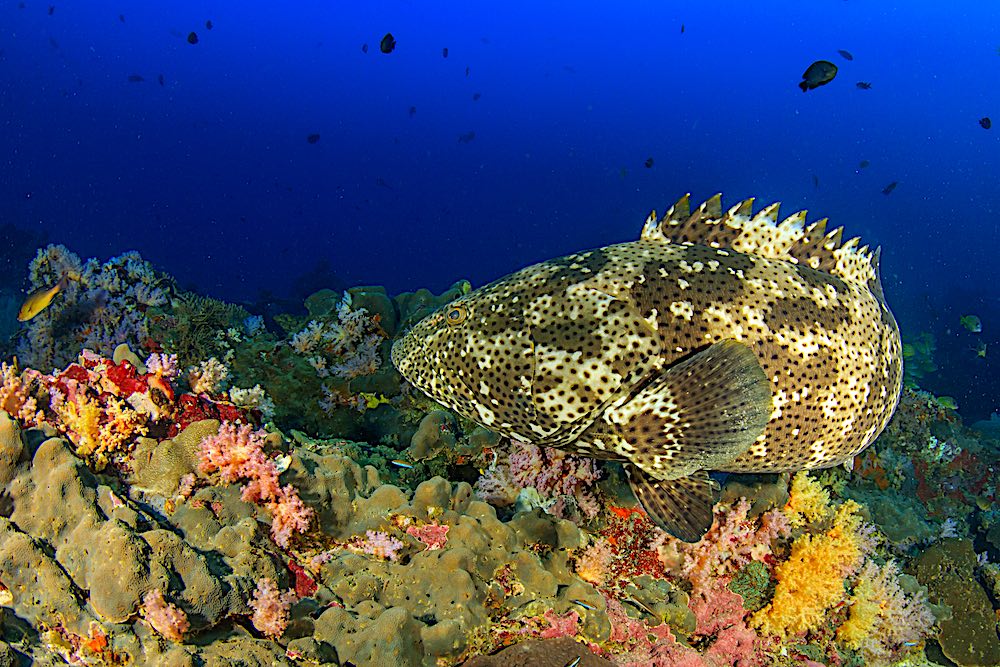 Interesting Facts about the Brown Marbled Grouper
During spawning aggregations the Brown Marbled Grouper can display different body patterns with males sometimes lightening and taking on different body shades.
The Brown Marbled Grouper is classed as Vulnerable on the IUCN Red list of vulnerable species.
It is highly prized by the live fish food trade and is particularly vulnerable to overfishing, especially during mating periods.
When spawning at specific times and places, Brown Marbled Groupers are most vulnerable to fishermen as they are an easy target.