Travel Routes to Koh Tao
How to get from Bangkok to Koh Tao
Koh Tao is an island over 70 kilometres from the mainland and all routes to get to Koh Tao end with a ferry journey to the island.
During normal times the routes to Koh Tao offer a reliable schedule, however, due to the current global pandemic, travel operators in Thailand are running variable services outside of their normal schedule.
**We advise to check with us or each of the travel operators direct before making any travel plans, to ensure you get accurate and up to date travel information.**
Once you have accurate information, there are various routes you can take to get to Koh Tao from different locations throughout Thailand.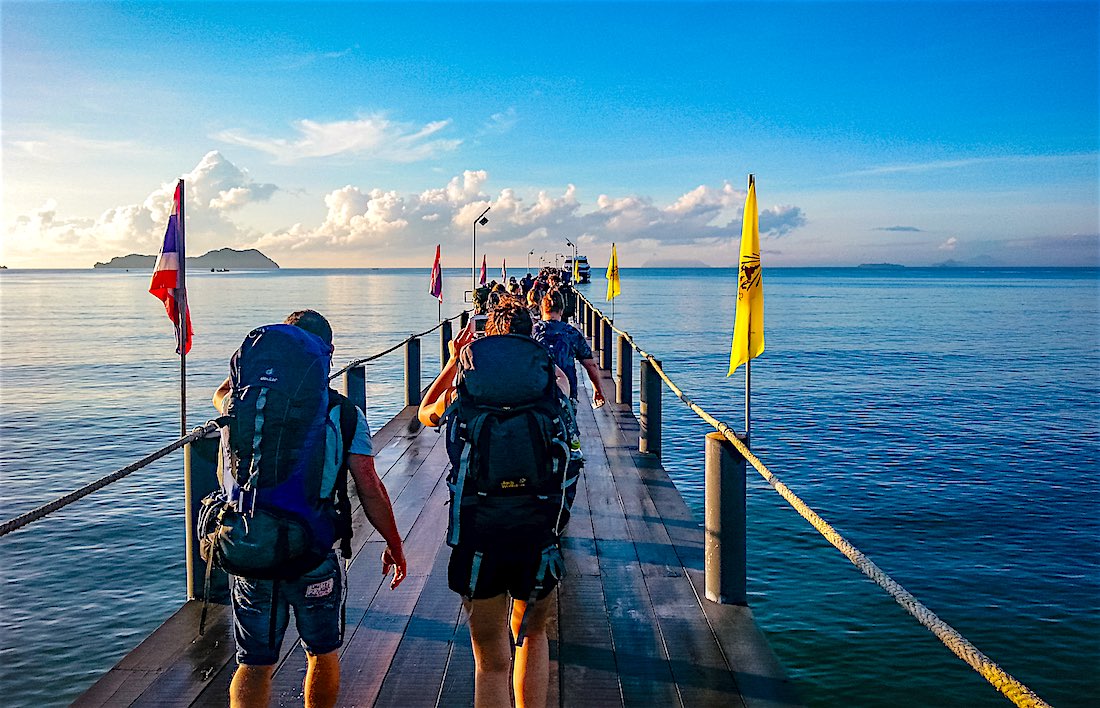 VIP Bus to Chumphon & Lomprayah Ferry
The most popular route to travel to Koh Tao from Bangkok is on the VIP bus to Chumphon, then catch the high speed ferry to Koh Tao.
Lomprayah High Speed Ferries Co. Ltd offers a good, reliable, affordable service and is the most established travel company servicing the Samui Archipelago.
Lomprayah have their own fleet of VIP Air conditioned buses and high-speed catamaran ferries ensuring a seamless trip.
Their AC buses offer a comfortable trip from the bus terminal near Ko Sarn Road in Bangkok to their own pier in Chumphon where you board their ferry.
Just sit back, relax and enjoy the trip. The buses have on board toilets and comfortable seats that you can recline back on during the journey.
During the bus trip from Bangkok, you stop for a 30 minute break to give you time to stretch your legs and buy some food before the second half of the journey to Chumphon.
How to get from Chumphon to Koh Tao
Lomprayah operates two trips daily. Departure from close to their office on Soi Rambuttri is 06.00 and their overnight service leaves at 21.00.
The connecting ferry departs Chumphon at 13.00 and 07.00 arriving on Koh Tao at approximately 14.30 and 08.30 respectively.
| | | |
| --- | --- | --- |
| | Departs Chumphon | Arrives Koh Tao |
| Morning | 07.30 | 08.30 |
| Afternoon | 13.30 | 14.30 |
Train to Chumphon, then Lomprayah ferry
The train network in Thailand is extensive and travelling on trains is relatively cheap compared to other countries.
Furthermore, the best train to catch from Bangkok to Chumphon is an overnight sleeper train meaning you will save on a nights accommodation.
You can book the number 85 train that departs from Hua Lamphong train station in Bangkok at 19.30.
Hua Lamphong train station is 4km from Ko Sarn Road and around 8km from Sukumvit road area.
Bangkok to Chumphon Train
If you are staying on Sukumvit, the MRT (Underground rail system) runs from Sukumvit to Hua Lamphong.
The number 85 train connects with the Lomprayah ferry that departs Chumphon at 07.30 to Koh Tao.
You can book a first class air conditioned compartment or a second class air con or fan sleeper compartment.
Lomprayah has an office at the train station and a shuttle bus especially for passengers arriving on the number 85 train so you will not have any problems connecting to the pier to catch your ferry.
Flight to Chumphon – then Lomprayah ferry
There are three airports that are relatively close to Koh Tao for visiting tourists and the smallest of these three is Chumphon Airport.
There are two flights per day from Don Mueang (DMK) Airport to Chumphon Airport that are currently operated by Nok Air.
Flights to Chumphon from Bangkok
Nok Air DD7618 departs Don Mueang at 17.05 landing at Chumphon 18.10 and the airport is less than 1 hour from Chumphon town.
This gives you time to quickly visit Chumphon, stop for some food and then catch a taxi to the car ferry pier to board the night boat to Koh Tao.
The night boat routes that travel from Chumphon to Koh Tao all have air conditioned sleeping compartments and offer a comfortable night sleep arriving between 04:00-06:00am, depending on the day of week.
The car ferry pier is 15 minutes from Chumphon town centre.
The morning flight from Bangkok lands at 09.30 so you have lots of time to catch the 13.30 Lomprayah ferry to Koh Tao.
Night Ferry from Chumphon to Koh Tao
There are three different night boats that operate the Chumphon to Koh Tao route.
They are Chumphon Ferry, Porntaweesin and Talay Sub and depart on different nights of the week, departing at 11pm and arriving on Koh Tao at approximately 04:00-06:00am.
The night ferry timetable does change so it is recommended you check departure times and dates.
Currently the most update to date information is the Porntaweesin ferry leaves Chumphon from Thayang pier every Tuesday, Thursday and Saturday.
Chumphon Ferry operates on Monday, Wednesday and Friday.**
A ticket costs 400 baht for a bunk bed with AC and you must leave shoes, backpacks and suitcases outside the cabins.
How to get from Koh Samui to Koh Tao
Bangkok Airways Flight to Koh Samui – then Lomprayah or Seatran Ferry to Koh Tao.
Koh Samui airport is the home of Bangkok Airways who operate more than 20 flights a day during high season months from the main international airport in Bangkok – Suvarnabhumi.
Several of these flights have good connections with both the Lomprayah and Seatran ferry companies, who operate regular Koh Samui – Koh Phangan – Koh Tao 5 trips a day between them.
Latest Timetable *Please check with us or direct with the operator
| | | | |
| --- | --- | --- | --- |
| | Koh Samui | Koh Phangan | Koh Tao |
| Lomprayah | 08.00 | 08.30 | 09.30 |
| | 12.30 | 13.00 | 14.00 |
| | 17.30 | 18.00 | 19.00 |
| Seatran | 08.00 | 08.45 | 10.00 |
| | 13.00 | 13.45 | 15.00 |
Flights Bangkok to Koh Samui
There is one flight that lands on Koh Samui at 07.00 and if you are quick you can catch the morning Seatran ferry as the Seatran pier is only 10 minutes away from Koh Samui Airport.
Lomprayah runs a bus service from the airport that departs at 10.30 so if your flight lands before then you can catch the airport bus that is cheaper than a taxi.
A taxi will take you 5-10 minutes to reach Seatran pier and around 30 minutes to reach Lomprayah pier, so landing any time before midday should make one of the afternoon connections relatively stress free to catch.
The evening Lomprayah leaves from Nathon pier, which is approximately 45 minutes in a taxi from Koh Samui airport.
If your flight lands before 16.00 you should be able to catch this ferry. If not, our advice is to book a hotel in Bohput village, which is a 10 minute taxi ride to the Seatran pier and a 15 minute taxi ride to Lomprayah pier.
Bohput village is our recommendation if you get stuck on Koh Samui. A chilled, relaxed and sleepy beachside village with lots of great restaurants, it is our favourite place to stay when visiting Koh Samui.
How to get from Surat Thani to Koh Tao
Flight to Surat Thani Airport – then Lomprayah Ferry
Surat Thani Airport has become much more popular for tourists travelling to Koh Tao in recent years and there are multiple airlines flying from Bangkok to Surat Thani Airport.
Air Asia, Nok Air and Thai Lion Air all operate from Don Mueang Airport and Thai Smile operates from Suvarnabhummi.
If you want to reach Koh Tao on the same day you land at Surat Thani Airport your flight needs to be landing before 13.00 so you can make your connection.
You can connect with the Lomprayah bus and ferry service that will take you from the Airport to Tapee Pier, Surat Thani, then onto Koh Tao via Koh Samui and Koh Phangan.
Night Boat from Surat Thani to Koh Tao
The night ferry from Surat Thani is a great way to save on a night of accommodation if you are on a budget or save time if you have a tight schedule.
It departs at 22.00 and is a great way to reach Koh Tao if you are travelling from the west side of Thailand – Phuket, Krabi, Koh Lanta or from Malaysia overland.
Alternatively, if you have a flight that lands in Surat Thani Airport after 13.00 this is the quickest and cheapest way to get to Koh Tao.
Night Boats to Koh Tao
The night ferry boat leaves from Bandon Pier, which is right in the city so there are lots of places to buy dinner before your journey.
If you land at Surat Thani Airport, you can catch the Phantip Airport bus that takes 40 minutes to get to the ferry pier and costs 100 baht.
The journey takes approximately 8 hours to reach Koh Tao, which is perfect for breakfast as the café's and coffee shops are all starting to open.
You can buy a Surat Thani to Koh Tao night boat ticket at the pier the same day you want to travel.
Mini bus from Phuket to Surat Thani
There are 4 AC buses that service this route most days and depart at 10.00, 12.00, 14.00 & 16.00.
Phuket to Surat Thani is approximately 240km and the journey time is approximately 4 hours depending on traffic.
This particular route costs 195 baht and picks up from Phuket Bus Terminal 2 and you will be dropped off at Surat Thani town.
If you depart Phuket at 10.00, you can catch a connection to Tapee pier to catch the Lomprayah that departs at 15.00 and arrives on Koh Tao at approximately 19.00.
Phuket to Surat Thani by Mini-Bus
Alternatively, you can take the bus that departs Phuket at 16.00 and catch the night boat from Surat Thani to Koh Tao.
Modern transport services ensure Koh Tao can be reached from any location in Thailand with daily services provided by travel operators.
Due to the global pandemic, operators are providing flexible daily schedules, so please check for accurate departure and arrival times before making any plans or contact us direct for the latest information.