>
>

Start your PADI Diving Course with E-learning
Begin a PADI Course Online today through eLearning
Since PADI (Professional Association of Diving Instructors) was created over 50 years ago, they have issued around 30 million scuba diving certifications globally.
Every year many thousands of aspiring divers from all around the world enroll in a scuba diving course.
It could beginners just starting off their diving career or more experienced divers looking to continue their education and skill development.
With all scuba diver training courses there is always an element of theory and knowledge development that needs to be completed.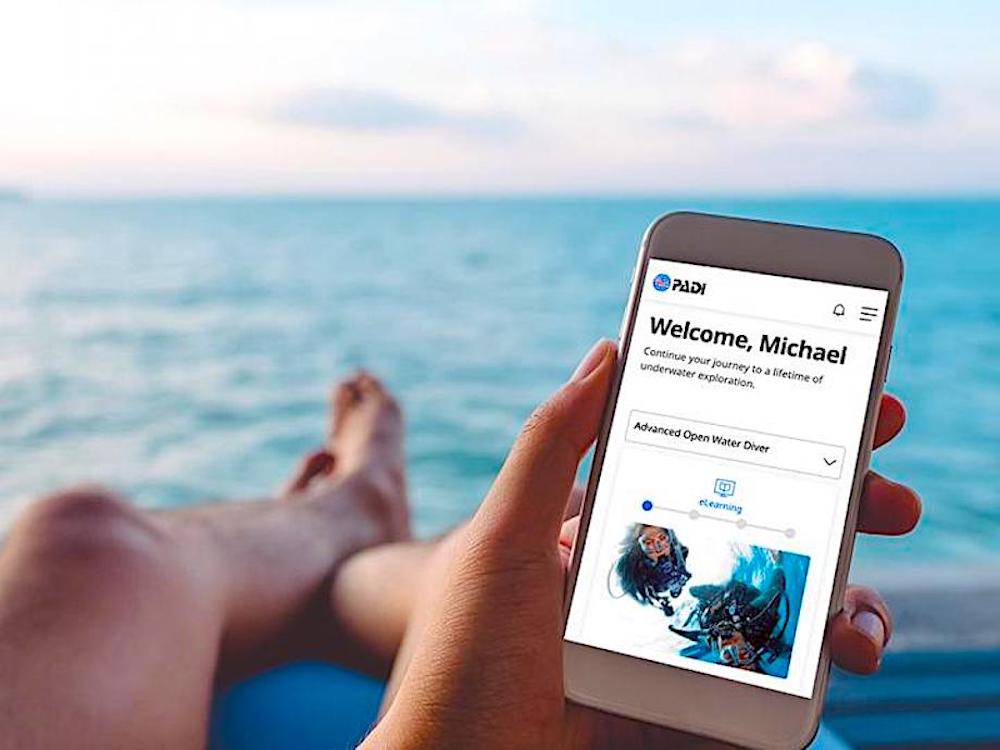 Less Classroom – More Fun with E-Learning
All courses in the PADI curriculum have a section of knowledge development and a practical side, which is generally completed in a body of water.
There are a few exceptions where the practical application takes place on dry land, such as Emergency Oxygen Provider or Equipment Specialist.
In the past, this knowledge development would be completed in a classroom, usually at a dive centre, through instructor-led presentations.
With all the new technological applications available nowadays, it is possible to join your virtual classroom from the comfort of your home using the PADI eLearning platform.
What is PADI Online eLearning?
E-Learning, otherwise known as electronic learning, is a way to educate or train yourself by utilising digital resources.
The information will be delivered to you through electronic devices such as computers, tablets or mobile phones.
Usually, these devices will need to be connected to the internet, but that is not always the case.
This makes it easy for students to learn anywhere, at any time and with limited restrictions.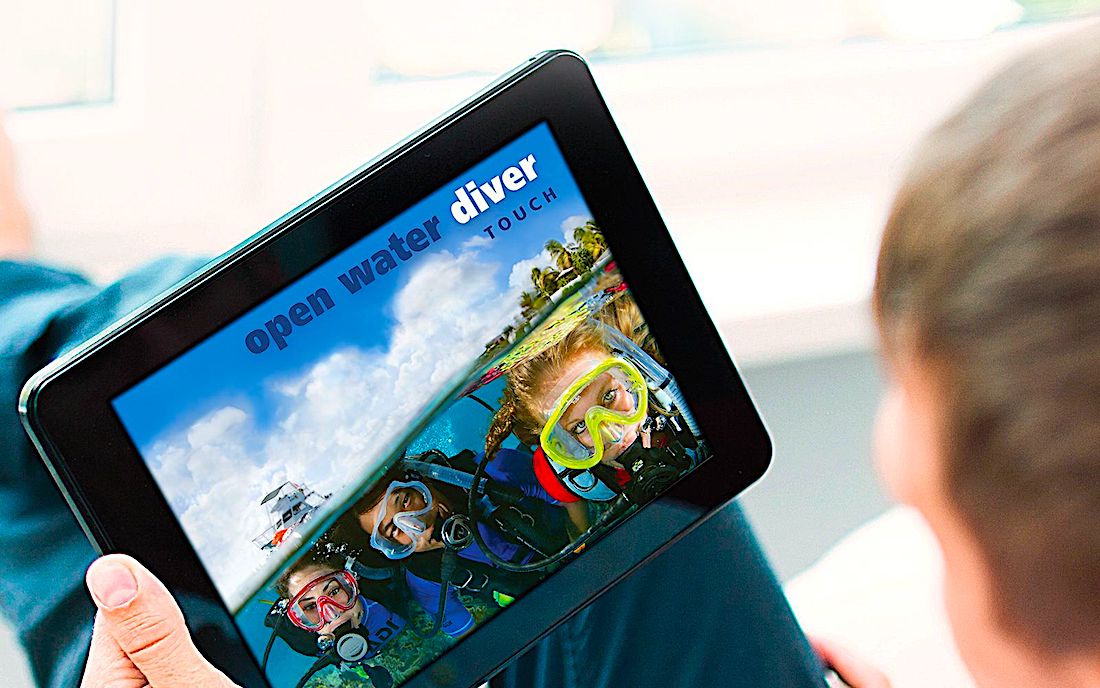 Sign Up for PADI E-Learning
I am sure most of you reading this article will have used some sort of elearning in the past, even if you may have not realized it at the time.
The internet is full of (multimedia) content with the purpose of educating people on a wide range of topics.
There are many popular How to… searches that are used daily on the internet. We have probably all searched Youtube for a certain recipe video to help you cook your favorite dish at home.
Even our growing Black Turtle Dive YouTube channel provides educational content aimed at improving the skills and knowledge of scuba divers.
In light of all this technological improvement, PADI developed their own platform and program for eLearning back in 2007.
Complete Knowledge Development at Home
This allows student to complete the knowledge development portion of their PADI course online or even offline, if you have downloaded the product.
With PADI eLearning, you complete the knowledge development or theory portion of your scuba diving course at your own pace.
You can study at any time and from anywhere. E-Learning is available for many different PADI courses, on both a recreational and professional level.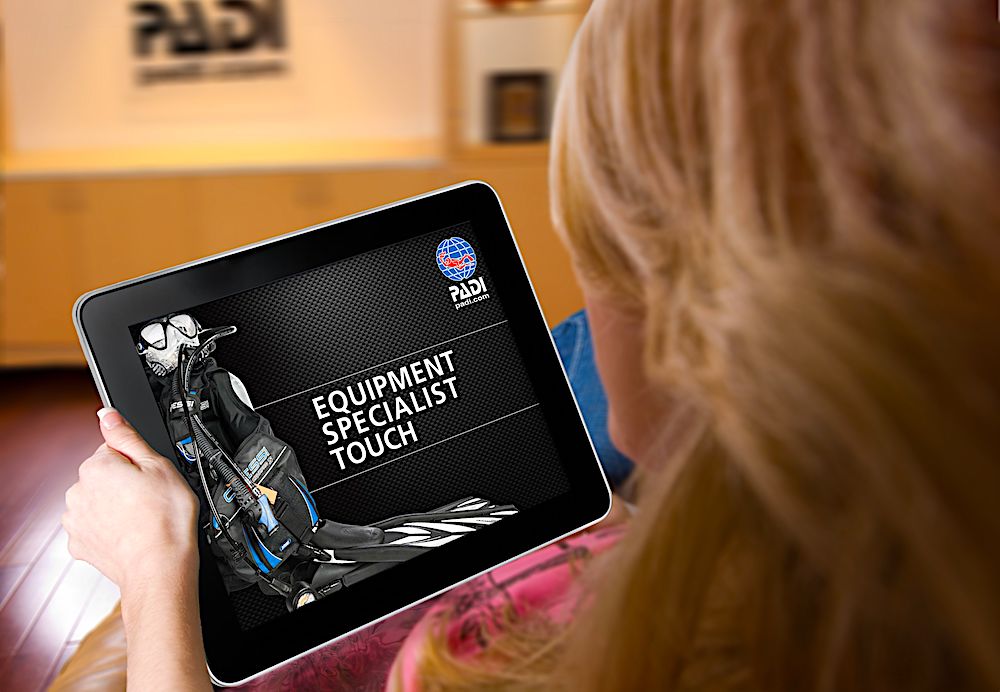 How does PADI eLearning work?
Once you have decided what course you want to take you have to enroll on the course, which can be done directly through a PADI dive centre or through the main PADI website.
Even if you enroll through the PADI website you have to select a dive centre where you want to complete your practical dive training, so it makes sense to go directly through the PADI dive centre of your choice.
A PADI Dive Centre of your choice can then tailor the program to your needs from the beginning. It often works out cheaper for you and you are able to support your favorite dive centre.
Choose your preferred Dive Centre to complete the course
To assign the materials to the student you have to provide some basic information. All we need is full name, date of birth and email address, it is literally that easy.
Once we have received a small deposit for your respective course, our team will assign you the eLearning materials and you can get started.
Before making a booking, always make sure to check the PADI Medical Form or make contact with our team with any questions you have.
After the materials have been assigned, you will receive an email with your personal product code.
If you have enrolled for a beginner course or it is the first time you are using the PADI eLearning platform, you will be asked to create a user account.
If you have completed previous courses via eLearning you can proceed by logging in to the platform with your existing user information.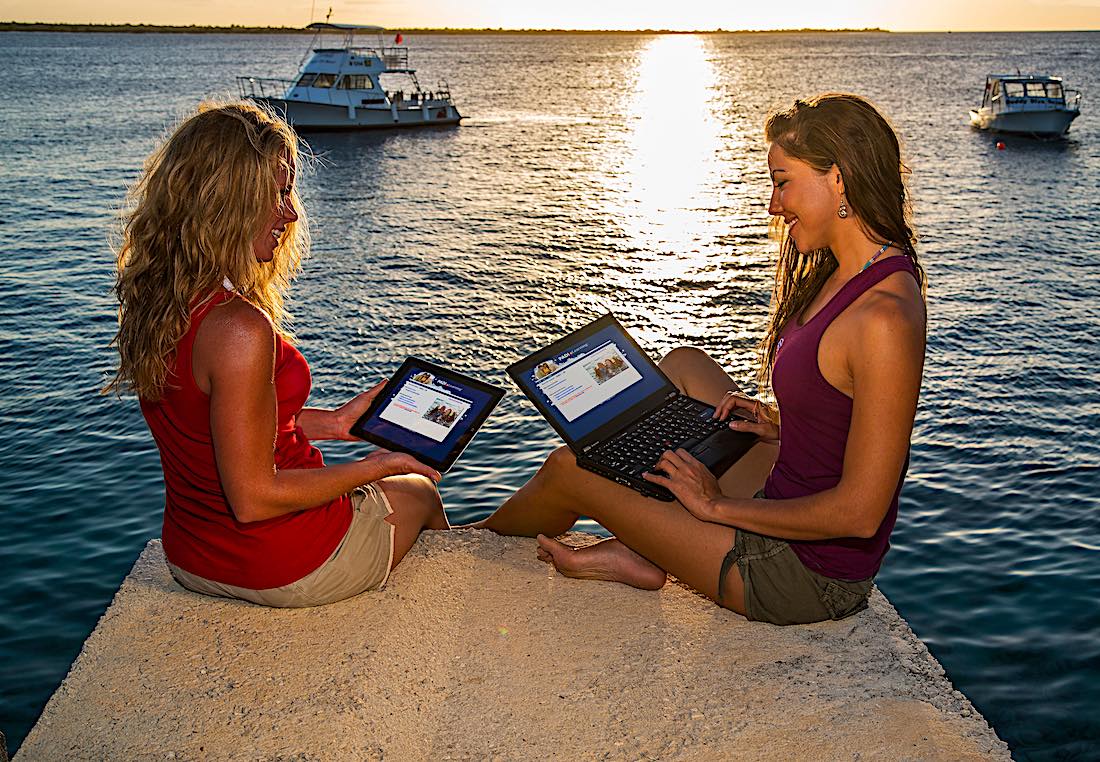 Create a Free PADI User Account
You will then continue by redeeming your eLearning product code and for certain courses you can choose your preferred language.
Now you are ready to get started with the knowledge development.
As you work through the different sections your progress will be monitored and saved and your knowledge will be tested from time to time in an interactive way.
The multimedia content available depends on the course you have enrolled for.
The PADI Open Water course consists of 5 sections that include five videos, knowledge reviews, quizzes and a final exam.
Once you have worked through a section of the e-book and watched the corresponding video, you will be asked to complete the knowledge review.
The platform will make you review any questions you may have missed. Afterwards you will need to successfully complete a 10 question quiz (75% pass rate) before moving on to the next section.
Choice of Online PADI Courses
For the PADI Advanced Open Water course and most specialty courses, there are only knowledge reviews to be completed by reading the e-book, but no required videos, quizzes or final exam.
The PADI Rescue Diver course also consists of 5 sections. You will watch the PADI Rescue Diver video, complete the knowledge reviews and at the end, there is a 50 question final exam to pass.
Once you have completed all the eLearning you can access and print your eLearning training record with all your scores and bring that to the dive centre to continue with the exciting next part of the course.
Apart from an eLearning Quick Review questionnaire, all knowledge development for your course is completed at that point.
From the moment you have completed the last segment of eLearning, you have 12 months to continue with the next part of your training.
I would suggest however, not waiting too long and get in the water for practical training while all the knowledge is still fresh in your mind.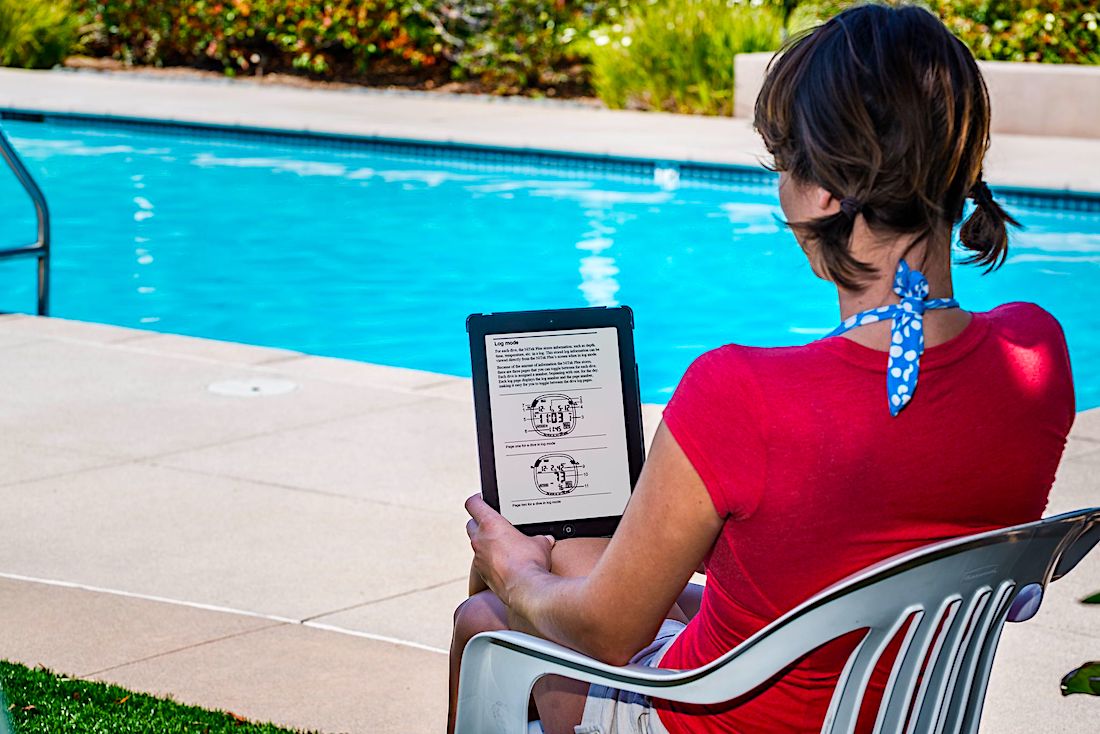 Benefits of PADI Course E-Learning
The biggest benefit of starting your PADI course with eLearning is that you will be able to complete the diving course at a location of your choice in less time.
If all eLearning is completed prior to arrival, it is possible to complete the in-water portion of the PADI Open Water course in as little as 2 days with us.
You do not have to spend any time in a classroom during your holiday and you can just focus on the fun stuff: the scuba diving.
Enjoy more of your Holiday
This leaves you with more time to explore our beautiful little island or schedule more diving activities into your Koh Tao visit.
A huge advantage of taking the eLearning is that it cuts out the classroom time completely and leaves our dive instructors more time to develop your core scuba diving skills.
With this gained time, we can schedule in more buoyancy practice workshops or marine life and environmental ecology lessons to improve your overall experience of diving with us.
On top of that, you will return home with more additional knowledge and skills beyond the minimum that is required by PADI standards.
The team at Black Turtle Dive want to train you into a competent and more confident diver by providing first class diver training with a complete focus on you.
Another huge benefit of eLearning is that you can learn at your own pace and complete the online modules in your own time. It is the easiest way to fit scuba lessons into a busy schedule.
This is especially convenient for people living and working in Thailand that have limited holiday time.
You work at your own pace, online or offline, using your computer, tablet or mobile phone. Afterwards, you can schedule your in-water training whenever you are ready.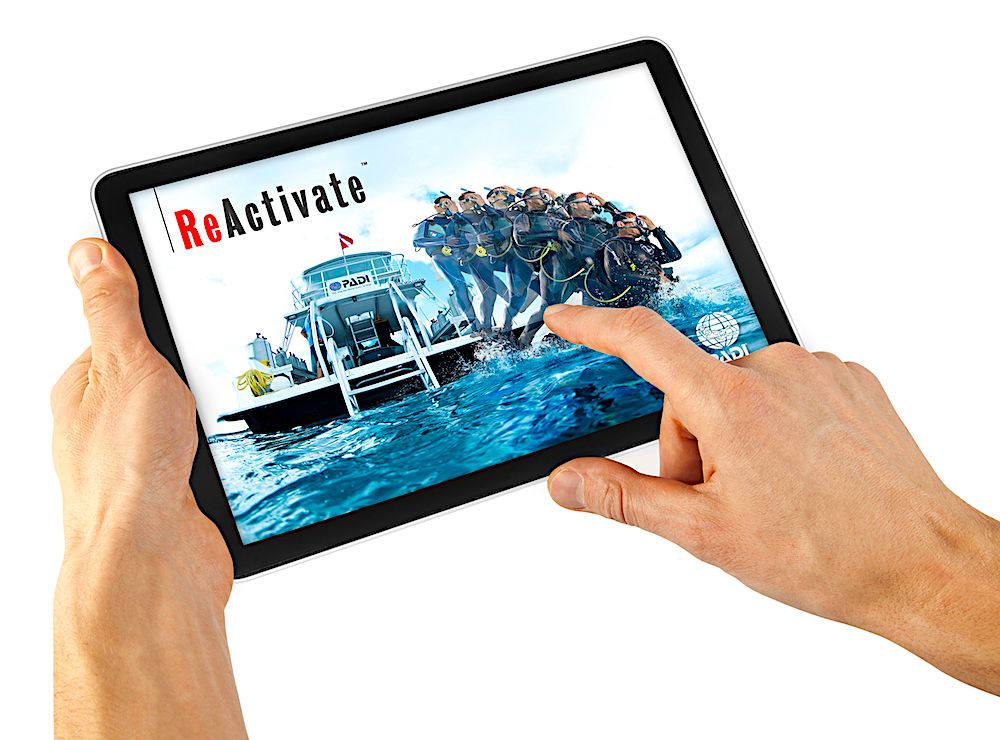 Study in your own Language
With PADI eLearning there is a very good chance you will be able to study in your own language.
Open Water eLearning is currently available in 26 different languages. For Advanced Open Water there are 23 languages available and Rescue Diver eLearning has 14 languages.
It is always nice to be able to study something new in a language you are entirely comfortable with.
If you are taking multiple courses through eLearning, all previous and new courses will be accessible in one convenient place on the PADI eLearning platform for student divers.
What PADI Courses are available on E-Learning?
Over the years PADI have expanded the range of courses available to students via online eLearning.
They are now in the process of converting all their previous and existing eLearning products onto their new, more user-friendly and interactive platform.
On top of that, a large choice of new eLearning course products have been released earlier this year.
All the most popular recreational level diving courses are available as an eLearning option.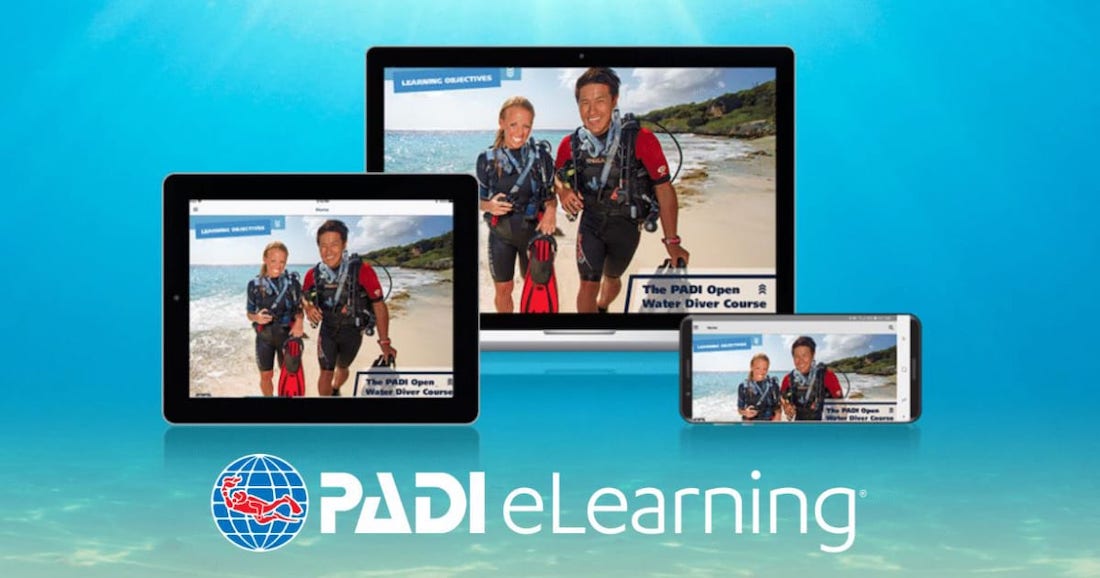 PADI Open Water Course E-Learning
Courses available online include PADI Open Water, Advanced Open Water and Rescue Diver courses (including Emergency First Response) and there are also many specialty courses available.
The most popular specialty certifications for Koh Tao are undoubtedly the Enriched Air Diver (Nitrox), Deep Diver and Wreck Diver certifications.
For all these, there is an eLearning option available from this year, some of them available in languages other than English.
Currently there are 12 Specialty courses available with eLearning and 6 more are being developed and expected to be released soon.
On top of all that, there is eLearning available for Pro Level courses, notably the PADI Divemaster (DM) course and Instructor Development Course (IDC).
PADI Divemaster Course E-Learning
The Divemaster eLearning includes all sections from the DM manual and the part 1 & 2 exams.
The IDC eLearning contains 15 subjects that are all completed online. The shift to eLearning has freed up more time for practical workshops and dry presentation practice.
There is also the Dive Theory Online eLearning product that is a very useful tool for both aspiring PADI Divemasters and Instructors.
This eLearning program takes you step-by-step through dive physics, physiology, skills, equipment and environment, plus a Recreational Dive Planner (RDP) review.
FREE PADI Open Water E-Learning Introduction
If you are interested in starting diver education through PADI eLearning, get in contact with us and we can send you a PADI Open Water eLearning intro free of charge.
You will get a chance to see how the eLearning platform works, how it is set up and there is a lot of information and visual content available.
In total, it will take about 30 – 45 minutes to go through the interactive introduction to the world of scuba diving and it will give you a clear insight on what the PADI Open Water course entails.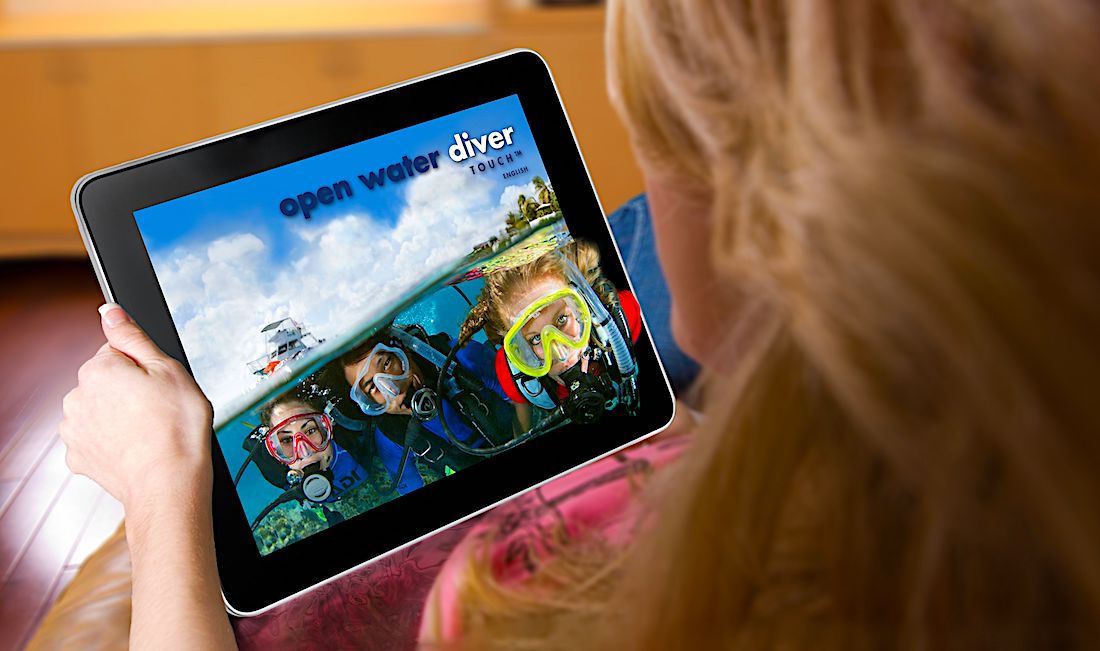 Online Interactive PADI Diving Course
The eLearning option is a perfect way for aspiring scuba divers to learn more about what they can expect by taking a scuba diving course.
There is an introduction to the PADI Open Water course and it will be explained how the training and certification takes place.
Next, you will get a full overview of the course and a brief look at some of the skills and hand signals you will be learning as a student diver.
Finally, there is a section that talks about how you can get the most out of your PADI Open Water course.
Become an Ocean Ambassador with PADI E-Learning
As scuba divers we are all Underwater Ambassadors who have a responsibility to protect and conserve our ocean planet, in addition to exploring and enjoying it.
The PADI online elearning portal gets you off to a great start in the comfort of your own home and gives you more time to enjoy the diving when you arrive at your chosen destination.
More than 70% of the planet we live on is covered with water, opening up an abundance of opportunity for scuba divers to explore.
Sign up for your FREE Open Water intro NOW and find out what all the fuss is about.