>
>

Best PADI Dive Instructor Course in Thailand
Become a PADI Diving Instructor in Thailand
Many aspiring PADI Divemasters looking for a suitable location to take their PADI Instructor Development course, are faced with a myriad of choices and it can be difficult narrowing down a suitable dive centre.
In this article, we want to provide you with more up to date real-world information, which we hope will help you make the right decision, by outlining important considerations and answering many of the questions we are often asked by our PADI IDC candidates.
It is important to remember, PADI standards are the benchmark for mastery of training requirements and as professional level scuba divers, we always seek to improve our skills through continued personal development.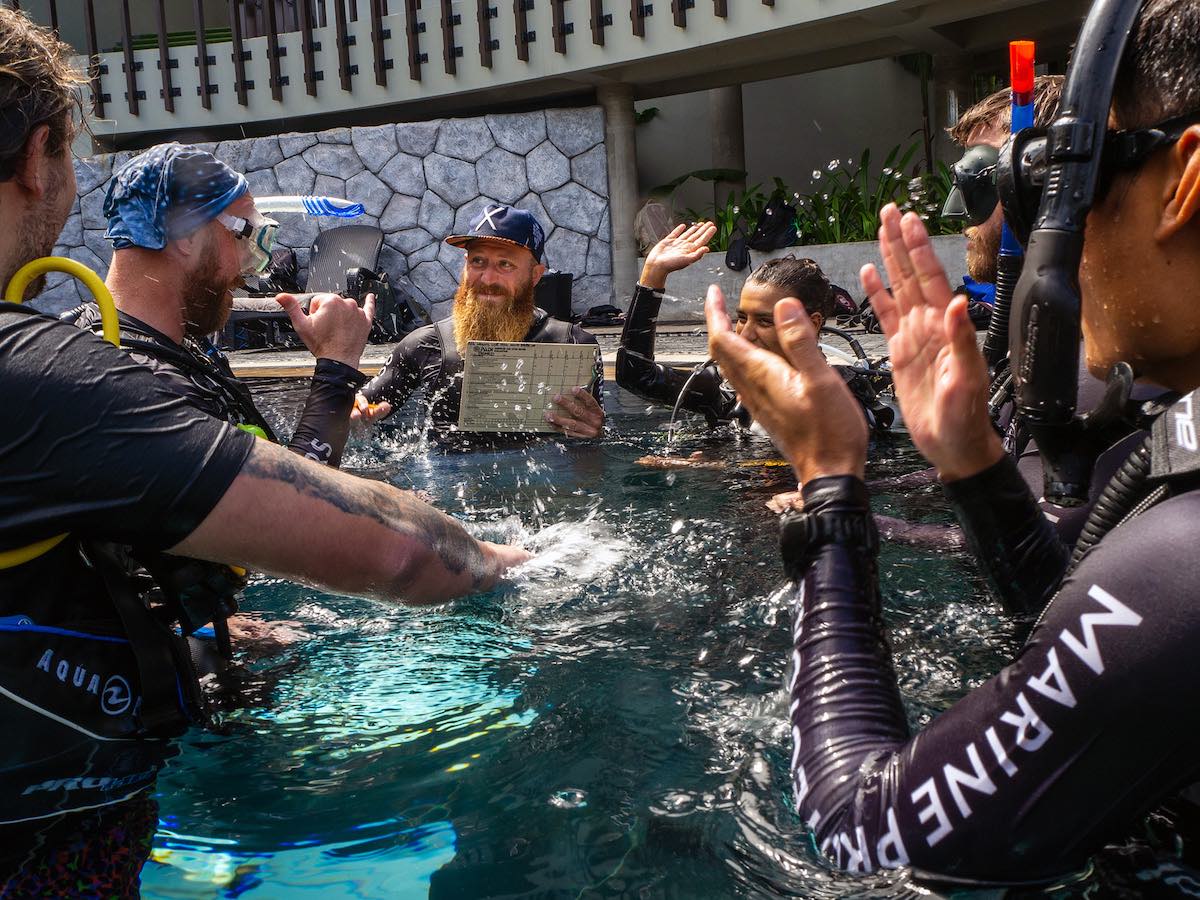 Learn to teach Scuba Diving in Thailand
It is based on this philosophy, that we choose to train our professional level candidates neutrally buoyant for all in-water skill demonstrations.
If you have completed a Divemaster course elsewhere in the world and want to improve yourself as an ambitious Divemaster and PADI Dive Instructor and you do not teach neutrally buoyant, if you are reading this, you have found the right place.
We know there are Instructor Development courses taking place worldwide, however, as an aspiring Dive Instructor, take the time to do your research and understand how your choice of IDC, affects you after your IDC is complete and when you have a certificate.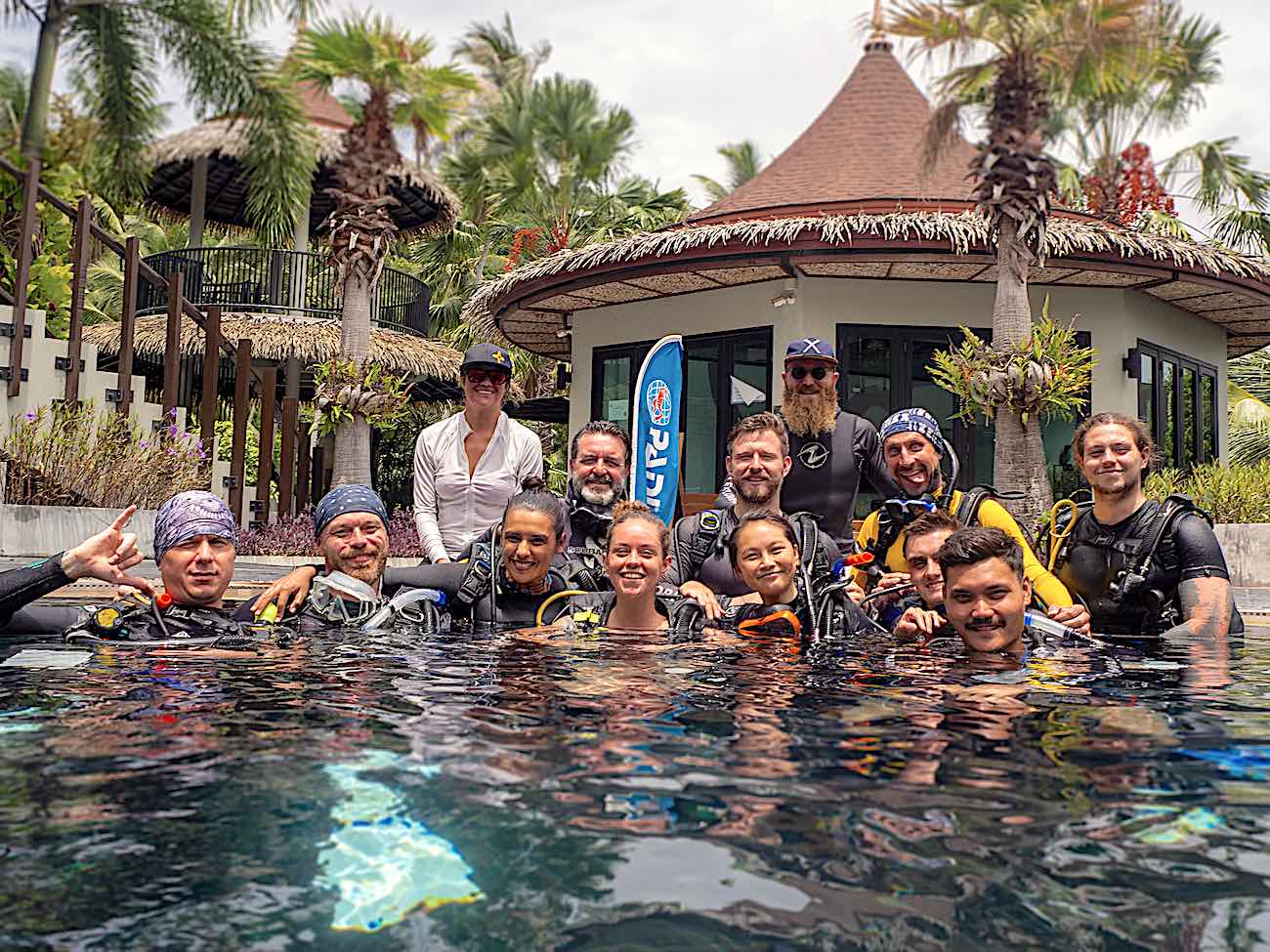 5 Star Career Development Centre
Hopefully, after reading this article you will understand the difference between an IDC centre and a 5 Star Career Development Centre, and how this can affect your future during and after your IDC training program is completed.
Once you have identified a potentially suitable dive centre, you need to look at the Pro level teaching team and Course Directors who will be conducting your IDC course.
If industry experience and reputation is on your list of things to check for (which it should be), our pro level team can offer you over 50 years combined industry expertise at the highest level.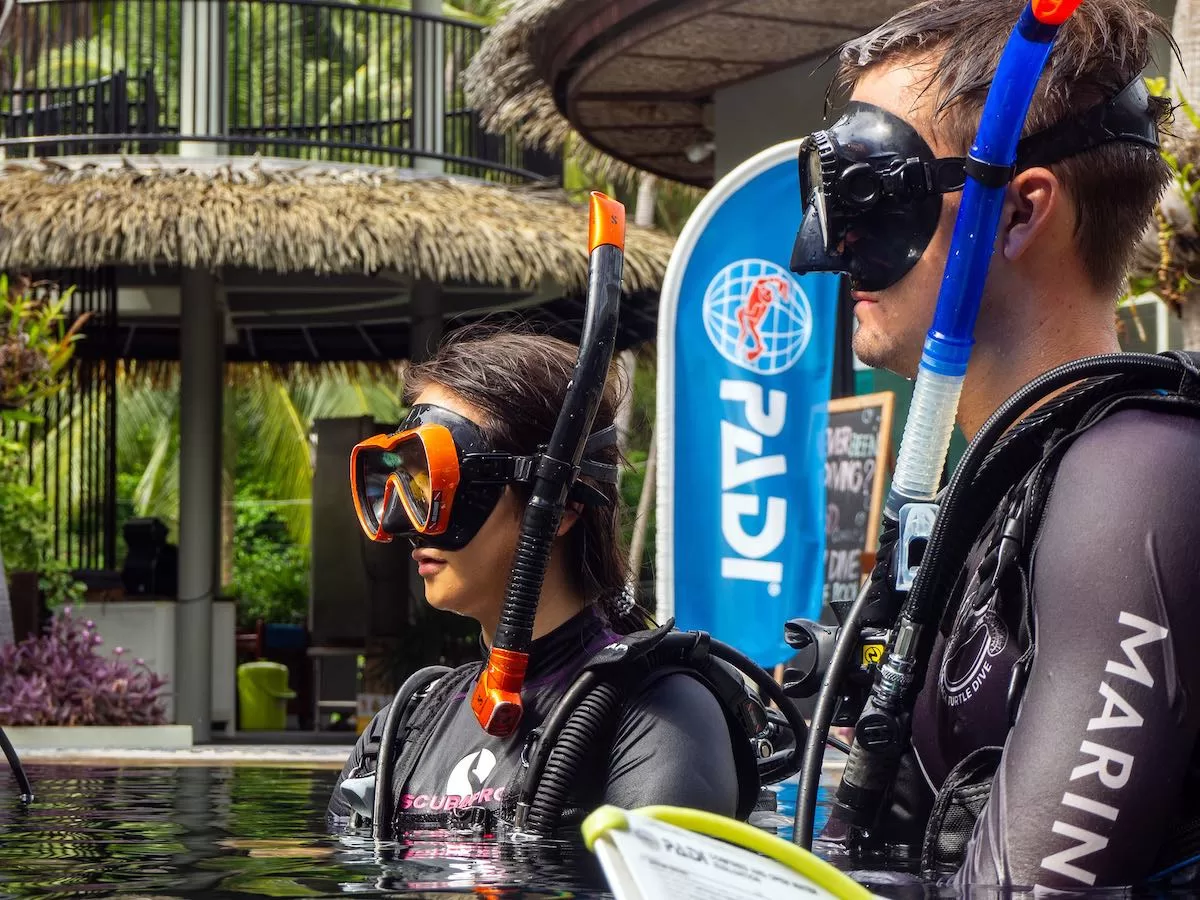 Award Winning PADI IDC on Koh Tao
Over the last two decades, many PADI staff themselves received their training through our senior Course Director, Matt Bolton.
We do not make false promises and will train you to the highest level of your potential. What we expect from you, is a willingness to learn, commitment, a great attitude, openness, integrity and of course, a passion for the marine environment and the marine life that inhabit it.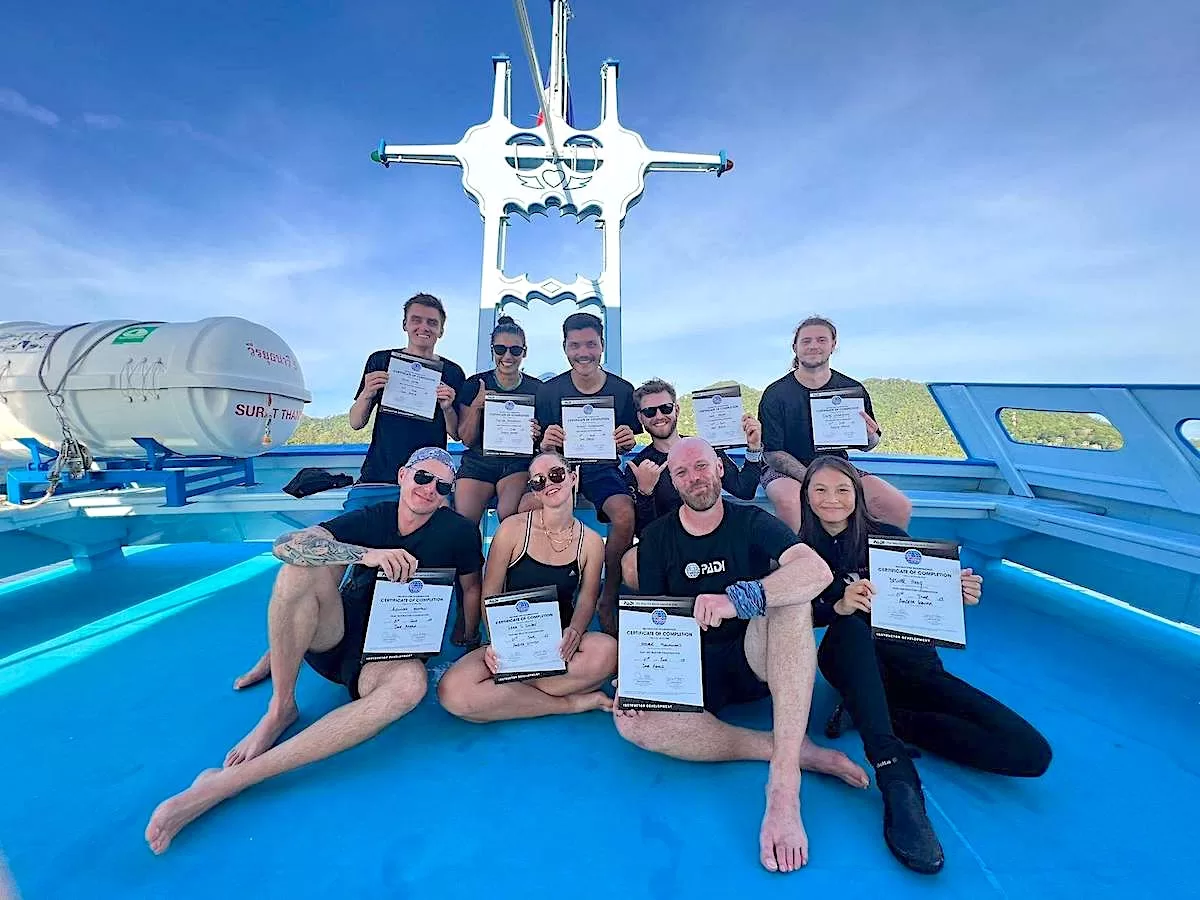 Introduction to the PADI IDC on Koh Tao, Thailand
Our PADI Diving Instructor Development Course (IDC) is one of our professional level scuba training programs that prepares scuba divers who meet the prerequisites, to become PADI Instructors and the course is typically 14 days long and divided into three phases.
IDC Preparation Phase
Preparation phase is designed to help you prepare for the IDC by reviewing the PADI Instructor Manuals, additional PADI materials and completing the PADI Instructor E-Learning in advance.
IDC Teaching Phase
IDC phase is the core curriculum of the IDC course and covers all aspects of becoming a PADI Instructor, including teaching techniques, dive planning, risk management, customer service and much more.
Instructor Examination Phase
This is the PADI IE, which is an independently assessed final exam taken over 2 days that tests your knowledge and skills as a PADI Instructor candidate.
Our IDC is a challenging course, but it is also very rewarding and if you are passionate about scuba diving and teaching a wide range of PADI diving courses, then our IDC is a great way to turn your passion into a new lifestyle and career.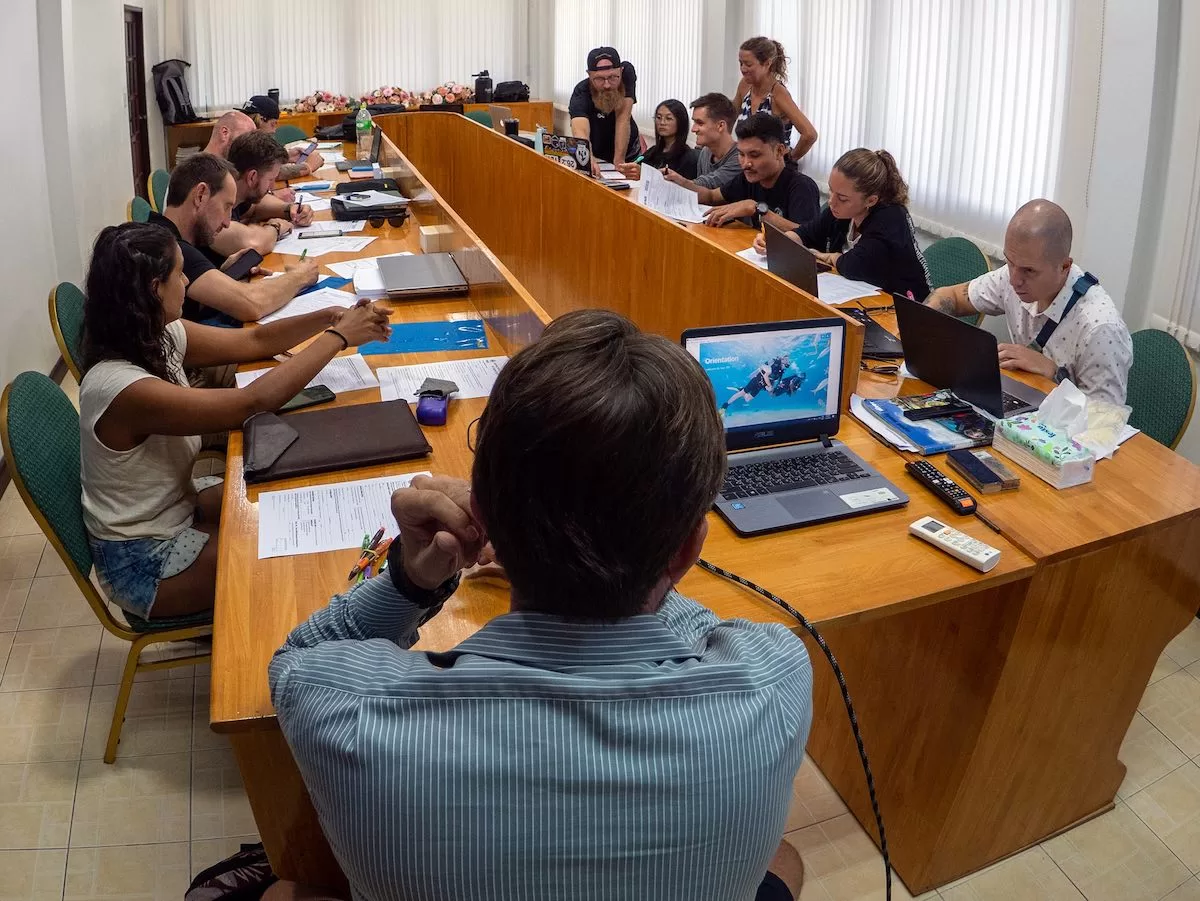 Topics covered in the PADI Instructor course in Thailand
Dive Theory: Subjects covered such as Physics, Physiology, Decompression Theory and RDP, Skills and Environment and Equipment.
Teaching Techniques: How to conduct presentations and manage students in the pool for confined water training, Open Water training, classroom training, and how to give feedback and remediation.
Dive Planning: How to plan dives for different levels of scuba divers and in different marine environments.
Risk Management: How to identify and mitigate risks in diving.
PADI General Standards & Procedures: Guidelines that all PADI courses and programs must follow, which are designed to ensure that all PADI divers receive a consistent and high-quality education.
Customer Service: How to provide excellent customer service to divers and dive shops.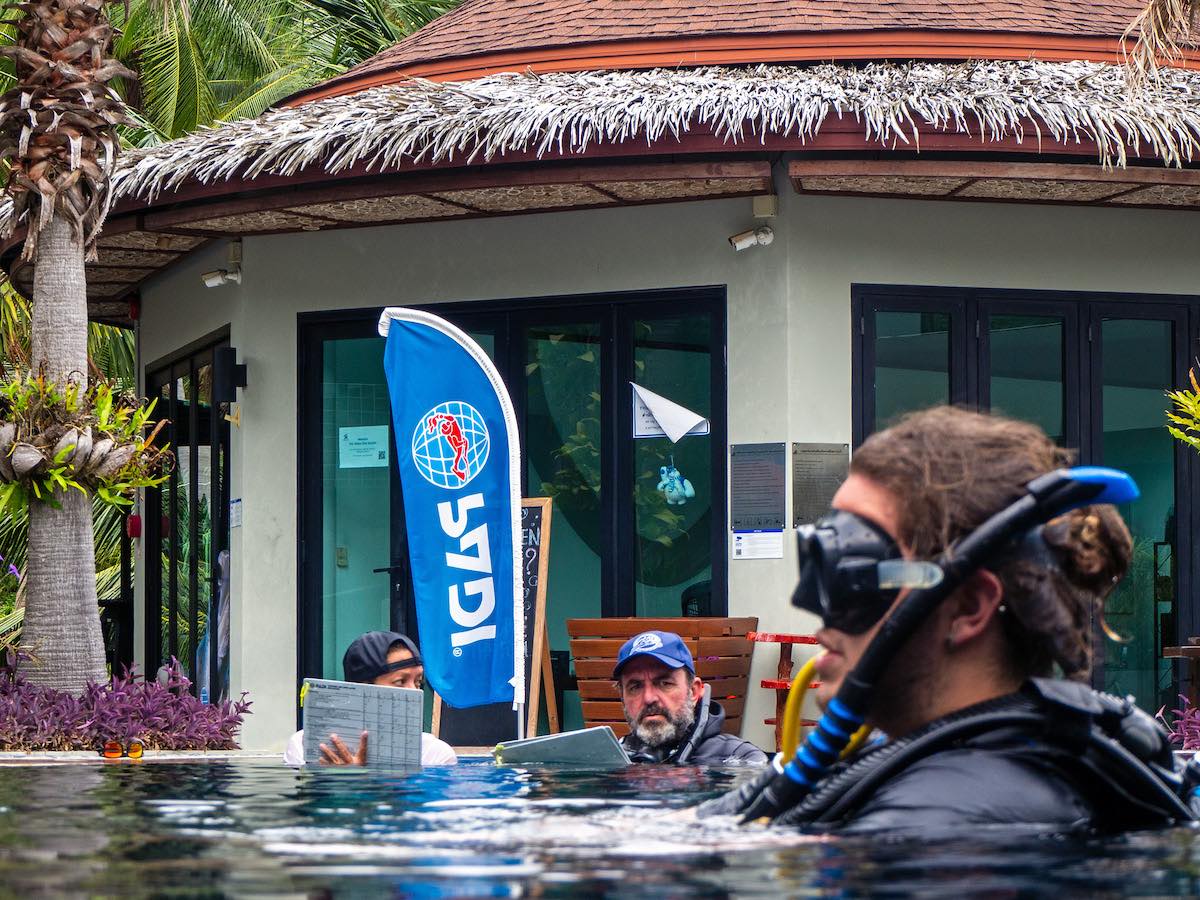 What Is the PADI Diving Instructor Course?
The PADI Instructor Development Course (IDC) is the scuba diving industry's most popular and recognized dive instructor course in the world.
Becoming a PADI Instructor is your passport to a life of travelling the world and exploring the oceans as you embark on your exciting new career as a PADI Scuba Diving Instructor.
The PADI Instructor Development Course (IDC) is scheduled over 14 days and will teach you how to prepare and deliver classroom teaching presentations based on PADI's established training methodologies.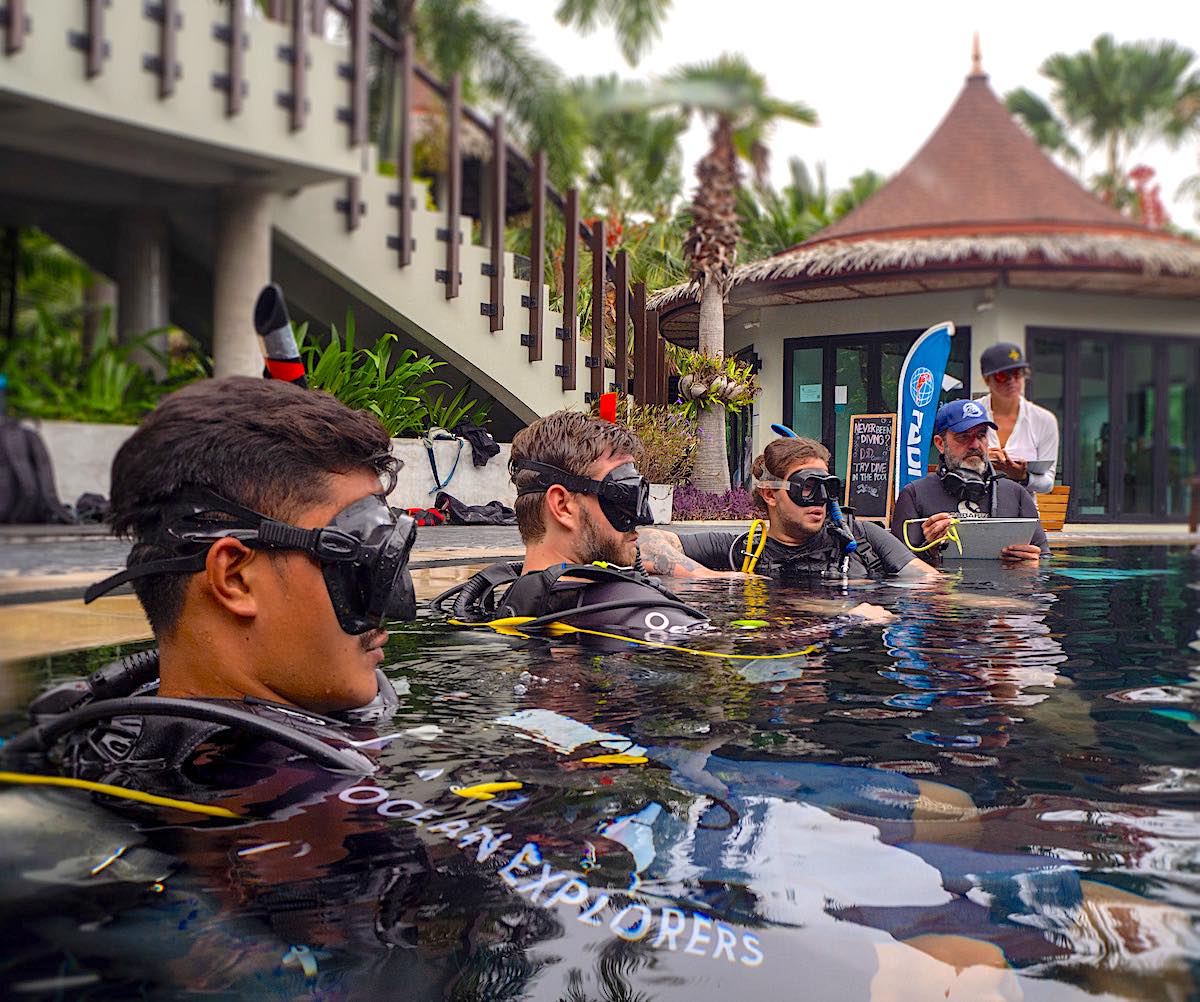 Become a PADI Dive Instructor on Koh Tao
You will also learn how to conduct teaching presentations in confined water and conduct Open Water training dives for a variety of PADI courses including the PADI Open Water, Advanced Open Water, Rescue & Divemaster courses.
We will expand your knowledge of dive theory so that you are very comfortable teaching both new scuba divers and professional level candidates, and we will teach you to anticipate diver problems before they happen and fix them easily when they do occur.
By the end of the Instructor Development Course (IDC), you will be an expert in finding and applying PADI standards in all your teaching activities and you will also be able to demonstrate both Confined and Open Water scuba skills with confidence and ease.
At the end of the two-week training course, you will then be tested on what you have learned.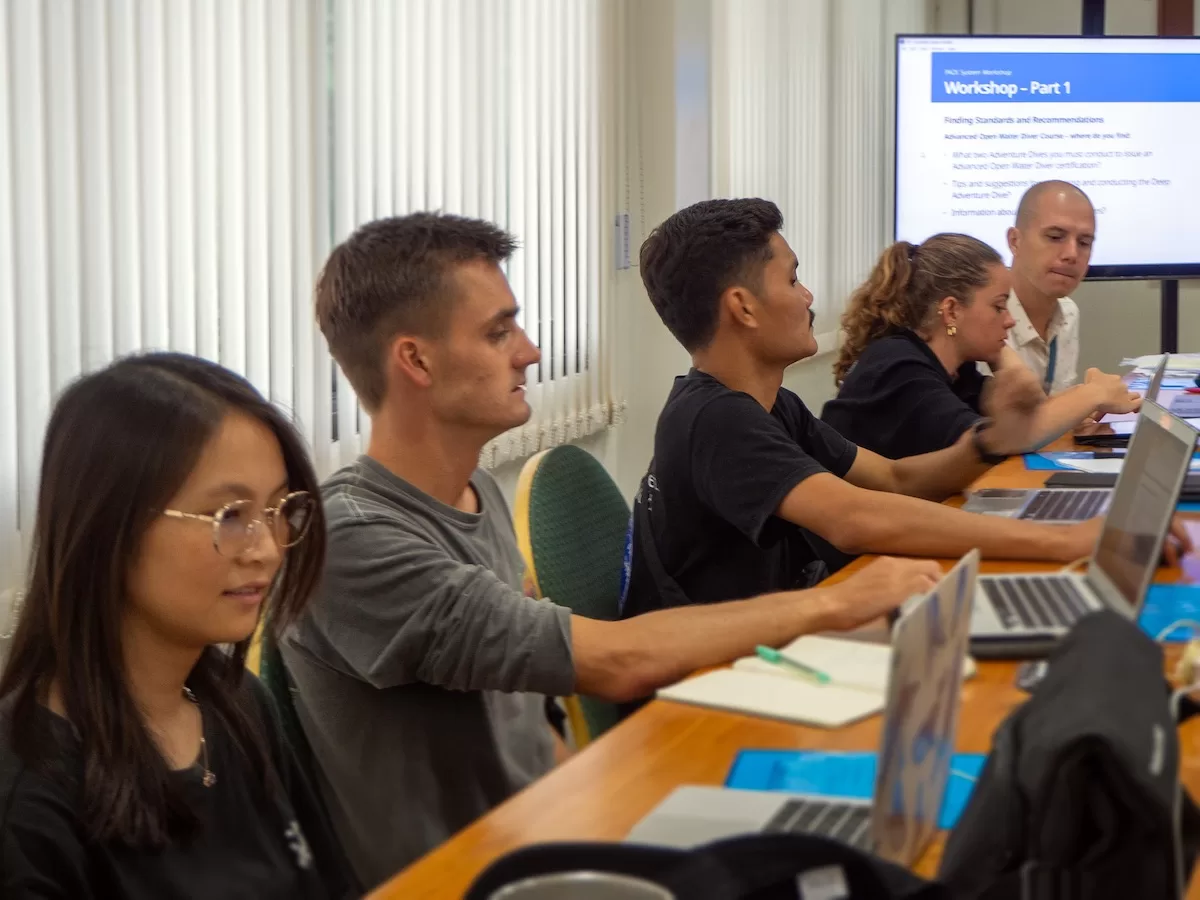 Independent PADI Exams
The PADI Instructor Examination is a two-day exam that will test your ability to teach in the classroom, swimming pool and in Open Water. You will also have to pass dive theory exams in Physics, Physiology, Decompression theory, Equipment and Skills & the Environment.
The PADI Instructor Development Course (IDC) also has a module focused on the Rescue Diver course. We will develop your rescue skills to Instructor level and you will be able to perform the 10 basic Rescue skills to demonstration quality. You will also participate in a Rescue Scenario.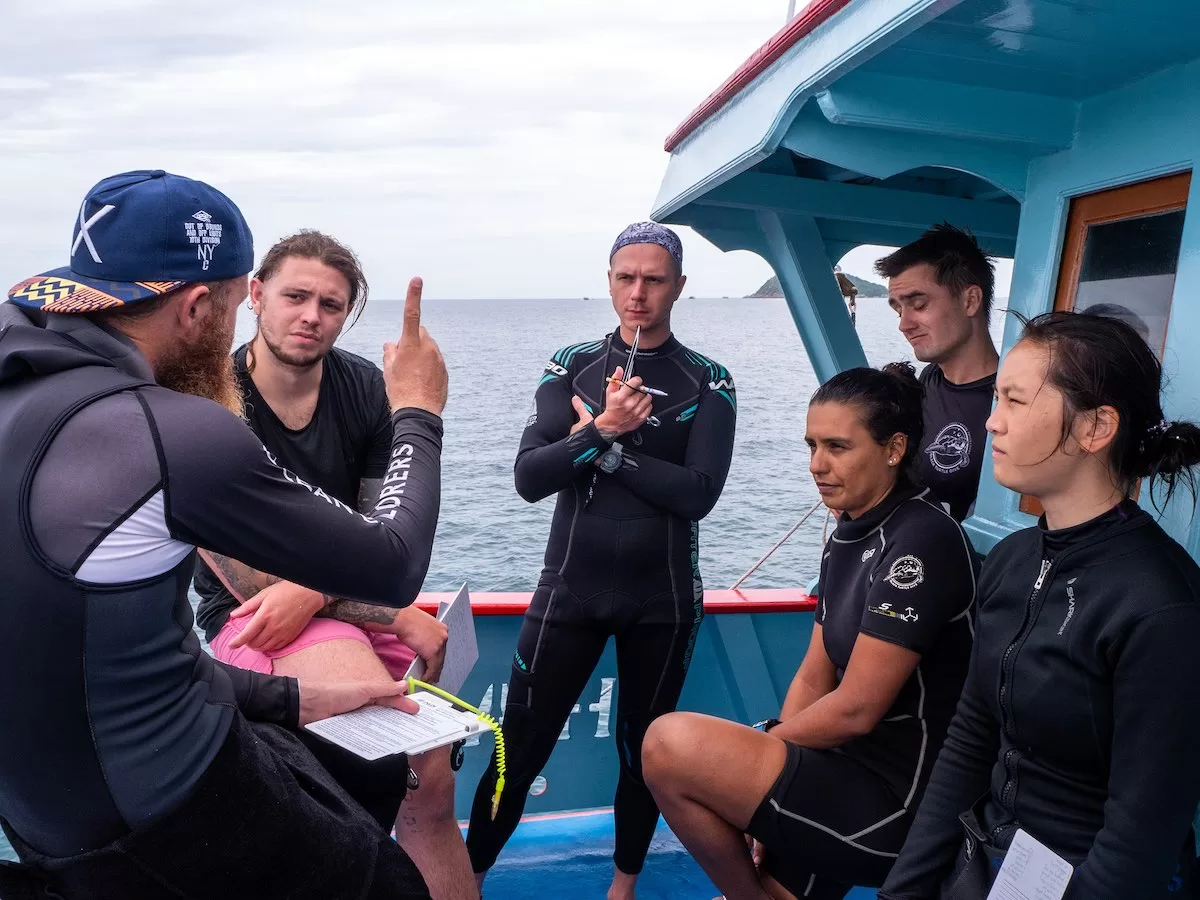 What are the prerequisites for the PADI Scuba Instructor Course?
Before you can enroll in a PADI diving instructor course in Thailand, you need to meet the minimum basic requirements.
You need to be at least 18 years of age and have been a certified diver for at least 6 months before the start of your scuba instructor course.
You also need to have at least 60 logged dives with some experience with scuba diving at night, deep diving, and navigating underwater to enroll on the PADI Instructor Development Course.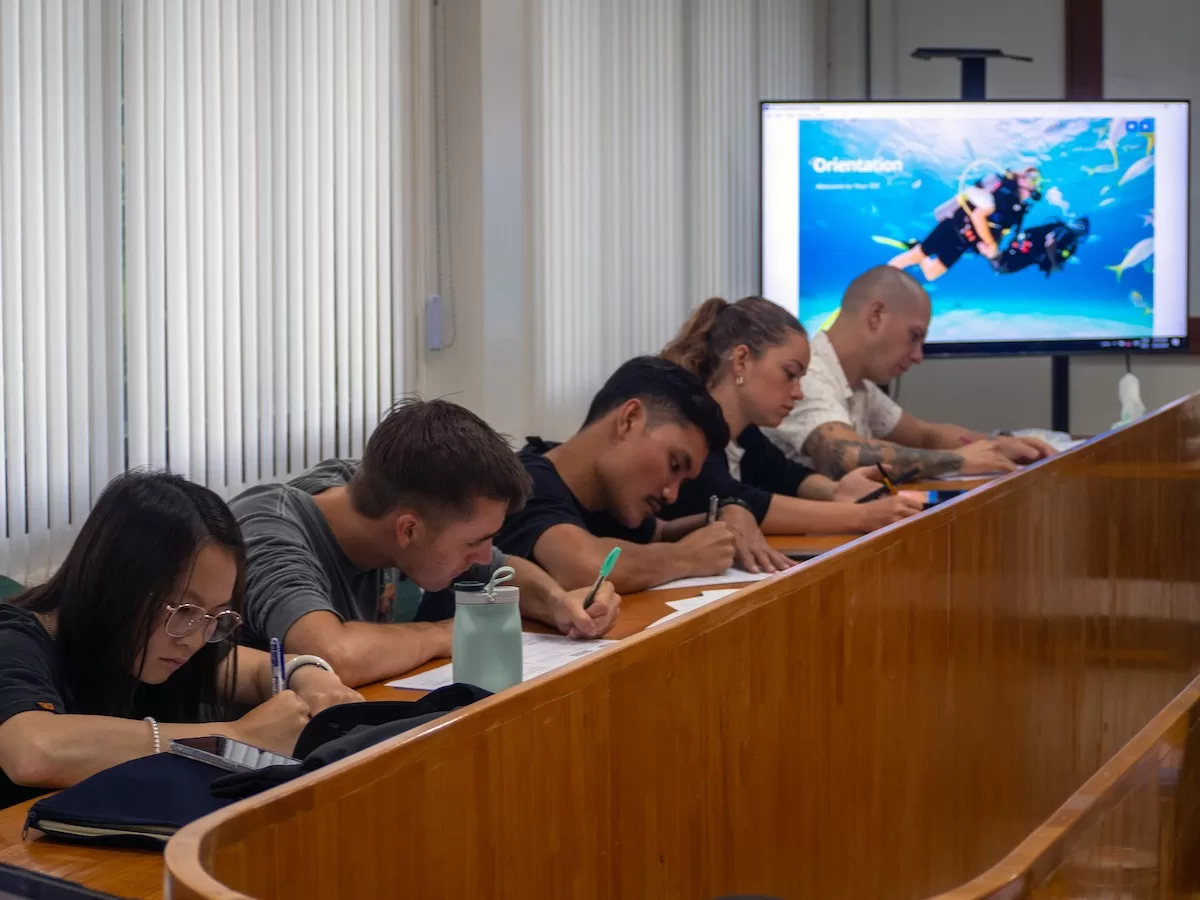 Enroll on the PADI Instructor course in Thailand
However, to enroll on the Instructor Examination (IE) you will need to have 100 logged dives unless you complete the IDC with a Career Development Center.
Black Turtle Dive is a PADI Career Development Center (CDC) and as such we are permitted by PADI standards to enter an IDC candidate into the Instructor Examination before they have 100 logged dives.
After successful completion of the PADI IE, you can log the remaining dives to reach 100 and then inform PADI, who will then activate your teaching status.
Another important requirement to enroll on a PADI Instructor course is being a certified PADI Divemaster or equivalent qualification with another scuba diving training agency.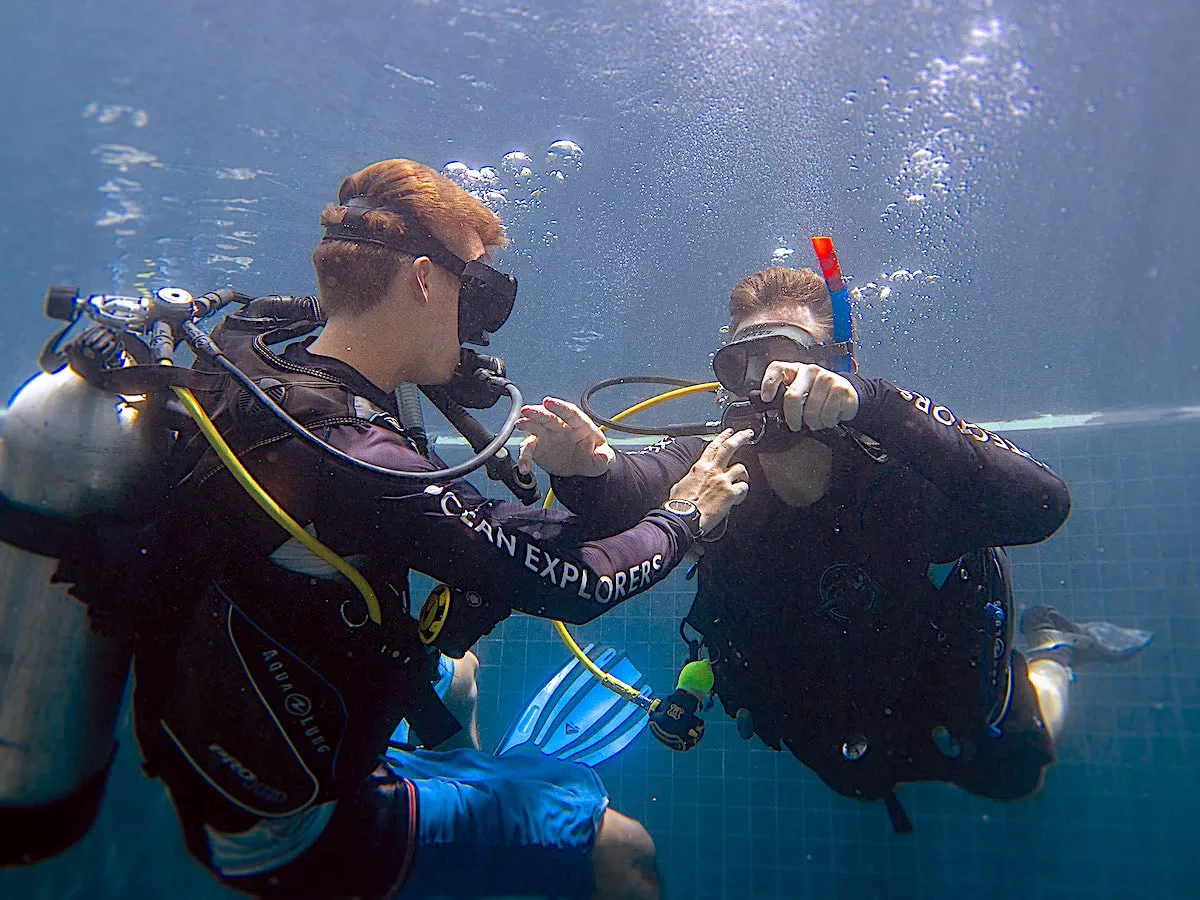 Signing up for the PADI IDC on Koh Tao
If you have not completed the PADI Divemaster course, you can still join the PADI Instructor Development Course after successfully completing the PADI Divemaster Course dive rescue assessment.
PADI Professionals are expected to take charge of emergency situations to ensure the safety of their students and divers.
That means you need to have valid (within the past 24 months) First Aid and CPR certifications from a recognized training entity. Do not worry if your first aid certification has expired as we can complete a refresher during your IDC.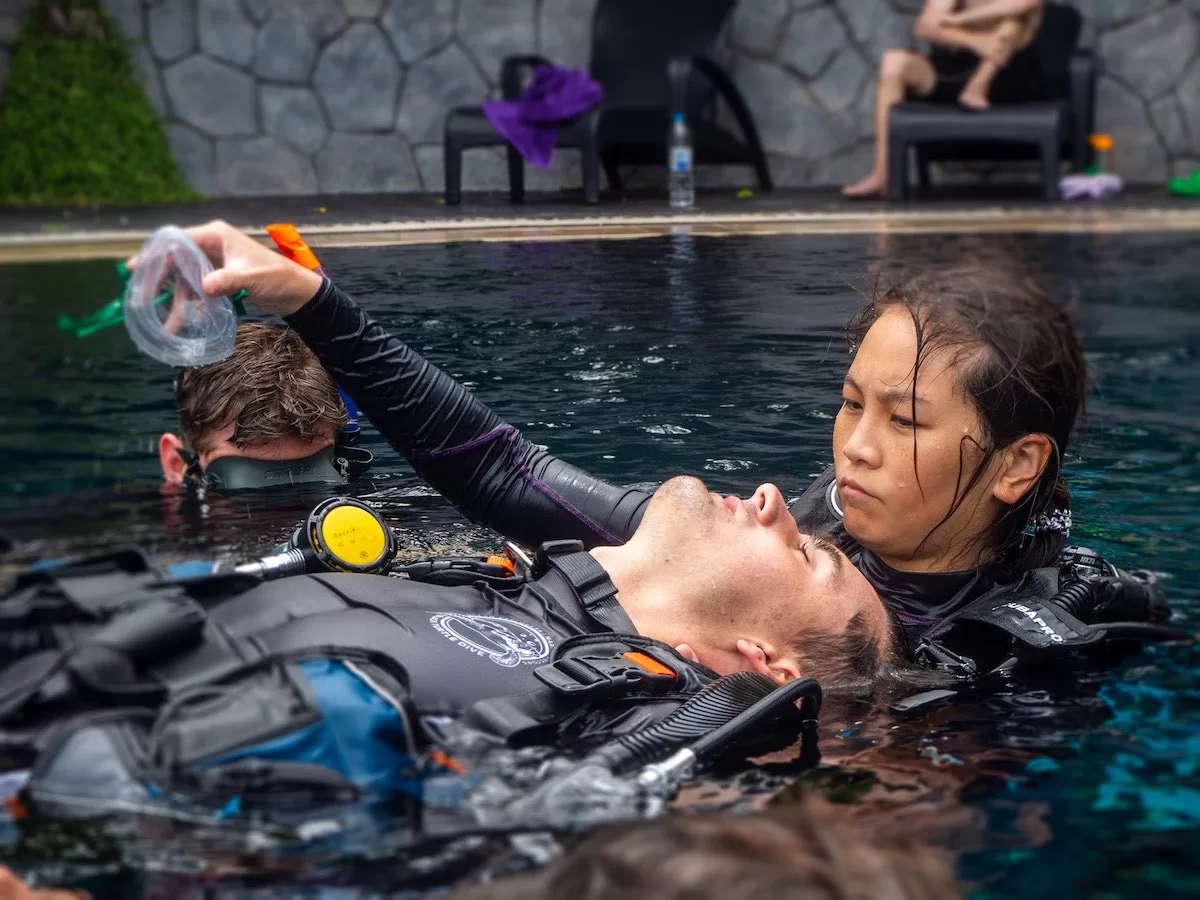 EFR & PADI Dive Instructor training in Thailand
Recent scuba diving experience is also required to start your diving instructor course in Thailand.
If you have not been diving within the past 12 months, we will ask you to complete a scuba review to refresh your basic scuba diving skills, before working on the same skills, however, this time to demonstration quality.
You also need Medical Clearance attesting to dive fitness signed by a physician within the previous 12 months, and have had no medical condition changes.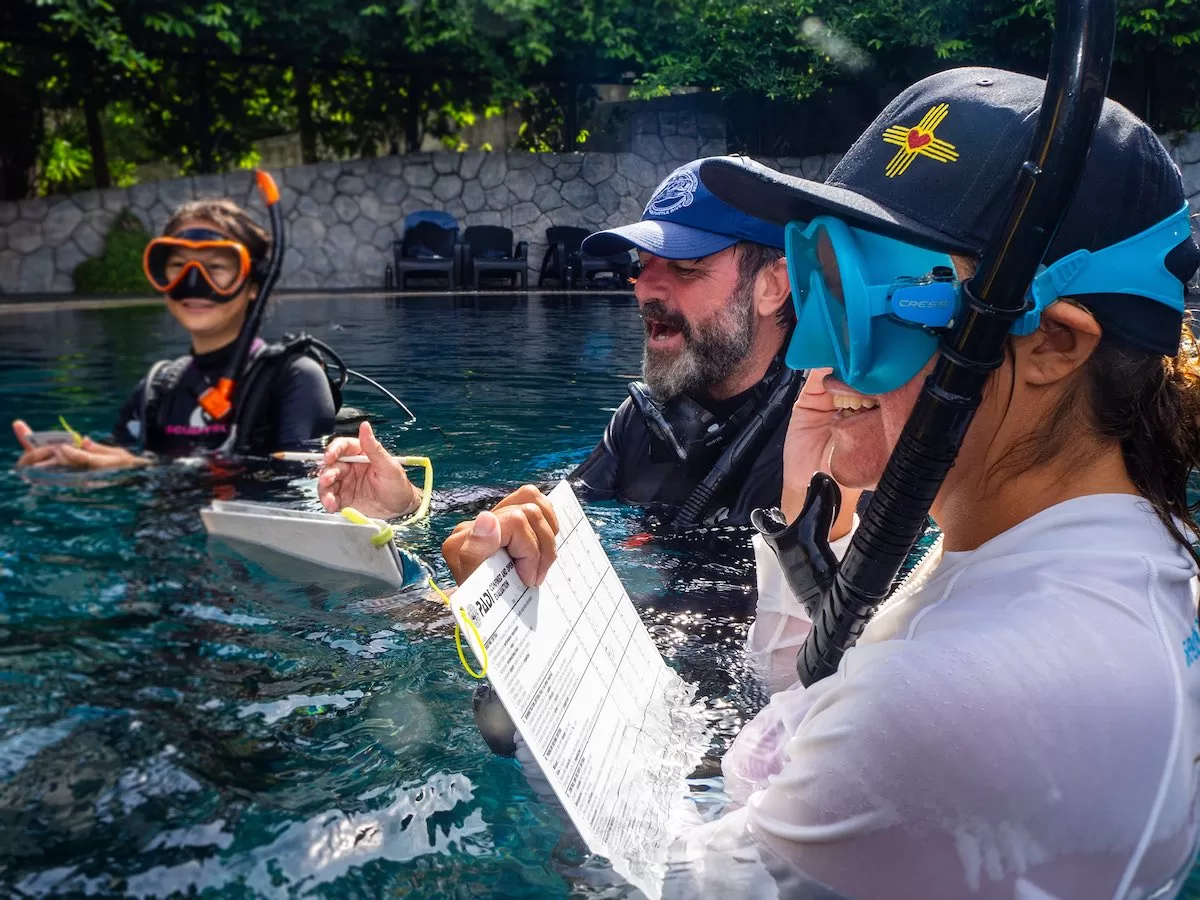 How to choose the best Diving Instructor Course in Thailand?
When choosing a PADI Instructor course it is important to consider factors such as the reputation of the dive centre, and the experience and reputation of the PADI Course Director (s), and the team that will be conducting your IDC.
The quality of the facilities, diving equipment and overall learning environment are also important.
You can read customer reviews or get recommendations from fellow PADI Professionals.
Has the Dive Center or Course Director received any awards from PADI for the quality of their IDC?
Is the Dive Center only an IDC Center or do they hold the PADI Career Development Center rating?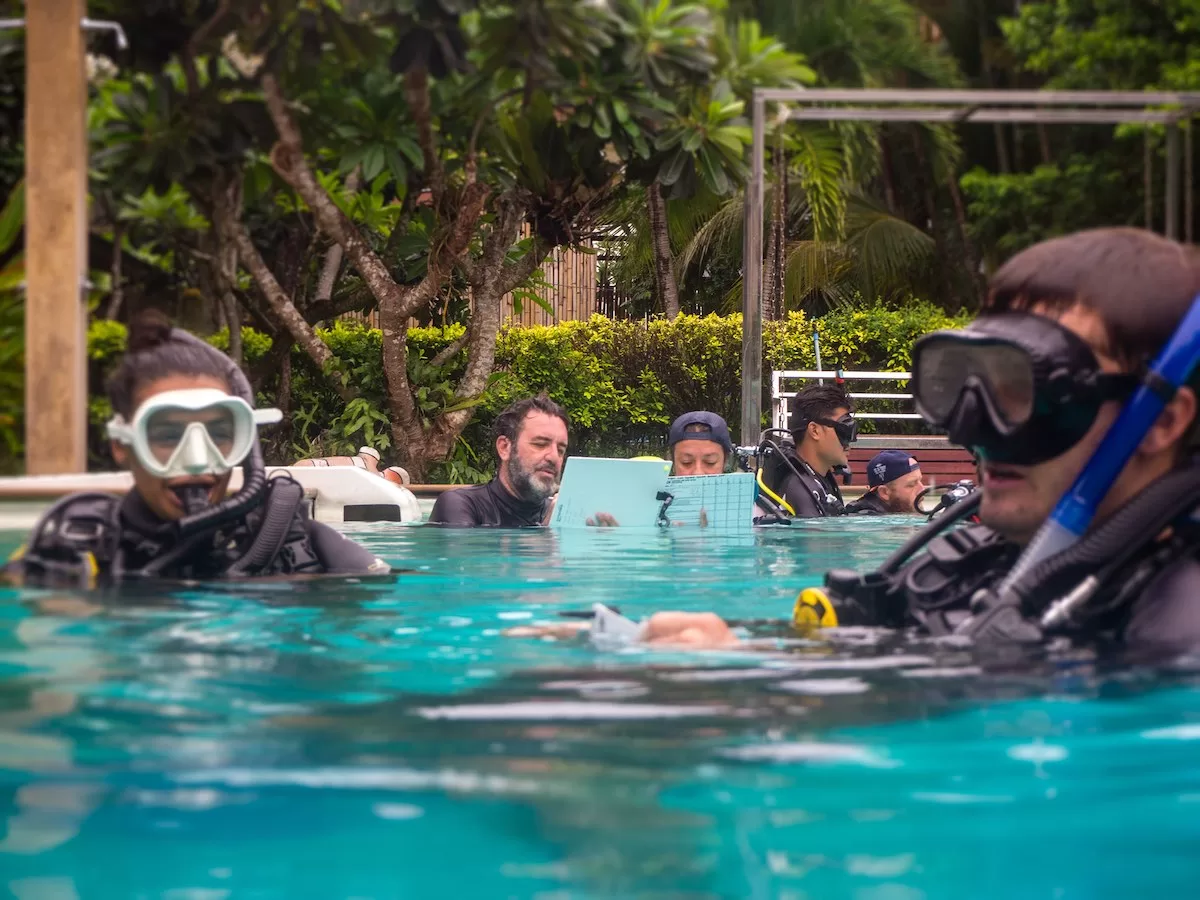 Highest Training Standards
PADI Career Development Centers meet the highest requirements for training PADI Professionals and offer career-oriented programs to prepare scuba diving professionals for employment in the dive industry.
Other factors to consider include the environment. Does the dive center take their commitment to the environment seriously? This includes asking their divers to agree to follow established environmental guidelines, and follow these same guidelines themselves.
Look for a dive centre that is recognized for their commitment to the environment such as a PADI Eco Center or Green Star Dive Center and make sure they are a Green Fins certified member.
Alternatively, choose a dive centre that has all of these awards!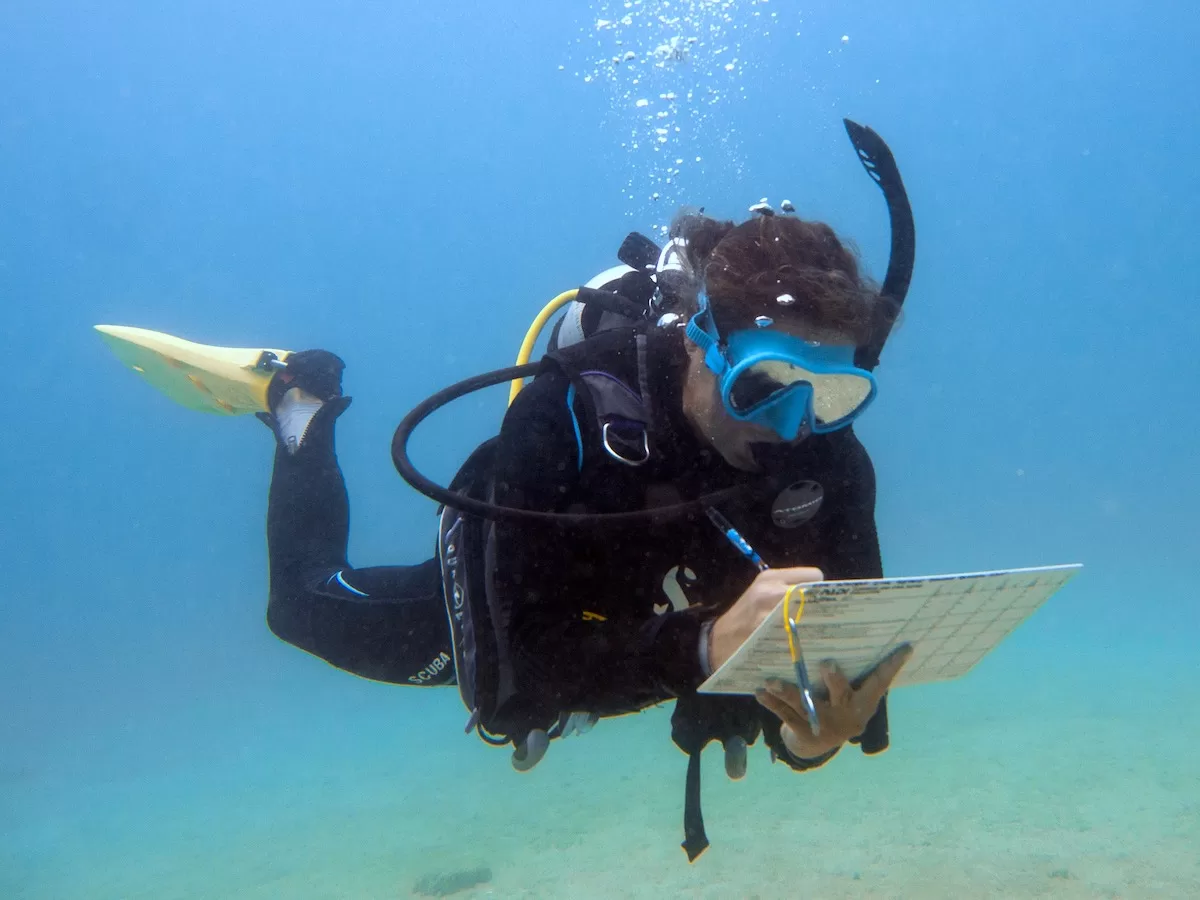 Marine Conservation Eco Dive Centre Awards
Does the dive centre have an active marine conservation program? Do they conduct regular Dive Against Debris dives & beach clean ups?
Does the dive centre conduct Coral Watch surveys? Do they run an active Ecological Monitoring Program? Do they have a recognized Coral Restoration project?
These are all important questions a Divemaster considering becoming a PADI Open Water Scuba Instructor, should ask the PADI Dive Centers they are considering joining, to complete their Instructor Development Course (IDC).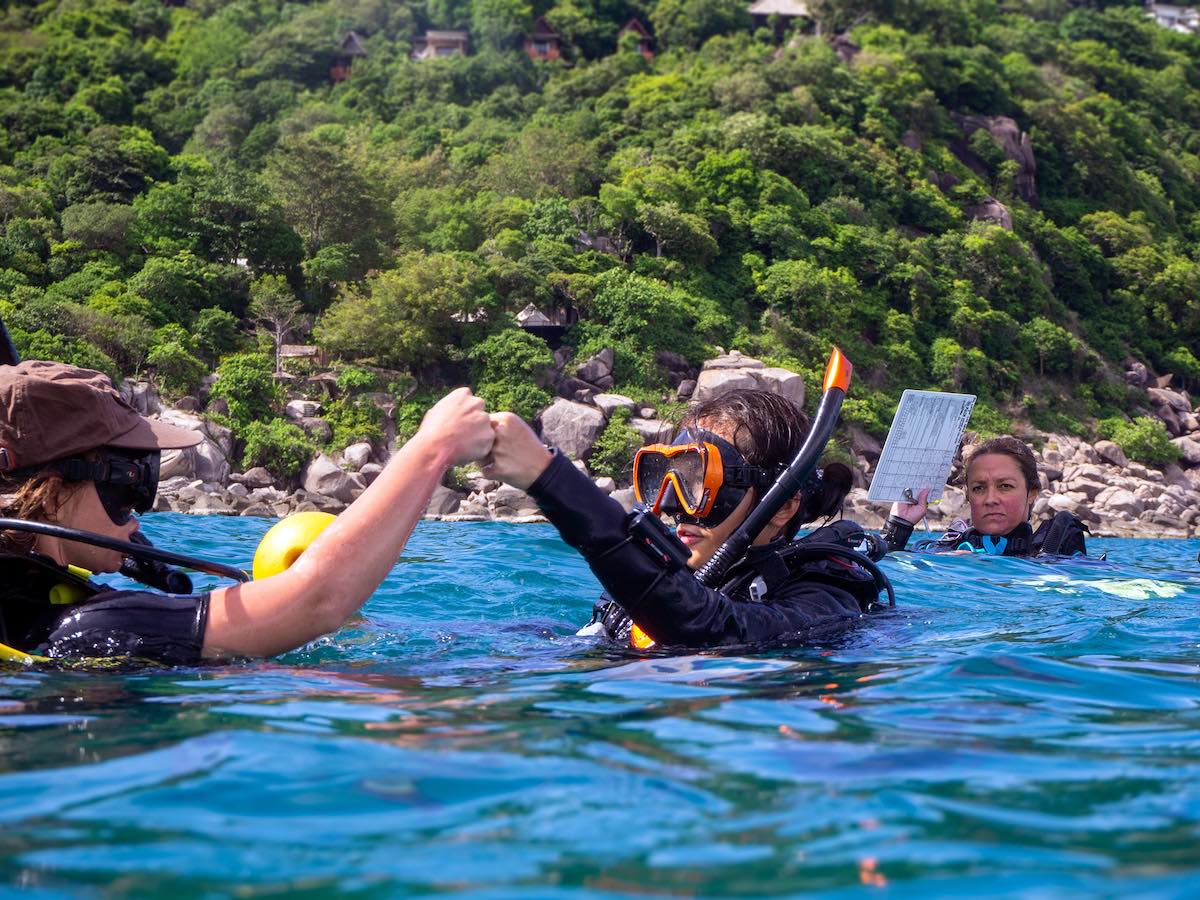 What is included in a Diving Instructor Course in Thailand?
The PADI dive instructor course focuses on teaching new knowledge and skills to both novice and certified scuba divers.
The IDC focuses on the courses and programs a newly certified PADI Open Water Scuba Instructor (OWSI) will be able to teach, upon successful completion of the PADI IE.
These include the Discover Scuba Diving experience program and the most popular entry level course worldwide, the PADI Open Water course.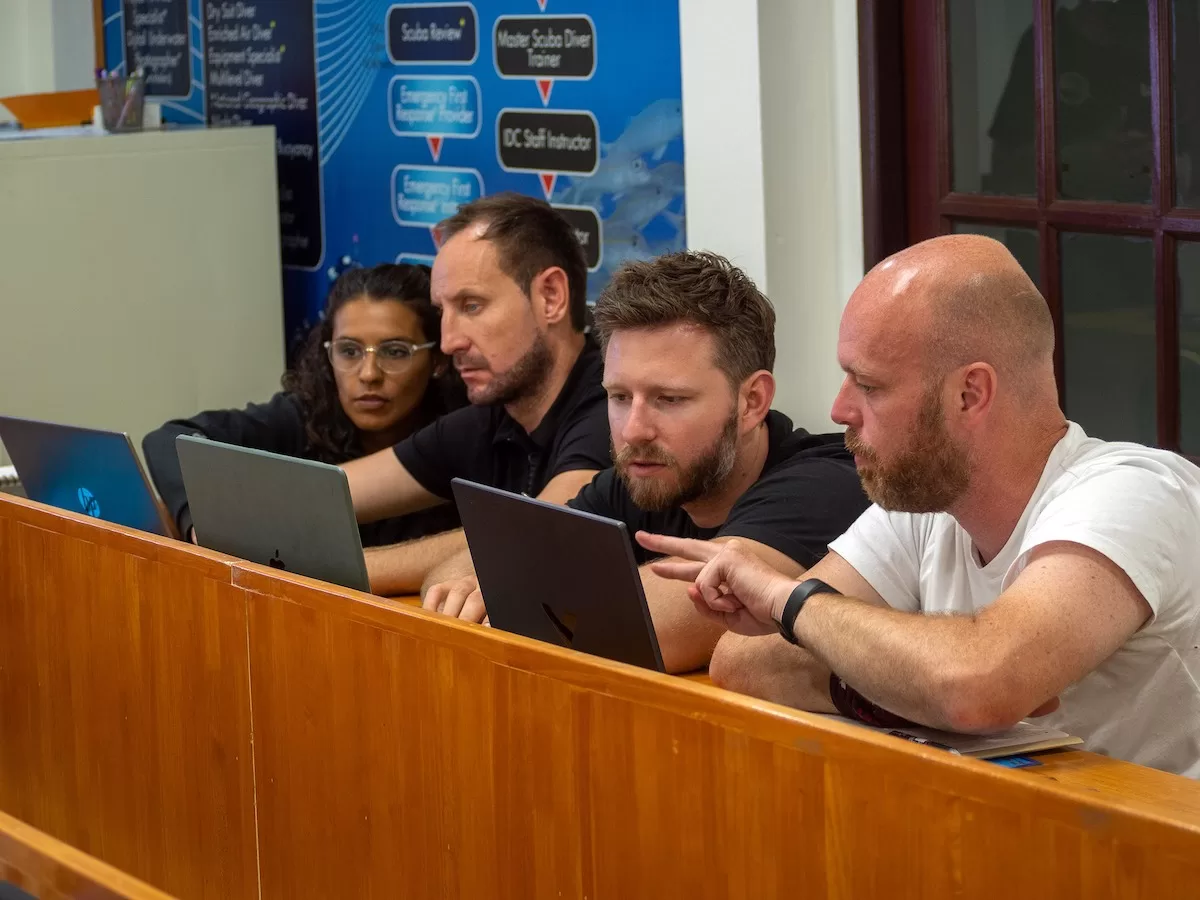 Learn to teach PADI Diver courses
Other courses we focus on include the PADI Advanced Open Water course, the PADI Rescue Diver course and PADI Divemaster course.
Part of the PADI Instructor course in Thailand is the Emergency First Response Instructor course that teaches you how to teach basic first aid and CPR skills and issue EFR certifications with these courses.
During the Black Turtle Dive IDC, we also focus on PADI AWARE courses including the PADI Dive Against Debris Instructor course, something we include within our PADI Instructor Development Course.
We believe all PADI Instructors should be capable of organising and conducting community events such as dive site clean ups, which benefit the marine environment and give PADI Instructors an opportunity to teach their divers about the Marine debris problem the world is currently facing.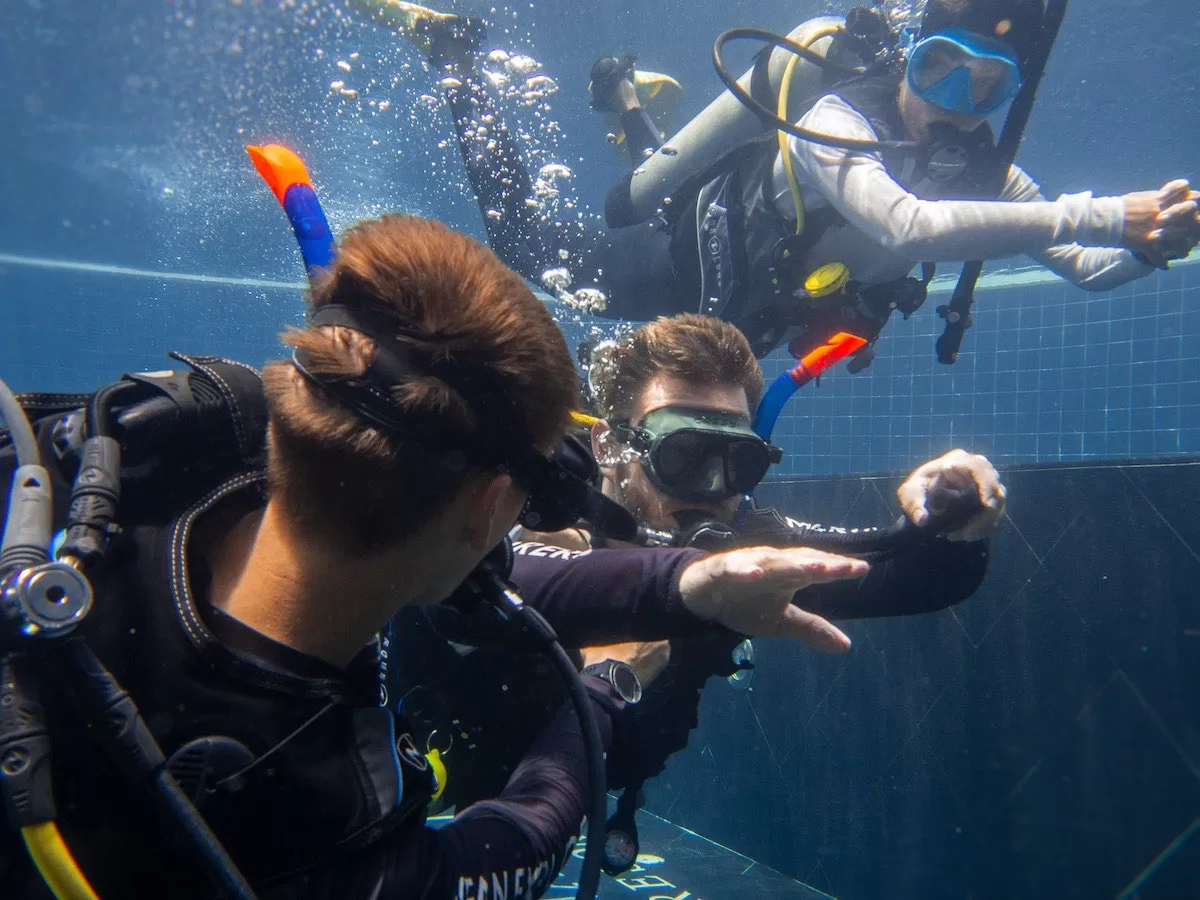 PADI 100% AWARE & Greenfins Eco Dive Centre
Hopefully, diving instructors can positively influence their divers to make changes in their buying decisions and a conscious decision to stop using single use plastics.
During your PADI Instructor course you must complete at least one skill circuit and perform all 24 dive skills from the Divemaster course skill circuit, and score a minimum of 82 total points with no individual score below 3 and with at least one underwater skill score of a 5.
To score a 5 in two of those 24 skills; regulator recovery and mask removal and replacement you must demonstrate them in a neutrally buoyant position. PADI defines this as being 'at least on the tips of your fins'.
But with our high standard of training, you will not be on your fin tips, you will be completely neutrally buoyant.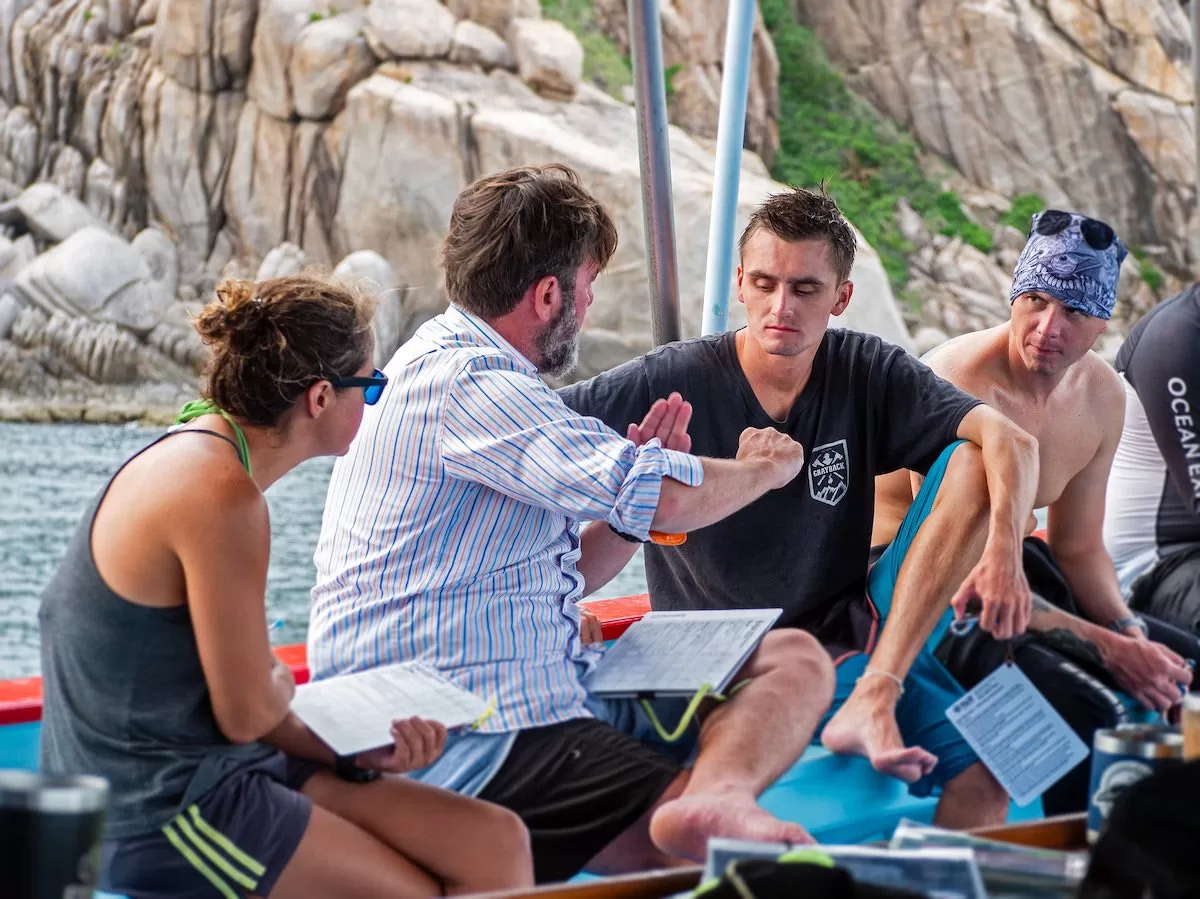 Skill Training in Neutral Buoyancy
During the Black Turtle Dive IDC, we focus on developing and evolving our professional level divers to the best level they can possibly be.
As buoyancy is the most important skill in scuba diving, we include our specially developed Fluid Mechanics Buoyancy Clinic to train you to demonstrate PADI skills in a neutrally buoyant position and have complete control over your position underwater.
By completing our neutral buoyancy workshops and performing the skill circuits neutrally buoyant, you will not just pass the skill circuit, you will Ace it with us.
Black Turtle Dive philosophy is to produce the best and highly-trained PADI scuba divers. To do this we must have the best trained PADI Diving Instructors teaching our students.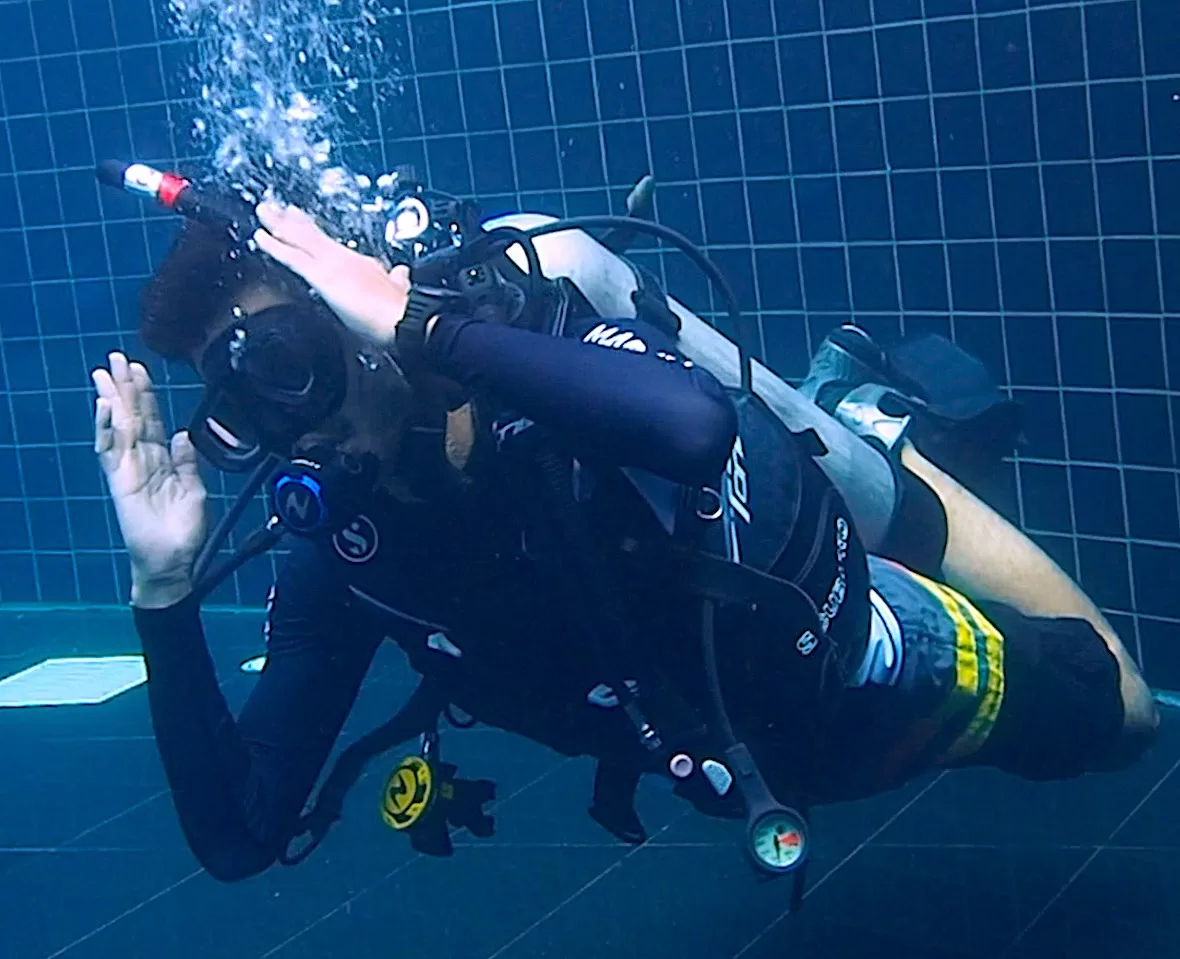 Fluid Mechanics Buoyancy Workshops
Our philosophy for training Dive Instructors, is to train each one of you to the high standards we expect from our own Instructors. In other words, we are training you to work at Black Turtle Dive.
We feel very strongly about buoyancy and encourage all the PADI Diving Instructors that work at Black Turtle Dive to conduct their Open Water skills neutrally buoyant.
As such, we also teach our candidates on the Instructor Development Course to conduct their Open Water skills neutrally buoyant.
This is a much more realistic, and much more environmentally friendly way of conducting skills in real life, rather than have student divers kneeling at the bottom of the sea on the sand.
Not only will your student disturb bottom dwelling marine organisms if they are kneeling down in the sand, they can cause serious damage to those marine organisms and the delicate marine ecosystem that is their home.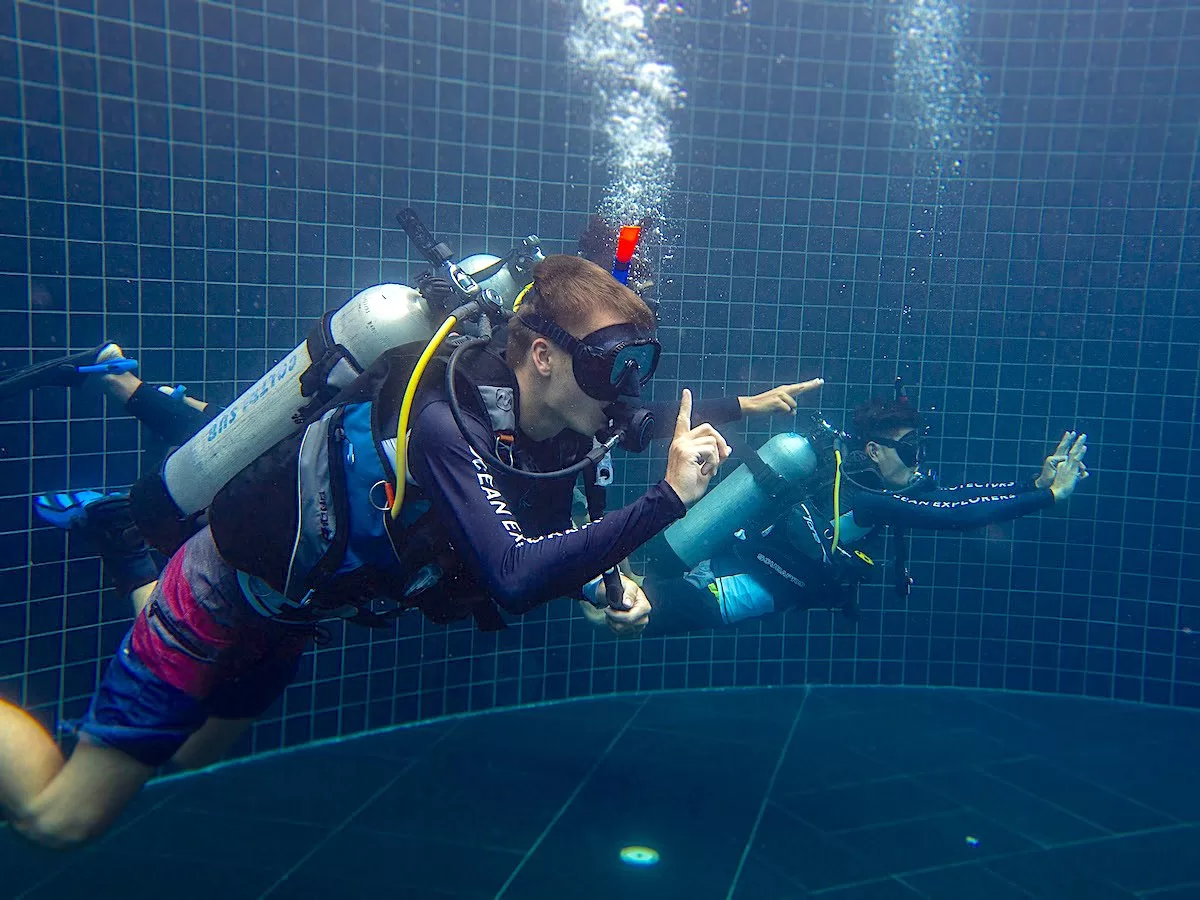 Your PADI Diving Instructor Course in Thailand at Black Turtle Dive
Black Turtle Dive PADI Dive instructor course is a 14-day program that will train you to become a PADI Open Water Scuba Instructor, a PADI Emergency First Response Instructor and a Dive Against Debris Instructor.
With these qualifications under your belt, you can travel the world and work as a PADI Professional anywhere you want.
We include the free use of our scuba equipment with every PADI Instructor Development Course, including the use of a dive computer.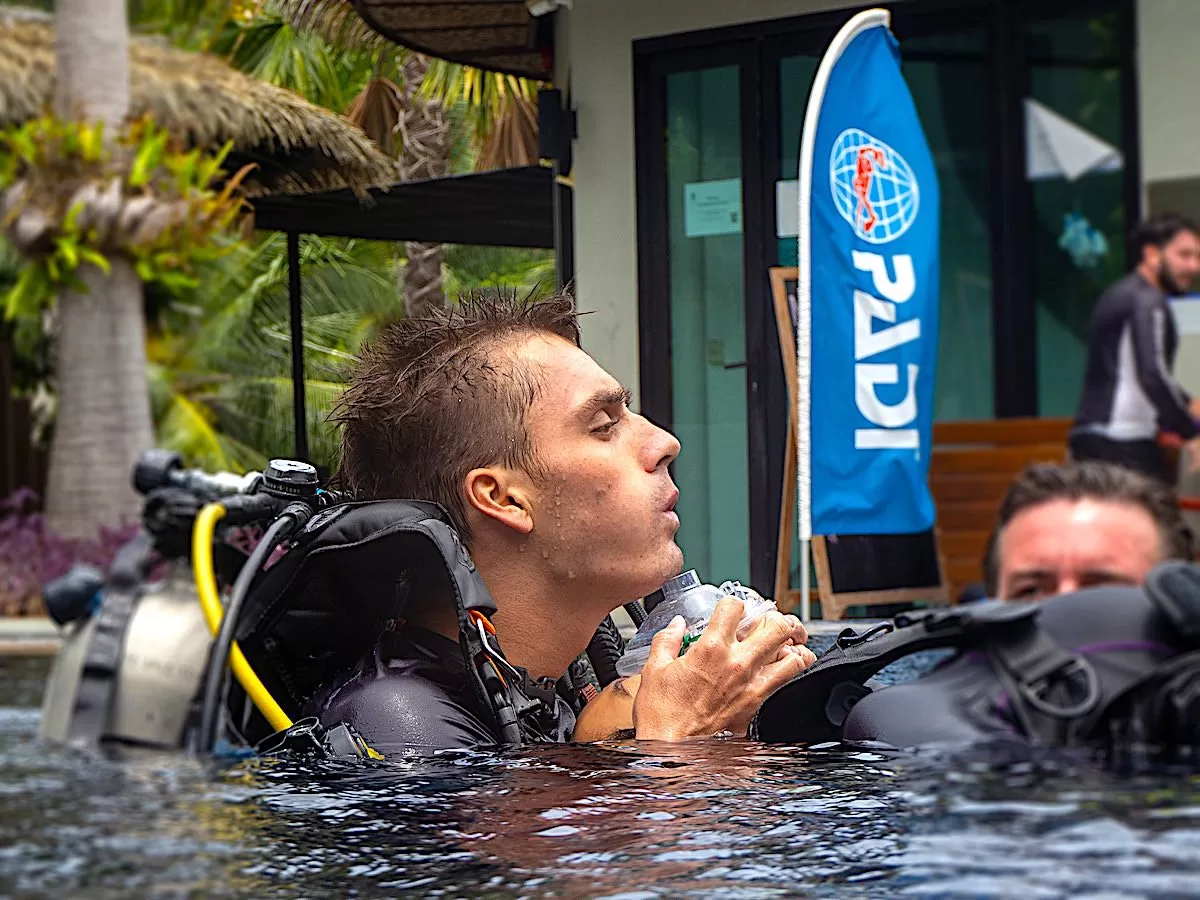 Full Set of Scuba Diving Equipment
However, if you are serious about working as a scuba diving professional then we strongly recommend that you get your own dive equipment, which we can help you source from our suppliers.
Reputable PADI Dive Centers expect PADI Instructors seeking employment to own their own full set of scuba equipment, just the way you would expect a carpenter you employed to work on your house, to arrive with a full set of tools to do the job.
Owning your own diving equipment that you are comfortable and familiar with, is an absolute must for any aspiring PADI dive instructor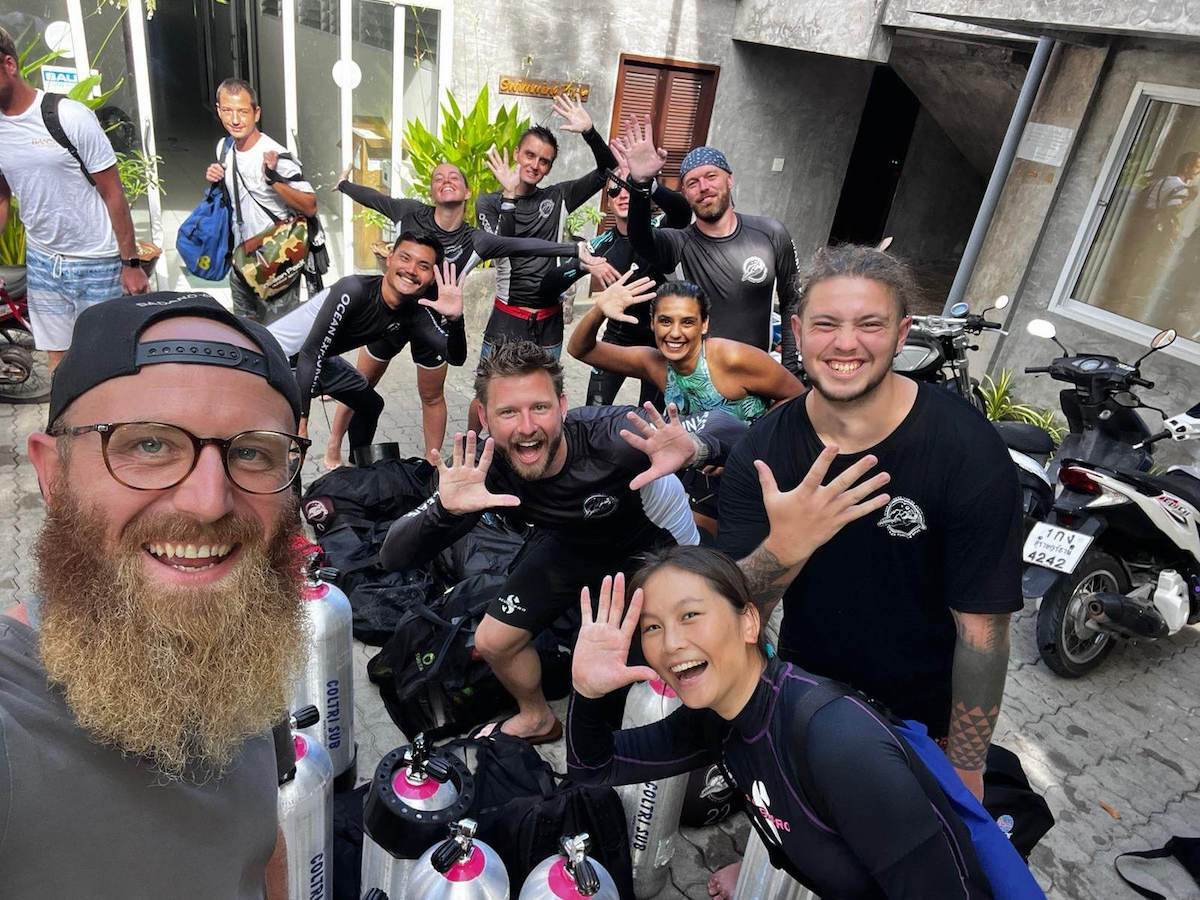 Our Customer Promise
You also get our Black Turtle Dive Promise with every PADI IDC. We believe in respect for both our customers, our marine environment, and our tropical home.
For us, respect means responsibility, equality and diversity, high service standards, protecting and conserving our environment, striving for excellence, fostering a strong dive community, and conducting training to the highest standards.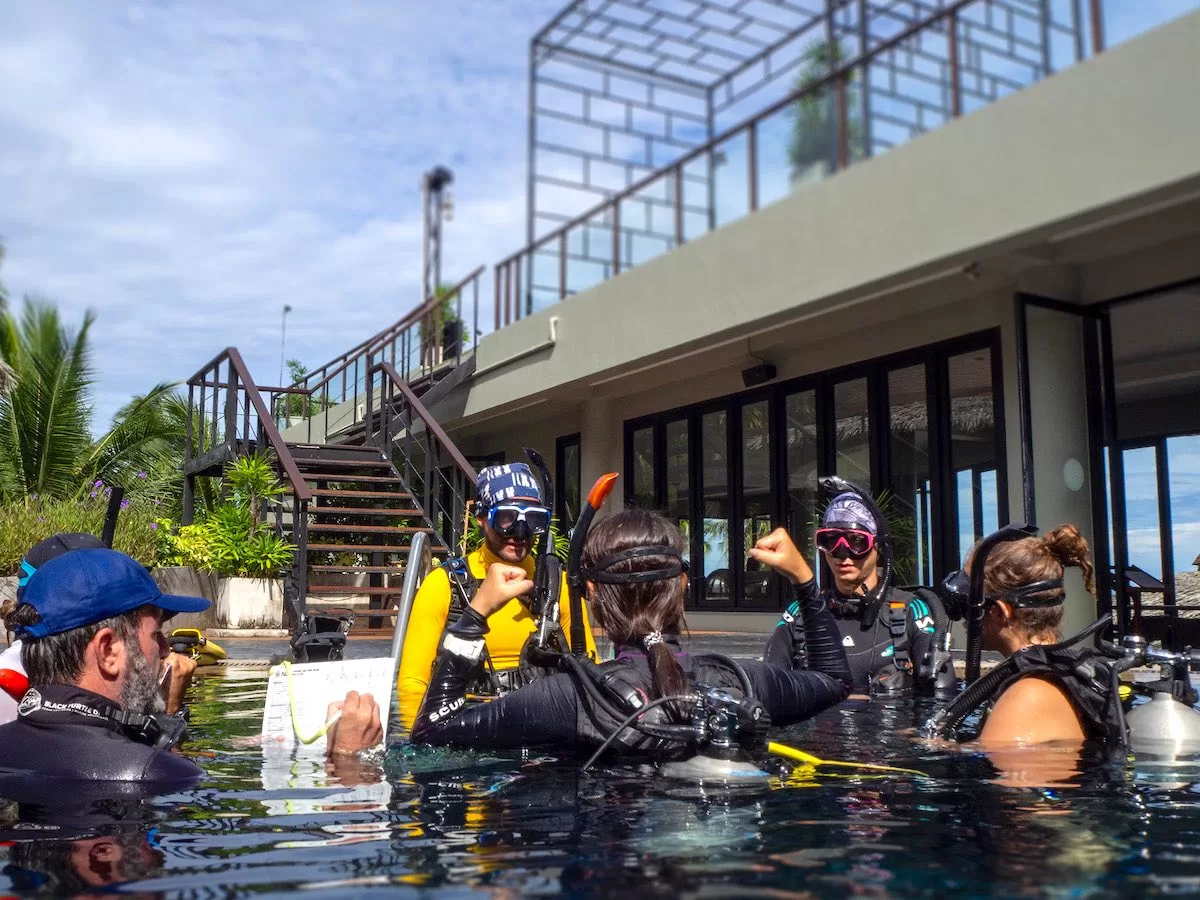 Why is Koh Tao the best location for PADI Dive Instructor Training?
Koh Tao ("Turtle Island" in Thai language) is a warm, tropical paradise located in the Gulf of Thailand, part of the Chumphon Archipelago that also includes Koh Samui and Koh Phangan.
Located around 70 kilometers from Koh Samui, Koh Tao is known for its beautiful beaches, clear water, abundant marine life and the most popular destination in the world for scuba diving and snorkeling.
Local fishermen originally gave the island its name because they believed the shape of the island resembled a turtle when approached by sea from the south.
At approximately 21 square kilometers, Koh Tao is a very small island. In fact, when displayed on Google Maps, the location pin is often bigger than the island itself.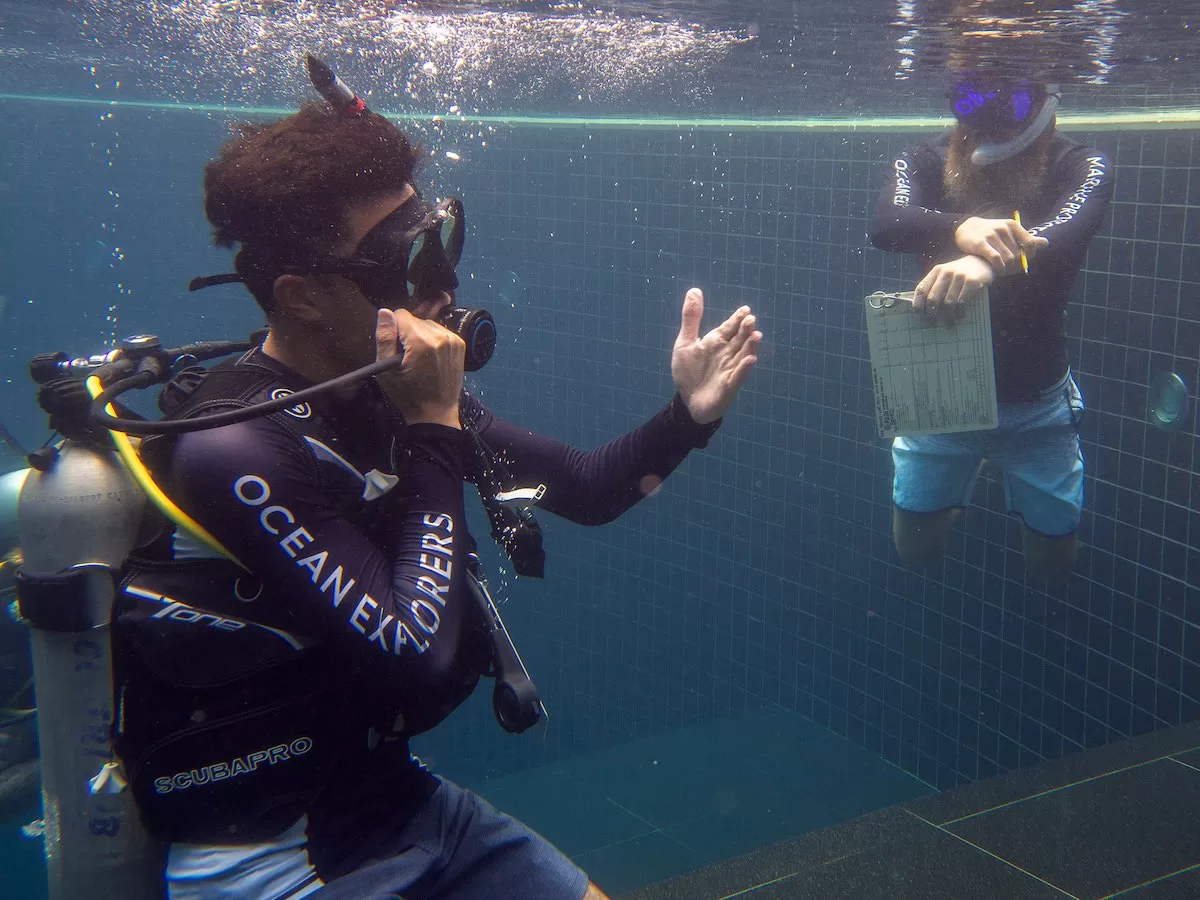 Tourism & Scuba Diving on Koh Tao
With a full-time local population of only a couple of thousand people, the economy on Koh Tao is based almost exclusively on tourism and scuba diving.
While our small island is less developed than neighbouring Koh Phangan and Koh Samui, it is certainly more charming, one of the reasons why it is the perfect place to do your scuba diving instructor course in Thailand.
With over 50 dive centres on the island Koh Tao certifies approximately 80,000 scuba divers per year. This presents lots of opportunities for you to connect with other divers, make new friends, and find employment after you have completed your PADI Instructor Development Course.
Completing PADI scuba training on Koh Tao is a bit like taking an immersive language course. We live, eat, and breathe scuba diving on Koh Tao. And you will too.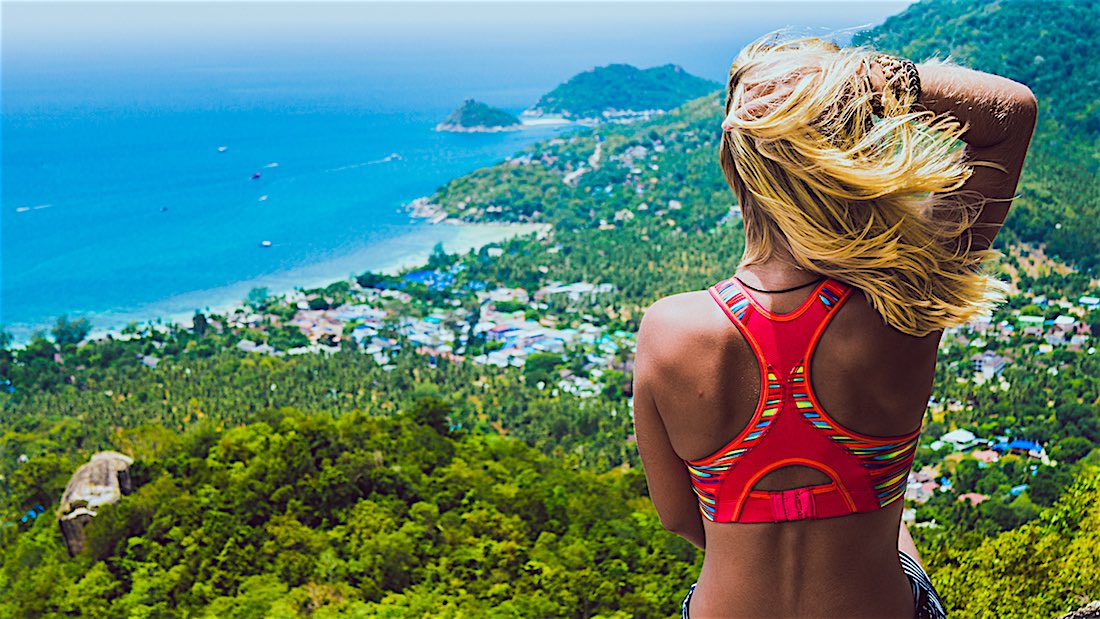 Amazing Viewpoints on Koh Tao
And Koh Tao is not just scuba diving. The island boasts some great viewpoints and nature trails for those that like to explore and be close to nature, and the island has many shallow bays that are perfect to snorkel or swim.
For the more active minded Koh Tao has a variety of gyms offering boxing, Muay Thai, Jujitsu, MMA, HITT classes, core strength training, yoga and much more, not to mention a Trapeze and even a shooting range.
The island has a vibrant café and beachside restaurant scene, boasting some great tea and coffeeshops, tasty French & Danish pastries, and delicious food & drink from all over the world including Japanese, Korean, Italian, French and of course our personal favourite is Thai cuisine.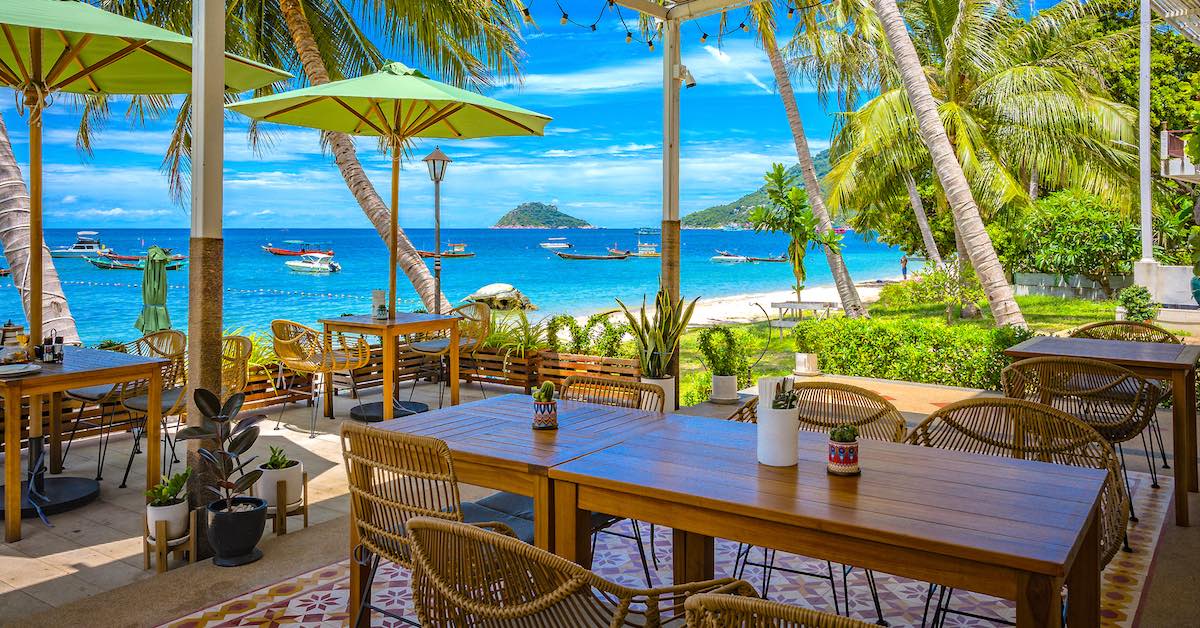 Cafes & Beachside Restaurants
Koh Tao is a popular destination for all types of global travellers, and it is especially popular with scuba divers and snorkelers. The island offers a relaxed atmosphere and a wide variety of accommodation options, from budget-friendly hostels to luxurious resorts.
So, when you are not diving, and not on your PADI Instructor Development Course, there is still lots to do on Koh Tao to keep you occupied.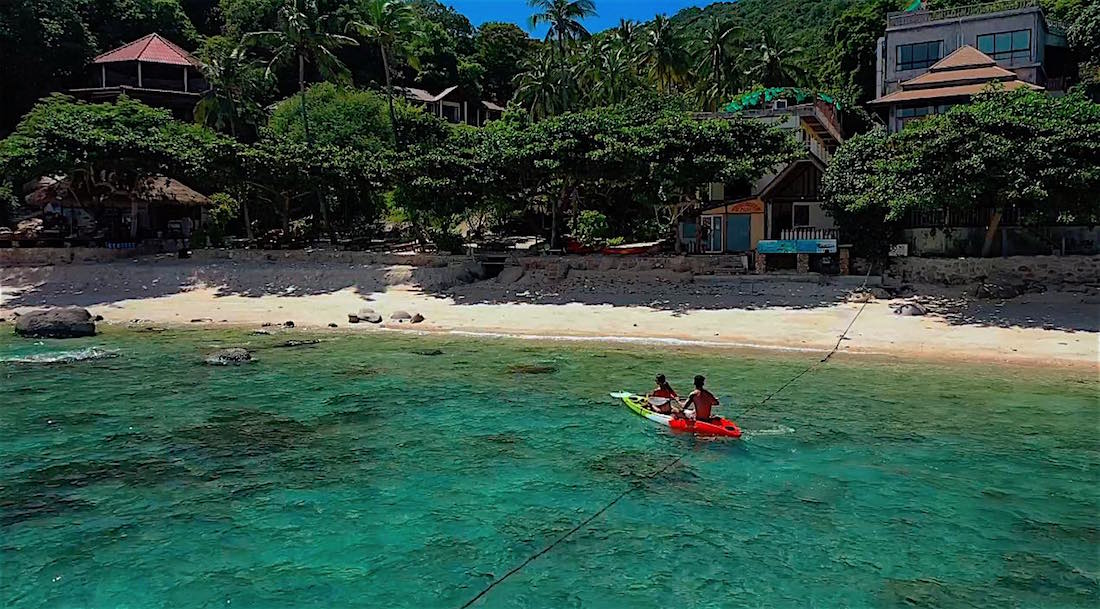 Things you can do on Koh Tao
Scuba diving and snorkeling in Koh Tao
Scuba diving and snorkeling: Koh Tao is one of the best places in the world to learn to dive, and it also has the most beautiful dive sites in the Gulf of Thailand. You can see a wide variety of marine life, including whalesharks, sharks, turtles, pelagics and an abundance of reef fish.
Hiking and exploring in Koh Tao
Hiking and exploring: Koh Tao is a small island, but there are still some great hiking trails to explore. You can hike to the top of all the best viewpoints on Koh Tao or hike to the beaches on the south, north, west or east coast.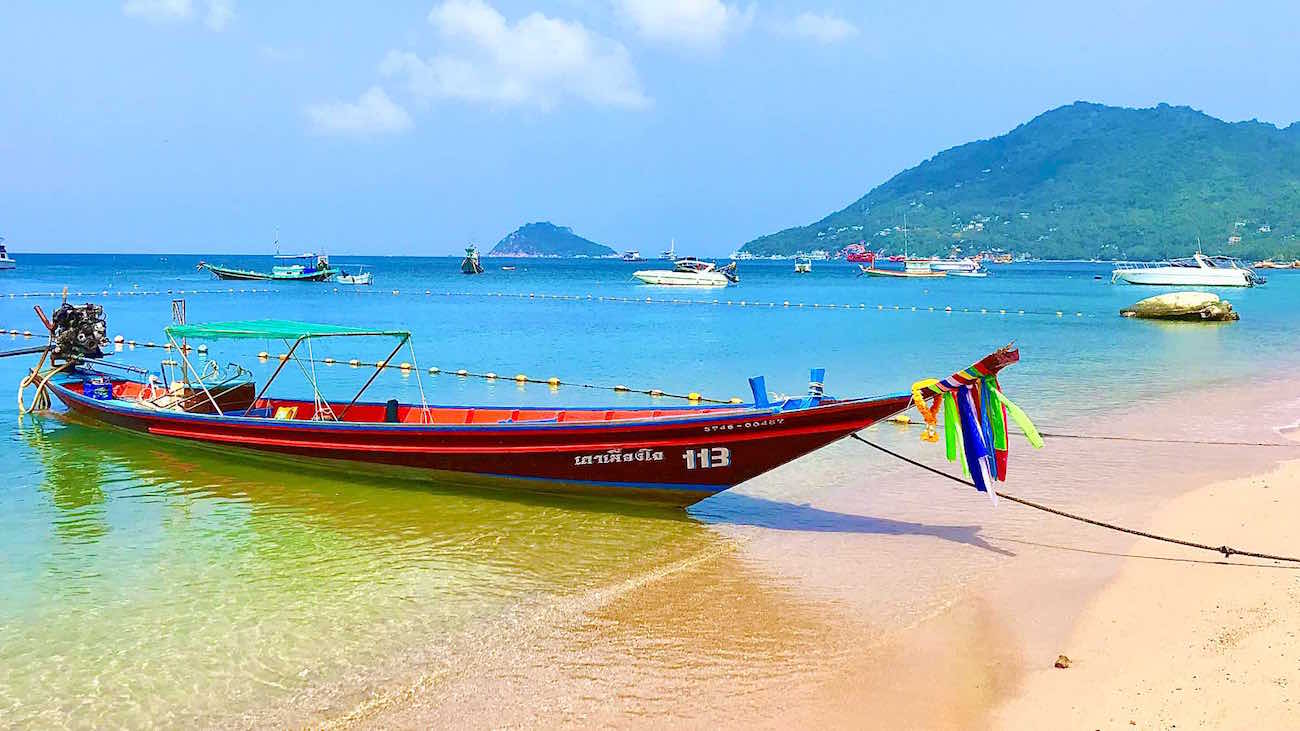 Relaxing on the beach in Koh Tao
Relaxing on the beach: Koh Tao has some of the most beautiful beaches in Thailand. You can relax on the beach, swim in the ocean, Paddleboard, Kayak or go for a walk along the beach.
Koh Tao is a great choice for aspiring Divemaster candidates and PADI Dive Instructor candidates, who want the best training and who want to live the tropical island lifestyle.
If you are looking for an amazing, relaxing, and adventurous destination, to take your PADI Instructor Development course, Koh Tao is the best choice in Thailand.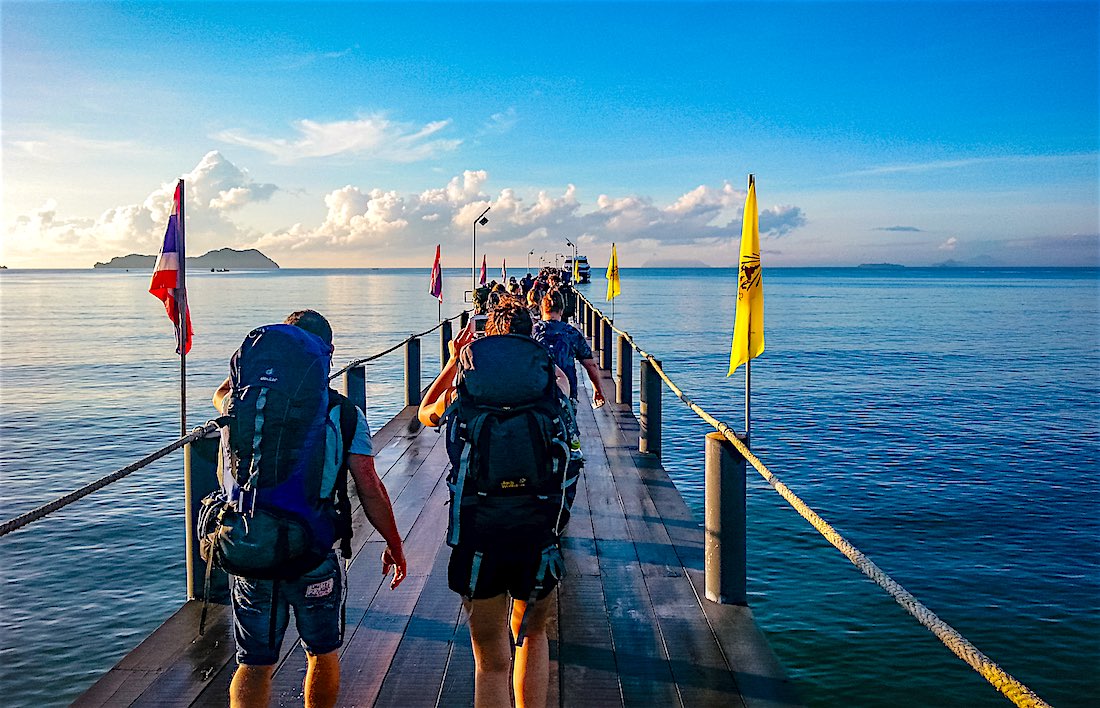 How to get to Koh Tao for my Diving Instructor Course?
Koh Tao is not a difficult place to get to, however, it is also not the easiest. That would be another reason why we think that Koh Tao is the perfect place to do a diving instructor course in Thailand.
One thing that tourists notice all the time is that there are no large commercial planes that overfly the island. That is because there is no airport on Koh Tao.
You cannot access the island directly by air and the closest airports to Koh Tao are on Koh Samui, and in Surat Thani and Chumphon on the mainland.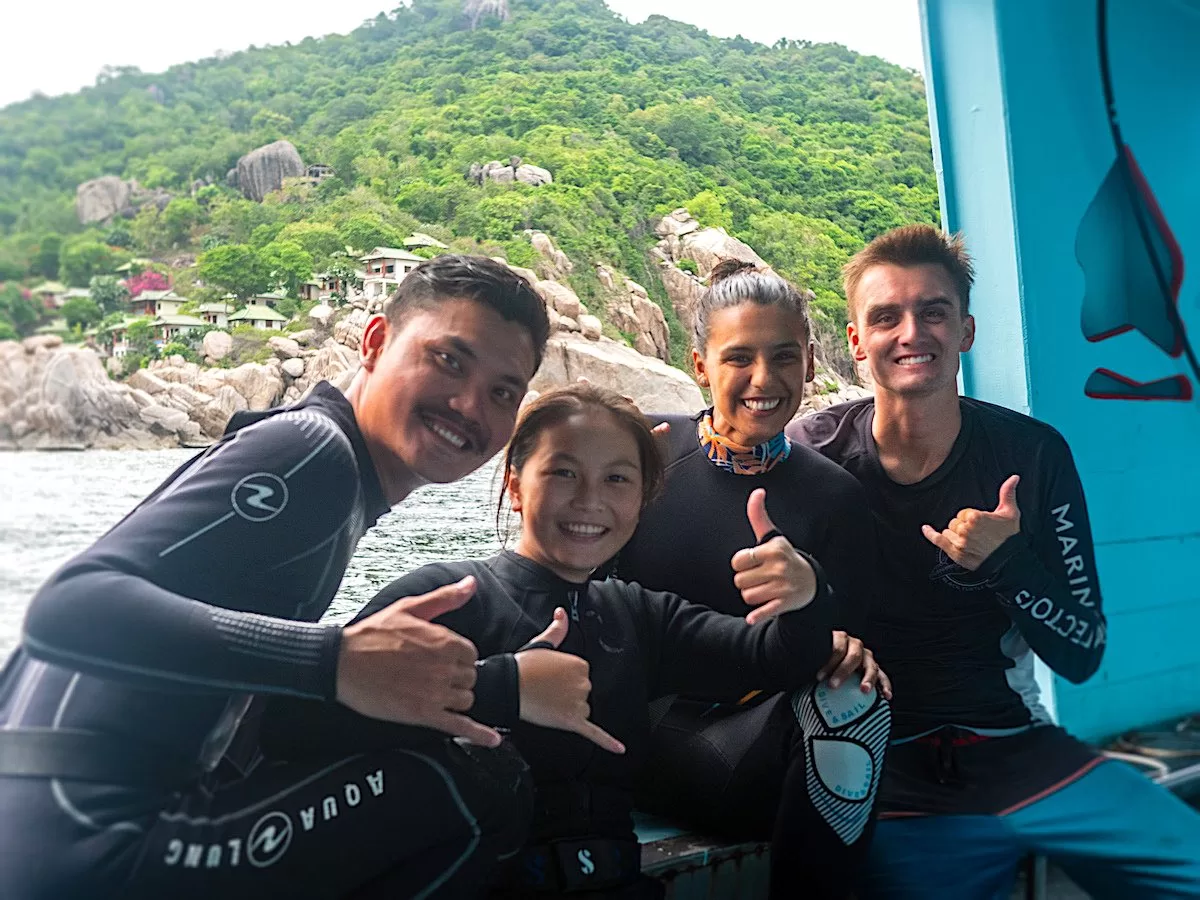 High Speed Ferries to Koh Tao
The only way to access Koh Tao is by ferry boat. The primary ferry company for transportation between the Gulf islands is Lomprayah, a highly-established ferry company that has been moving people between the islands for over 20 years and they are typically the top choice for tourists.
Lomprayah has large catamaran-style boats that are comfortable, very seaworthy, and offer both air-conditioned and open-air sitting areas. They depart from Surat Thani, Koh Samui, Koh Phangan and Chumphon.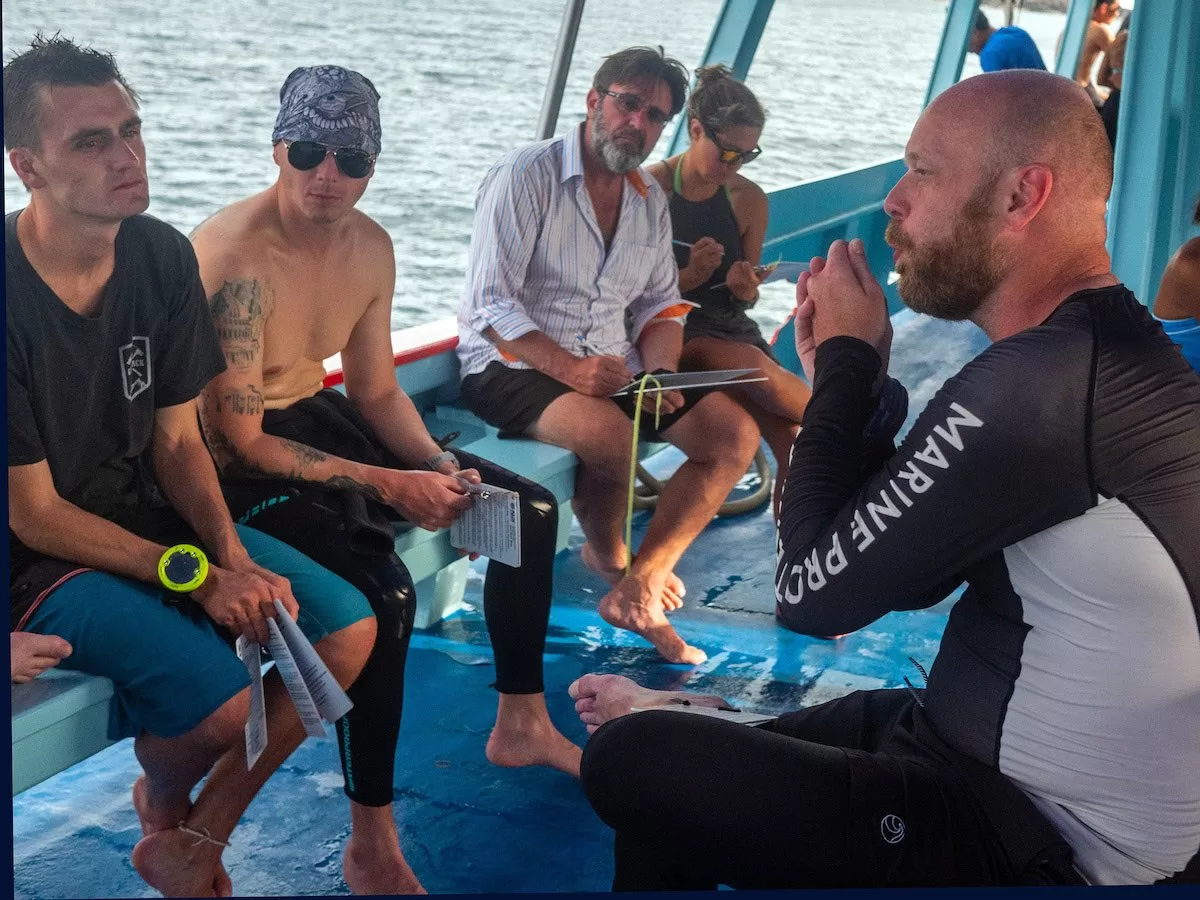 Night Boats to Koh Tao
Alternatively, there are comfortable night boats, with sleeping compartments that depart from Surat Thani or Chumphon most nights. These will arrive on Koh Tao early morning.
Do you have questions or concerns about getting to Koh Tao? We have been travelling these waters for over 25 years and we are experts on travelling to and from Koh Tao. Get in touch with us today and let us bring some good visibility to your travel plans.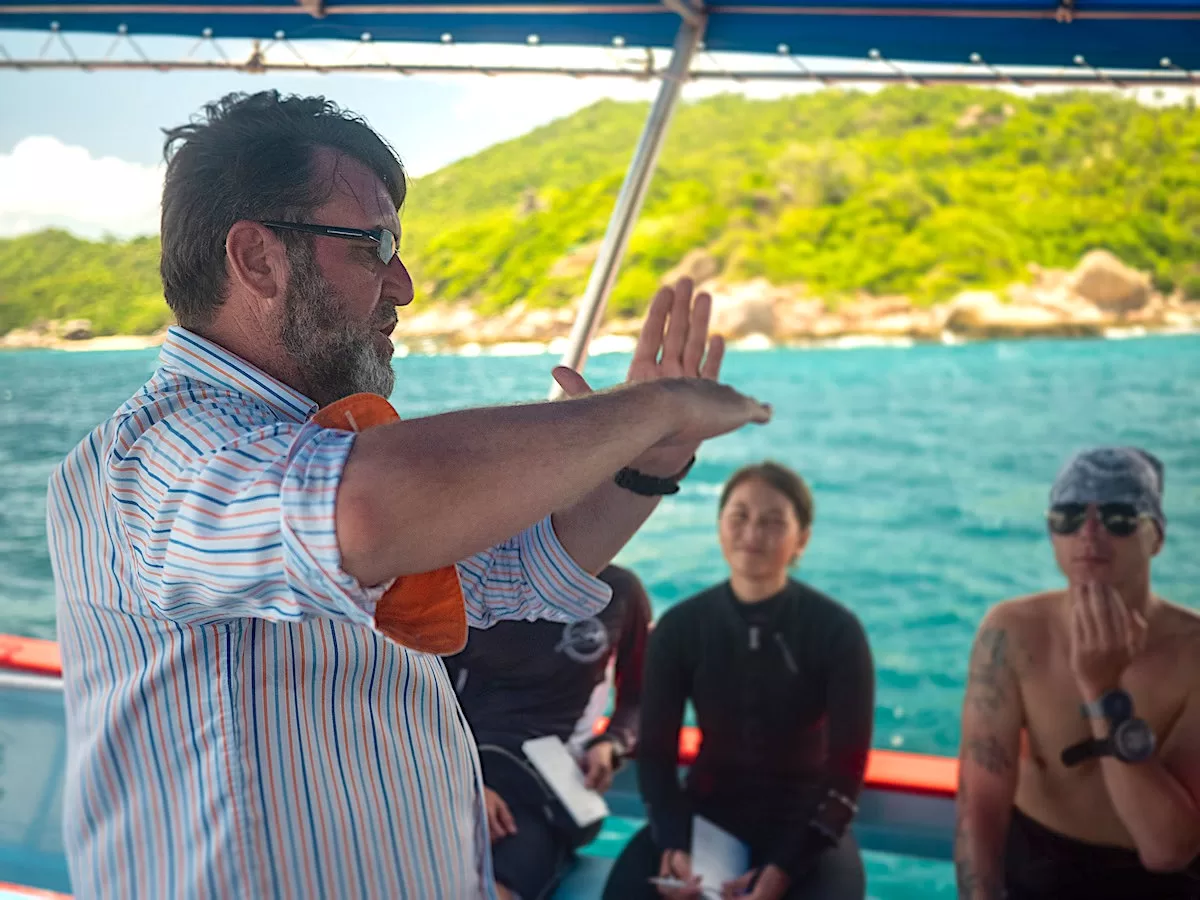 When is the best time to take a Diving Instructor Course in Thailand?
The truth is that anytime is a good time to do a scuba diving instructor course in Thailand.
Absolutely anytime is the perfect moment to make a choice that will forever change the direction of your life.
When it comes to weather and general diving conditions, the nicest months of the year are usually from January to roughly around September. During this part of the year rain is infrequent and the conditions on our local dive sites can be fantastic.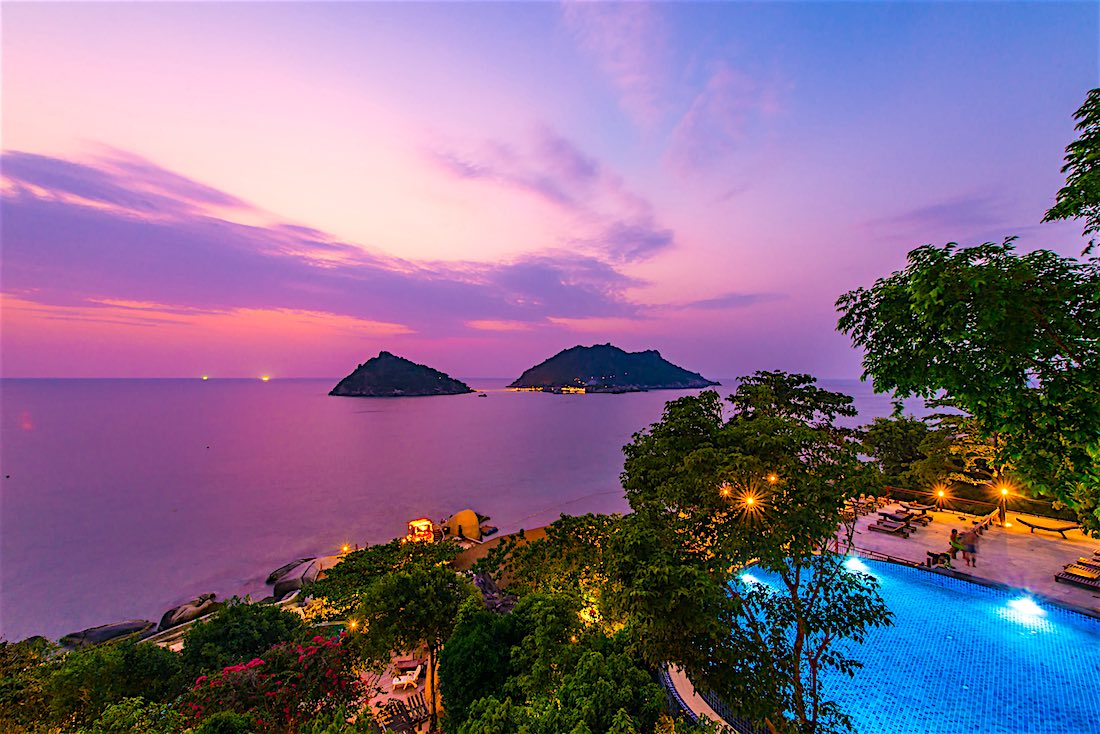 Weather on Koh Tao, Thailand
Learning how to teach scuba diving in clear and calm conditions really is a treat, especially if a whale shark or two happen to visit you whilst diving.
However, while completing your PADI Open Water Scuba Instructor Course during the nicest months of the year will be a boatload of fun, you will gain better experience if you complete your PADI diving course during our monsoon months.
Diving conditions during monsoon can be more unpredictable and water visibility can drop to a couple of meters, water temperature can drop to 24-26 degrees celcius.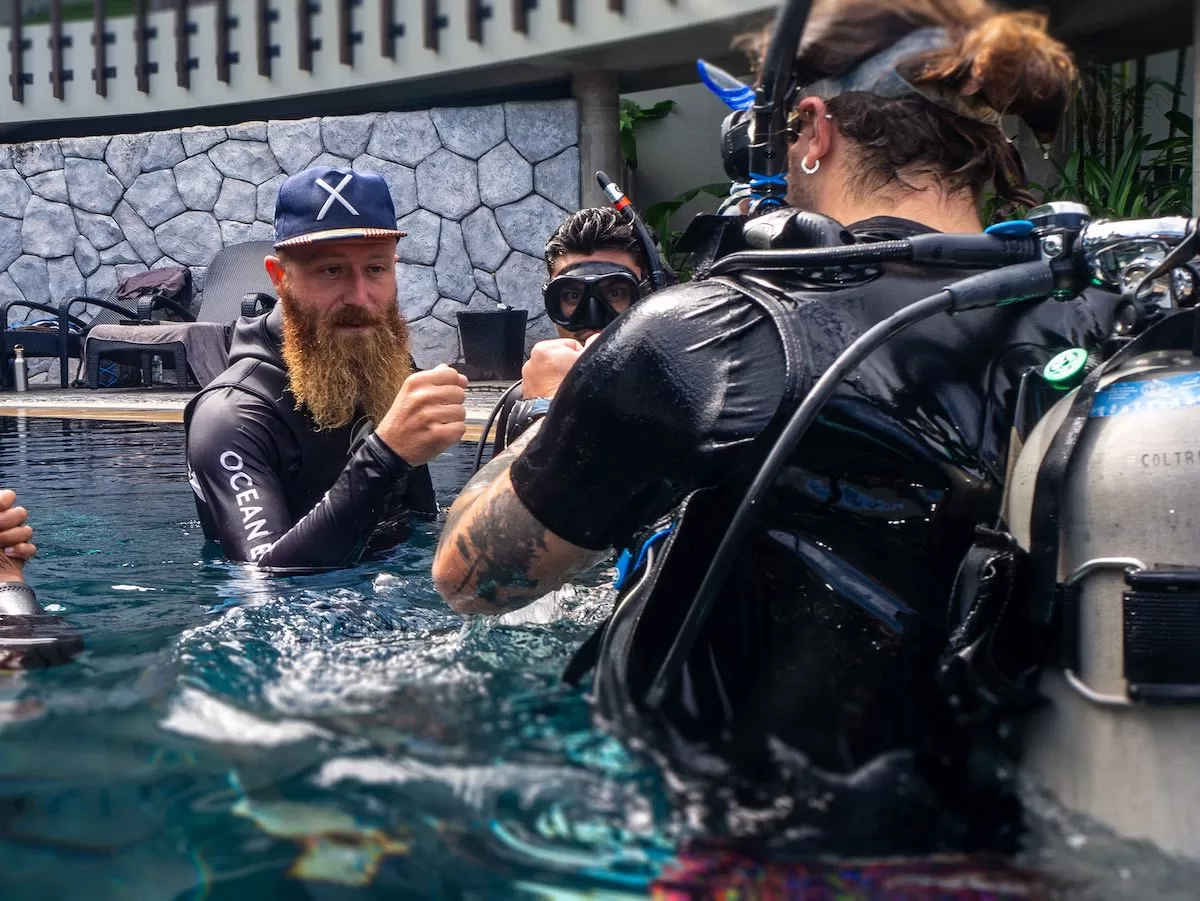 Learn to teach Scuba Diving on Koh Tao
If you complete your diving instructor course in Thailand in these conditions, you will be better prepared to teach new scuba diving students in any kind of weather.
It may sound trivial however, we see lots of dive professionals who skip working on days when the diving conditions are poor, because they do not have the experience or the confidence to teach properly in conditions that are not perfect.
Do not be one of these scuba diving instructors – get experience diving and teaching in a range of dive site conditions so that you can be in control of your PADI career, not the weather.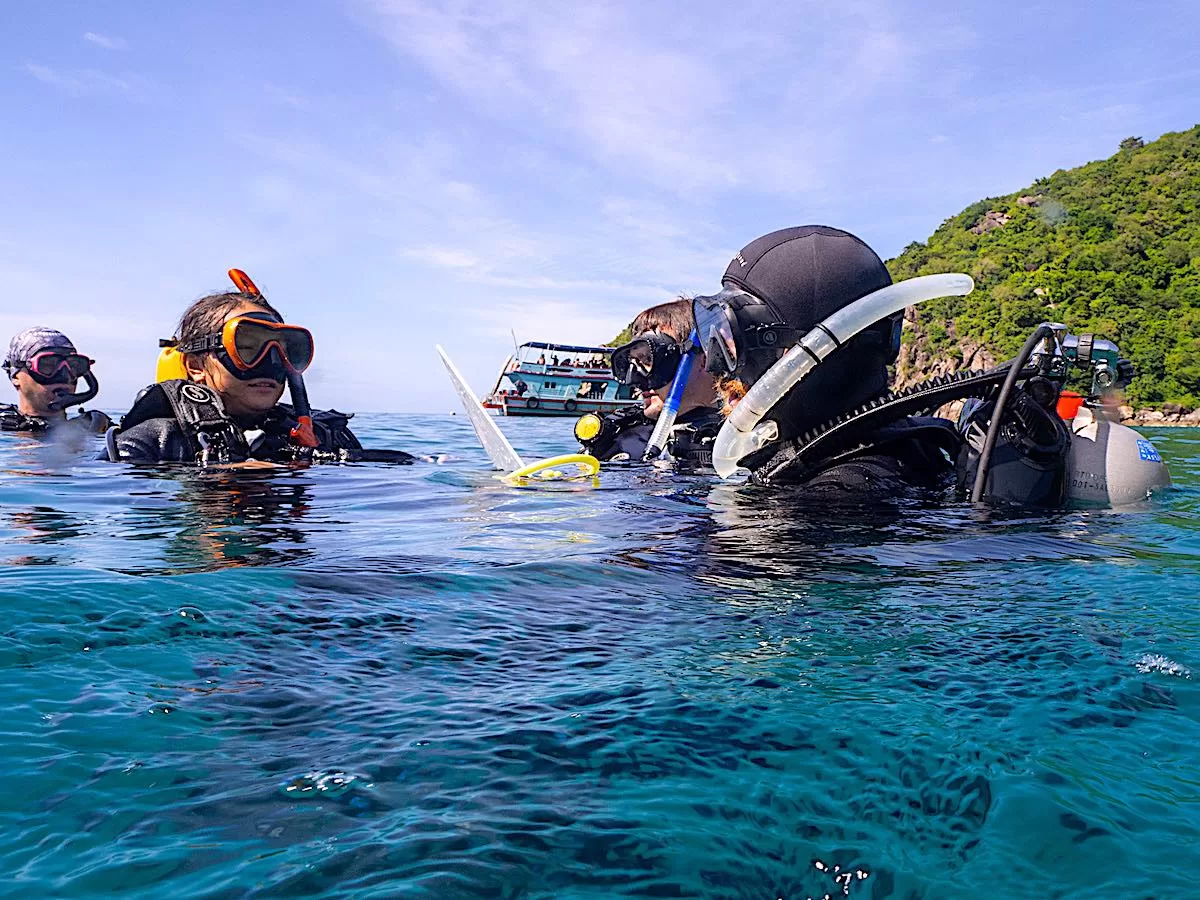 Can I do a Dive Instructor Internship in Thailand?
Not only CAN you do a dive instructor internship in Thailand, but we strongly encourage it.
Like any precise skill, scuba diving takes practice to master. While experienced scuba divers may make things like buoyancy control look like a piece of cake, their execution of these skills is perfect only because they have had lots of practice.
Being a PADI Open Water Scuba Instructor means you need to be in total control of yourself underwater, and you also need to teach and demonstrate underwater scuba skills while still maintaining complete underwater control of your students. This takes practice.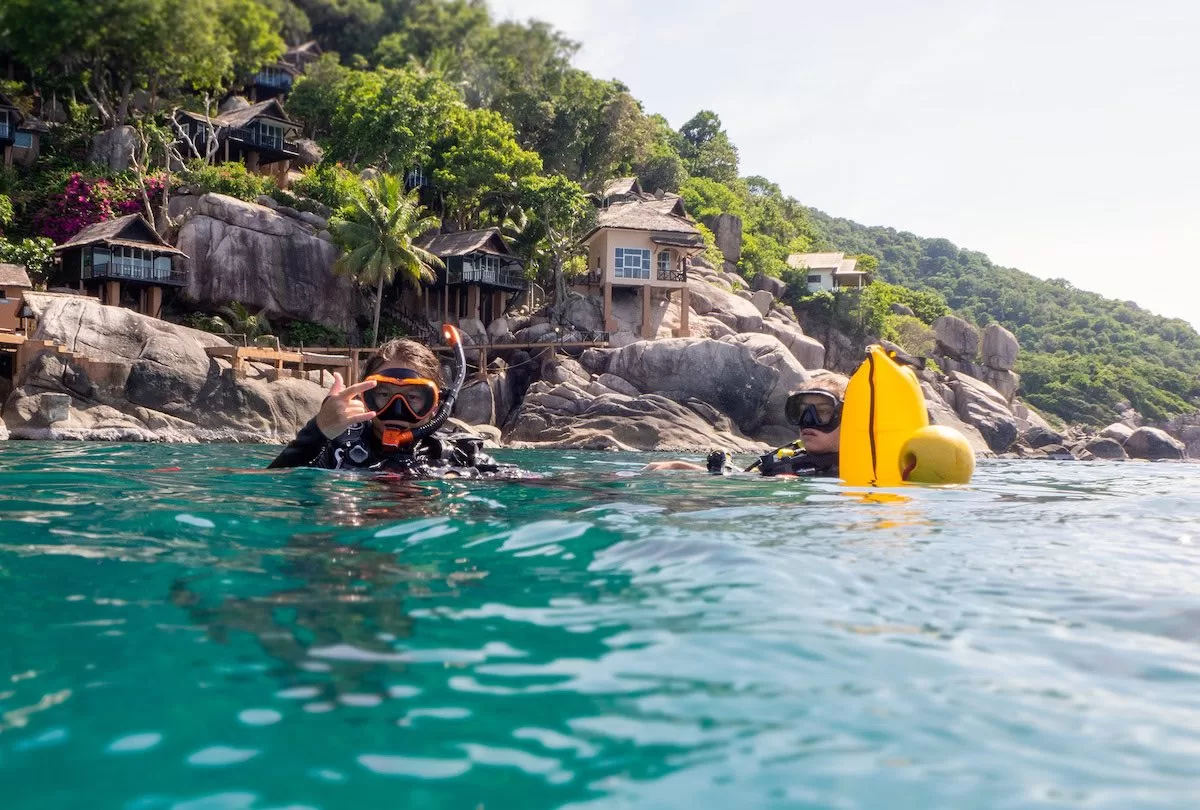 Becoming a PADI Diving Instructor on Koh Tao
Teaching scuba diving is also quite different from working as a professional PADI divemaster.
Experienced PADI Scuba Instructors know how to teach PADI courses to high organizational standards, whilst teaching in their own style.
Just like a brand-new elementary teacher will not be the students favourite on their first day, a new PADI Scuba Instructor will need to practice and perhaps an opportunity to learn from a mentor before they can be fully comfortable in all teaching situations.
This is why a team-teaching Scuba Internship is your best option to fully prepare you to teach medium to large groups of divers.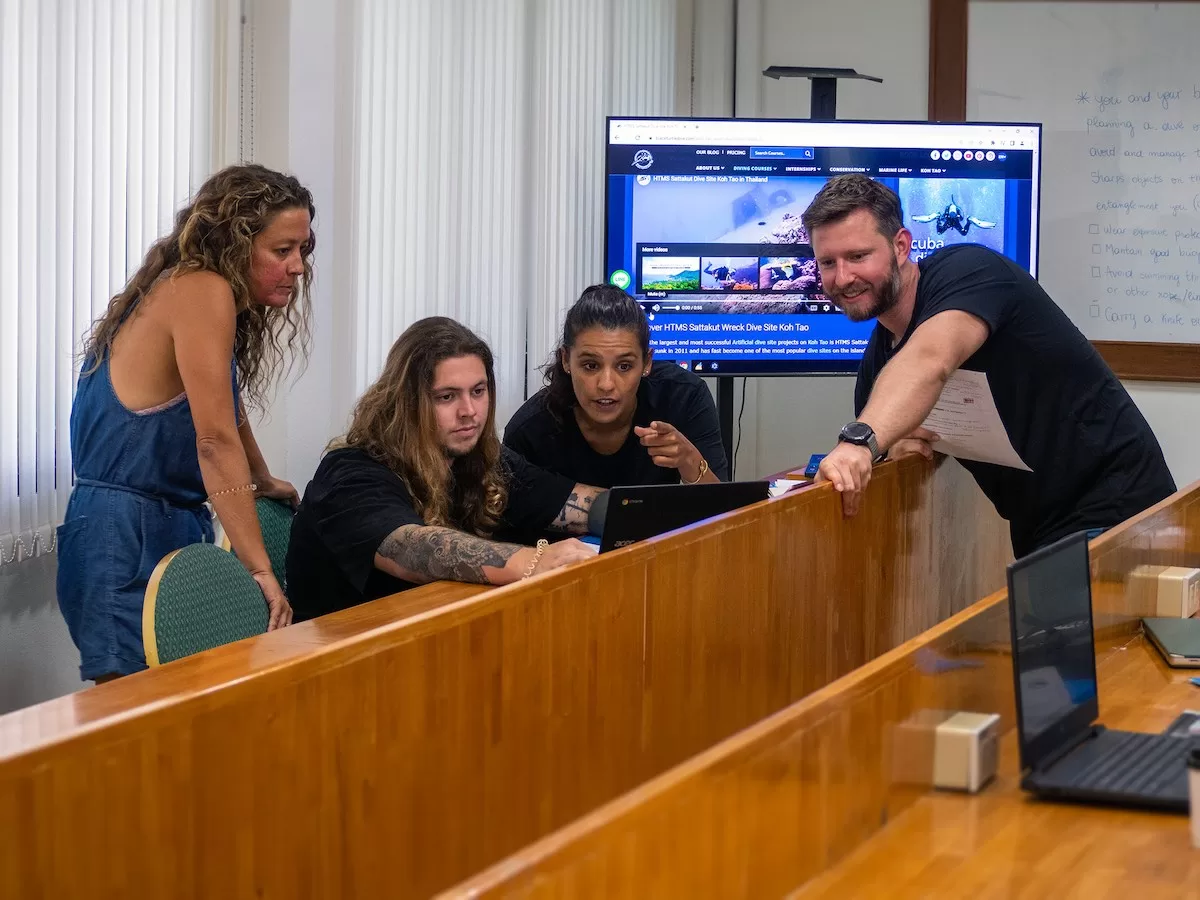 Diving Instructor Team Teaching with a Mentor
Working alongside a more experienced 'mentor' Instructor, we build up your skill level and confidence, at your own pace, as you participate in briefings and debriefings, demonstrations and problem solving with real life students.
Your mentor Instructor will look after time management, and ensure everything stays on schedule whilst helping you to develop your newly learned Instructor skills and techniques.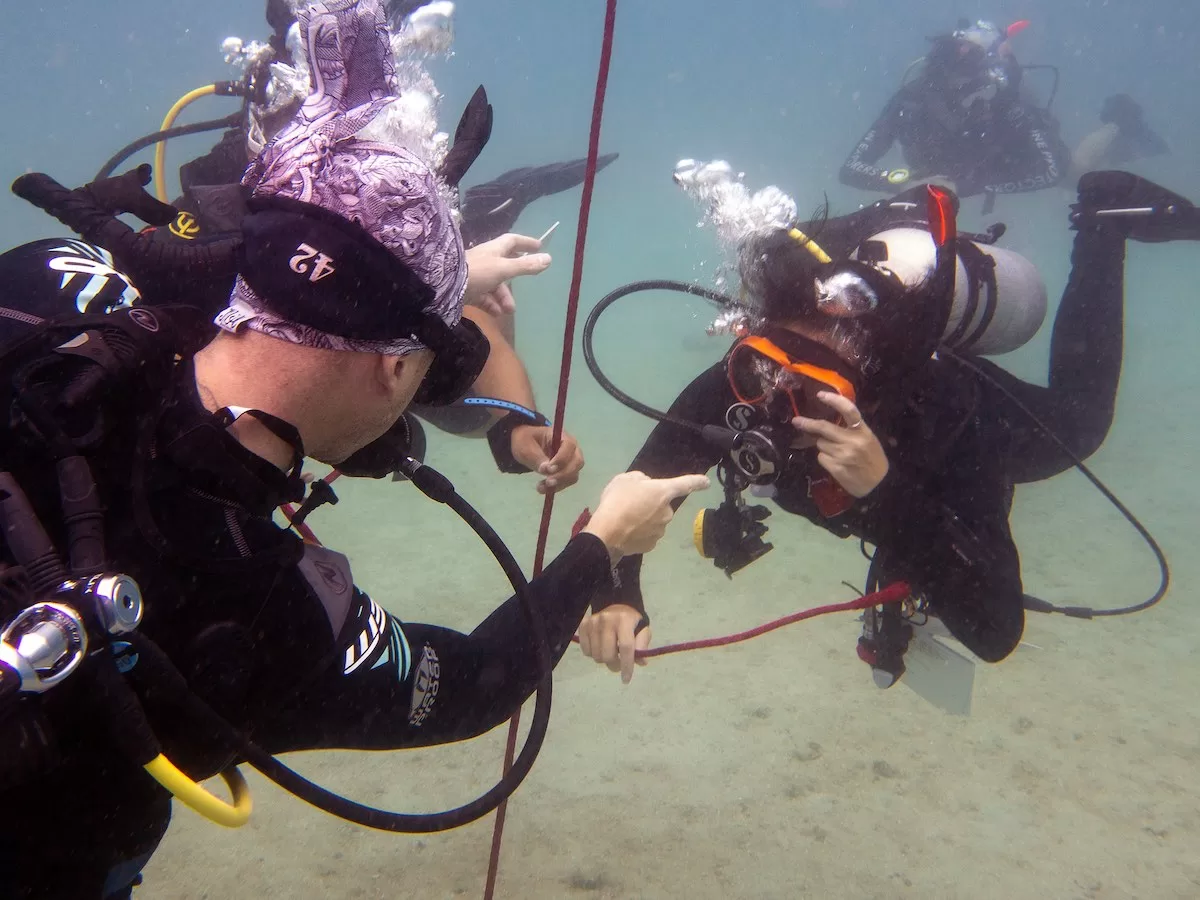 Diving Instructor Internships in Thailand
Your team-teaching Internship will give you the benefit of team-teaching several Open Water courses, and some continuing education courses such as the Advanced or Rescue courses.
Once you have completed the Diving Instructor Internship you will be much more comfortable teaching your own multiple student groups to the high Black Turtle training standards.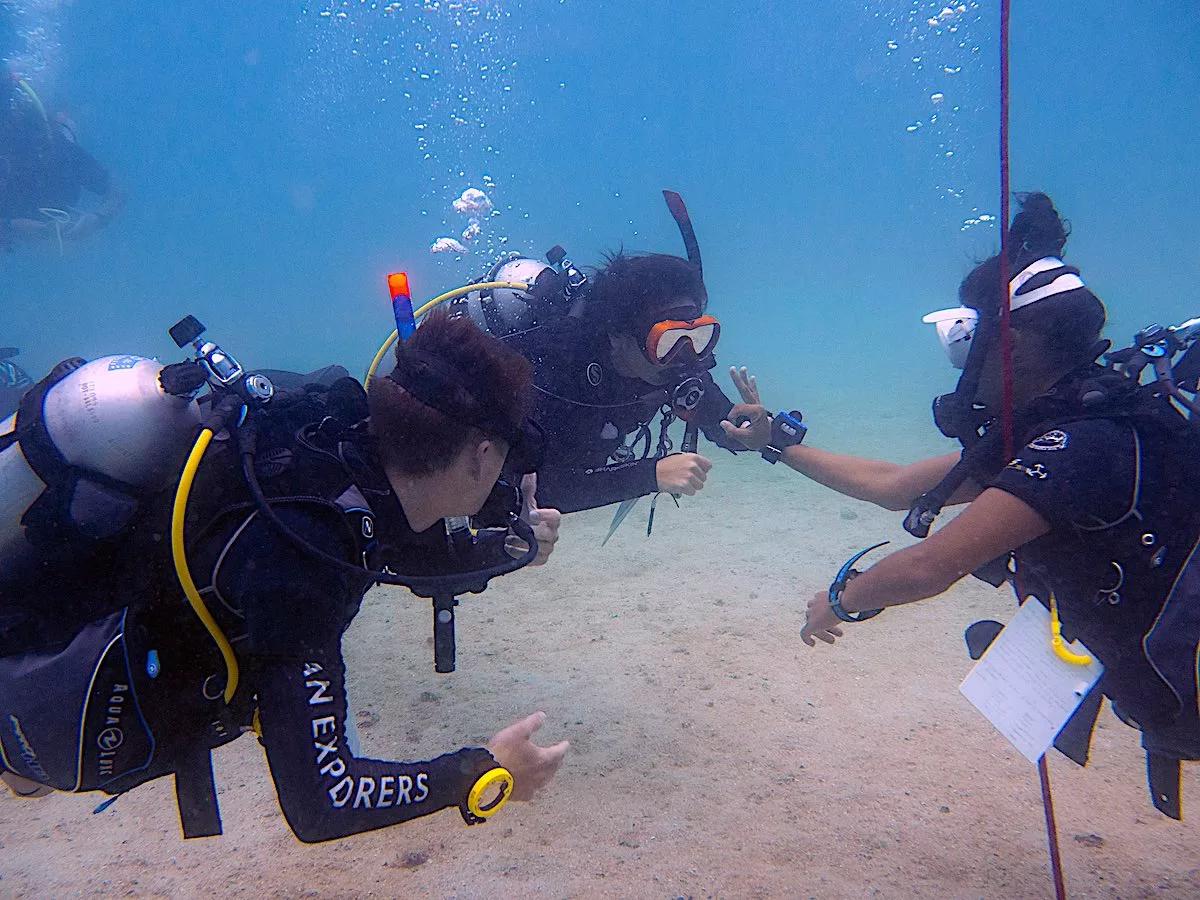 Choose a PADI Dive Centre in Thailand that works for you
Choosing a PADI Dive Centre can be almost as tricky as choosing a university. Most can look spectacular from their online presence and all are competing to attract new tourists and scuba diving enthusiasts.
It is important to remember when you are looking for a suitable provider for a diving instructor course in Thailand, you find an organization you can trust to train you properly.
Properly means not just to the standards expected by PADI, but above and beyond these minimum standards to ensure both you and your future students are safe while underwater.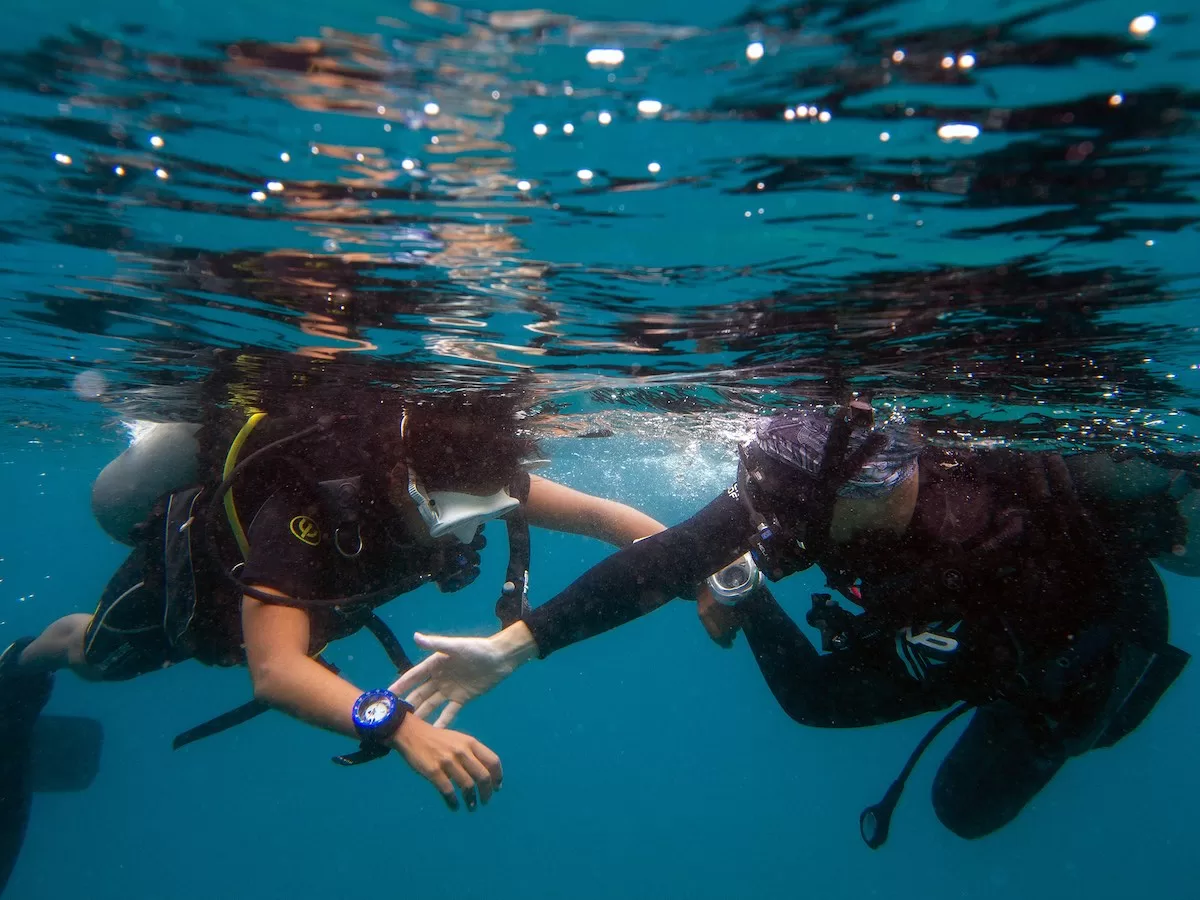 Support for PADI IDC Candidates
It is important you find a dive centre and PADI Course Director that will continue to support you, and offer advice long after you have completed the PADI Instructor training course with them.
Look for a PADI dive centre in Thailand that is recognized by PADI as one of the best scuba training locations in the world.
A dive centre that has received awards to recognize the quality of their training programs, their commitment to the environment and the excellence of their customer service.
Black Turtle Dive is one of those highly-awarded dive shops. We are a PADI 5-Star Career Development Center that is also 100% PADI AWARE, holds the Green Star Award and is a certified Green Fins member.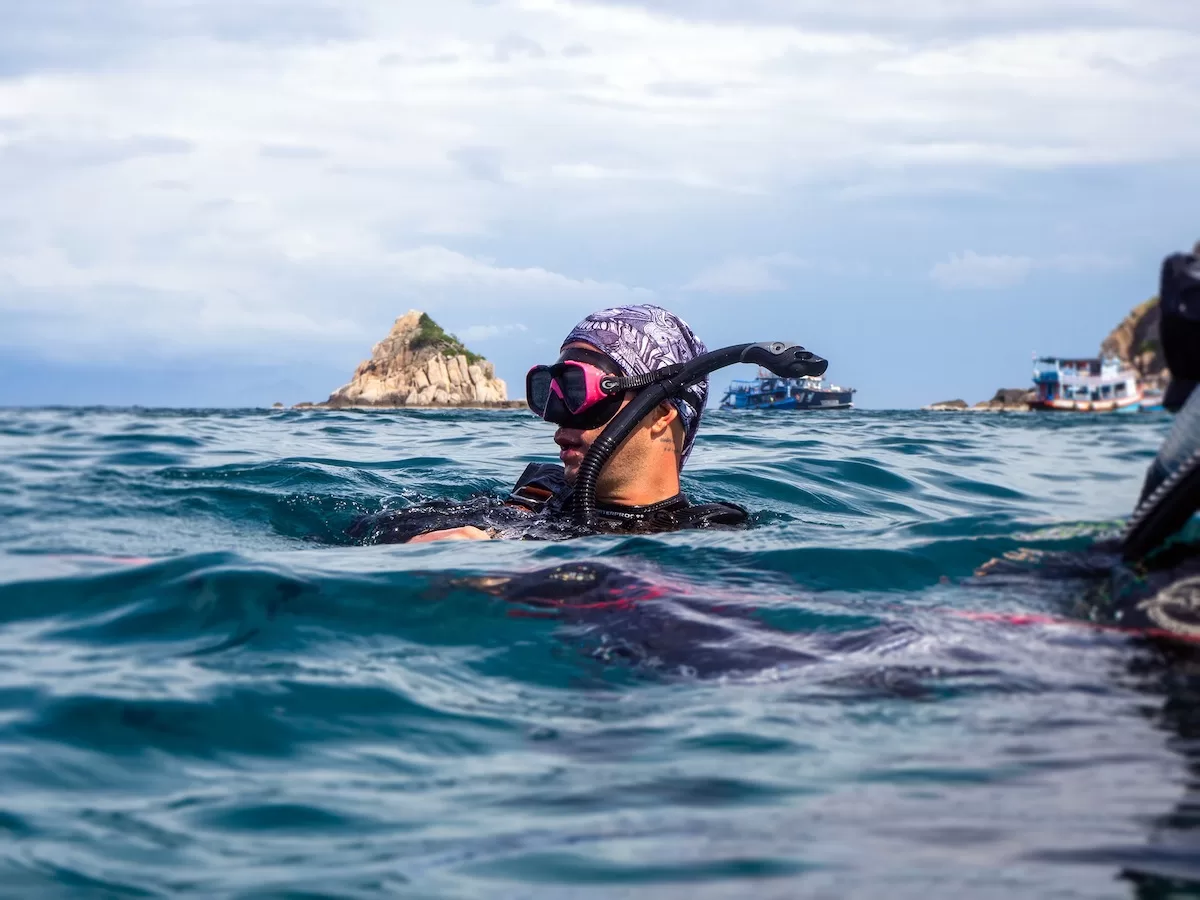 Protecting our Marine Environment
We also offer our Reef Ecology and Marine Conservation Training program (REACT), a Conservation focused education training program written by Marine Scientists and offered through Conservation Diver, a marine science training agency, so we have ECO going on every day at our dive centre.
Black Turtle Dive is also the home of Matt Bolton, one of the most dedicated and accredited PADI Course Directors and scuba diving industry consultants in the world.
A multi award winning Platinum PADI Course Director since the awards inception in 2006, Matt has been awarded PADI's Outstanding Contribution to Instructor Development on two occasions and PADI's Outstanding Contribution to Diver training on multiple occasions.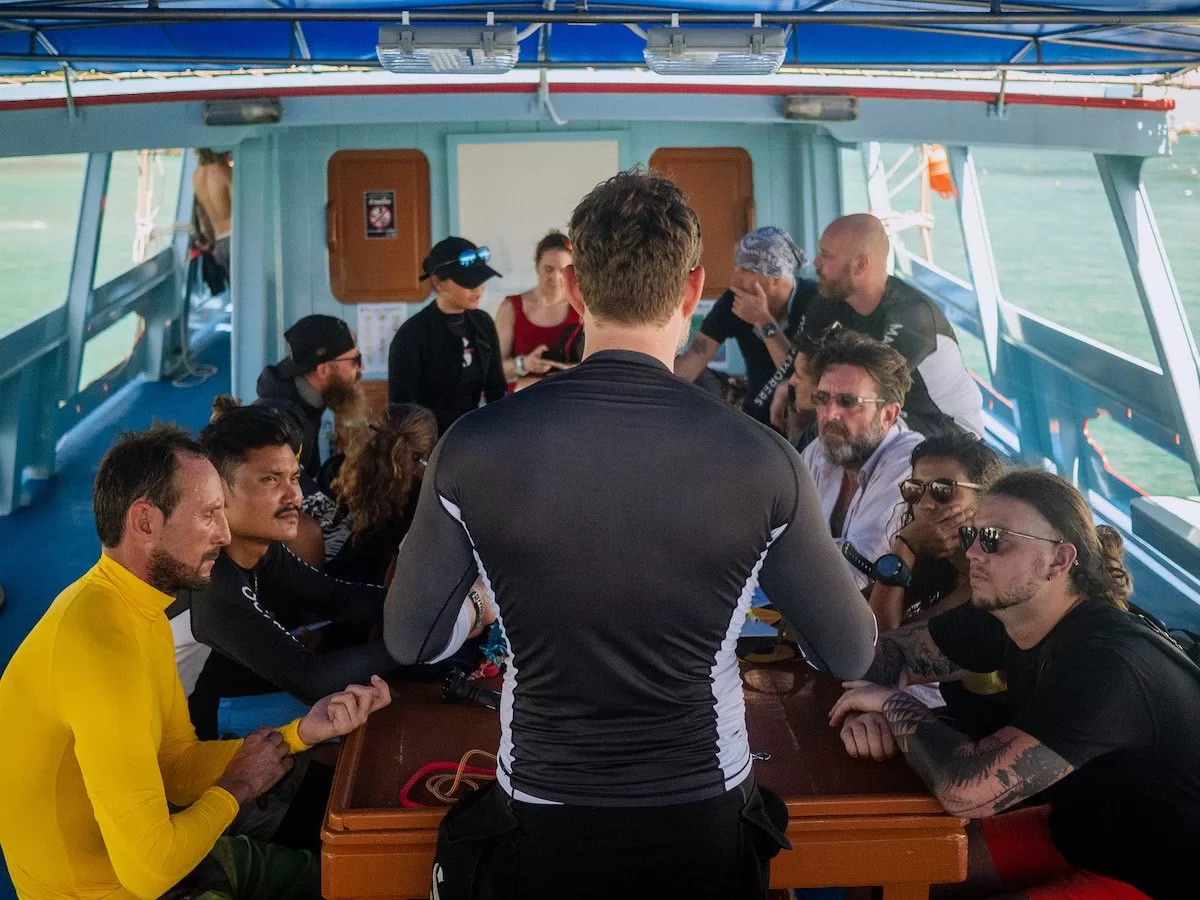 Outstanding Contributions to Instructor Development Awards
Matt has been living and working on Koh Tao for over 25 years and has brought several marine conservation initiatives to the island and raised the general PADI teaching standards for the entire island.
Matt's core team consists of two PADI Course Directors, Lucas Levy and MI Kieran Hooley, both of whom have been involved in training PADI Professionals for many years.
Our pro level staff team and senior trainers also includes multiple Staff Instructors (IDCSI), additional Master Instructors (MI's), who have all completed their training in-house to a very high standard.
We actively encourage continued personal development for all of our OWSI Instructors through MSDT, IDCS and MI, in addition to differentiating themselves with marine conservation specialty course teaching certifications.
This makes the Black Turtle Dive IDC Team the most experienced Professional level training team in Thailand. Do not accept anything less than quality training over a price point.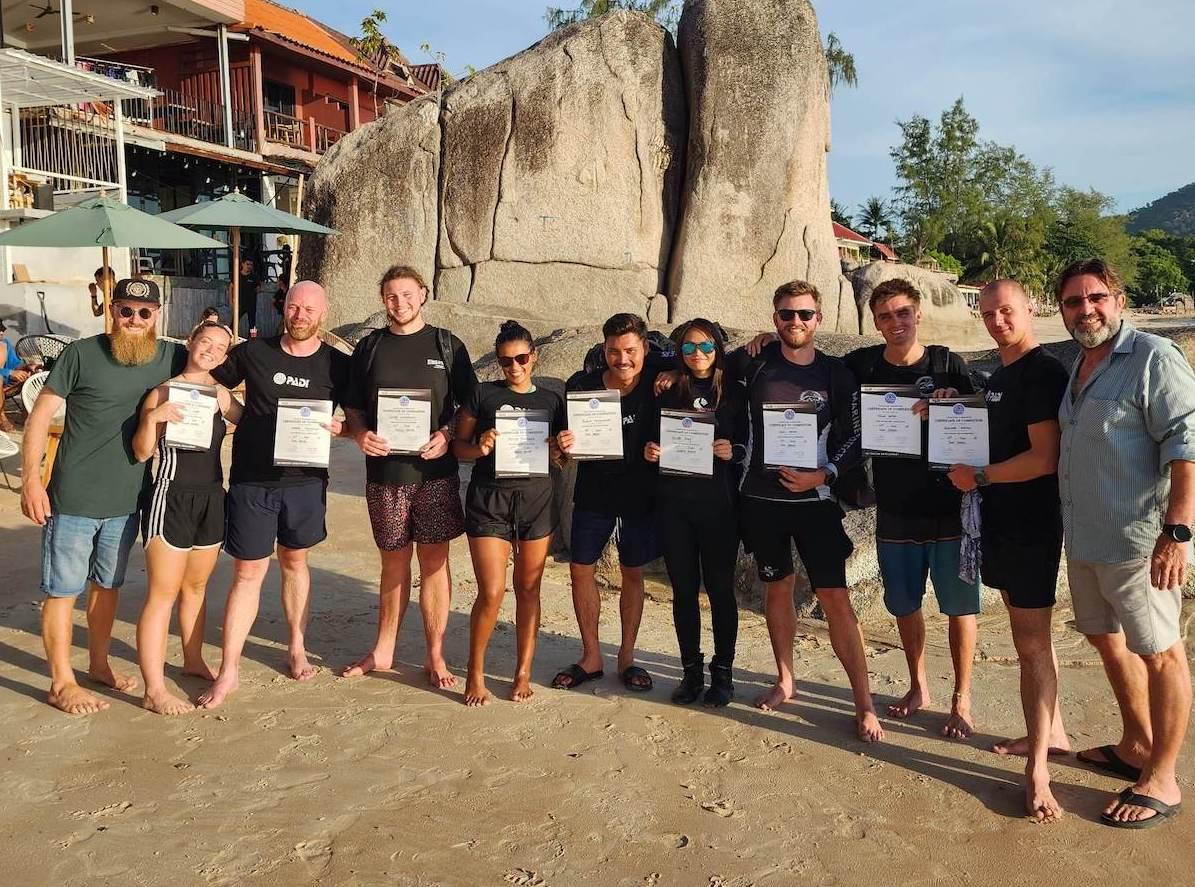 Best PADI Diving Instructor Course in Thailand
Our PADI Instructor Development Course is run and managed by one of the most respected PADI Course Directors in the whole scuba diving industry.
With over 50 years of combined industry expertise teaching at all levels of the PADI education system, many awards for the quality of training and the contributions to the scuba diving industry, our PADI IDC team is unmatched for experience and achievements in Instructor Development.
On top of that, as a 5-Star PADI Career Development Centre, Black Turtle Dive is recognized by PADI as one of the top places in the world to start a new career as a PADI Diving Instructor.
Still not convinced that we are the right choice for your diving instructor dreams?
Come and join us on Koh Tao to complete your PADI diving instructor course in Thailand and change your life for the better.
If you are on Koh Tao and want to discuss your IDC options, please send a contact form or stop by our office in Mae Haad and introduce yourself.
Frequently Asked Questions
How much does a PADI Dive Instructor earn in Thailand?
Living and working on Koh Tao as a PADI Instructor is a fantastic lifestyle choice. Working at one of the popular dive centres on the island, PADI Instructors can earn between 30,000-80,000 baht a month depending on the season, how busy you are, and how many days you work.
A PADI Instructor working full time at a reputable dive centre can afford a comfortable lifestyle living on Koh Tao and save money.
How much does the PADI Dive Instructor course cost?
The PADI Instructor Development Course costs 41,900 baht. This consists of the 14-day PADI IDC, which also includes the EFR Instructor course and the Dive Against Debris Instructor course.
Like all PADI courses there are also required educational materials. The IDC Crew Pack consists of the physical pack that consists of the cue cards for all PADI courses and a PADI backpack.
There is also an IDC e-learning pack that includes all pre-IDC study assignments required. This IDC Crew Pack is 21,500 baht. This price also includes the EFR Instructor materials.
There are also PADI fees that need to be paid, directly to PADI. They are A$1055 for the Instructor Examination (IE) fee, A$312 for the Instructor Application and A$215 for the EFR Instructor Application.
How long is the PADI dive Instructor course?
The PADI Instructor Development Course (IDC) is scheduled over 14 days and includes the PADI Assistant Instructor (AI), EFR Instructor (EFRI) and Open Water Scuba Instructor (OWSI) courses.
The IDC introduces candidates to teaching techniques that can be applied in the classroom when teaching knowledge development, in the swimming pool when teaching confined water training dives and in the ocean when conducting Open Water training dives.
During the IDC we also look at a range of other subjects that are important for PADI Instructors working in the industry. These topics include Risk Management & Legal consideration, the business of diving and marketing of diving.
The IDC also focuses on Dive Theory for dive professionals and teaches candidates how to find and apply PADI standards and procedures to all PADI training courses and situations.
How long does it take to become a PADI Scuba Instructor?
If you have never been certified as a scuba diver and wish to become a PADI Scuba Instructor then it will take you 7 months.
First you need to complete the Open Water course. PADI standards stipulate that a Diving Instructor candidate, must have been a certified diver for a minimum of 6 months prior to enrolling on an Instructor Development Course.
During the 6 months, you need to work your way through to PADI Divemaster. To get there you must first complete the Advanced Open Water, Emergency First Response and Rescue Diver courses.
Once you have become a PADI Divemaster, and you have a minimum of 100 dives logged you are ready to start the PADI Instructor Development Course.
How many dives do you need to become a PADI Instructor?
To become a PADI Instructor you need a minimum of 100 logged dives. If you choose a dive center that is a PADI Career Development Center to complete the Instructor Development Course then you are permitted to enroll on the IDC with less than 100 logged dives.
After you have successfully completed the Instructor Examination you can then log the additional dives required to reach 100 and PADI will switch you into teaching status.
Is it easy to find work as a PADI dive instructor?
There are lots of employment opportunities in the scuba diving industry. The PADI employment board alone has over 5-600 jobs being advertised at any one time.
During the high season months in Koh Tao (Jan-April, July-Aug) there are never enough PADI Instructors to meet the demand and this is the same in other resort destinations around South East Asia.