>
>

5 Important Skills PADI Advanced Open Water Course
Advanced Open Water Course – Adventure Diving
As a certified Open Water Diver, you already had the pleasure of discovering and exploring the wonderful underwater world.
Continuing with your training as a scuba diver, there are many more adventures and experiences available and that is what the PADI Advanced Open Water course is all about.
The Advanced Open Water course is about developing new skills that will ensure your diving adventures are more rewarding and you will learn a range of new skills by doing 5 different Adventure Dives.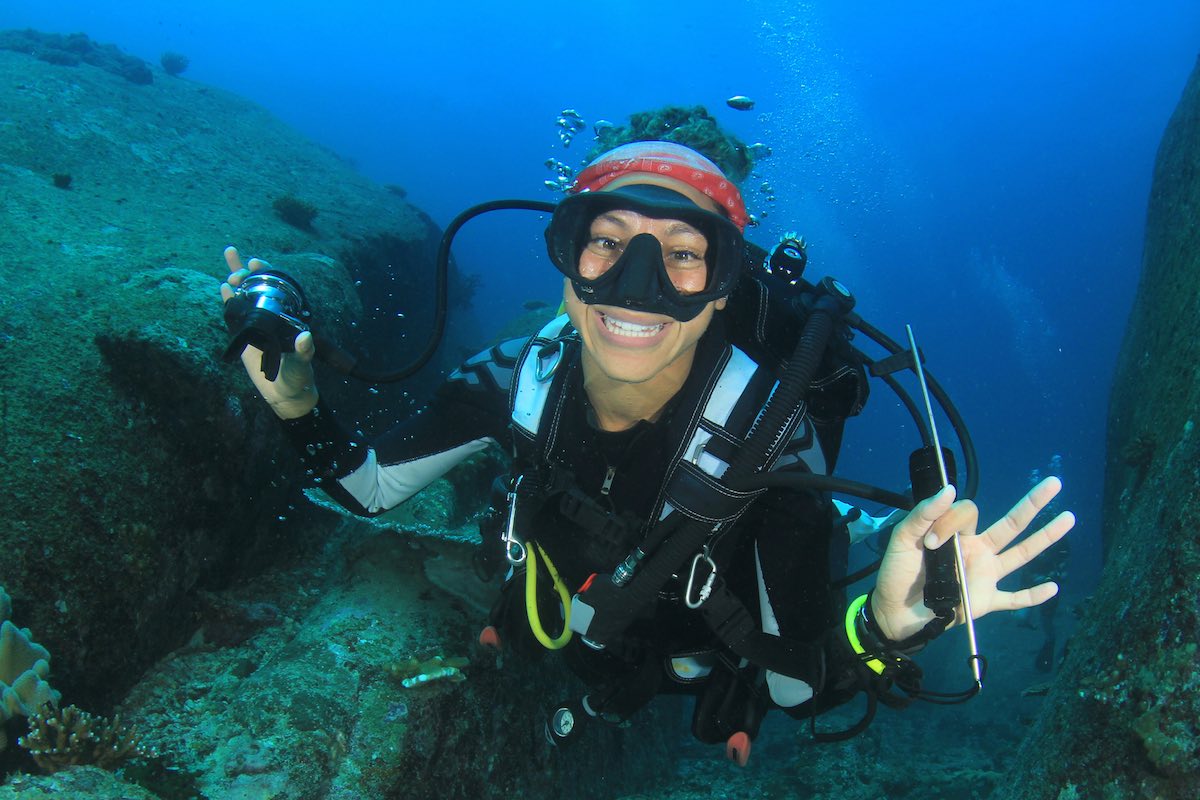 Develop New Skills as an Advanced Open Water Diver
Becoming a certified Advanced Open Water Diver will open up new activities and possibilities when you go diving.
You will get a chance to visit new dive sites you never had access to before, learn more about dive equipment and it's use and you will start becoming more aware of your surroundings underwater as you build your confidence.
In this article, we have listed five specific skills every student will learn on the PADI Advanced Open Water course.
Advanced Open Water Course – Planning for Deep Dives
The Deep Adventure dive is one of the compulsory dives for Advanced Open Water certification, but also a very beneficial one to do.
On this dive, you will go to a maximum depth of 30 meters and even though it is only 12 meters difference from the Open Water Diver depth limit, it makes a huge difference.
Gaining a certification to dive to 30m will open up many new opportunities and dive sites for you all around the world.
Diving to 30 Metres
There are many wreck dive sites that are deeper than 18m and in general you will get to see larger marine life at deeper sites that are further away from the coast.
When planning for deep dives there are some new and different things to consider. First of all, due to the depth and corresponding pressure and air density at that depth, your no stop limit will be a lot shorter.
This means you will need to keep a close eye on your computer to make sure you do not exceed that no stop limit.
Compared to a dive to 18m, your no stop limit will be about 3 times shorter at 30m. It is beneficial to get yourself trained in using Enriched Air (Nitrox) when doing (multiple) deep dives.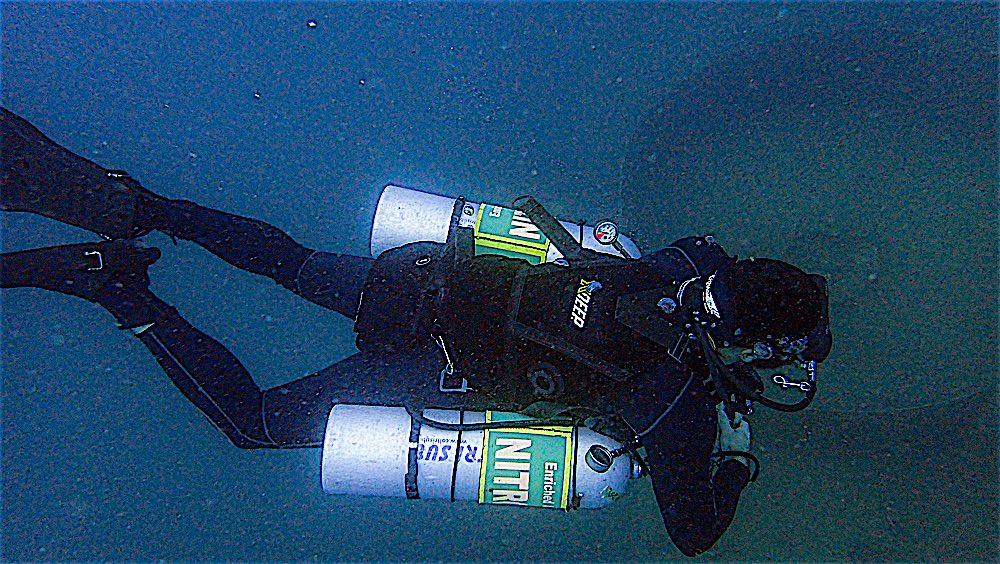 Nitrox & Advanced Open Water Combo Course
The increased oxygen percentage in the tank will significantly increase your no stop time, allowing you to spend more time at depth.
The Nitrox course can easily be combined with the Advanced Open Water course and can be completed within the same timeframe, meaning you will earn 2 certifications.
Secondly, you will need to be prepared to check your air supply more often when compared to a shallow dive.
At 30m you will use your air 4 times faster than at the surface, so for this it is important to be aware of you and your buddy's air consumption at all times.
Considerations when Diving Deeper
Before your dive you will establish your turn pressure. During the course, your instructor will also discuss different types of emergency breathing equipment that are often set up when doing deep dives, just as an extra precaution.
On top of that, you will learn about environmental conditions that you need to consider when planning deep dives.
Sometimes those conditions can have a direct effect on the equipment you will be using for the dive, such as the exposure suit you will be wearing.
Popular deep dive sites around Koh Tao are Chumphon Pinnacle, Southwest Pinnacle and Sail Rock.
The first two are about a 45-minute journey away from Koh Tao and Sail Rock is about a 1hr 45min boat ride away.
At these dive sites you have a opportunity to see huge shoals of fish, lots of Barracuda, Giant Groupers, Queenfish hunting and maybe even a Whaleshark.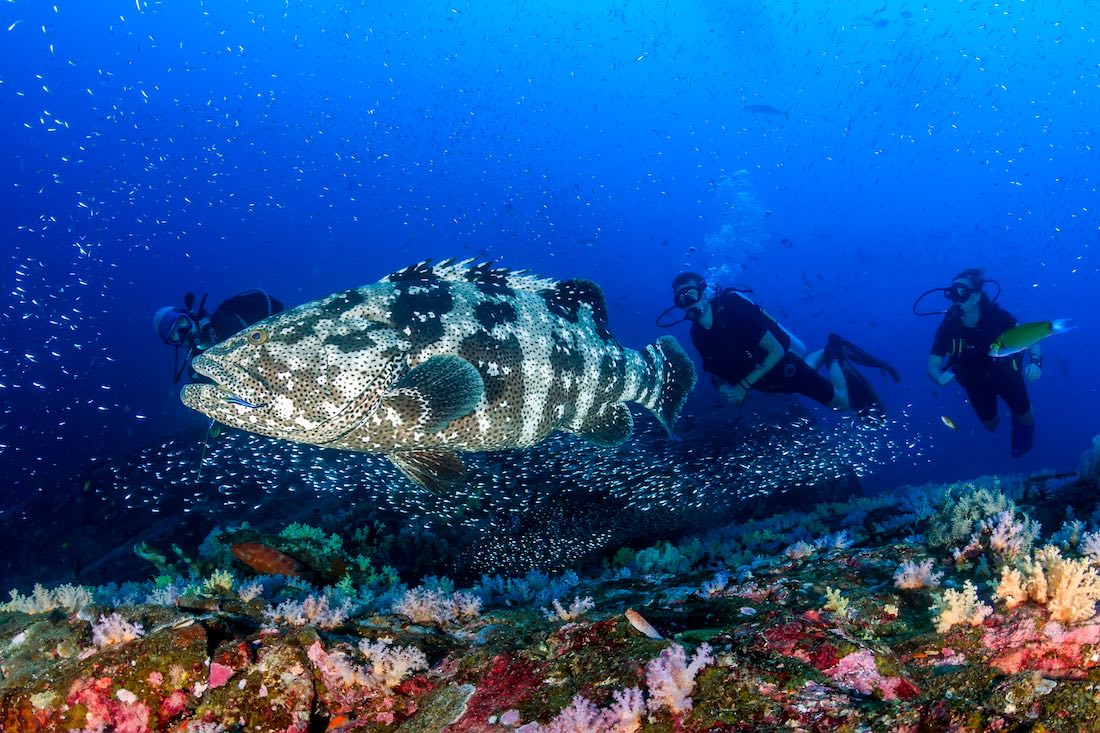 Advanced Open Water Course – Underwater Navigation
Navigation is a key skill in scuba diving and the better you are at it, the easier and more comfortable your dive will be.
The Navigation Adventure dive is the second compulsory dive for Advanced Open Water certification, all of the 3 other dives you will do for certification, are elective dives, meaning you get to choose them.
Maybe up until this point, whenever you have gone diving in the past, you were used to being guided around a dive site by a PADI Divemaster or a Dive Instructor.
When you tried navigation on your Open Water course dive, you probably remember how flustered you were due to the fact there are so many things to consider with underwater navigation.
Developing Underwater Navigation Skills
On the underwater navigation dive, we will develop your underwater navigation skills beyond what you have learned on the Open Water course.
During this dive, you will not only focus on compass use for navigation, but also natural references, depths, distances and set navigation plots.
On Koh Tao, dive boats always moor up at one of the different mooring lines that are available at the dive site and they will stay there for the duration of the dive.
When you finish your dive it is nice to finish up as close to your dive boat as possible so you can avoid long surface swims. Obviously being skilled in underwater navigation will help you with this.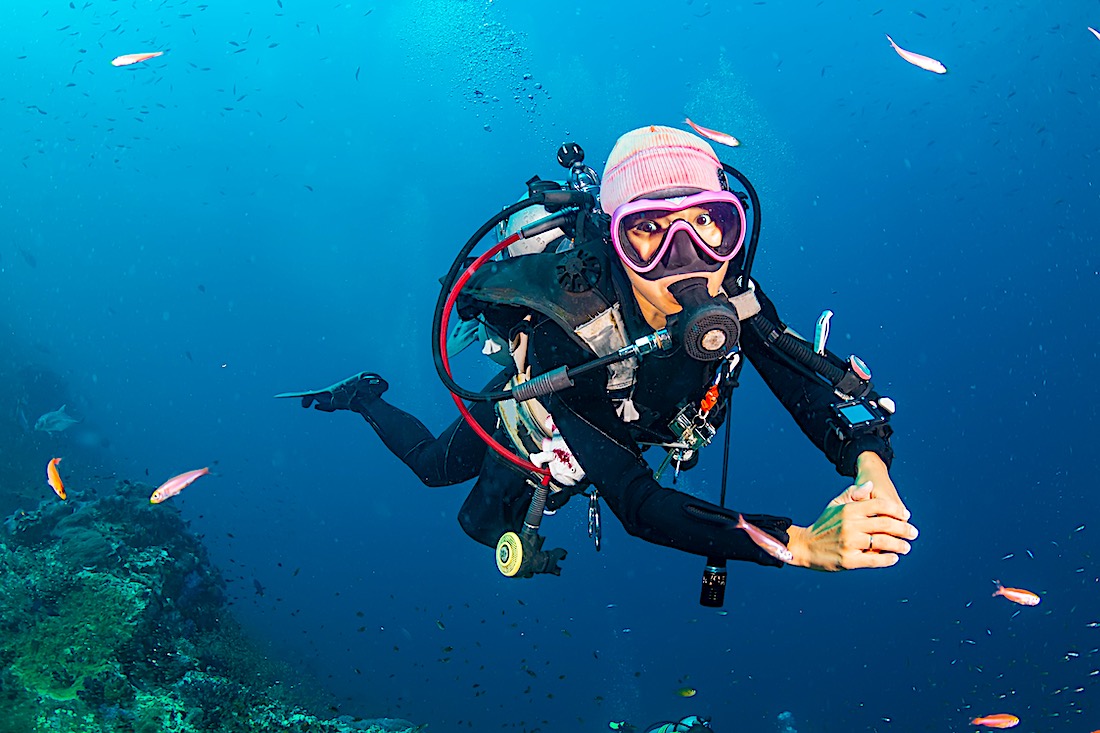 Finding your way back to the Dive Boat
One of the things you will learn is how to measure distance underwater by counting kick cycles, but also by using elapsed time.
On top of that, you will have to navigate to a predetermined location and return by just using natural references you see under water.
These references can be light, shadows, plants, animals, bottom compositions and formations.
There are a few compass navigation exercises where your instructor will give you an actual heading that you have to set.
You will have to show how to position and handle the compass underwater to maintain an accurate heading and return to your starting point.
Advanced Open Water Course – Buoyancy Control
This is by far the most important skill in scuba diving and one that you will always keep practicing and get better at on every dive you make.
Having good buoyancy control will help you move through the water more efficiently. It will help reduce your air consumption and help to make you a more confident and competent diver.
If you can think back to your Open Water course and remember the progress you made from one dive to the next.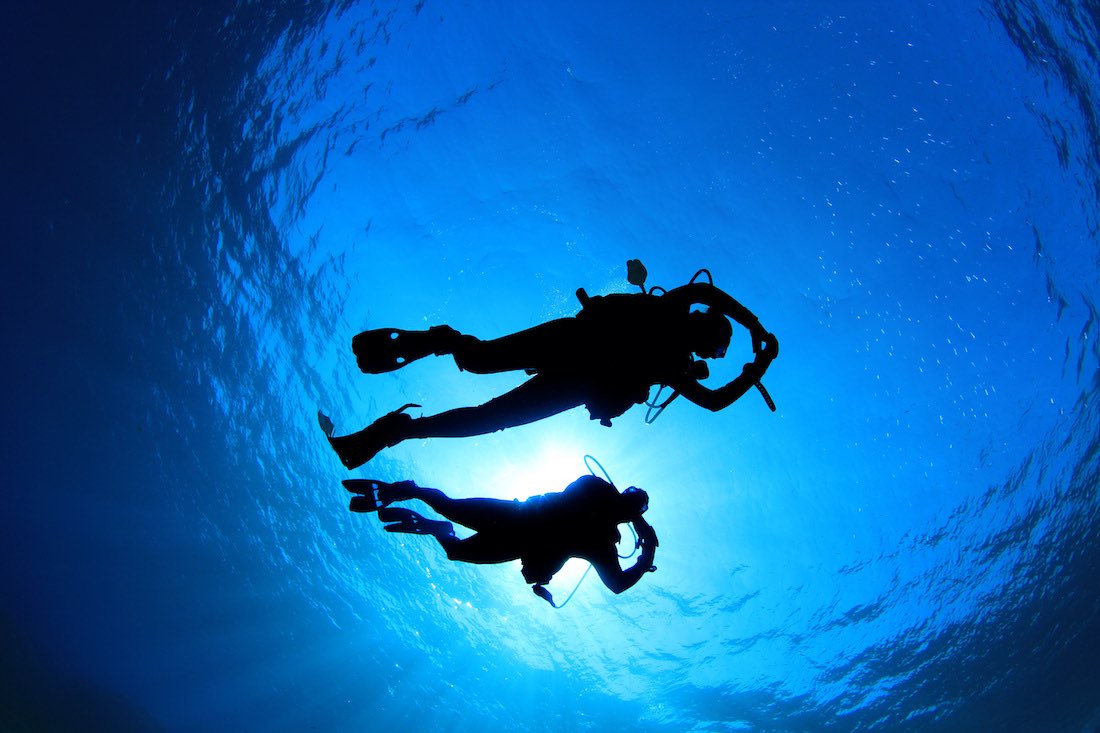 Importance of Neutral Buoyancy
On the Advanced Open Water course, this will be taken another step further making you a diver with real advanced diving skills.
Buoyancy control is not only important to you as a diver, but also key in protecting the underwater world.
As scuba divers we want to minimize the impact we have on the marine environment at all times.
You may have heard the phrase: As a diver, take only photos, leave only bubbles. This is aimed at letting divers know not to touch or pick up anything from underwater, but also to leave nothing behind, such as rubbish.
On top of that, we want to make sure not to harm any of the sensitive marine life with our body or dive equipment when we are diving.
Take Only Photos & Leave Only Bubbles
For this, we first need to make sure all our equipment is streamlined. Additionally, we want to maintain a good horizontal trim and stay a safe distance away from fragile coral and marine life.
Lastly, at all times we need to be aware of our fin and arm movement and make sure we do not accidently touch or kick anything.
The Peak Performance Buoyancy Adventure dive is not compulsory, but one of the elective dives for PADI Advanced Open Water certification.
We do recommend all our students choose this dive as one of the 3 electives. It will not only significantly improve your skill as a diver, but this dive is also lots of fun.
At several dive locations around Koh Tao, like Buoyancy World or Junkyard Reef, Artificial structures have been put down that can be used for buoyancy practice.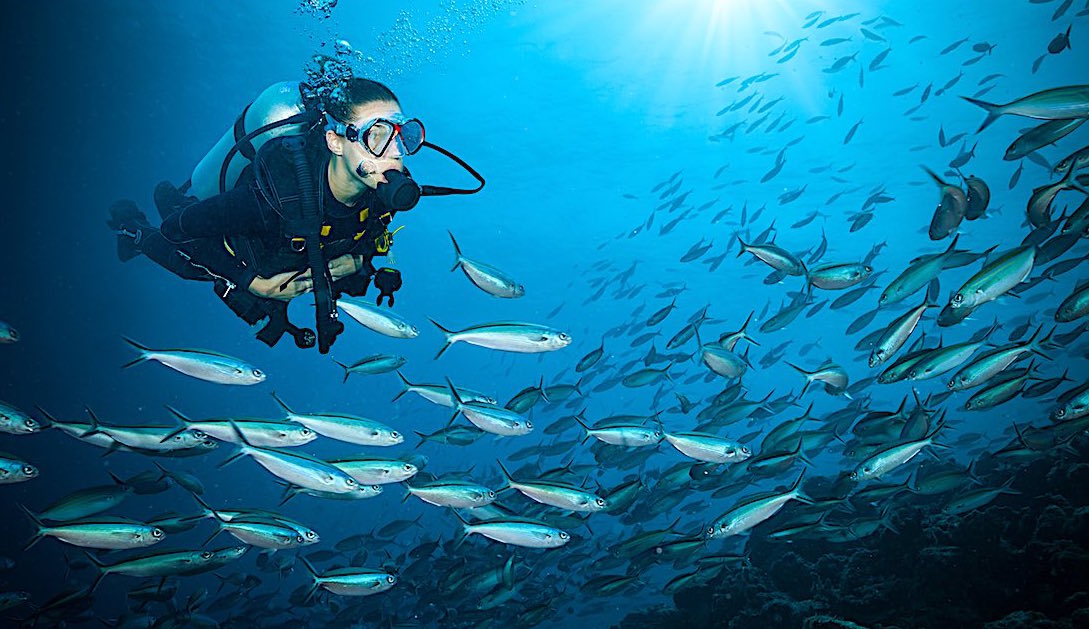 Advanced Open Water Course – Thinking like a Diver
As you gain experience, you learn how to think more like an experienced diver, which improves your abilities, skills and confidence. In general, there are 4 central dive skills that shape a diver's thinking:
Planning dives with secondary objectives
Situational awareness
Managing task loading
Good dive habits
For any dive, returning safely from the dive is always the primary objective. Secondary objectives can be anything you want to do or accomplish beyond returning safely.
As your experience and confidence increases, divers want to try to do more and the PADI Advanced Open Water course is perfect for that.
Increase Confidence & Advanced Diver Skills
Often secondary objectives will affect the dive plan, so you will have to plan for these effects before the dive starts.
A good example is diving at night as it will involve different dive procedures, hand signals, skills and conditions.
It is important to keep in mind that they are called secondary objectives, so do not push your safety margins in order to accomplish a secondary objective.
With experience and training your situational awareness will increase. As a novice diver, you are primarily focused on yourself because you are learning new and unfamiliar skills.
Once you have mastered the foundational scuba skills, it will free up mental resources so your situational awareness will start including your buddy and more of the surroundings underwater.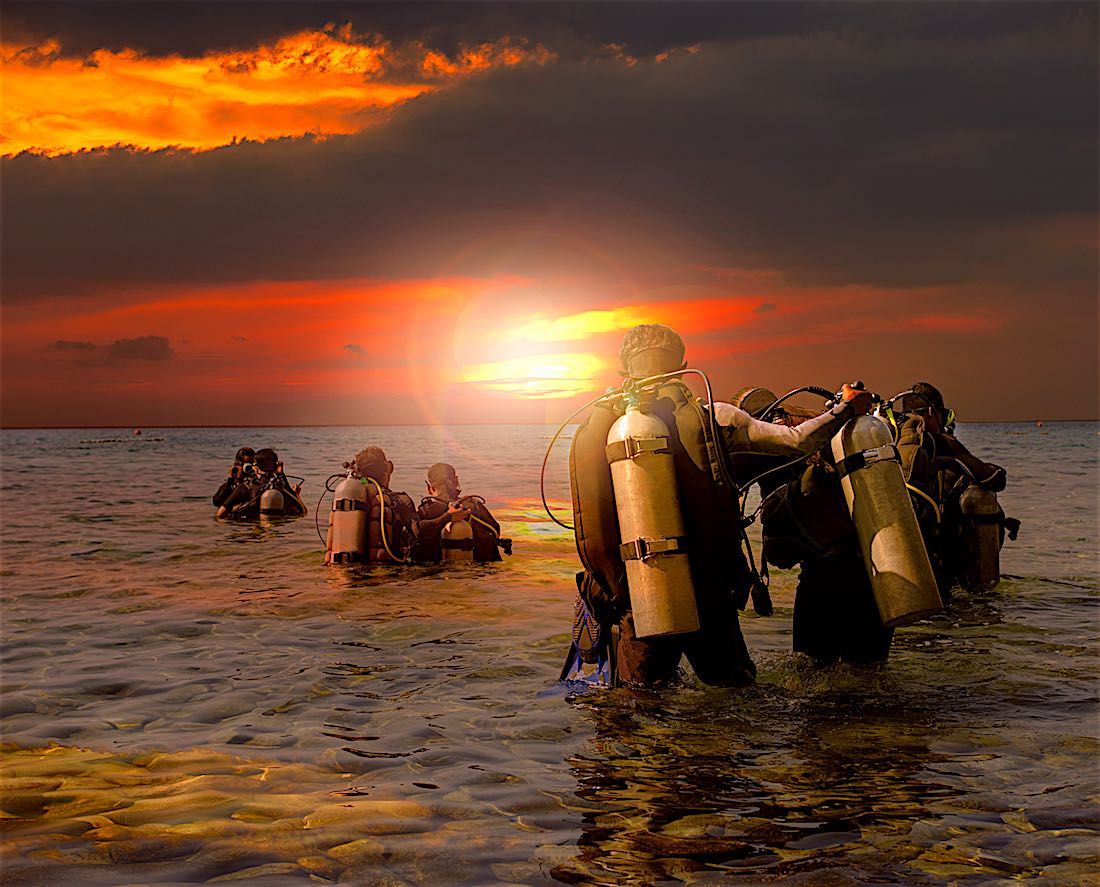 Learn New Skills as an Advanced Open Water Diver
There are 9 elements you need to consciously monitor and in the Advanced Open Water course we will discuss these further, so you can maintain effective situational awareness.
The 9 elements are: no stop time, gas management, environment, equipment, hazards, depth, navigation, buddy system and secondary objective.
Managing task loading means knowing what to do first when a situation occurs. The Dive First, Situation Second, Communicate Third strategy will allow you to respond faster, better and with reduced stress.
All these points will be thoroughly explained and will contribute to the Thinking Like a Diver state of mind.
Thinking Like A Diver – Advanced Open Water Course
Good dive habits will lead to being able to better handle certain situations, as people tend to react to a situation out of habit.
These habits are learned primarily through training and you retain them through continuous practice.
Training will help you prevent or manage problems or it can help to reduce the chance of making a mistake.
However, we are all human, so we will make mistakes, but the key is to learn from those mistakes and develop them into good dive habits for the future.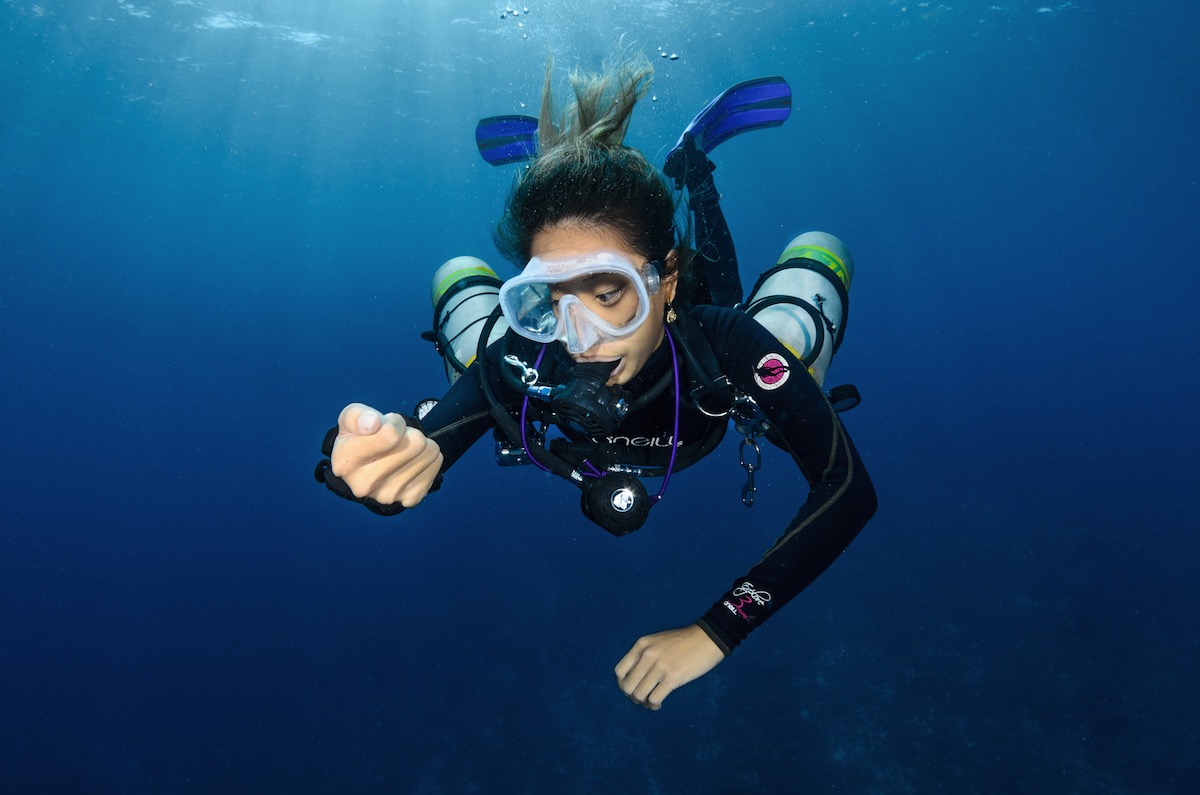 Advanced Open Water Course – Dive computer use
Nowadays, dive computers are very common when participating in scuba diving activities, but this was not always the case.
If you have completed your Open Water certification recently, you may have used them during your training.
If it has been several years since your entry-level course, you may remember having used dive tables, which were commonly used in the past.
Whether it is still fresh in your mind or not, our Dive instructors will give you a full orientation on the use of our dive computers.
Dive Computers & Advanced Diving Skills
Dive computers are included in the rental equipment we offer to all our divers and in all of our diving courses.
There are many different manufacturers of dive computer and it is important to familiarize yourself with the functions and limitations of computers.
They offer great benefits in many areas such as monitoring your ascent rate and displaying your no stop time.
All of this will improve diver safety. Dive computers are now an indispensable piece of dive equipment, so it is of great value to able to learn more about them in this course.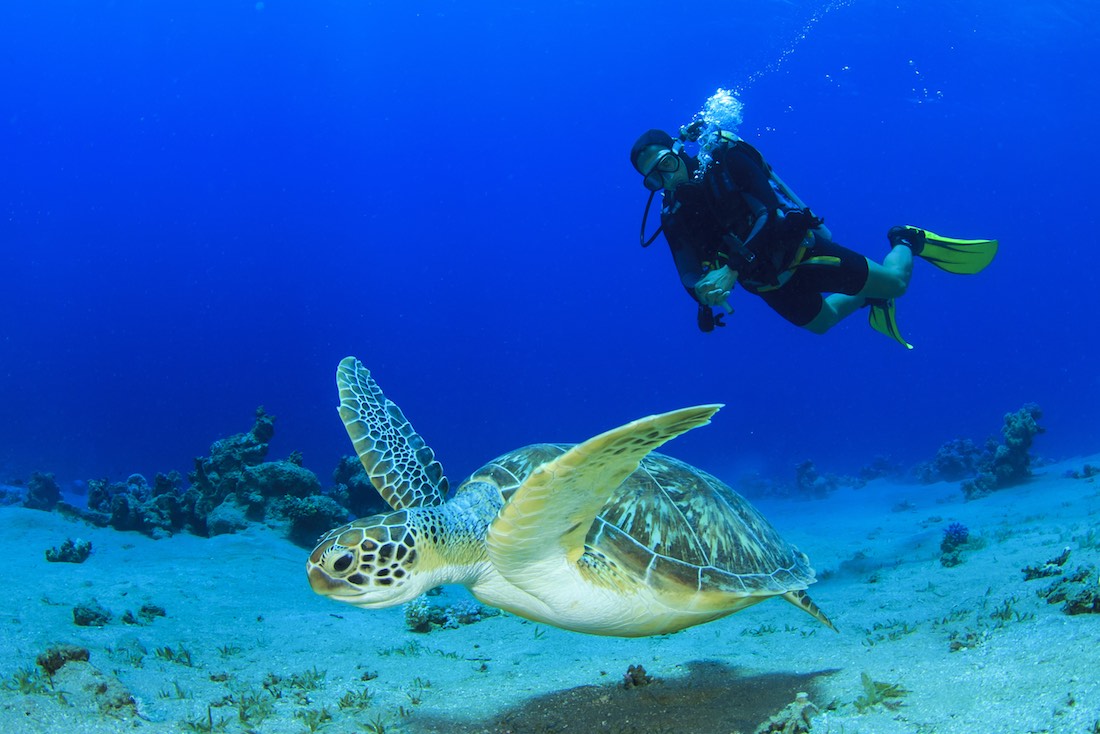 Advanced Open Water Course – Learning Other Skills
As previously mentioned, you will make 2 compulsory (Deep & Underwater Navigation) and 3 elective dives for the PADI Advanced Open Water certification.
Depending on what dives you choose you will learn many more skills during your course that can be useful in the future.
You can expect to learn a wide range of useful and valuable diver skills during your training for the Advanced Open Water course certification.
Learn Valuable Skills to be a more Confident Diver
Depending on the dive you might learn how to tie knots, how to use a lift bag, how to take underwater photos, how to identify fish and other marine life, wreck diving, diving at night, boat diving skills and much more.
The PADI Advanced Open Water course will further develop your skill set and confidence, making you a better and more competent diver.
This excellent course opens up new opportunities and activities for you at hundreds of dive sites all around the world.
After completing the Open Water Course and acquiring a taste for diving, we suggest not waiting too long before taking this next step. You will not be disappointed.