>
>

What is the Cost of a PADI Divemaster Course
Divemaster Course on Koh Tao breakdown of costs
Our PADI Course Directors receive a lot of questions about PADI diver training and how student divers can become a dive professional.
One of the most popular courses we receive enquiries about is our PADI Divemaster Course, a world-famous program and the first step to becoming a dive professional within the diving industry.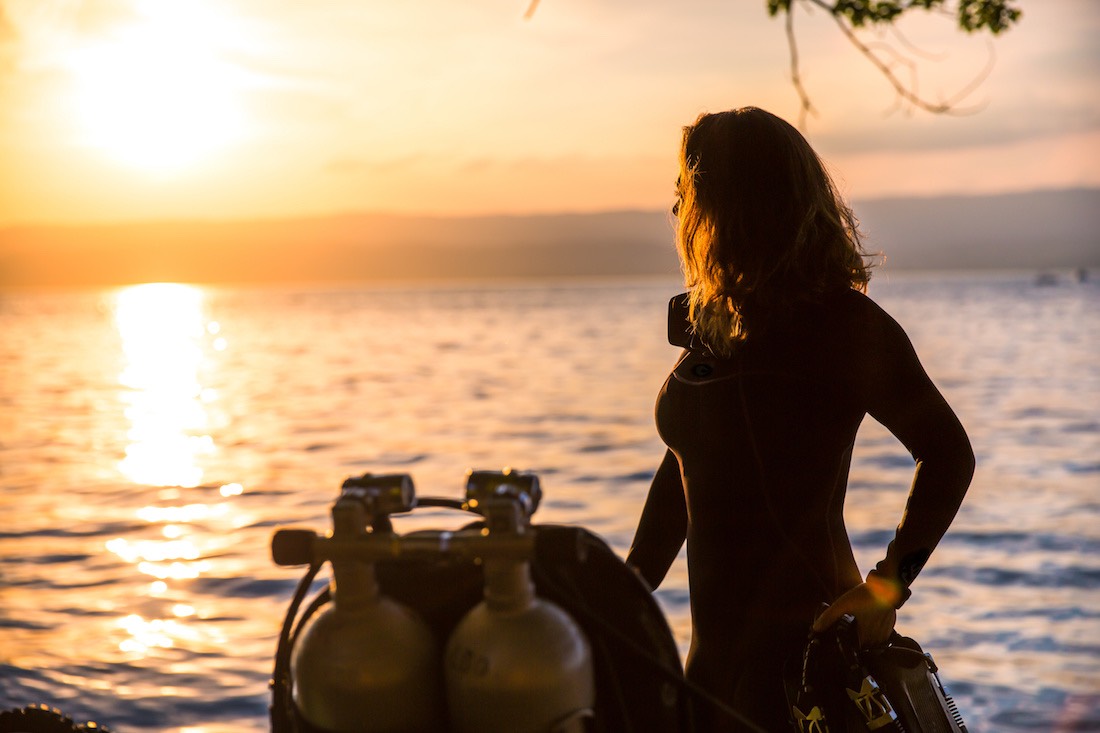 PADI Divemaster Course & Personal Development
The Divemaster course offers a lot of opportunity for personal development and a chance to embrace the diving lifestyle.
It is a great way to immerse yourself within the diving culture and emerge with a new set of skills and a good understanding of the marine environment.
A very common question relating to the Divemaster program is the cost, which can vary depending on the location and the dive centre.
Koh Tao Diving Destination
Koh Tao is one of the most popular travel and diving destinations and we offer help to all future candidates when it comes to planning and budgeting for their trip.
There are different types of costs to consider for the Divemaster program and it is important to understand them all before choosing where to complete your training.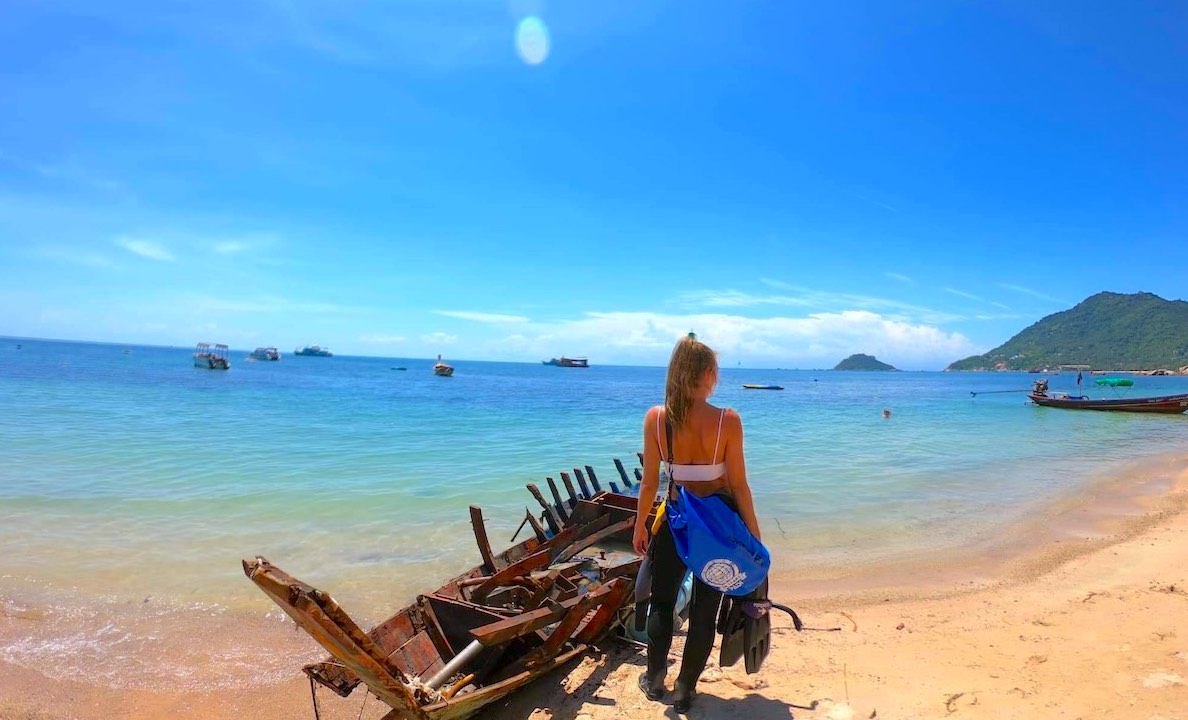 PADI Divemaster Course Costs on Koh Tao
The base price for the PADI Divemaster course is 30,000 baht, which covers all of the course performance requirements that must be completed for you to become certified.
These objectives are set by PADI and are recognized by the World Recreational Scuba Training Council (WRSTC).
During your Divemaster program you must:
Complete knowledge development segments including Knowledge Reviews in the PADI Divemaster Manual and pass the Divemaster Final Exam.
Create an Emergency Assistance Plan for a designated dive site.
Complete waterskills exercises.
Complete a diver rescue assessment.
Complete the dive skills workshop and assessment.
Complete practical application skills.
Complete divemaster-conducted program workshops.
Complete practical assessments.
Meet professionalism criteria.
Every PADI Dive Centre should follow the same course structure that is outlined in the PADI Instructor Manual.
Once you have completed everything, you will be certified as a PADI Divemaster, however, there are extra things you can do to further your training and develop your skill level.
Our PADI Divemaster Training exceeds the standards required and we work with you to become a successful and confident Divemaster.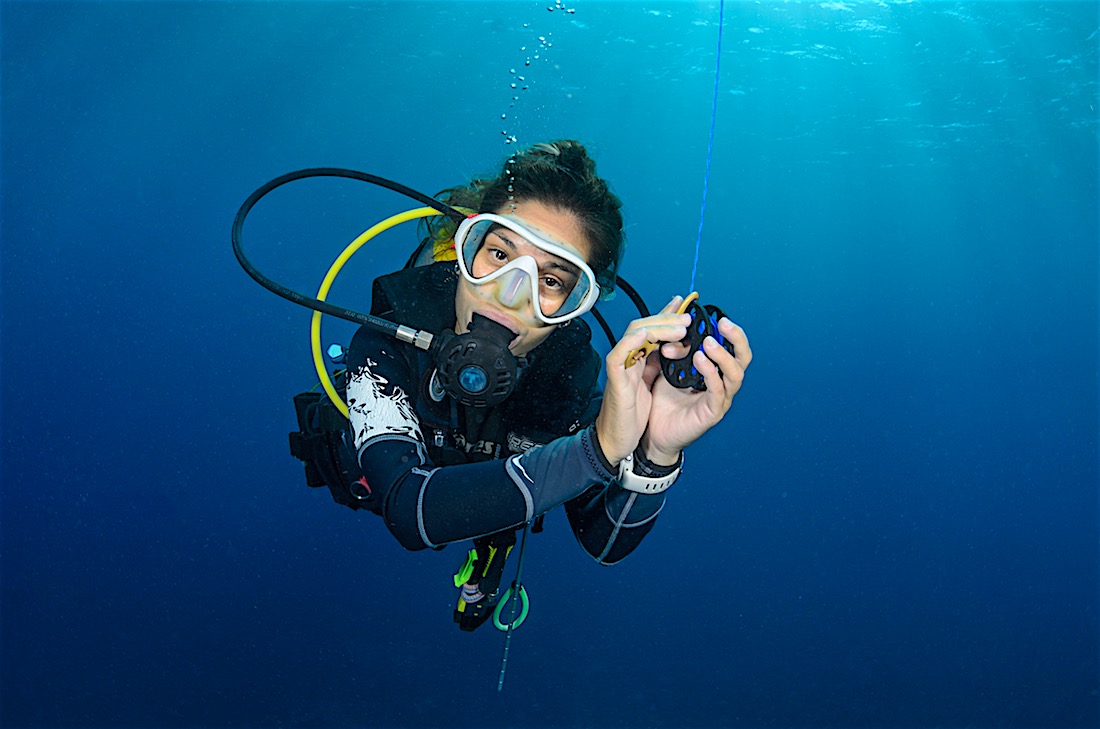 PADI Divemaster Course Extra Workshops
We provide added extras in our all-inclusive Divemaster internship packages, such as our Buoyancy Lab Fluid Mechanics workshop and a Reef Ecology & Conservation workshop.
To ensure your buoyancy is where it needs to be as a diving professional, you take part in at least one of our Fluid Mechanics buoyancy workshops.
Our Buoyancy Workshops will:
Fine tune your buoyancy
Give you perfect control and trim
Teach you advanced propulsion & maneuvering techniques
Perfect your back finning
Teach you how to perform dive leadership quality descents and ascents.
We also believe that as a dive leader, it is very important you understand how a coral reef functions and how it supports an entire Marine Ecosystem.
Throughout your course, you will participate in one or more of the following conservation activities that we conduct on a regular basis:
Reef Ecology & Coral Reef seminar
Beach clean-up & microplastics survey
Dive site clean-up & Dive Against Debris survey
Coral Watch health monitoring survey
By adding in additional training, we believe our program will help you become a more confident and competent professional with the skills necessary to succeed within the diving industry.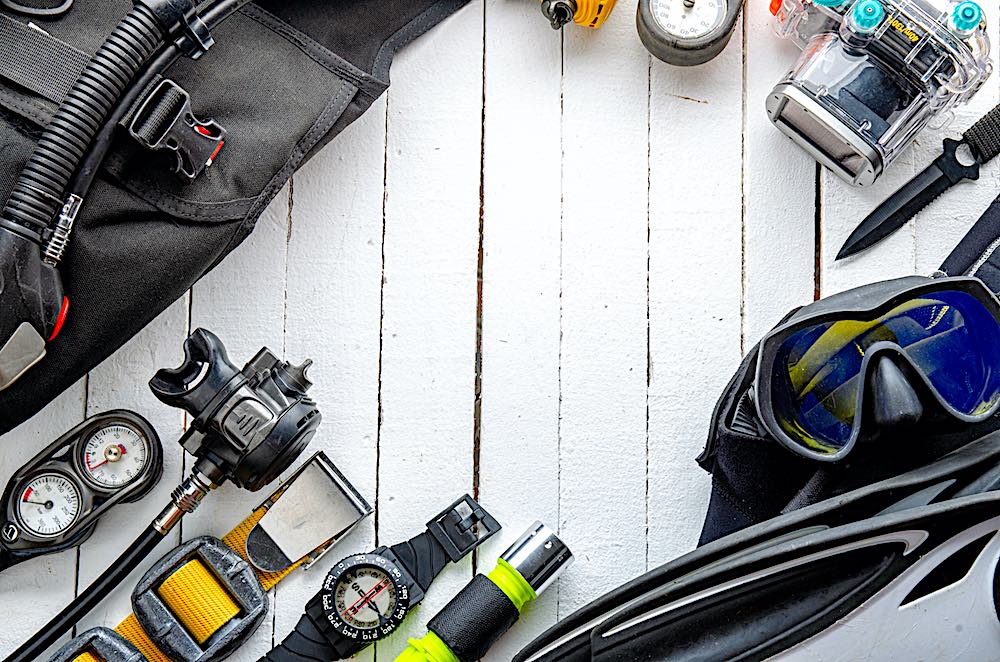 PADI Divemaster Equipment – Putting it all together
In addition to the standard dive equipment required for all scuba divers, a PADI Divemaster must have the following items:
A time monitoring device
Compass
Dive knife/cutting tool
2 surface signaling devices (1 audible, 1 visible)
Many Dive centres may provide you with standard scuba diving equipment, but they may not provide these additional pieces for you.
It is important to understand that you MUST have these items as a PADI Dive professional, so they need to be included in your budget.
Essential Diving Equipment
Black Turtle Dive includes these extra diving equipment items in all of our Divemaster packages.
As a non-diver or entry level diver, it can be quite overwhelming to purchase new equipment with so many different brands, models and features to consider.
Even for something as simple as a dive knife, there can be a lot of different options.
We have put a lot of thought into our diving equipment package that is included in our PADI Divemaster course.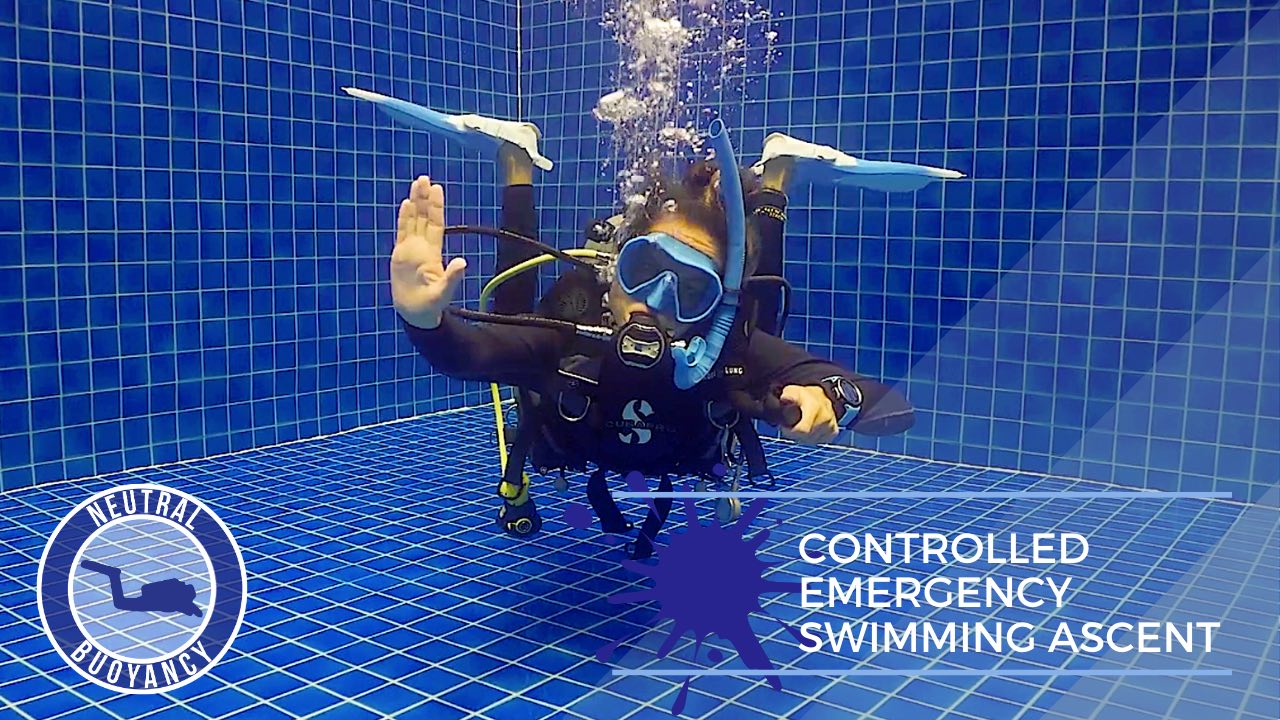 Neutral Buoyancy Philosophy
We have chosen items that complement our neutral buoyancy philosophy and the equipment will help you be as streamlined as possible.
Equipment that loosely dangles from a diver can damage the coral and become a potential entanglement hazard, which is why the cutting tool and slate both fit on your wrist and are extremely compact.
Black Turtle Dive PADI Divemaster package includes all standardized equipment, plus the following:
Wrist slate & pencil

Compass

  
Delayed surface marker buoy (DSMB) & basic finger spool w/stainless steel double ender
Whistle
Eezycut Trilobite knife
Rescue breathing mask
PADI Materials – What you need to know
According to PADI standards "student divers must have a personal set of current PADI materials for study and use during the course and for reference afterward."
During your Divemaster course you need to purchase the PADI Divemaster Crew Pack that includes all of the mandatory materials.
The PADI Divemaster Crew Pack includes:
PADI Laptop Bag
PADI Instructor Manual with 3-Ring Binder
Encyclopedia of Recreational Diving
Divemaster Manual
Divemaster Aquatic cue cards
Access code for the digital eRDPml
The Crew pack costs 7000 baht and contains a decal sticker that must be used in conjunction with your PADI Divemaster Application.
This proves to PADI that you have the correct materials to be certified as a dive professional.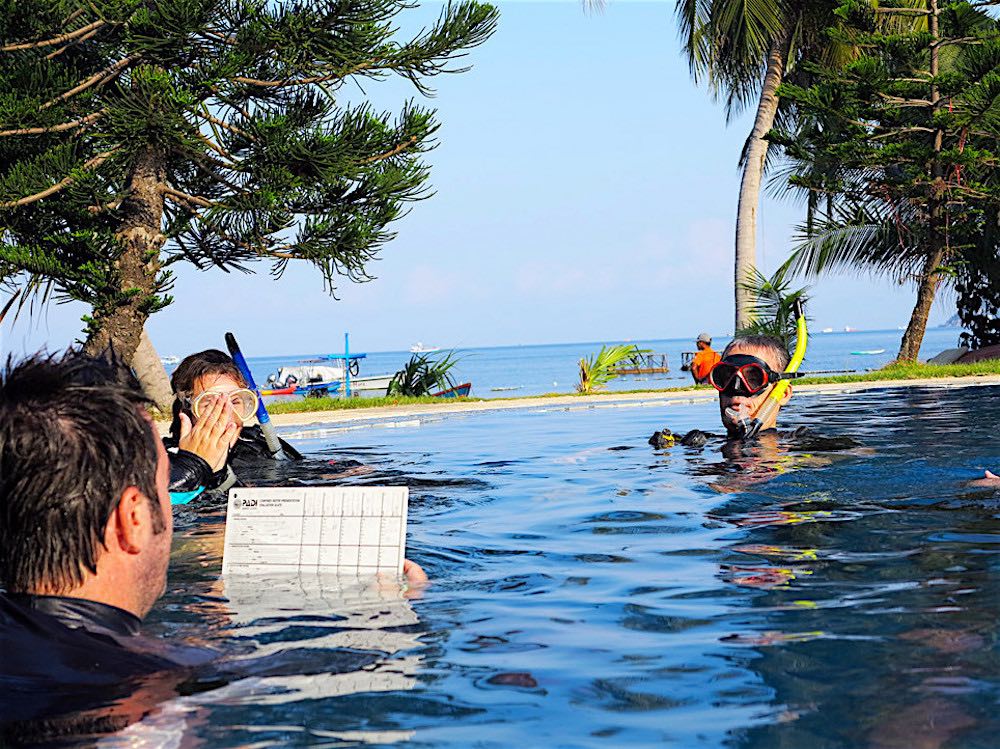 Understanding the PADI Divemaster Crew Pack
We include the price of the Divemaster Crew Pack in our all-inclusive Divemaster Internship programs.
During your Divemaster Orientation, we go through your Crew Pack with you and explain the contents in detail.
Many of the items will be used in your Divemaster training for either Knowledge Development or Divemaster Conducted Program Workshops.
We show you how to utilize these materials effectively and how they can be used to enhance your program.
PADI Fees – Understanding the PADI fee structure
Like all professional PADI courses, there are fees that you must pay directly to PADI.
The fee is paid once you are ready to be certified as a PADI Divemaster and have completed your application.
At this point an Active Status PADI Open Water Scuba Instructor, or higher, will sign your paperwork and send your application to a PADI head office.
Regional PADI Office
The location of your Divemaster training will determine the PADI office that your paperwork and application is sent to.
If you are certified as a PADI Divemaster on Koh Tao, all your paperwork will be processed in Sydney, Australia and your fees will be paid in Australian dollars.
The PADI fee can marginally change each year due to inflation, so it is a good idea to check how much it costs ahead of time.
PADI Annual Membership Fees
During 2022, the Divemaster PADI fee is 231 AUD, which covers your membership from the moment you are certified, till the end of the year.
It also gives you access to the PADI PRO website, which offers an assortment of helpful tools as a new Dive professional.
All of our Divemaster Diving Internship programs include the PADI fee as part of our Divemaster packages.
Koh Tao PADI Divemaster Packages
We realize that all the different costs and currencies can be confusing, so we offer comprehensive all-inclusive packages to make the certification process easier for you.
Once you have completed your Divemaster Course, we sit down with you and review your PADI membership agreement and show you how to access and utilize the PADI PRO website.
We also review the PADI Member License Agreement, which is document that highlights your obligations as a PADI member.
Active Status PADI Divemaster
If you hope to work as a PADI Divemaster, you need to keep yourself in Active Status.
In order to do this, you must pay the annual membership fee and agree to stay up to date with any changes to the PADI standards.
This is a very simple process and the PADI PRO website has training bulletins to help keep your status current. The renewal period happens before the 31st of December each year, starting in November.
Once you have completed your Divemaster training, you are responsible for the yearly membership fees.
If you decide not to renew your annual membership, you will not lose your Divemaster rating, however, you will be listed as Non-Active Status.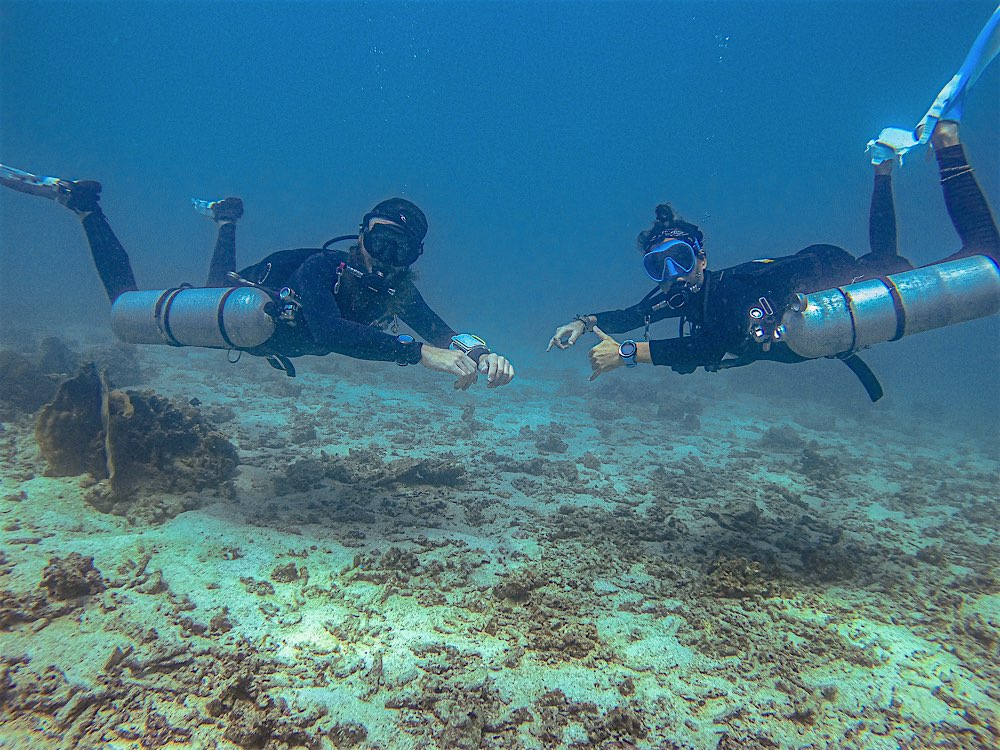 Enrolment on the PADI Divemaster Course
One of the prerequisites for enrolling in the PADI Divemaster course is to have a minimum of 40 logged dives.
This may seem like a lot of dives for a beginner, however, when you are diving almost every day, it is easy to log dives and achieve this.
Accumulating dives is a great way to focus on some of the key concepts and skills that were taught to you during your previous training.
Prerequisite Dives
You can use these dives to focus on buoyancy, fin kicking techniques, navigation, DSMB deployment and marine life identification.
As an aspiring professional, we believe that you should take advantage of every opportunity you have in the water to help build your confidence before taking your Divemaster course.
This is something to consider when calculating all your projected costs in training as some dive centres may charge you per dive to reach 40 dives.
Costs can escalate quickly and Black Turtle Dive offer a choice of pricing options, including comprehensive packages that include all dives necessary to begin your training.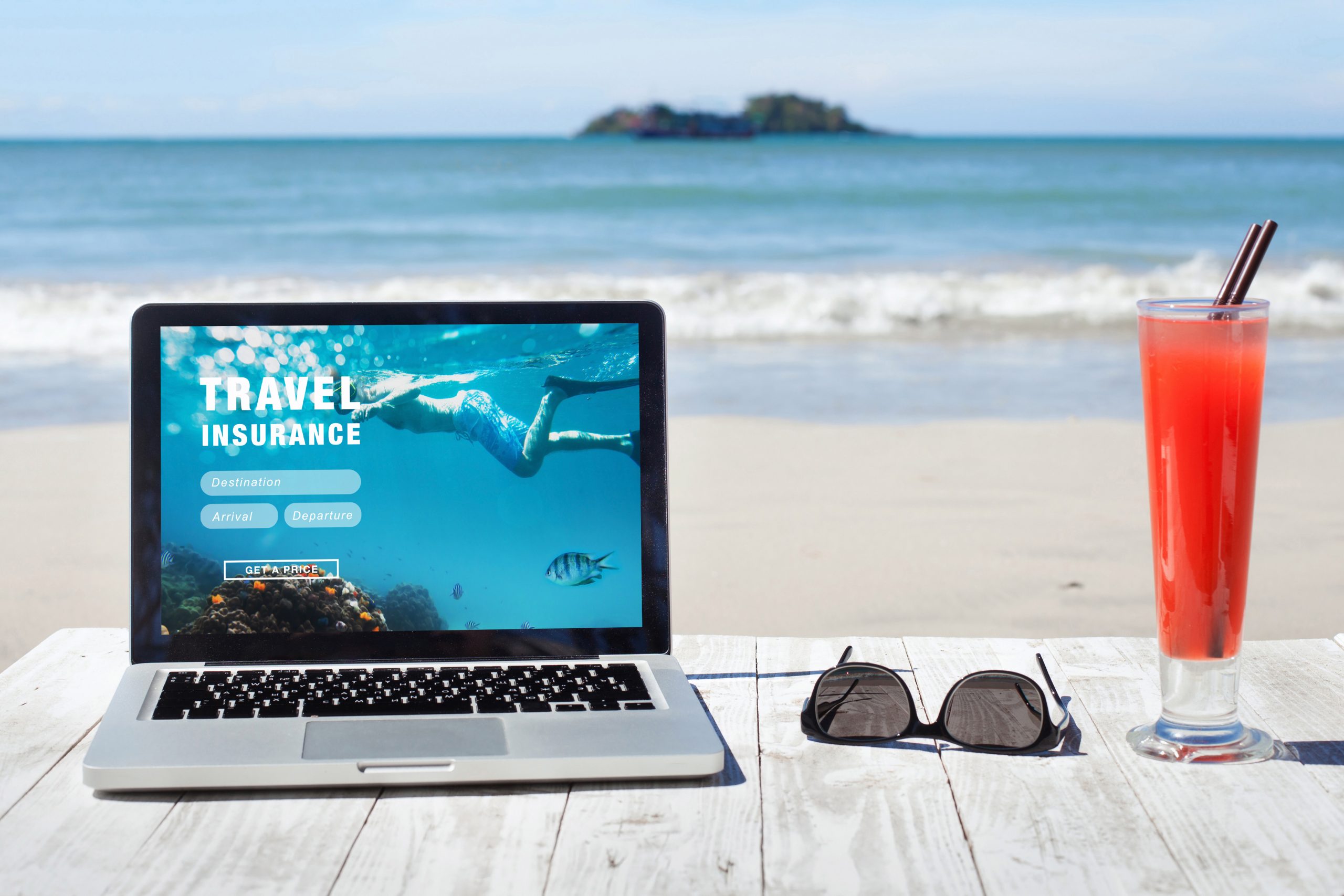 PADI Divemaster & Diving Insurance
Although scuba diving is an extremely safe activity, there are risks to be considered.
While most pressure related injuries can be avoided by following safe diving practices, there is always a small chance that something can go wrong, even something simple like a minor ear infection.
All scuba divers should have diving insurance, as medical care for diving related illnesses can be extremely expensive.
This is even more important for professional level divers, even though knowledge and training can help reduce the risk of an accident, it does not mean you are immune to one.
DiveAssist Scuba Diving Insurance
Most insurance companies that provide insurance cover for scuba diving will offer a yearly package for dive professionals.
Packages usually start at around 3000-5000 baht depending on the amount of coverage required and some packages will only cover evacuation and hyperbaric treatment, while others will cover any injury related to diving.
Our Divemaster package includes a one-year membership with DiveAssist.
DiveAssist membership Insurance Solutions deliver Diving Accident & Liability Insurance across the world with membership plans for sport divers, Divemaster and Dive Instructors.
The insurance plan we include as part of our Divemaster packages is worth 5000 baht and will be activated as soon as you start your training.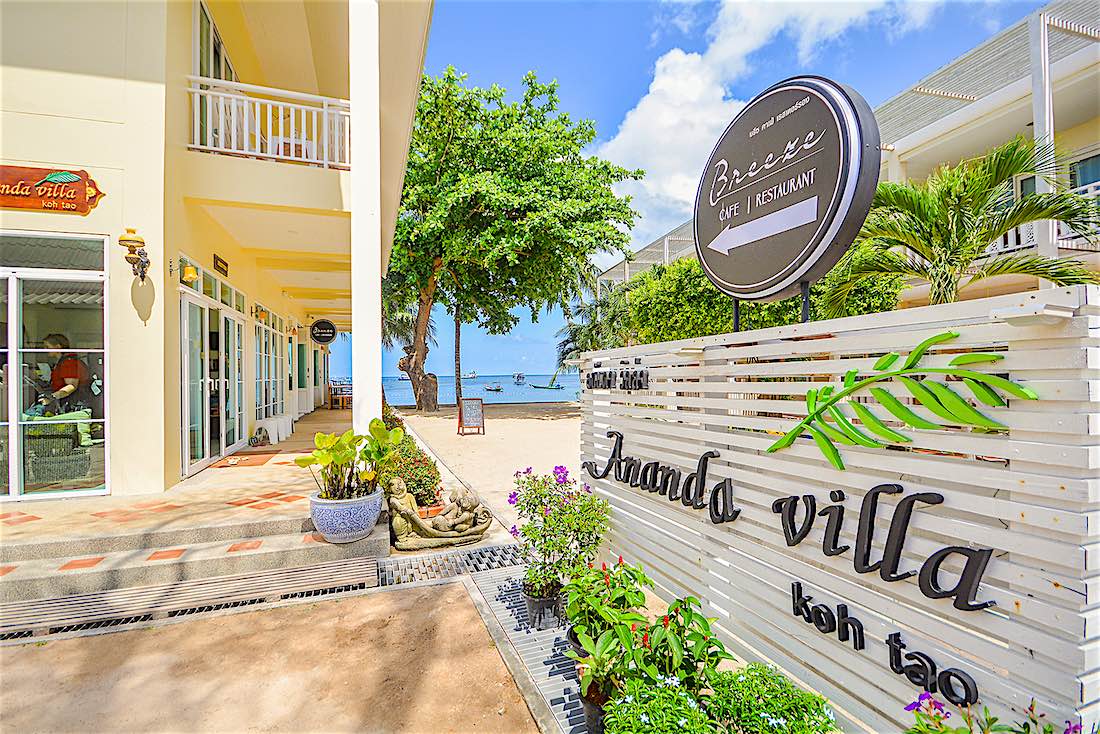 PADI Divemaster Course Extra Living Costs
When budgeting for a Divemaster course, you should consider a few extra living costs whilst planning ahead, so there are no hidden surprises:
Accommodation
Travel
Food and drink
Entertainment (gym membership, yoga classes, lifestyle and activities)
Transport (scooter rental, taxi or bicycle rental)
Emergencies
Additional diver training, specialty courses and equipment
Telephone, internet, computer and accessories
It is important to calculate these extra costs into your overall budget to determine a more accurate figure and then you can estimate a monthly living budget from the total.
In our experience of training pro level candidates and living on Koh Tao for over 20 years, a good monthly budget for living costs, is in the range of 20-30,000 baht per month, which can be adjusted up or down according to your personal tastes.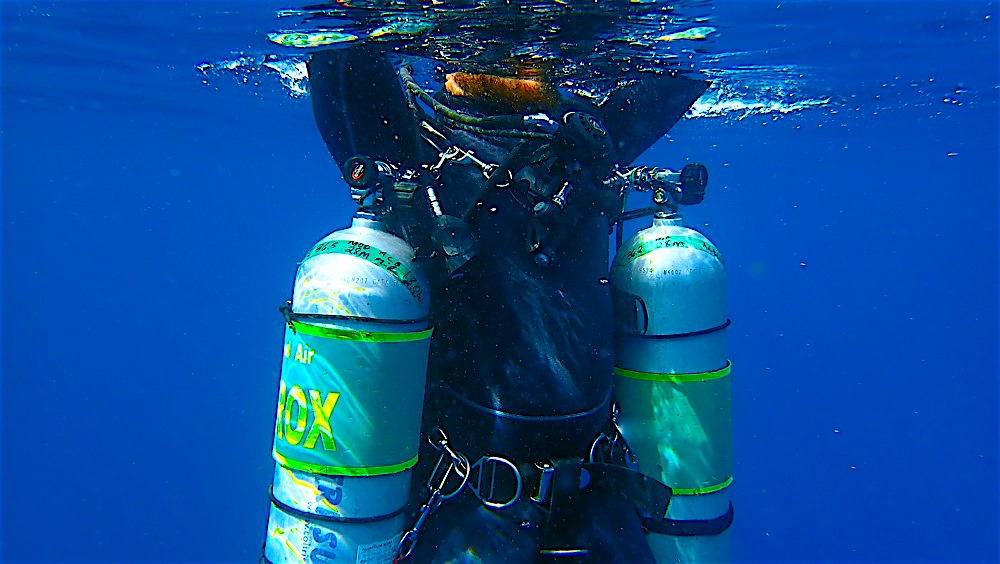 PADI Divemaster – Additional training courses
Additionally, as an aspiring scuba diving professional, you may want to complete additional training such as the PADI Instructor Course or take several of our specialty courses, like our PADI Sidemount Course.
Many of our new Divemaster candidates want to continue their personal development with additional training, so it is important to ask us questions while you are in the planning phase.
Our pro level team are available to help with your planning and we can help you with preparing a realistic budget.
All Inclusive Diving Courses on Koh Tao
Our all-inclusive Lifestyle Diving Internship Packages where created to allow you to start your training without the added stress of dealing with numerous additional costs and hidden fees.
Our all-inclusive Lifestyle Diving Internship Packages include PADI certifications, PADI fees, educational materials and equipment rental.
They also include your pro level diving insurance, your Divemaster equipment pack and additional training modules such as our buoyancy and conservation workshops.
Our all-inclusive PADI Divemaster Internship package costs are scaled according to your current level of training: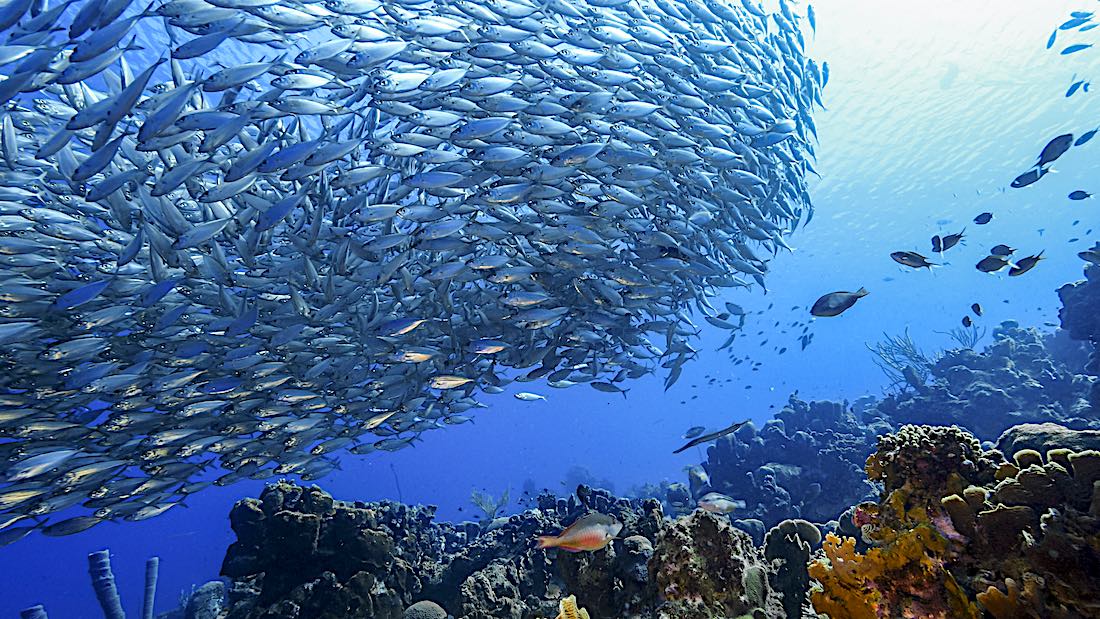 Divemaster Internship Lifestyle Package Costs in Thai Baht
84,500 – Open Water Diver to Divemaster
76,500 – Advanced Open Water Diver to Divemaster
68,500 – Rescue Diver to Divemaster
54,500 – Divemaster Internship
Choose Koh Tao for Divemaster training
When deciding upon professional level diver training, the price of the course should not be the main determining factor for choosing where to complete your training.
The quality of the training received is the most important feature to consider, as the Diving Instructors involved in your training have a huge impact on how you will present yourself as dive professional within the industry.
Quality training will provide you with lasting value by making you more employable and provide you with the skills and knowledge needed to protect the underwater world we love.

Highest Training Standards
Black Turtle Dive are passionate about ensuring you receive the highest quality diver training and customer service.
Our unique buoyancy and conservation workshops ensure your skills and knowledge are of the highest standard and they provide you with the tools necessary to flourish in the diving industry and will set you up for success as a dive professional.
We are confident that all of our training programs will empower you to become a more confident and competent advocate of our Ocean environment.
Frequently Asked Questions
How do you sign up for the PADI Divemaster course on Koh Tao?
You can complete E-Learning for the PADI Divemaster course prior to arrival at your chosen Dive Centre.
Signing up in advance for the Divemaster course allows you to familiarise yourself with the course requirements and complete the knowledge development sections and receive feedback before you arrive.
Candidates can sign up directly with us and we can issue candidates with their Digital materials.
Can I complete the Koh Tao Divemaster course in less than 4 weeks?
Yes you can if you are limited by time on your travel schedule, however, all the Divemaster course requirements still need to be successfully completed to be certified.
You will need to meet all the pre-requisites to enrol, such as a minimum of 40 logged dives, be 18 years of age, be a PADI Rescue diver and have a valid EFR certificate or equivalent.
Completing the knowledge development in advance allows you to start the water skills requirements upon arrival.
What is the best Dive School on Koh Tao for PADI Divemaster course?
There are excellent PADI Diving Centres on Koh Tao and the Black Turtle Dive team have 50 years of industry expertise and over 20 years successfully teaching on Koh Tao.
Our pro level team have evolved and refined the Divemaster program through best in class training workshops to ensure we create more confident and competent dive leaders.
Our Divemaster course delivers more than the PADI requirements and is designed to ensure you receive the best training, the highest in training standards and real value for money.
Can I teach Diving Courses as a PADI Divemaster?
The role of a PADI Divemaster is mainly as a Dive Guide or a Dive Leader supervising dive activities with already certified divers.
A PADI Divemaster can also conduct a variety of other activities, such as conducting a scuba review and assisting on Discover Scuba dives.
The PADI Divemaster is the first pro level course and to teach scuba diving courses, a Divemaster will need to continue with their education and become a PADI Diving Instructor.
Can I start the PADI Divemaster Course on Koh Tao at any time?
Our Divemaster course can be started at any time and each candidate normally has their own travel itinerary and personal development requirements.
We operate a flexible scheduling system for our pro level diver candidates and at any given time each candidate may be at a different stage of our program.
However, group participation is necessary for some of the water skill modules and practical workshops to ensure consistency in our training standards.
Our Divemaster candidates enjoy a very relaxed atmosphere, building relationships with fellow candidates from around the world.